2 Chuch Street | Wine and cocktail bar | Small plates
Opening 24 November
A sophisticated, intimate and independent wine and cocktail bar that's located in the beating heart of the North Laine area in Brighton. 2 Church Street serves locally sourced small plates and charcuterie boards and provides a prime space for special occasion celebrations.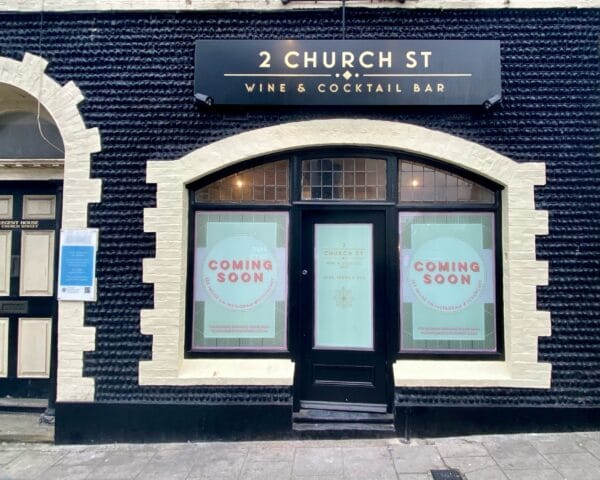 Iconic destination location  
Church Street is one of those Brighton streets that represents the city rather romantically. Stretching through the centre of the North Laine area and lined with many branching side streets, it's 5 minutes from the train station and less than 10 minutes to the beach. The iconic Brighton Dome and the North Gate to the Pavilion gardens are also accessed from Church Street, which gives the area an air of opulence – therefore conjuring the perfect atmosphere for a stylish bar such as 2 Church Street. 
Offering  
For masterfully mixed cocktails head to 2 Church Street. For exquisite internationally sourced wines that balance quality and value, head to 2 Church Street and if you desire simple, well-sourced and delicious small plates to graze on whilst you drink, then this elegant and intimate cocktail bar is for you.  
Local pride
The team behind 2 Church Street are dedicated to providing a place where local produce can be experienced and joyfully celebrated. Their food offering is simple and elegant and uses almost exclusively local suppliers. Charcuterie meats and fish small plates are supplied by a local favourite, Curing Rebels, who are based in Hove. The cheese selection is provided by a small selection of local suppliers and in addition to the exquisite omnivore offering, they also serve several options for plant-based diners.
Spirits to raise your spirit 
While marketing themselves as a wine and cocktail bar, where 2 Church Street really stands out is their list of exceptional and rare spirits. It's fair to say that their Mezcal selection is the richest in the city and there are enough Rum varieties on offer to see any swashbuckling pirates balmy with the bountiful booty.  
VIP room to the city 
Finding a venue that can accommodate up to thirty guests in the centre of the North Laine might seem like an arduous task. However, 2 Church Street can do just that. Elevate your private party or event to new heights by hiring this stylish and beautifully decorated wine and cocktail bar. Collaborate with the team to design your exclusive day to night event. They can cater for work doos, family celebrations and calendar highlights.