After a short, half-hour drive from Brighton, Becs and I find ourselves pulling through the impressive entrance way to Mannings Heath. Immediately spacious, we're surrounded by manicured lawns, colourful flower beds and a newly planted slope of baby grape vines. Before us stands a stunning piece by South African sculptor Anton Smit, a row of golf buggies and the pink, Tudoresque mansion at the centre of the estate. It's clear right from the outset that this place has an interesting story to tell, and we're here for it…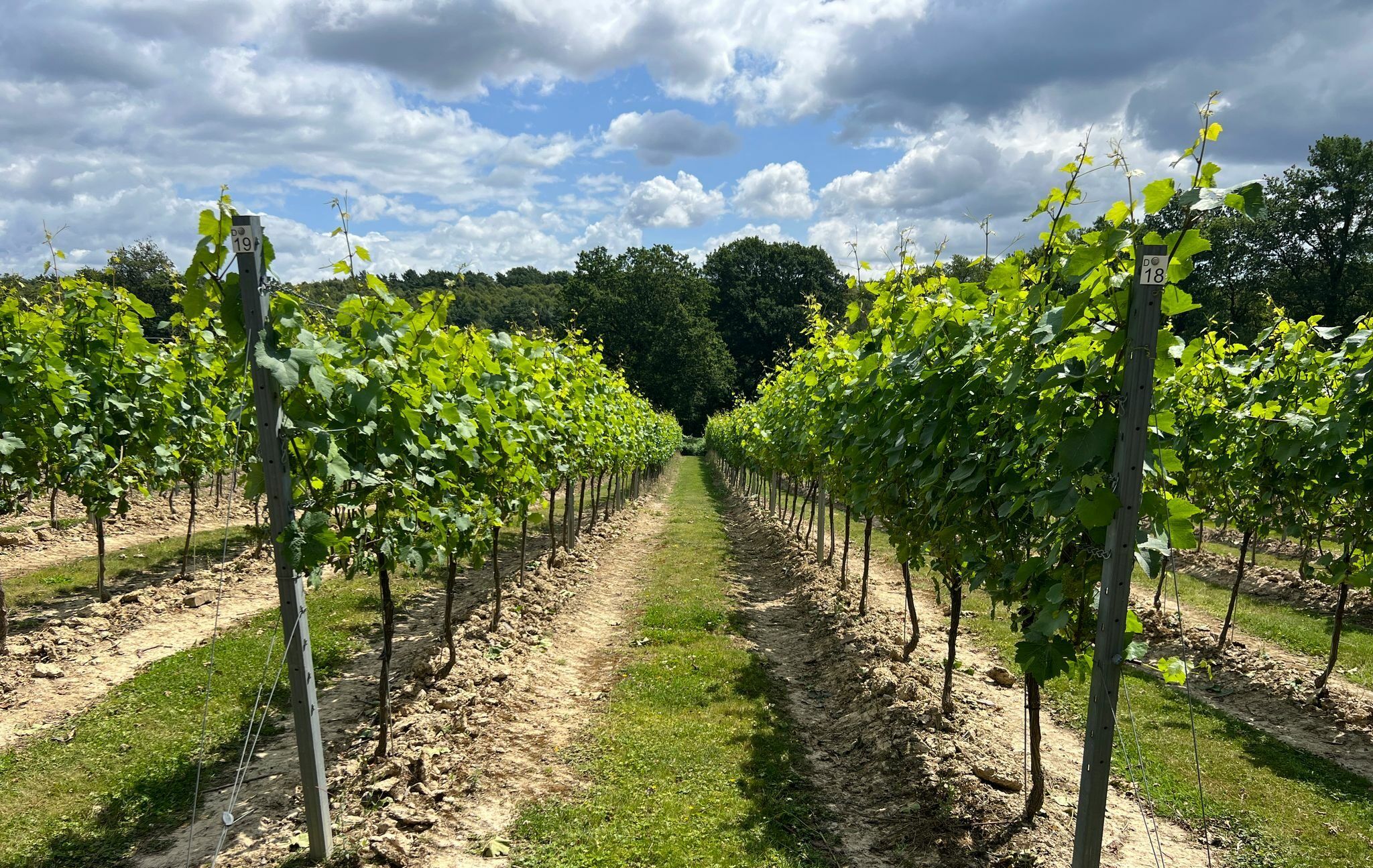 Over the years, the estate has been through a number of guises, from a grand private house to a golf resort, before settling recently into its current incarnation as the British home to the award-winning wines from Benguela Cove Wine Estate in South Africa. Owned and developed by Penny Streeter OBE, Benguela Cove boasts ocean-facing vineyards and a state of the art winery, producing outstanding 'cool climate' still and sparkling wine. It is a luxury wine tourism destination and has been named one of the best vineyards in the world.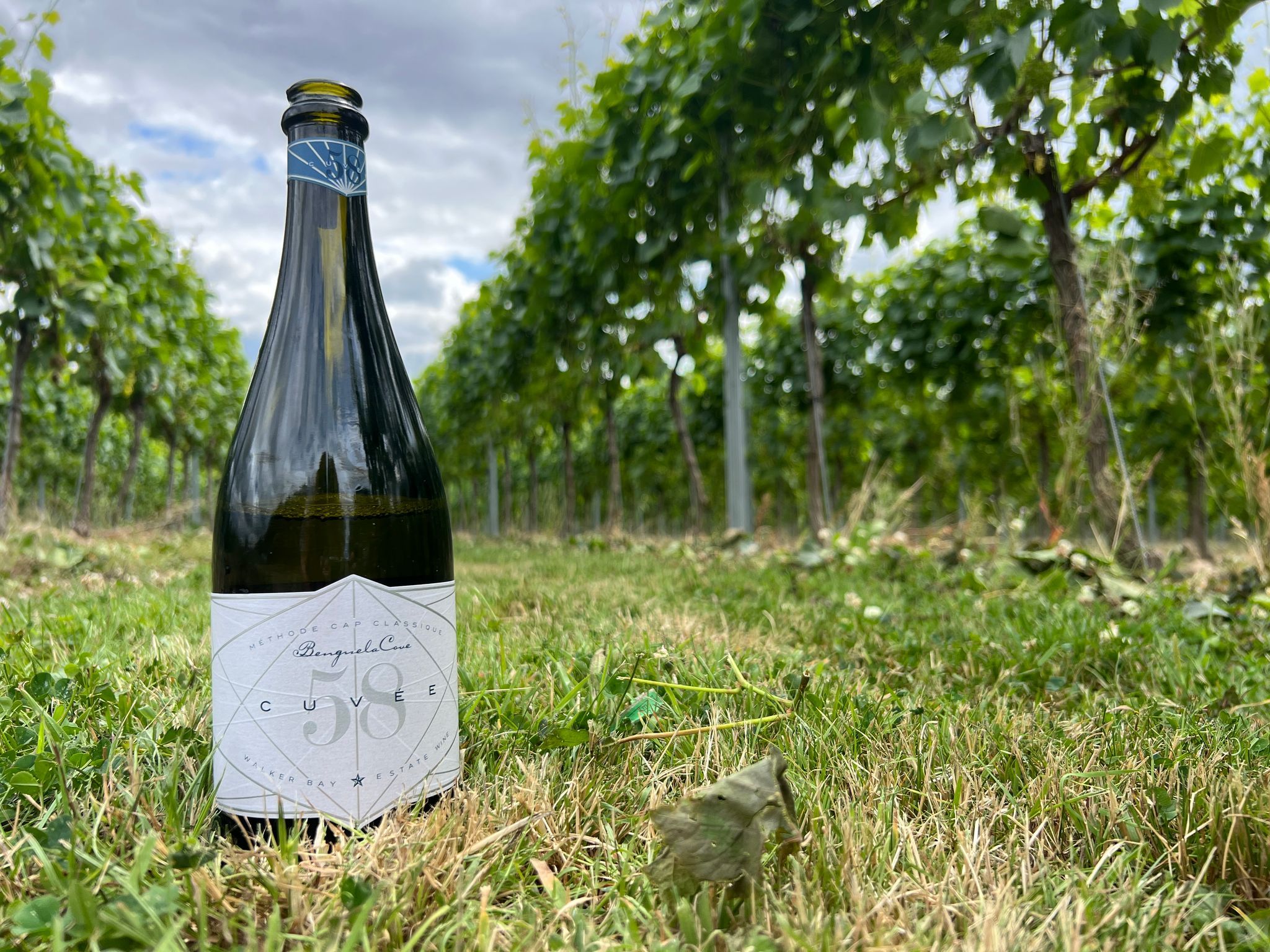 The Streeter family acquired Mannings Heath with the view that it would become a hub for the British and European markets but soon realised that the Estate had its own potential. Tapping into the current English wine boom, 9 of the estate's 27 holes have been reclaimed and planted with vines and Mannings Heath's first sparkling wine will be released in 2024.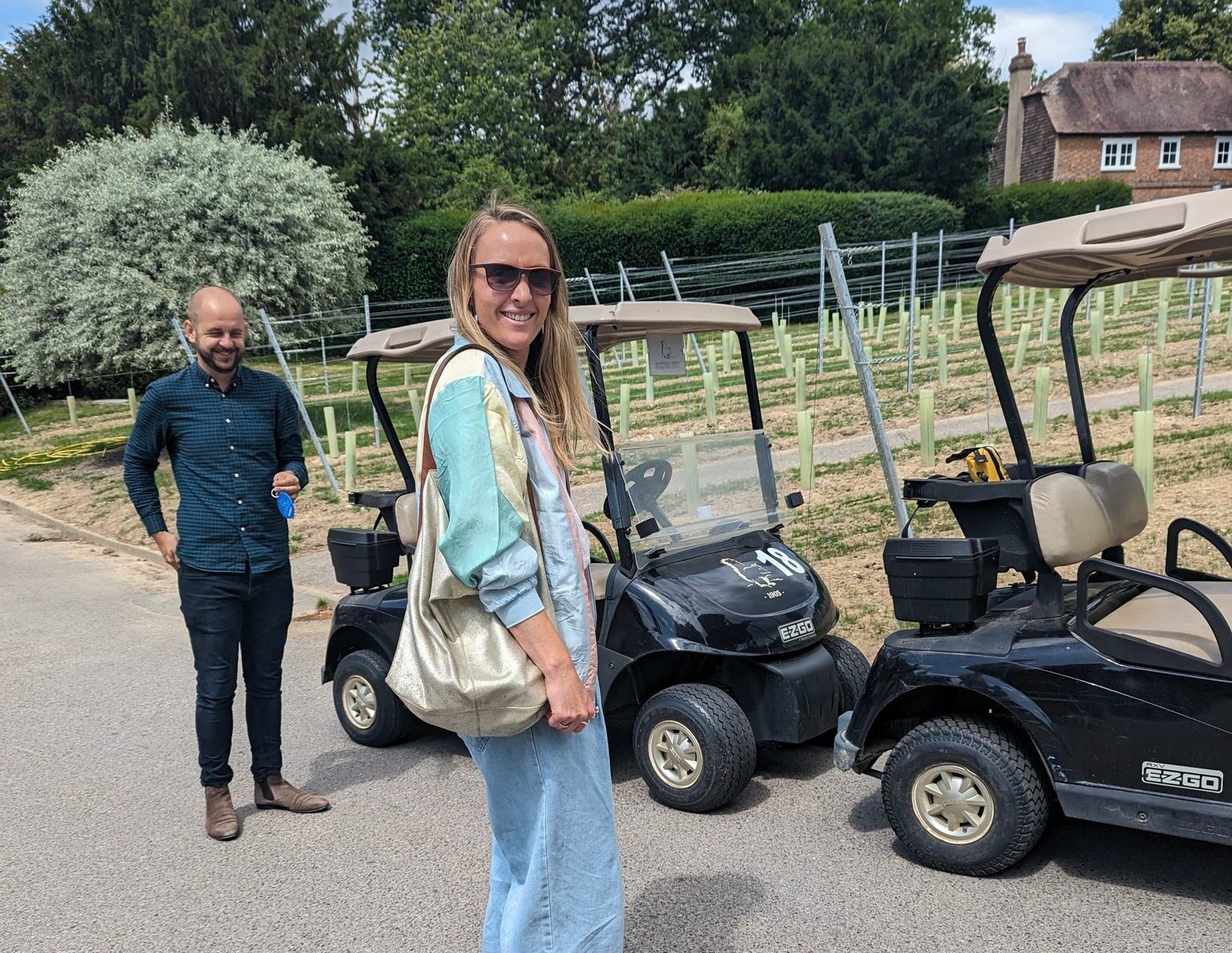 Becs and I are here for the Mannings Heath experience, a tour, tasting and lunch, though neither of us will be playing golf. It is not our thing; Becs was put off by a misspent youth in Herts and me by a pointless term of swing practice at school. That being said, my limited experience tells me that the course here is, at the least, very beautiful. We're starting the day with a tour of the vineyard – in a golf buggy!! And they're going to let me drive!
We pile in, snorting and giggling, unable to believe our luck and struggling to remember that we are, in fact, adults. The Estate is huge, so the buggies help visitors to cover the ground quickly, without disturbing the environment. Pedal to the metal, we set off with our friendly guides Adam, (Wine Experiences) and Jo (Events), to find the vines.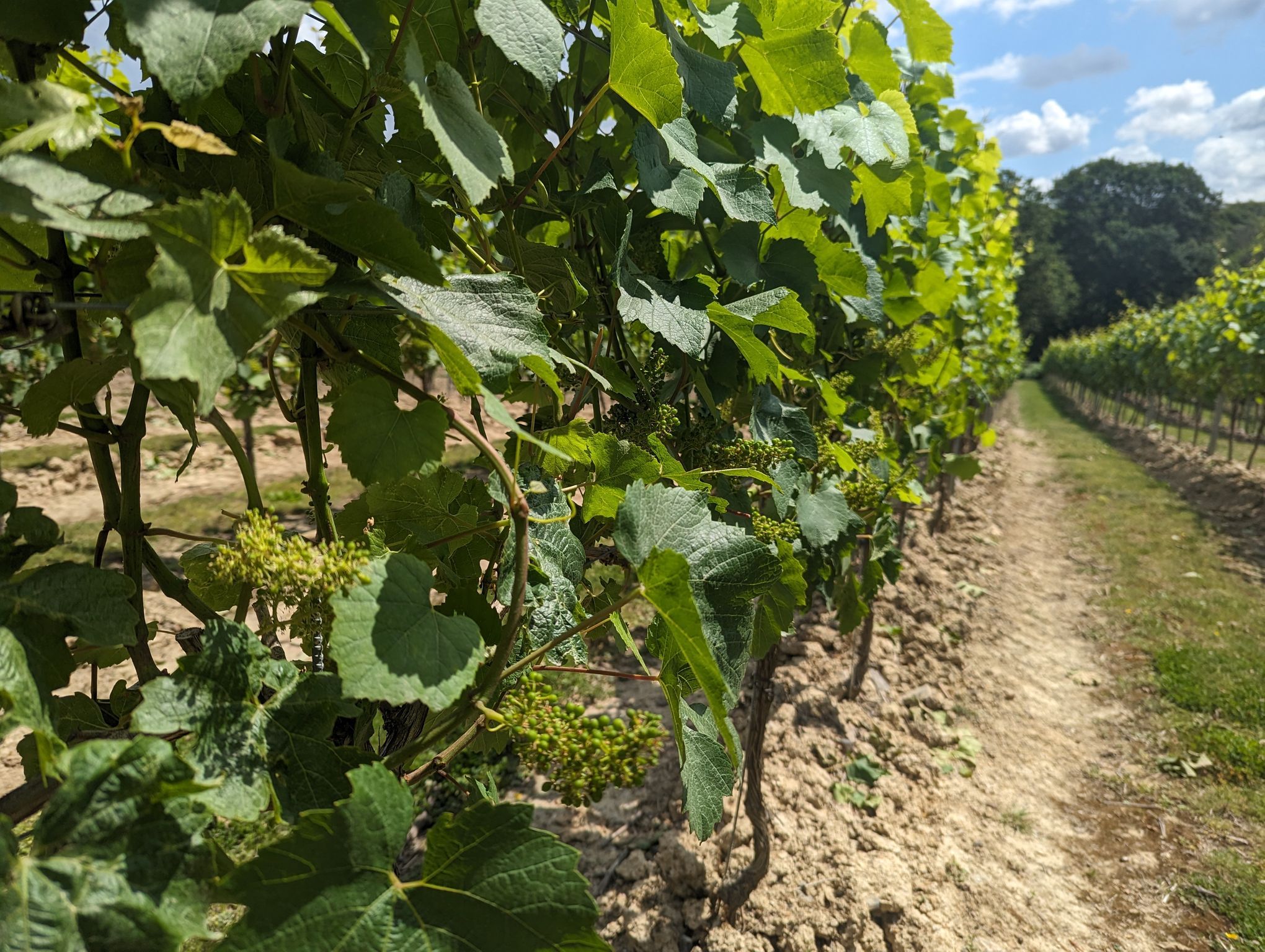 After a frankly hilarious buggy ride, we find ourselves at the top of a very picturesque vineyard. Neatly planted, the vines are bathed in golden sunshine, above us swirl blustery clouds and, on the horizon, the thick green of deep, ancient forests. Between the vines are secluded picnic areas (for another day…)
The terroir here is different from many of the surrounding vineyards – clay rather than chalk – which could spell disaster if not for the chance location of Roman 'hammer ponds', which collect runoff from the south east facing slopes. 
The vines, planted in 2017, are close to producing the necessary quality and yield of fruit. With help from the friendly winemakers at Wiston, and the experience of the Streeter family, it is likely that the Mannings Heath wine will make quite a splash on its release next year. We toasted this forthcoming success with a glass of Benguela Cove sparkling, right there amongst the vines!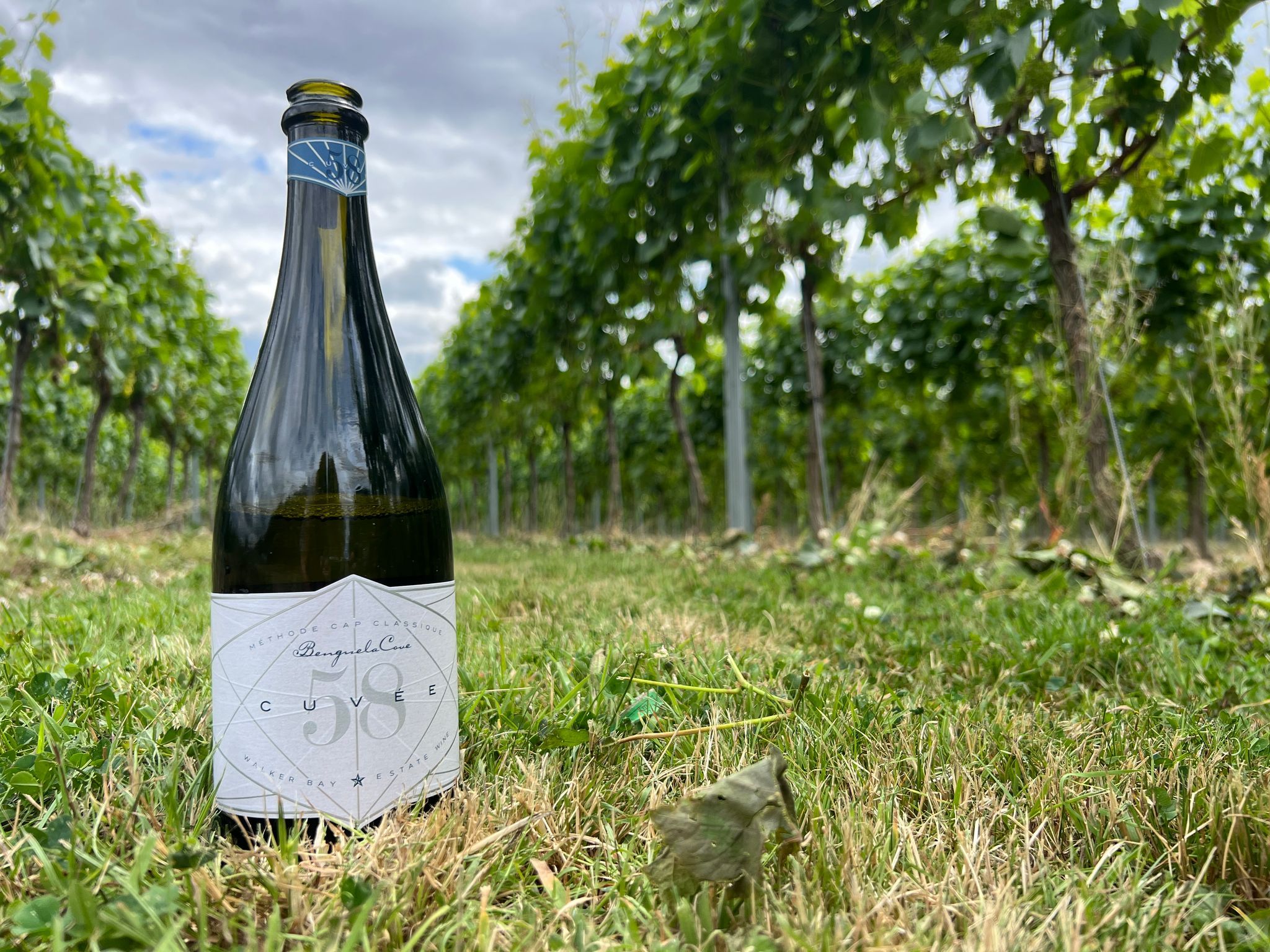 This isn't my first visit to Mannings Heath. I'd had the good luck to be invited to the opening of the stunning, wood clad Tasting Room earlier in the year. And it is to the Tasting Room we head after our tour of the vineyard. We are there to experience a Summer Wine Tasting. Adam expertly guides us through a flight of four of Benguela Coves delicious wines. 
We start with a mouth-watering rosé. It is 85% syrah, 10% sauvignon blanc and 5% cabernet blanc. A Provence-style, old-world pale pink, it actually tastes of strawberries and cream. Next up is a very drinkable, summer-perfect sauvignon blanc; fruit driven with notes of melon, guava and citrus.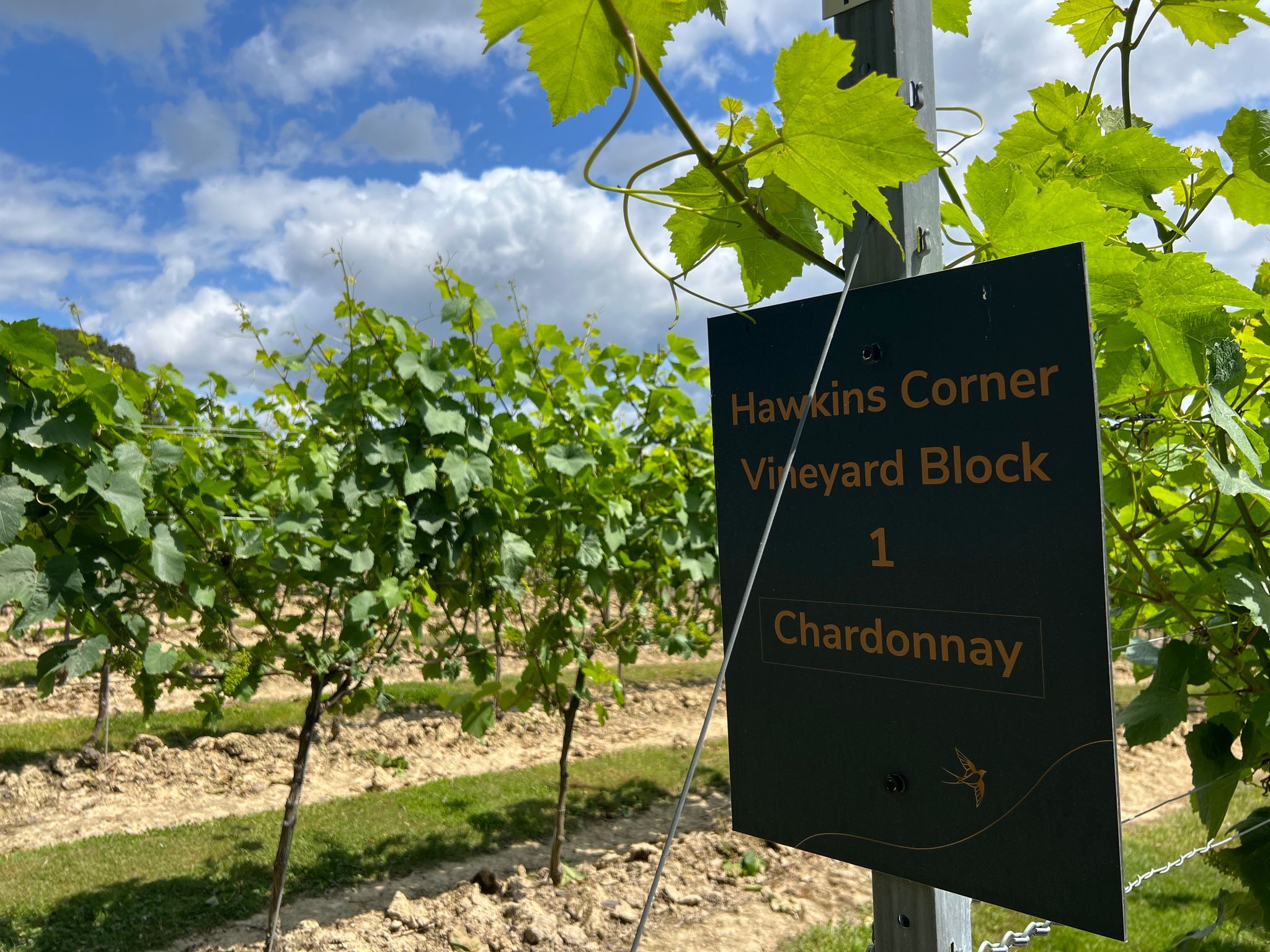 Our favourite is the award-winning Estate Chardonnay, which has been made using malolactic fermentation to give the wine a much sought after rich, buttery flavour alongside notes of ripe stone fruit. Also delicious is the Estate Pinot Noir made with thin-skinned grapes from the sheltered North facing slopes at Benguela. The grapes are allowed to ripen slowly, with minimal intervention then aged in oak producing a truly elegant glass of wine with a soft, almost sweet edge.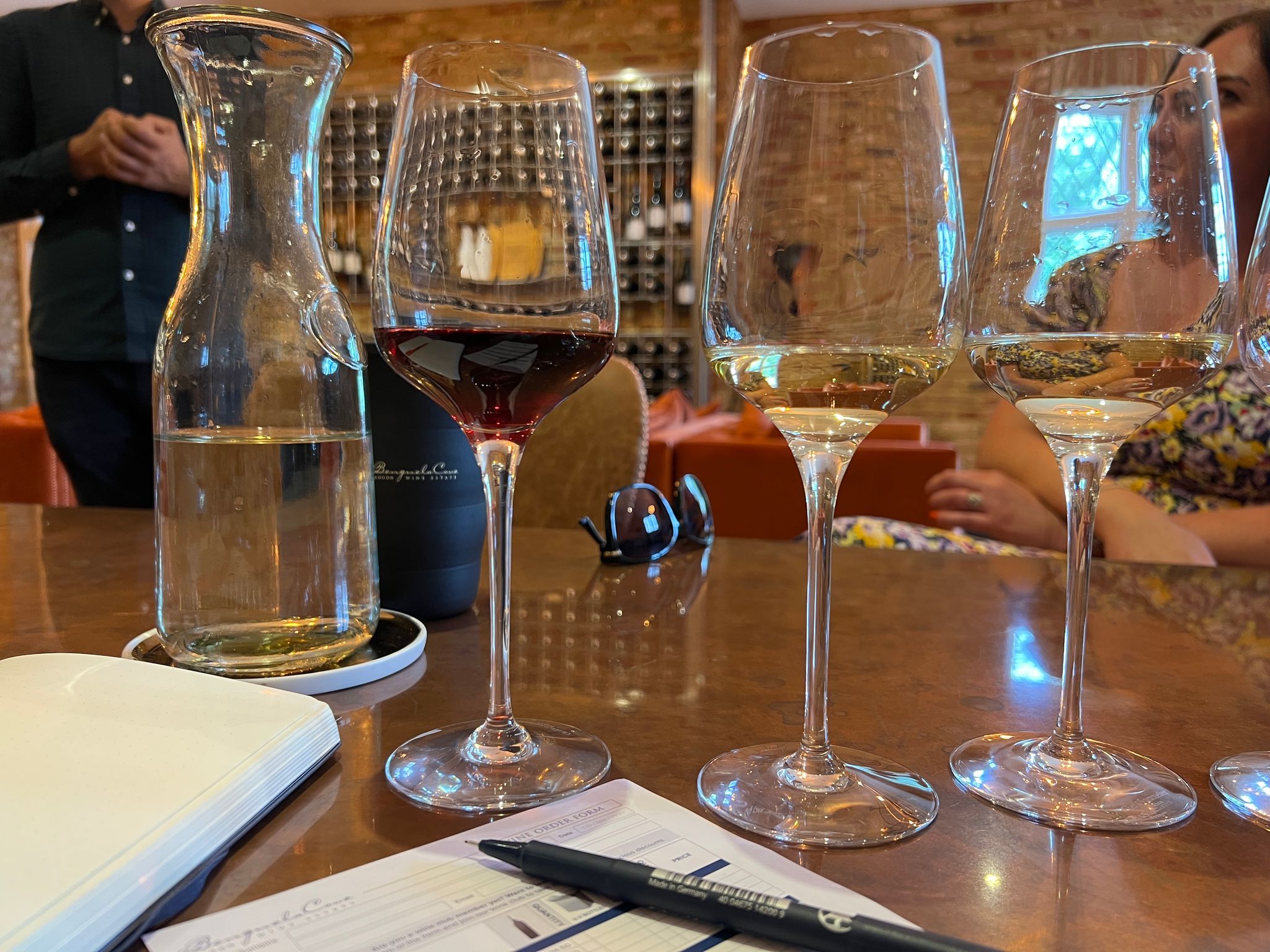 With Adam's excellent, light-handed guiding, Becs and I were well able to appreciate the subtleties of the individual wines, which made us both feel rather clever. 
To round off our visit to Manning Heath, we enjoyed an excellent lunch at their restaurant overlooking the perfectly manicured course and gardens. The menu offers 3-courses for £25. It's loosely ordered with dishes that might be described as starters, mains and dessert but you can choose any combination you fancy. Each is offered with a helpful wine pairing if you're in the mood (we'd had quite enough for a weekday lunchtime!).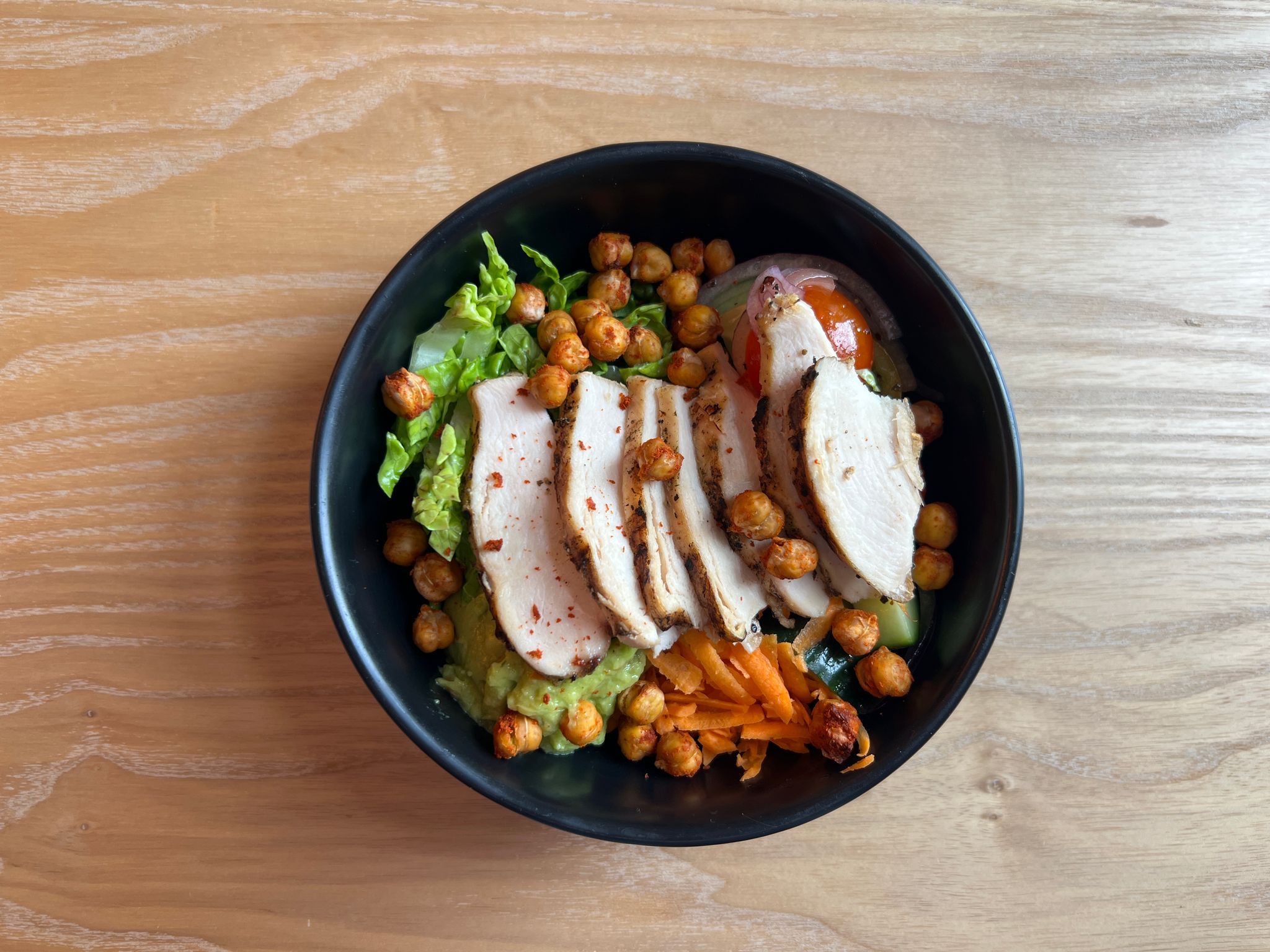 I started with a plate of perfectly ripe heritage tomatoes with a ball of unctuous milk-white burrata and a bright green basil oil. Becs chose a healthy chicken bowl with roasted chickpeas, carrots and guacamole. Next, the chicken ballotine with serrano ham, butternut purée, exotic mushrooms, and a light parmesan foam; a deeply enjoyable and savoury plate of food.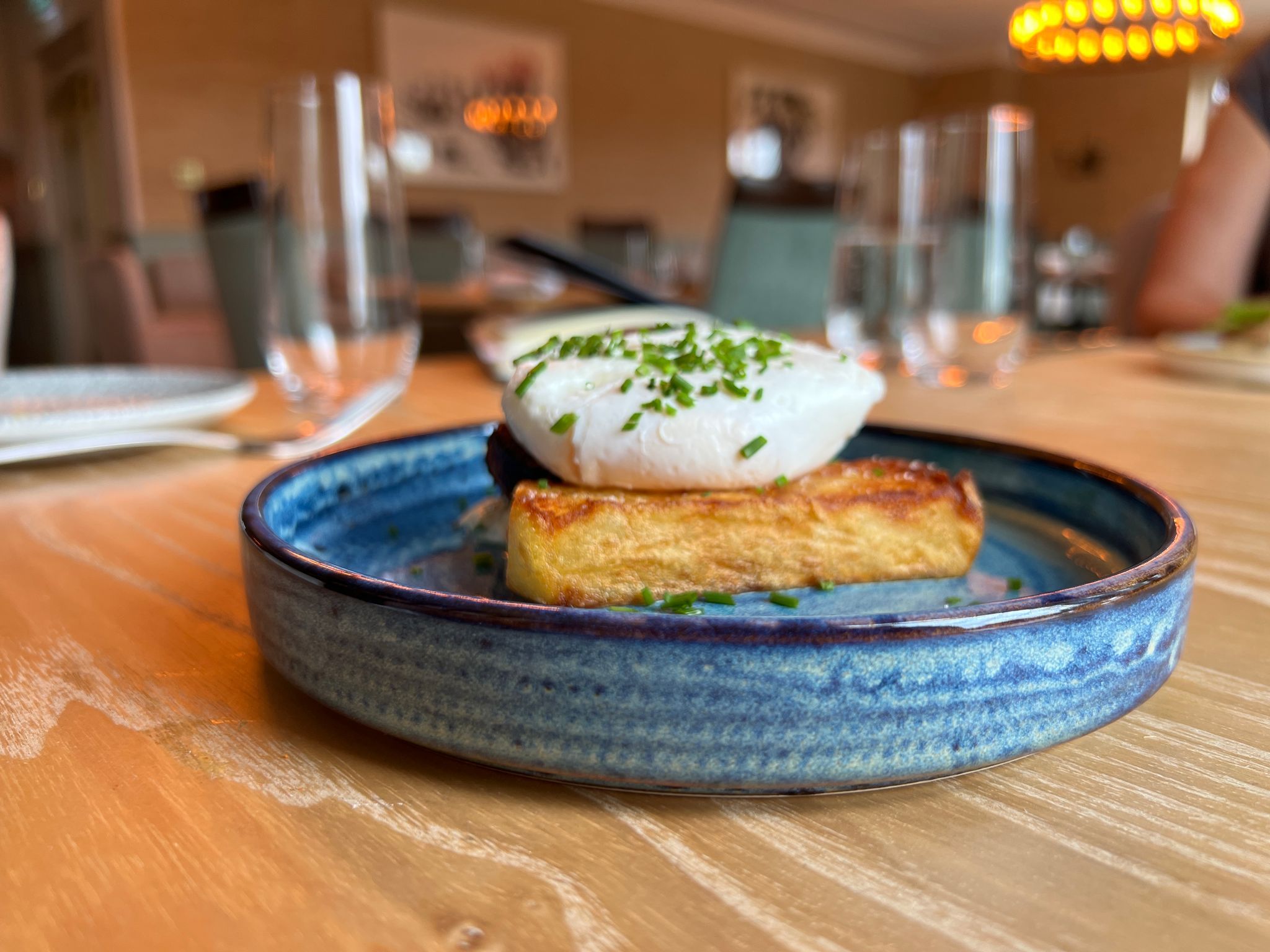 I couldn't keep my fork out of Becs's home smoked fish with parmentier sauce topped with a perfect poached egg and chopped fresh chives. It is light enough for the season and yet ultimately comforting. Oh, and very very tasty.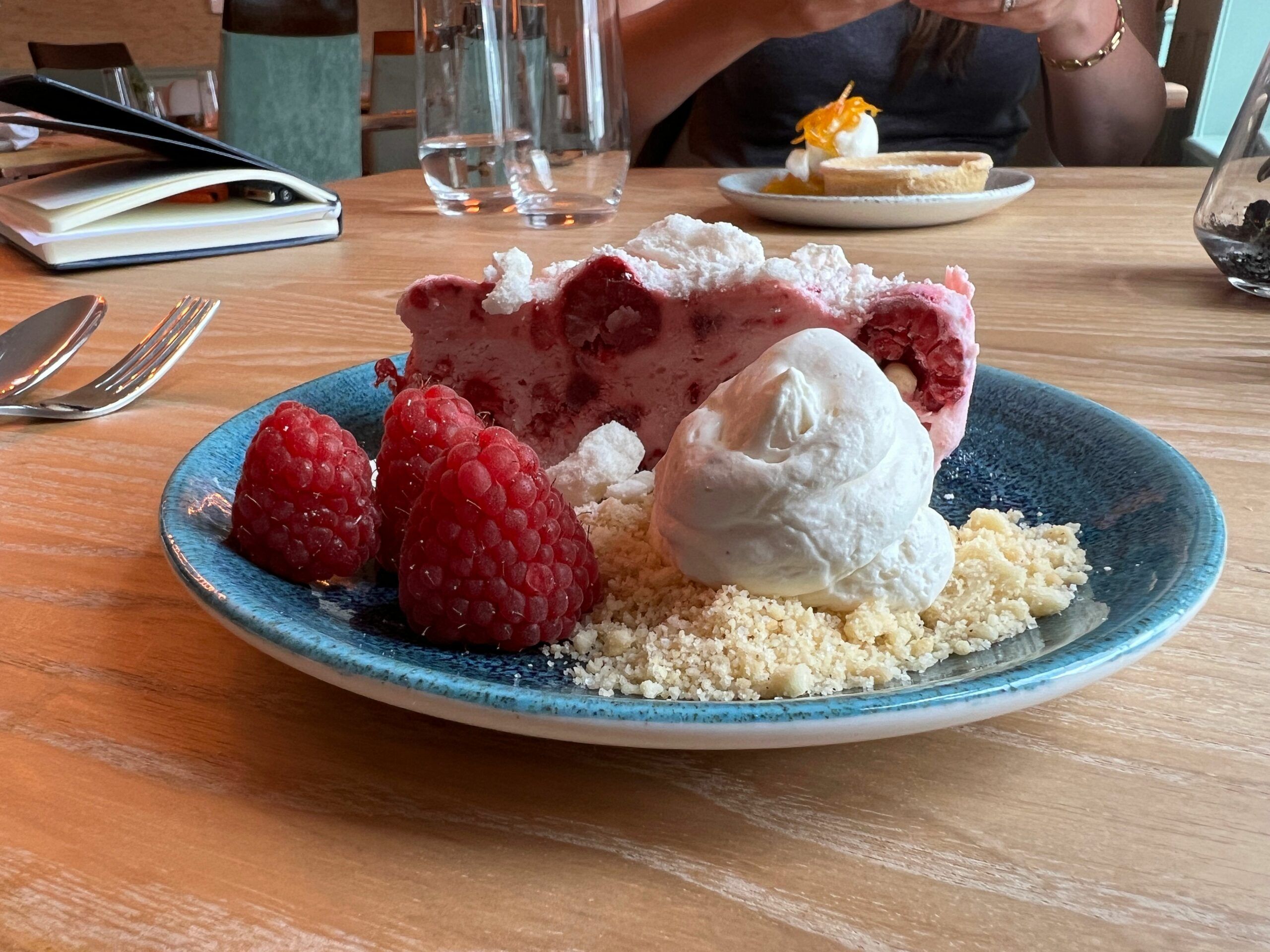 We could have, probably should have, shared a dessert. But we didn't…I finished my meal with a fudgy lemon tart, Becs with a creamy berry semifreddo, and steaming cups of hot coffee. 
We head off; bellies full, minds enriched, having had quite a lot of fun. The latest chapter of Mannings Heath's long saga has just begun and it's a page turner I'll be sticking with.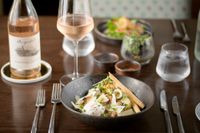 Want to know more about Mannings Heath Golf & Wine Estate?
Find Out More