Brighton and Hove summers were made for al fresco dining. From the moment the nights get longer I begin to crave a perfectly poured Aperol Spritz and a seat in the sunshine. Ideally, this would be on some sun-soaked corner of an Italian Piazza, but Pesca Trattoria has the next best thing. Steps from the sea, and a catty-corner from Hove Town Hall, Pesca Trattoria is a bright and colourful haven serving contemporary Italian dishes, and expertly crafted cocktails in the beating heart of Hove.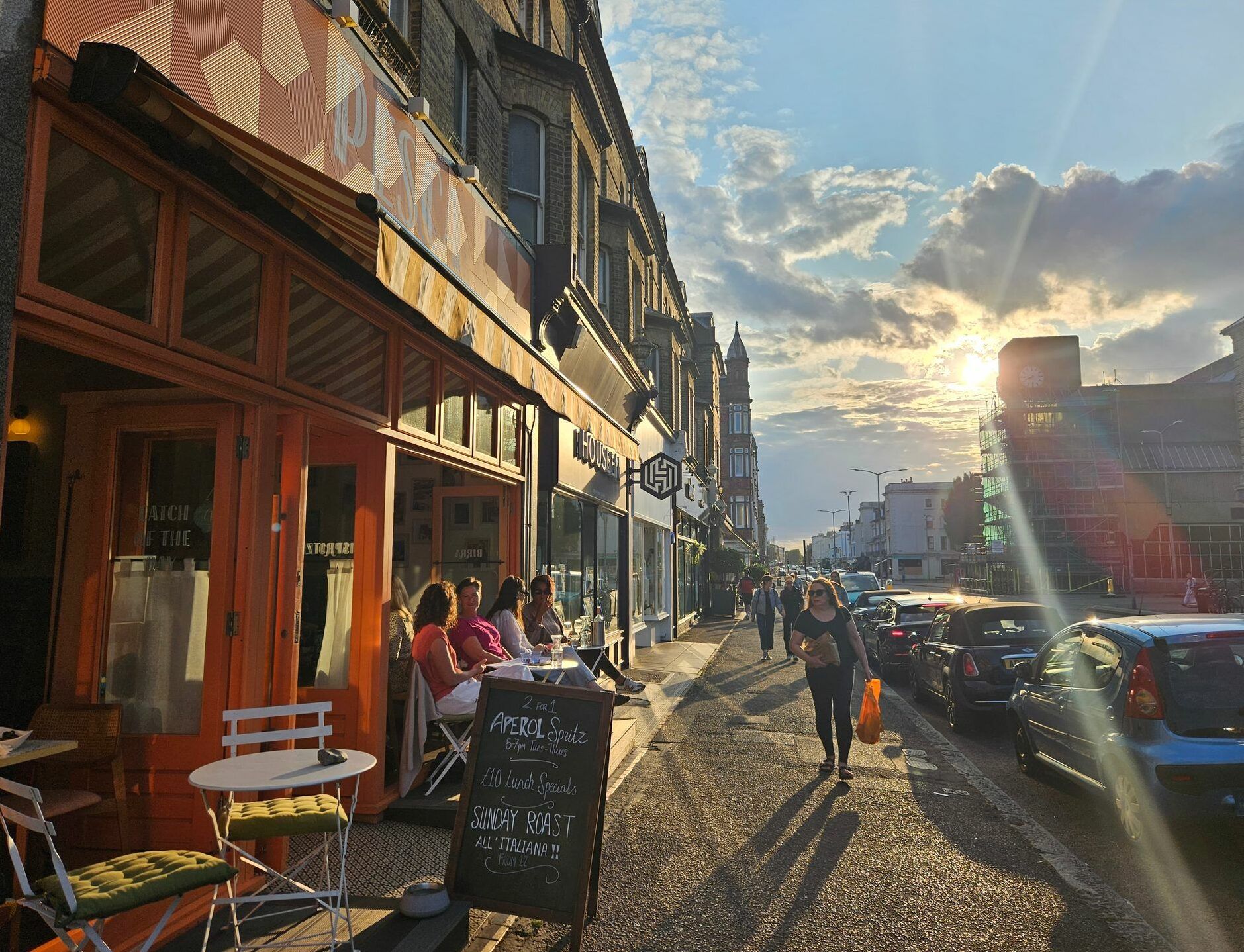 The decor is everything I strive for at home; tasteful and eclectic, with hand picked artwork, and coral and teal accents. Pesca is effortlessly chic and inviting. Their gorgeous, marble, wrap-around bar is as ideal for a first-date drink as for an afternoon meet-up with besties. A perfect spot to catch up while sipping negronis over a few small plates of something delicious.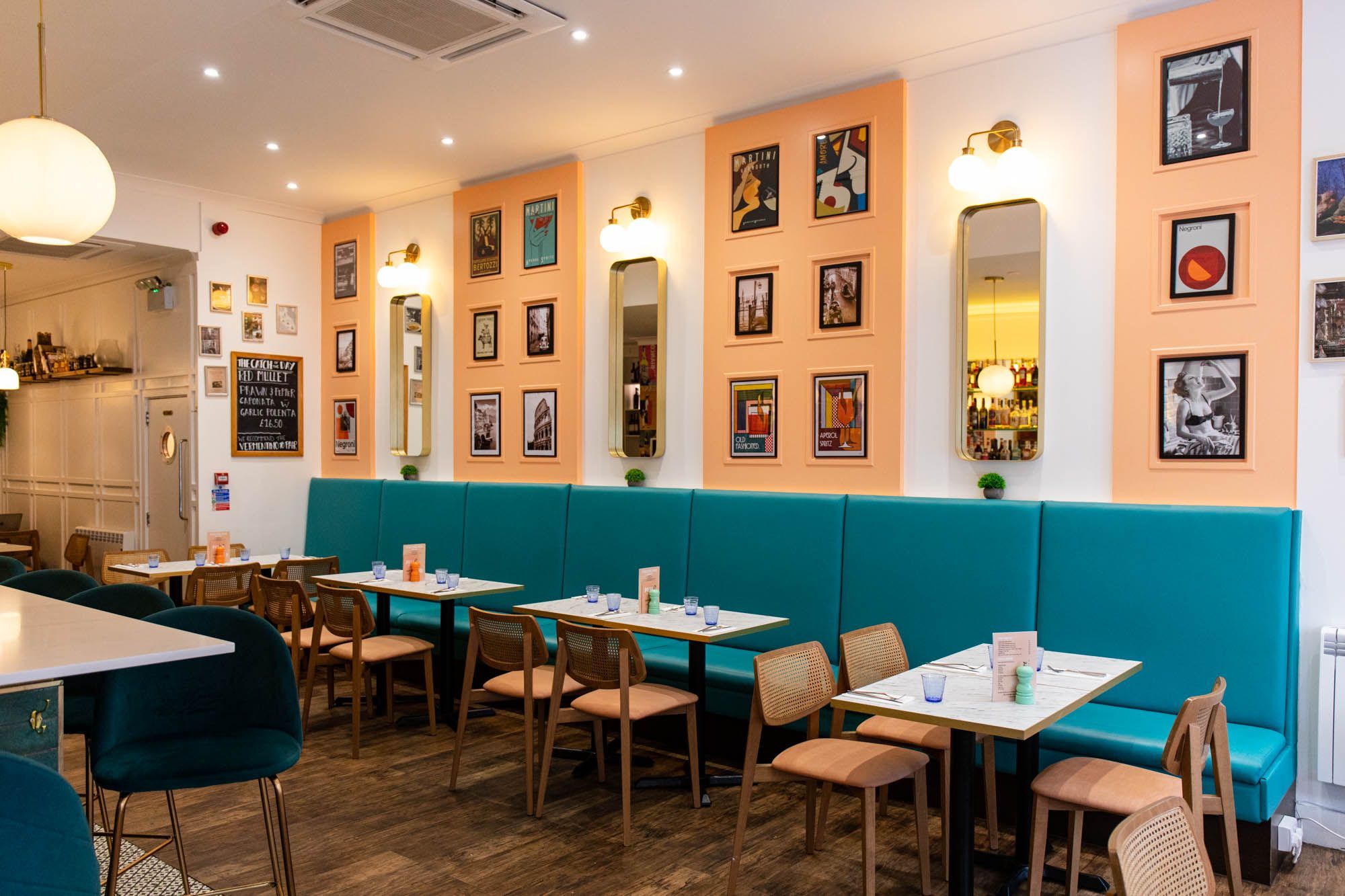 After a long day working at a local hotdesk nearby, hubby and I wanted to stop and have a quick bite and some cocktails before heading home to the feral kiddos. We were seated on an intimate table next to the bi-fold doors overlooking the sun-soaked patio. The sun was still high in the sky, but starting to drop into the golden hour and our cocktails sparkled in the light.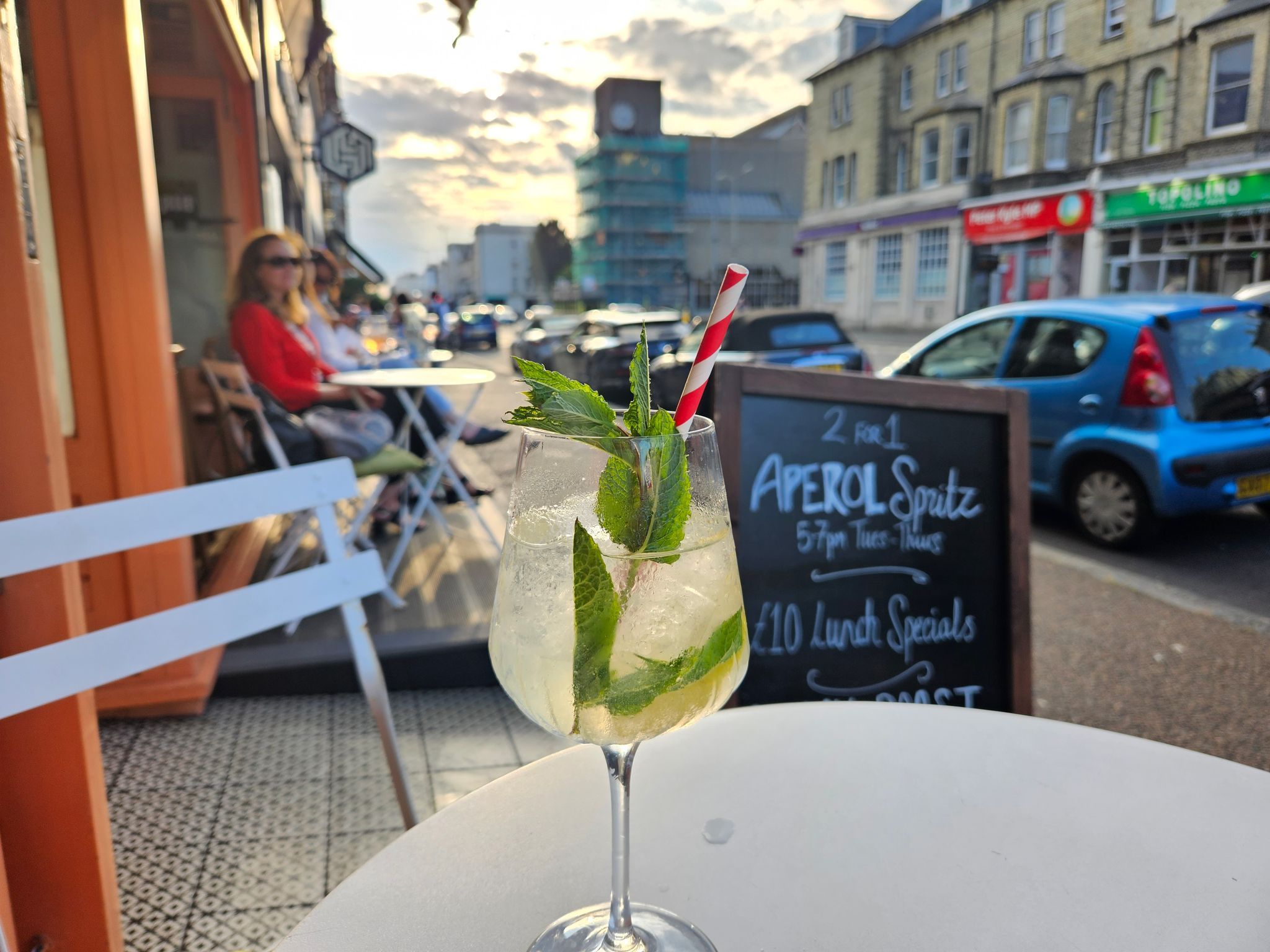 In the last few years, Hove has really come into its own as a foodie destination. Church Road has a thriving restaurant scene and is great for a post work bevvy, beautiful bites, and excellent people watching. 
After being sat by our friendly waiter/owner Ed, we ordered two Aperol Spritz for £10, which is an absolute bargain, and perfectly poured to boot. Aperol Spritz is my personal drink of the summer, and believe me there are some questionable pours out there. But Pesca's mixologists know their way around a cocktail bar, and these went down an absolute treat. 
Next, Hubs ordered a Goldstone Daquiri, made with fresh lime juice and served with a candied lime slice. It was strong, aromatic, with a hint of sweetness, perfectly balanced. I filed it under 'dangerously delicious'.
With such sensational cocktails going down so easily, we were in need of some snacks to keep things civilised. Ed recommended a few small plates to share, and we were thrilled with each one. 
As we waited for our food to arrive, the sun started to drop. The crowds began to gather to soak up the light, every table inside and out was filled; cocktails and happy voices were heard throughout.
First up was the deep-fried olives, Spicy Ascolana Olives stuffed with Nduja Calabrese dipped in batter and fried to a glorious golden brown; crunchy, brined, bites of deliciousness.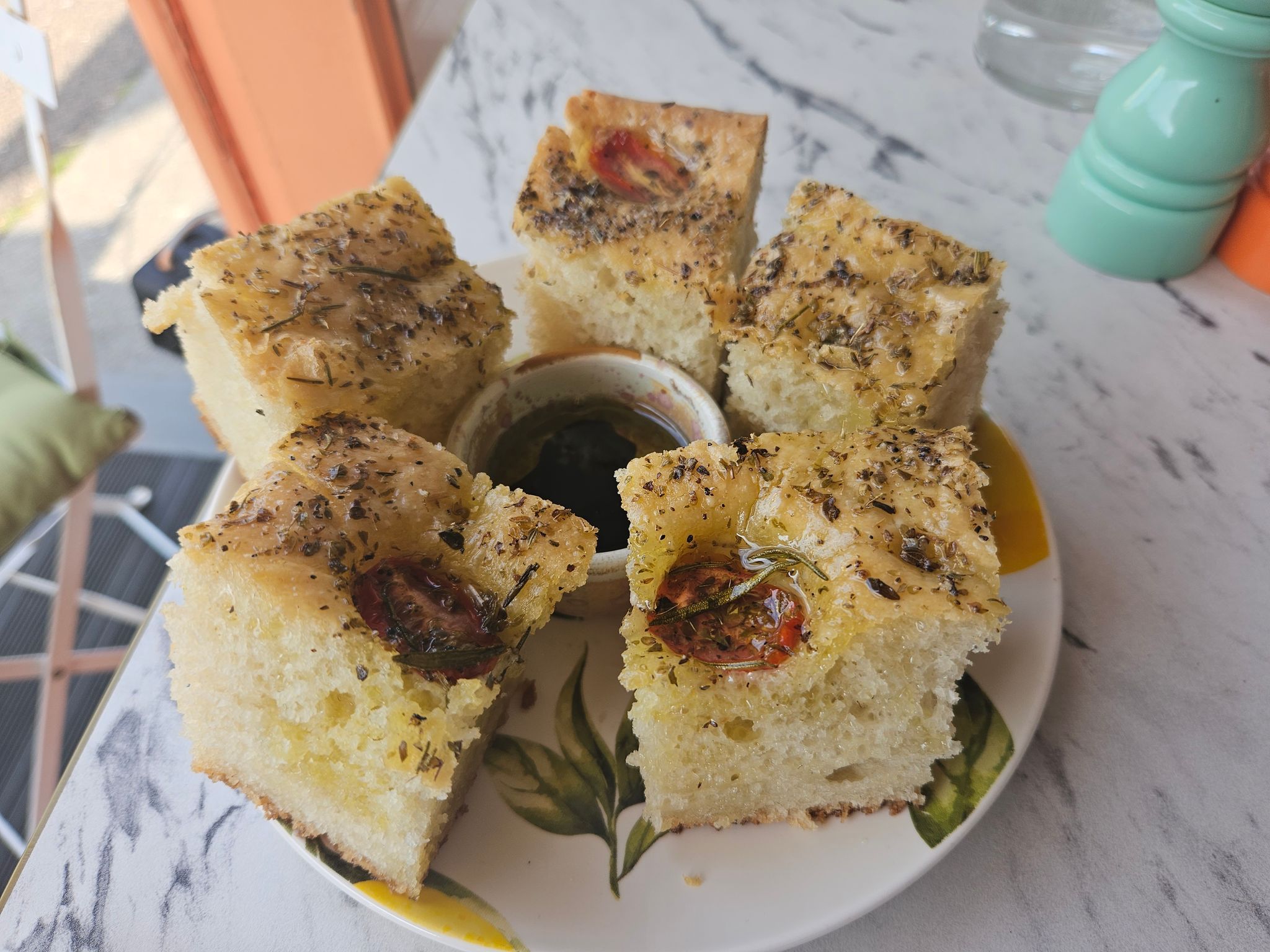 Next up was a traditionally Italian veal carpaccio, served with a smooth creamy tuna sauce and topped with a sprinkle of fresh capers. The veal was served paper thin and tender, transporting me back to a Roman holiday.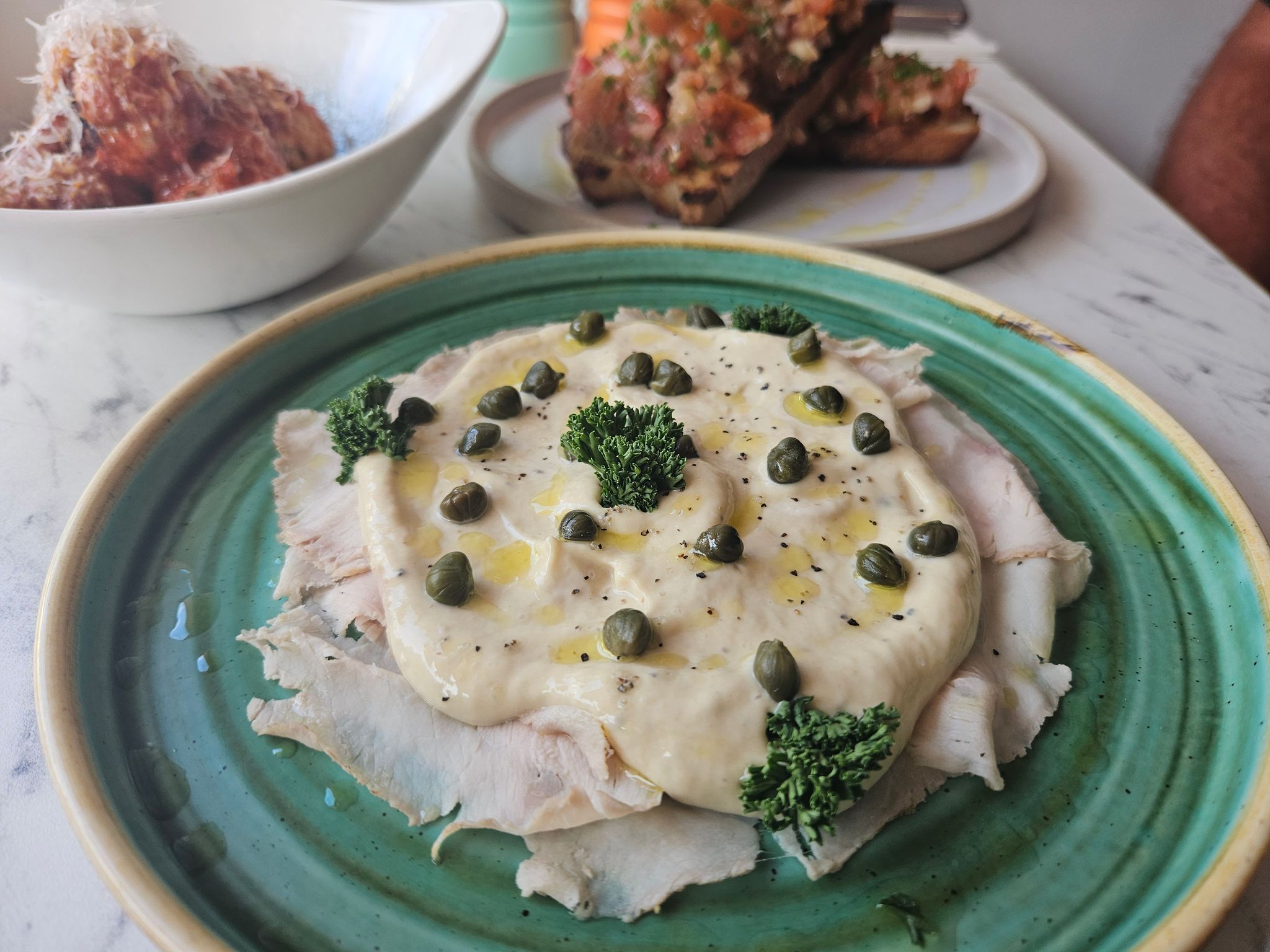 As with any Italian meal a beautifully baked rosemary and sea salt focaccia is practically a necessity, and this homemade version was served sky-high, drizzled with aromatic olive oil and sprinkled with sea salt; fresh, unctuous and generous.
My Hubby's personal favourite was the herbaceous pork meatballs topped with a rich home-made tomato sauce and dusted with fresh parmigiana. Little meaty morsels of flavour, without being too filling.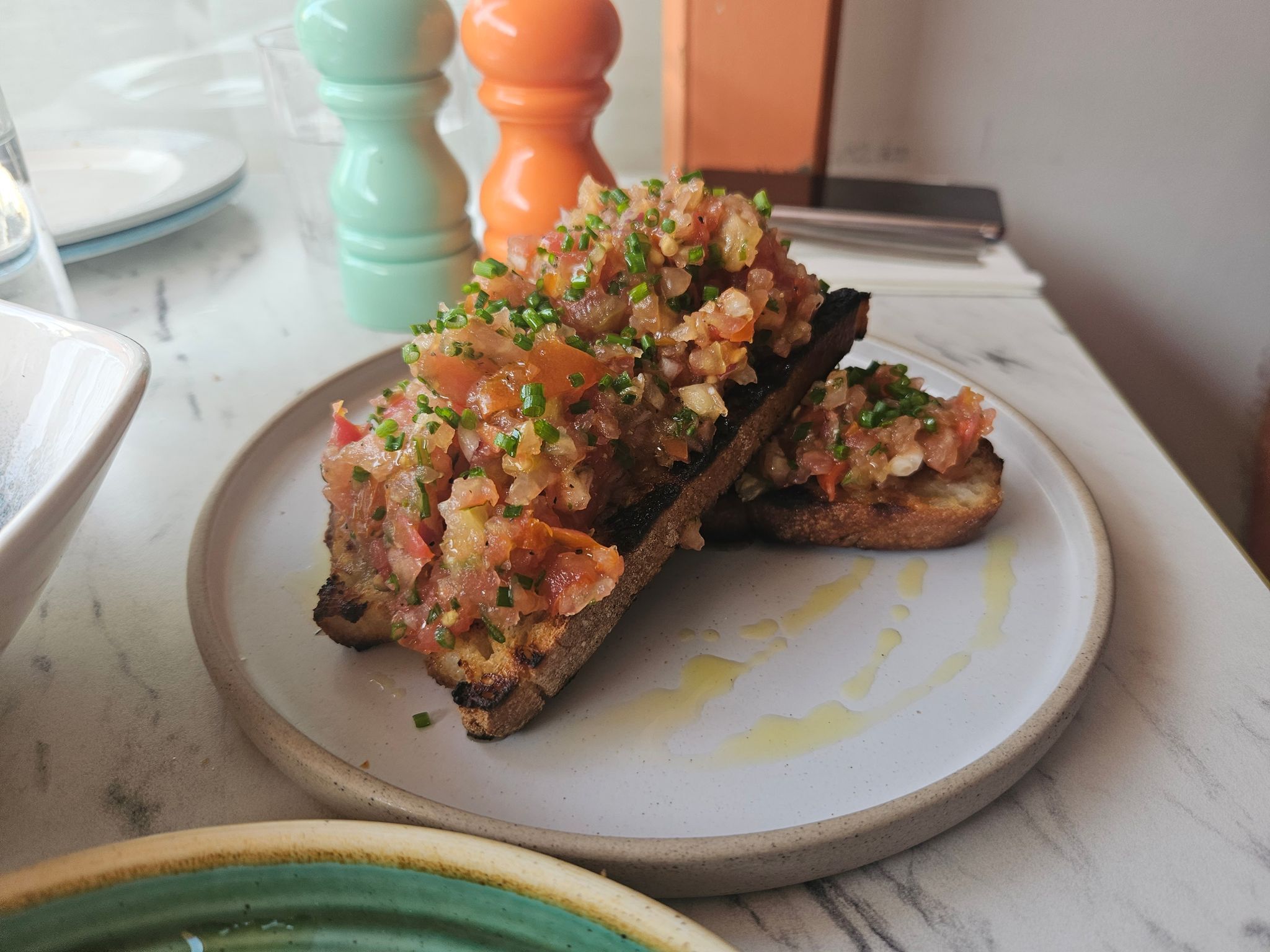 Our final small plate was a classic Italian bruschetta, two crisp slices of sourdough drizzled with olive oil, and topped with fresh tomato, garlic and basil. Aromatic and light, it was exactly what we were after on our post-work outing.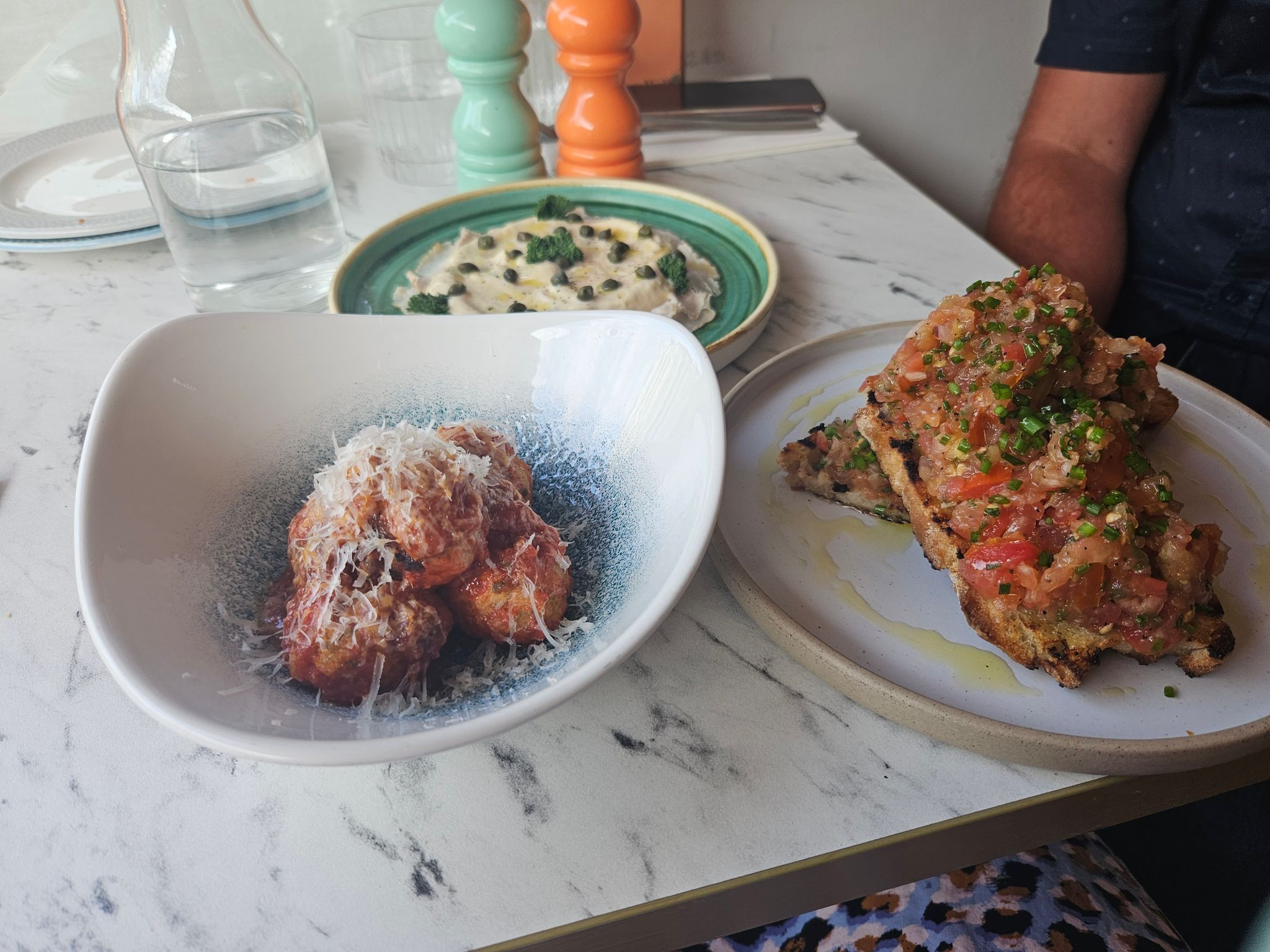 By this time our cocktails had run dry and it was time to mix it up a bit with a now-famous, Negroni Sbagliato. Not too sweet, slightly bitter on the finish, and a perfect balance of prosecco. This is my OTHER favourite summertime bevvy and, although it's not everyone's cuppa, WOW do I love it. 
Rich ordered a Lemon Mint Spritz to cleanse his palette, and I may have snuck a sip or ten. Served with a spring of fresh mint, lemon gin liquor and a sparkle of prosecco, this drink was a refined, drier version of a limoncello spritz, and it was summer in a glass. 
The patio was bathed in sun and the cocktails sparked in the golden hour light. Gentle music, and pleasant conversation filled the air and the atmosphere was buzzing.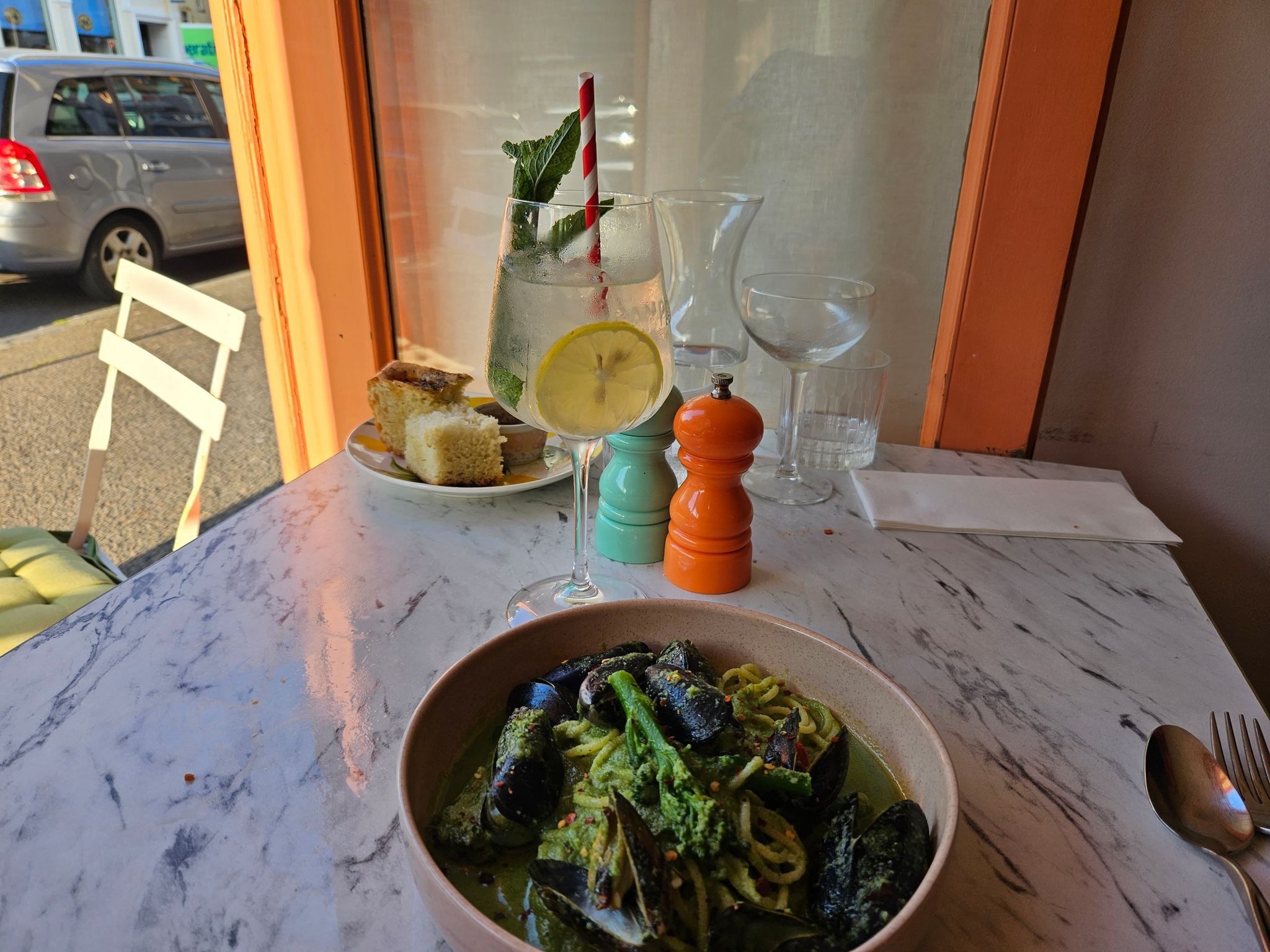 Not quite ready to leave and not quite full, we decided to order the Spaghetti Alle Cozze, handmade pasta tossed with broccoletti, chilli and fresh Sussex mussels. A generous portion arrived. It was the most inviting bright green colour, and the scent of sauteed garlic was intoxicating.
Like a scene from Lady and the Tramp hubs and I swirled and slurped every strand of the bouncy al dente pasta and used what was left of the focaccia to wipe up every last bit of sauce. As the Italians would say 'assolutamente delizioso'. 
After our beautiful meal, we sat and enjoyed the sun along with our fellow patrons, sipping our cocktails and chatting away as if on holiday. Once we had finished our drinks we were very easily tempted by my personal favourite dessert, the Tiramisu.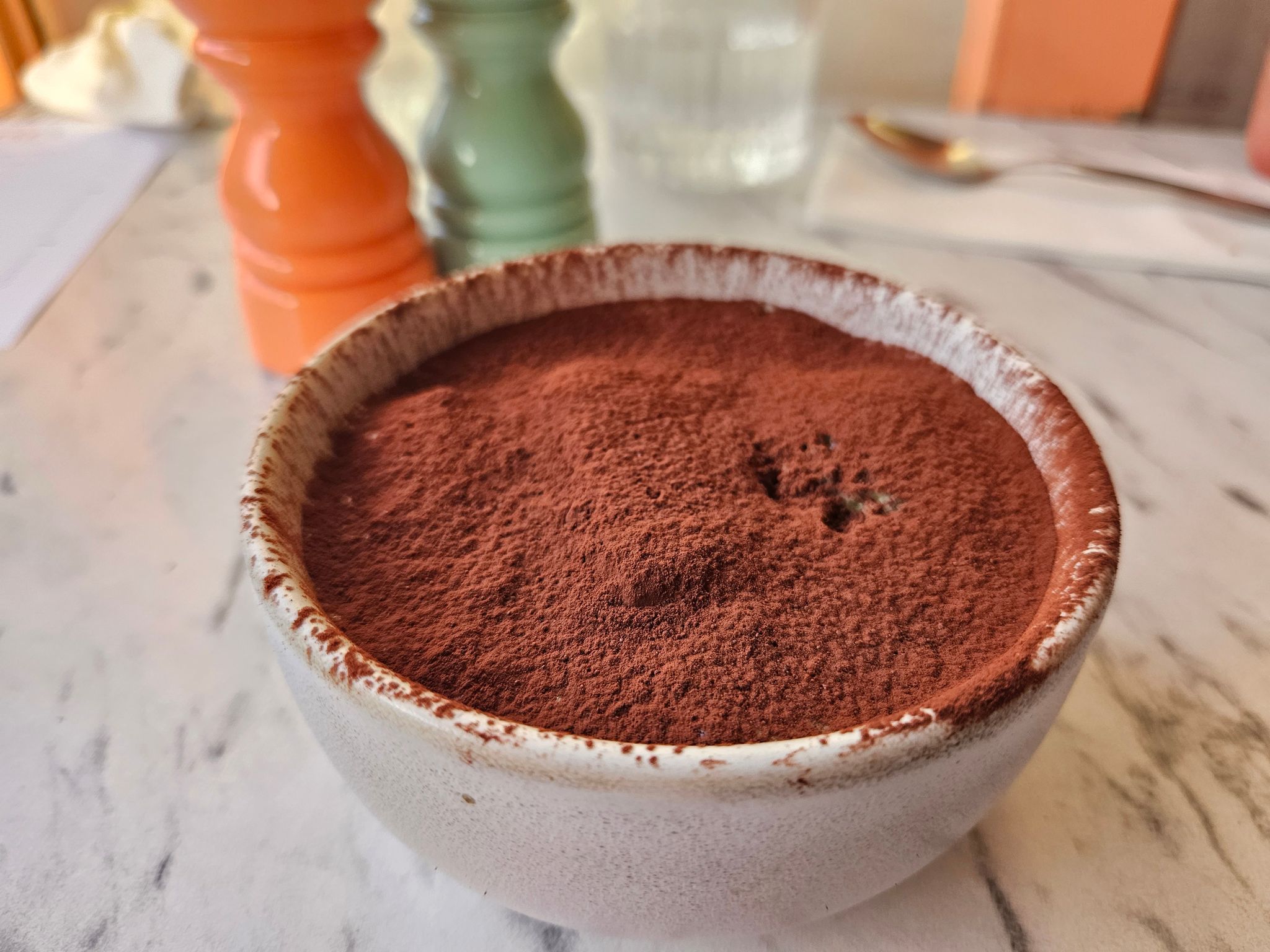 Served in a generous bowl and immaculately dusted with cocoa, the first spoonful had the satisfaction of stepping into fresh snow. The first bite of every dessert should be an eyes-closed experience in my opinion.
A simple moment of pure foodie joy. Sweet and slightly bitter, with a zing of liquor and a cloud like texture that melts away leaving nothing but the taste of heaven in your mouth. The Pesca Tiramisu was 11/10. The perfect finish to a post work meal enjoying our gorgeous city, and dreaming about Italia.
Thank you so much for having us Pesca Trattoria, we will see you again soon for more!