I will never stop.  I love it.
For those of you who haven't heard, if you're new to this lovely town, or have simply passed it by, Bali Brasserie really is a great night out.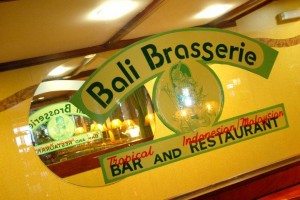 Which is actually a bit of an understatement really.
I'm not just talking about the mind blowingly delicious food made from top quality ingredients, which bring together the flavours of Malaysian, Chinese, Indian and Indonesian homestyle cooking.
I'm not talking solely about the wonderfully friendly family feel (it is owned and run by the most wonderful warm family, headed up by the ever obliging, warm hearted and affable TC and son Jasper in front of house, a top Malaysian head chef, mother and ever gracious wonder woman Kulbir – whatever you need, they will make it happen for you).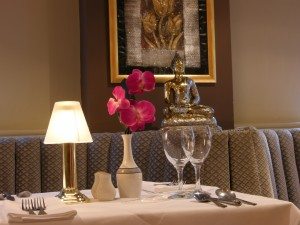 And no, I'm not even referring to the regular entertainment they lay on – from singers, to karaoke, to clairvoyance (??!) – it's the combination of all of these things and the fact that you feel like you're on holiday when you get there.
Seriously.  I've been going to the Bali Brasserie for years with my die hard Bali partner Lisa, and we never fail to have a good time.  We even had our office Christmas do there.
Imagine my delight when I was asked to go and do a review of it last week.  Splendid, I thought.
I took with me my fella Fat Tony as he hasn't been there before and has heard a lot about it, naturally.
We began with a drink and the giant Javanese prawn crackers in the Tropical Bar, which hails to be the longest bar in Brighton.
The décor I would describe as rocking its own retro-holiday-chic, an eclectic mix of bamboo and seashells mashing up nicely with the clean lines and glittering luminous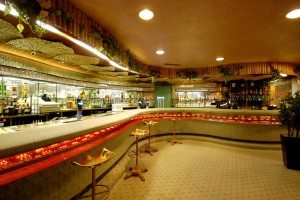 sophistication of the main restaurant.
The giant crackers really are giant crackers, and they are nothing if they aren't dipped in the brain meltingly spicy side dip.
We moved through to the restaurant, passing as we did the Rice Table – this is where Bali does most of their business, it's a fresh, constantly refreshed buffet table offering all the best of their fayre.
It's all laid out beautifully and gives you the opportunity to try all their favourites in a four course buffet style experience.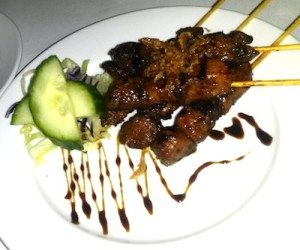 We preferred to pick and choose from the menu however, and sit ourselves comfortably with the bottle of Viognier we had ordered to accompany our starters.
We opted for the chicken satay and the Bali Special King Prawns.
The satay was incredible.  I usually swerve chicken satay when I go out for dinner, it's a safe option and never done as well as I've had it in south East Asia, but here is the exception.
The chicken was moist and charred, the sauce rich and powerful, the peanuts not blended away but grainy and crunchy.  It was gorgeous.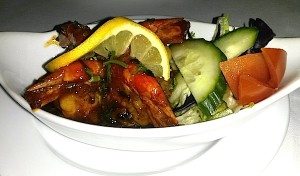 The prawns were enormous, big juicy critters, of exceptional quality.
The simple garlic butter and coriander sauce was fresh and tasty, the garnish outstanding in its freshness.
Rarely do I find simple garnish so fresh and crunchy – usually the lettuce is crying out to be put out of its misery and the cucumber limp.  This was all fresh and unusually, all disappeared off the plate.  So far so good.
For our mains we shared the Beef Rendang, more King Prawns in the guise of Kari Udang , a vegetable dish, Sayur Marsala and Nasi Goreng – the special Indonesian friend rice.
It was a fantastic combination of flavours.
The beef rending was rich dark and spicy, the beef meltingly tender.  The prawns were, and I quote my partner, 'Brutal' served in a thick sauce of coconut, mustard seeds and curry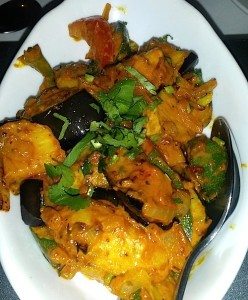 leaves.
They were lick smackingly, finger lickingly good (I prefer to go at prawns with my hands than wrestle the tails off with my knife and fork.  Sorry).
The vegetable dish was made up of aubergines, courgettes and potatoes, all lovingly cooked in a cream and marsala wine sauce with aromatic herbs.
It was delicate and fragrant and eaten with the beef was a taste and texture explosion.
We had a little rest while we finished our wine and then shared a Balinese flambéed banana with cinnamon and coconut ice cream – to which I will simply say AMAZING!
And the chocolate mousse served with mango sauce.  They were heavenly.
The food at Bali is delicious;  the ingredients are top quality and the portions are ample.
The cooking is all to home-style recipes, lovingly made, and the value for money in every area is excellent.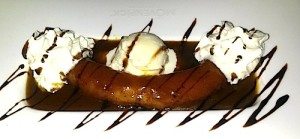 The service I have always experienced as being friendly, welcoming and affable, and as I've mentioned, the live music and entertainment is always worth a look.
It seems that there is no end to what the Calais family can do for you – you can get a bargain 2 course bar meal and drinks at pub prices, you could come for a working lunch at bargain prices, you can get your party here, they even cater for weddings for goodness sake.
Just get down there, on a cold and windy night it's a tropical haven, and in Summertime, being right on Hove Seafront, it's a holiday destination right on our doorsteps.
I will never stop.  I love it.
Georga Bullivant