Put a Spring in your Sunday
Brighton Food Reviewer, Jodie, April 2015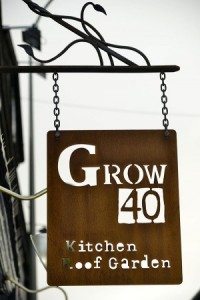 Grow 40 is the new and exciting place to dine in the North Laine area of Brighton, just on the corner of Kensington Gardens (formerly Cafe Delice). Your first question may be why 'Grow 40'. Well, I'm not sure about the 40 but the Grow part is due to the unique kitchen garden on the rooftop.
In the winter they mostly grow herbs here for the various dishes on the menu but as spring comes freshly grown leaves such as rocket will come straight from the rooftop into your salad.
You can't get fresher or more local than that.
It's important to the team at Grow that they know where their produce comes from and that it's from artisan suppliers who are local, independant and have similar values to them such as simplicity, tradition and putting time and love into their food.
Take their bread for example. They literally have to step outside and take a few strides to their friendly neighbourhood health-food shop: Infinity Foods.
All the bread and other baked products are handmade in the traditional way, without any added preservatives or additives. This simple, honest method fits in perfectly with what Grow 40 are about.
New to Kensington Gardens
As you walk into Grow 40 you get the instant impression that you could really relax and get cozy here. It has a very earthy feel to it with lots of wood, iron, khaki green and wire lampshades hanging from the ceiling.
There are a variety of lush green potted plants on the tables, and on the windowsills. There's a patio outside for when the months become warmer.
The bar is impressively stocked with wine bottles galore. If you do consider yourself a wine buff, then you'll definitely have to pay a visit to the members only Wine Snug situated upstairs. It looks very cozy indeed with Steve, the sommelier on hand.
Long Lazy Breakfasts
For me, it was a bit early for wine as I came here for breakfast on a Sunday morning. There's nothing better than going somewhere for a long, lazy breakfast on a Sunday. We were excited to see what was on offer.
The first thing I noticed were the quaint little farmhouse style milk jugs on the tables and the sugar cubes in a 'proper' jam jar with with the red and white checkered top. The staff at Grow obviously pay attention to detail and believe the little things make a big difference. This is something I totally agree with and it can be obvious when a restaurant fails to do this.
The Breakfast menu at Grow 40
The breakfast menu has your classic full english as well as a vegetarian option and a few smaller choices including scrambled egg on toast. There is also an 'eggs' section with includes a selection of varied 'benedicts': your classic, royale, florentine and G40 (which I was told was a combination of the classic and the florentine).
If you don't fancy cooked there's also yogurt and granola with berry compote and a range of pastries. My fiance Tommy went for the full english and I went for the royale eggs (smoked salmon eggs benedict with homemade hollandaise). We both ordered a latte too.
When the coffee arrived, I could actually smell the roasted beans. It was so smooth, the perfect strength and with relief, steaming hot. I must admit (like a lot of people) I can be fussy with my coffee and if it isn't quite right, I'd rather stick with water. But Grow's coffee did not disappoint. In fact, I was over the moon.
Sunday Smiles
The breakfasts arrived with a smile from the waiter, and he certainly got one back from us. We were both pretty hungry so we were happy to see that the portions were generous. The plates were carefully presented and the colours of the food seemed to jump out at us.
The eggs were bright orange, telling us how fresh they were and the bacon and smoked salmon wonderful shades of pink. Everything was cooked well. As we were enjoying our breakfasts there was soft, sleepy music playing.
I could just imagine sitting back on one of the oak benches and having a bit of a morning snooze afterwards. I got the impression no-one would have minded. As I said, the atmosphere is relaxed, cozy and comfortable.
When it was time to leave, I noticed a wire basket on the window with paper menus inside and a small note hanging off it. It said to please take one so that I know what to expect when I come back. One might say this is presumptuous, but I like their confidence. And they should be.
They provide good, simple, honest food lovingly made by local, artisanal people and they serve it in a relaxed, down to earth and cozy setting.
The owner Mikael not only cooks but he plants on the rooftop ensuring the best quality ingredients. Now I've tried the breakfast, I look forward to coming back for dinner. Or perhaps an alfresco lunch in a few weeks. Or perhaps an evening of wine tasting in the wine snug if I'm brave enough to apply for membership.
A good reason to brush up on my wine knowledge and taste a few more. So many reasons to come back to Grow 40.
What Next?
Make a Booking on 01273622519