Eat Well For Less in Brighton
Cheap eats Brighton doesn't mean poor quality ingredients, skimpy portions, or junk food. We asked you to find us the venues who are smart about their overheads, save on waste, source produce well and pass the savings on to you. You came back in the thousands to honour your favourites and thank the ones who have helped you to save those extra pennies without going without.
This year's BRAVO for Eat Well for Less is sponsored by Brighton and Hove Food Partnership.

Smorl's Houmous win your vote for eat well for less in the 2022 BRAVOs. Sarah has been serving up their unique houmous for over 12 years with the Open Market cafe opening more recently. It's fully vegan whole food, supercharged with flavour, that really does promise that you'll be eating well.
Keeping in the eat well for less top three for a third year is The Real Junkfood Project. They intercept perfectly edible food that would otherwise go to landfill and transform it into wholesome dishes that are pay-as-you-feel, meaning anyone can have a healthy meal. By eating at The Real Junkfood Project you're not just eating well for less, but taking part in a food revolution that tackles environmental issues and social inequality.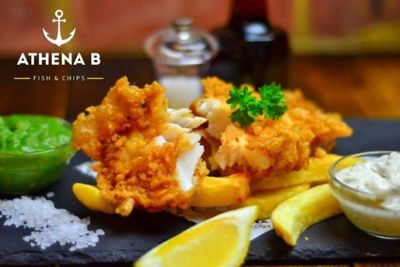 Athena B
Putting Portslade on the BRAVO map is the mum and son team behind chippy, Athena B. and like their namesake (the beached Greek merchant ship whose anchor is still on Brighton seafront) they're drawing crowds. Athena B offers the best of both worlds with all the yummy scrummy delight of a chippy tea but emphasises quality and sustainably sourced fish.