A Taste of Pure Excellence
Tasting menus are a wonderful invention. They enable gluttonous grazing without piggishness and rear a raft of tastebud sensations in perfectly sized portions. And moreover, you get a sense of a chef's showcase samplers.
Amarillo's Michelin Star-securing Ian Swainson's reputation precedes him, and it's clear he's on a mission to curate the finest ingredients and conjure up plates of pleasing luxury by way of his well-honed talents.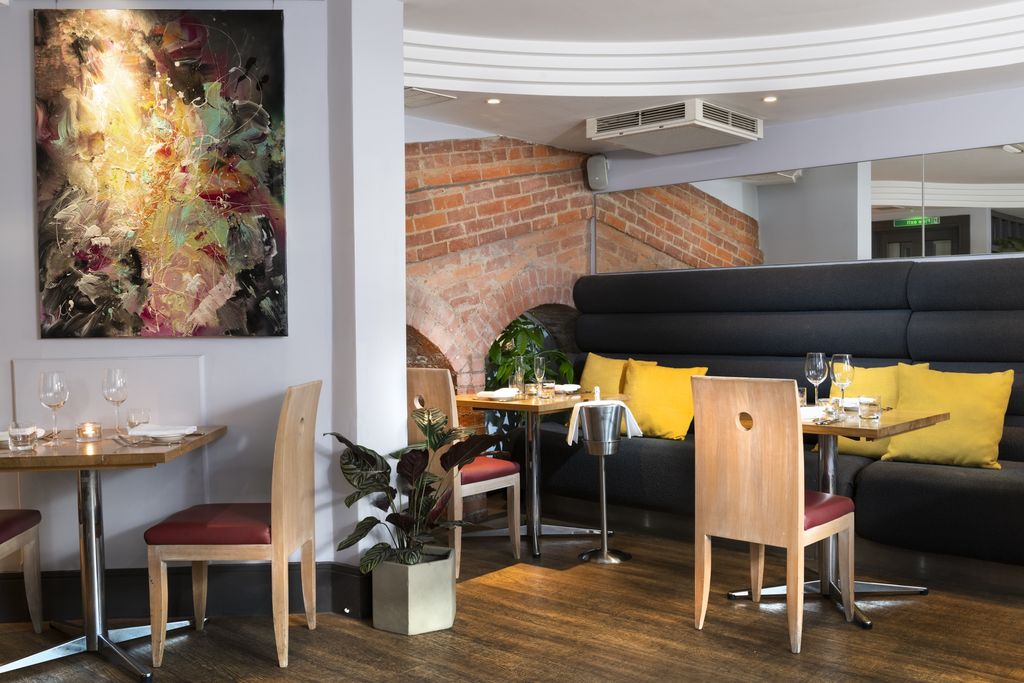 We visited in July 2021, when a newly launched selection was ready for taste-off. This is a leave-it-in-the-chef's-capable-hands event: you get to choose the meat & fish tasting menu, or the vegetarian version. Following that, it's a sit back and let the chef do his thing.
We plumped for the veggie and non-veggie versions, so we could try the lot. It's not often one experiences Michelin-approved magic in Brighton. (The menu changes regularly, so check before you book.)
The Journey
A six-course tasting menu might daunt (we fasted for the day) but each dish, as you'd expect, is a crowd-pleaser of a few fine food elements in manageable mouthfuls of fun. The order of dishes has been well considered, starting light to whet the appetite before diving into the hearty stuff.
The Palette Pleasers (M = Meat/Fish Menu and V = Vegetarian Menu)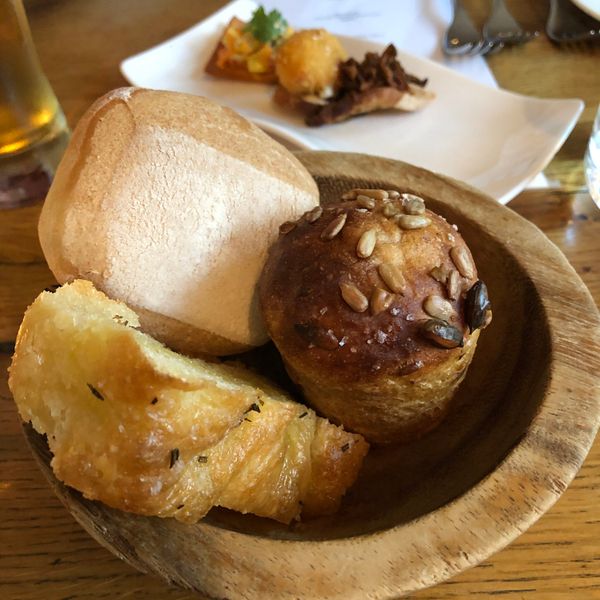 Following a basket of breath-taking breads, first up is the raw and cooked langoustine tails with tomatoes and tarragon (M) – a mixture of textures that melt into your mouth alongside the sweet acidity of the accompanying cherry tomatoes and tomato foam. The Heritage tomatoes with peaches, Burrata and tomato consommé (V) is an inspired marriage of succulent tomatoes and juicy peach flavours that refresh, alongside the gooey saltiness of the Buratta, with the subtle flavours of the transparent consommé combining the dish into one.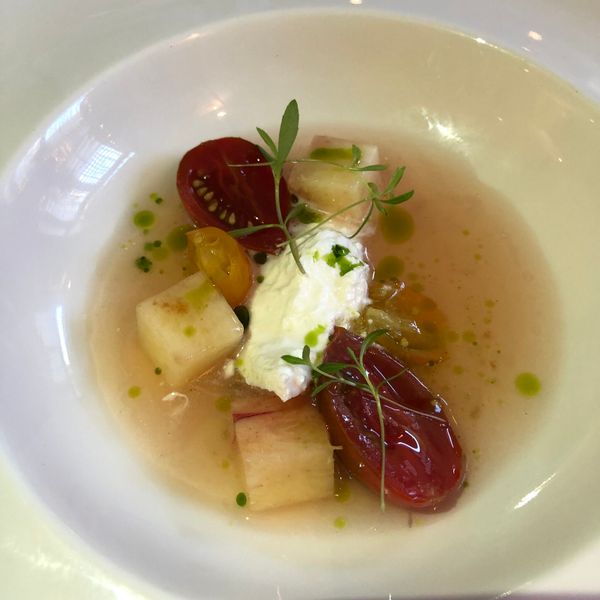 Here's the one we were most eager to try: Oyster and Caviar Oyster panna cotta and caviar with Jersey Royal potatoes (M). It's a fancy-sounding plate of food, and it delivers. The wobbly (as it should be) panna cotta is speckled with salty caviar, and not overbearingly oystery.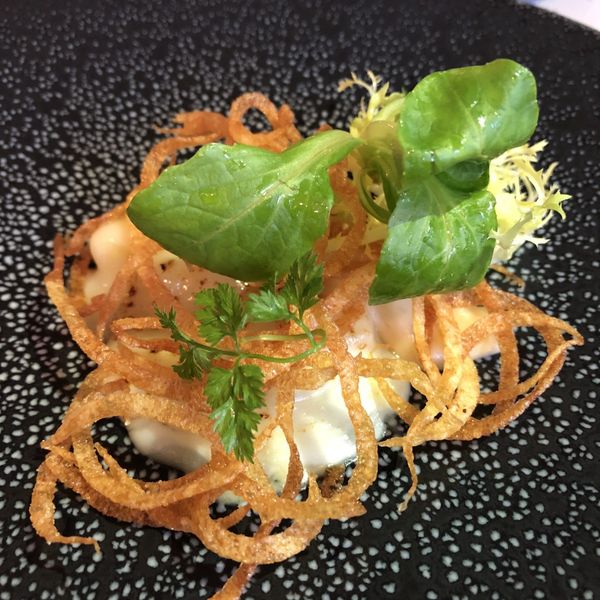 The Raclette with Jersey Royal potatoes and white onion purée (V) is a creamy-salty cheesy sensation and again, the crispy onion topping makes each mouthful a joy.
Covering both menus is the Truffle Risotto with Parmesan.
We're told the truffles are the finest Australian gems, so they've travelled a long way to reach your plate. And it's been a worthwhile trek: the rice is perfecté al dente and the creamy parmesan and full-of-flavour truffles with a sprinkling of chives is spot on.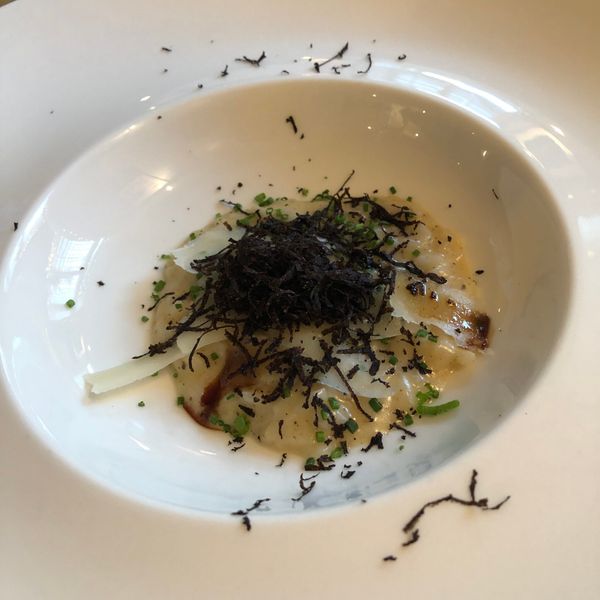 The Hearty Heavenlies
Bellies still thriving and tongues anticipating, it's time for the main events. First up, the Roasted loin of lamb with peas and Buratta (M), with two cuts of perfectly cooked lamb pieces, pink in the middle and joyously juicy. Again, the intensely creamy, rich Burrata is a rousing addition, bringing together the dish and countering the other ingredients.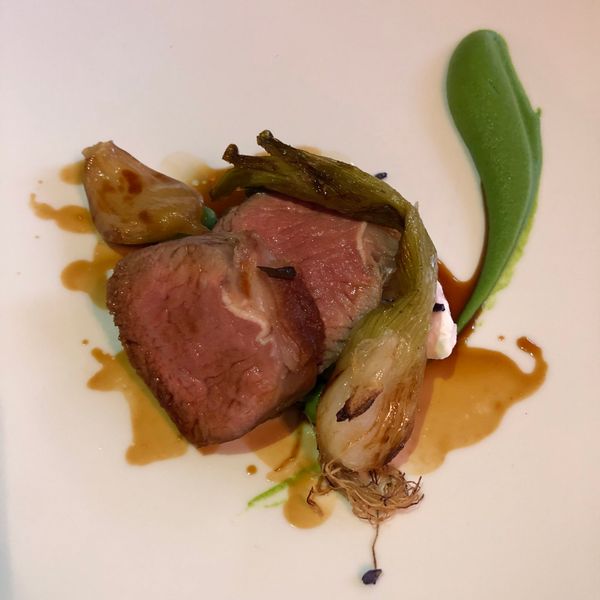 On the other edge of the table is the Egg Yolk & Beurre Maître d'Hôtel Raviolo with peas, broad beans and lavender. The CD-sized pasta disc is filled with a soft-yoke egg that spills as you slice, sparked with capers and shallots. The lavender is subtle and is complemented beautifully by the charred spring onion and garlic atop.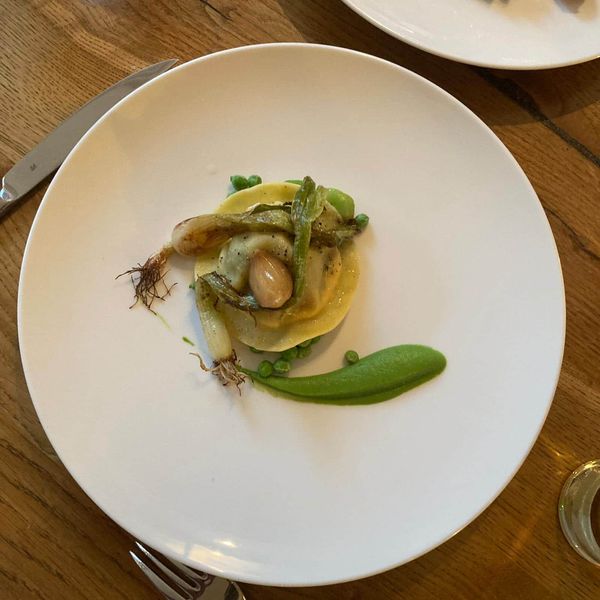 The Sweet Selection
The mysteriously named 'Strawberry' comprises strawberry consommé, slices, sorbet, sherbet and three different types of meringue. It freshens and refreshes, gently guiding you to the Cacao conclusion: a sweeping chocolate Tuiles cradles nutmeg custard with dark chocolate sorbet and Madeira jelly, combining crunch with cream and gooey goodness with richness offset by the frozen accompaniments.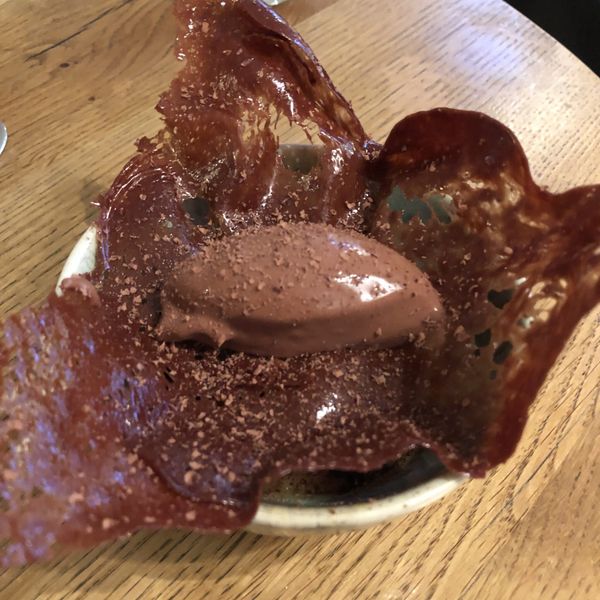 Amarillo is a triumph, and a testament to Chef Ian Swainson's experience, vision and technique.