Finally I am eating at Isaac At!
My wife and I have been planning a visit to Isaac At for a long time, always with the excuse of having something to celebrate but for whatever reason we haven't had the chance to book a table. It was an easy choice to accept this review, and celebrate finally making it into the restaurant to review their current tasting menu.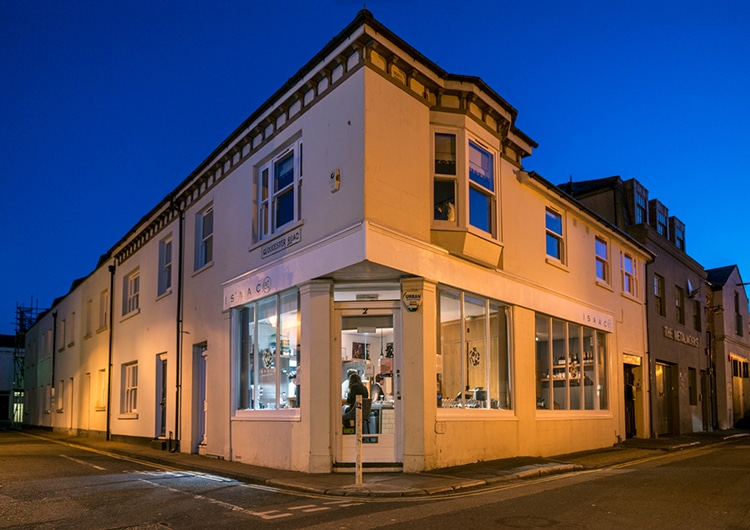 In good continental fashion, we arrive on time, straight away our jackets are collected and we are shown to the best spot in the house (in my opinion): two spots right on the pass where you can geek out over cheffy stuff. The stools are incredibly comfortable by the way!
A celebration of food
Everything is in harmony at Isaac at, the design, the decoration, the table layout and the team at work; it's a celebration of food from the moment you step in. Menus are rolled and elegantly placed in front of each diner and they consist of three pages. One with your actual menu, one with the drinks list, and one with a list of all the ingredients used by the kitchen and how far they've come. Is this relevant? Maybe not but it's just the first step for diners to know the effort these guys put into their cooking.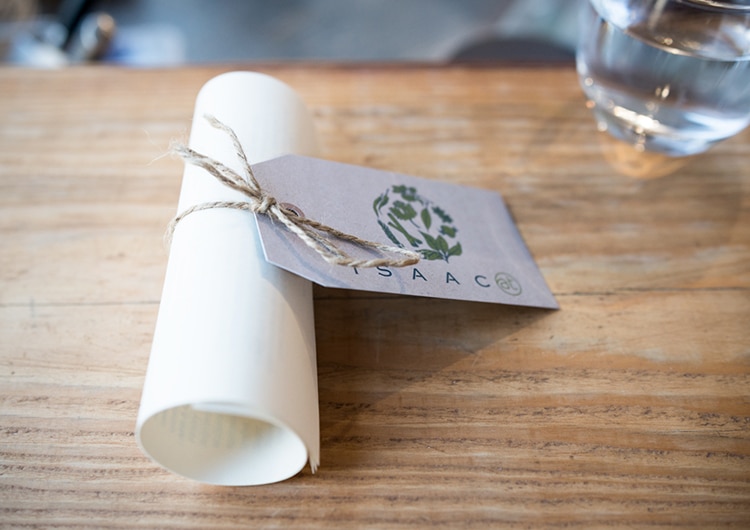 Versatile choice of wine
Wine is arranged by Alex, the Sommelier/Restaurant Manager and promptly presented and poured, we couldn't decide between red and white so we were recommended a bottle of Albourne Estate white Pinot Noir. A very good and versatile choice!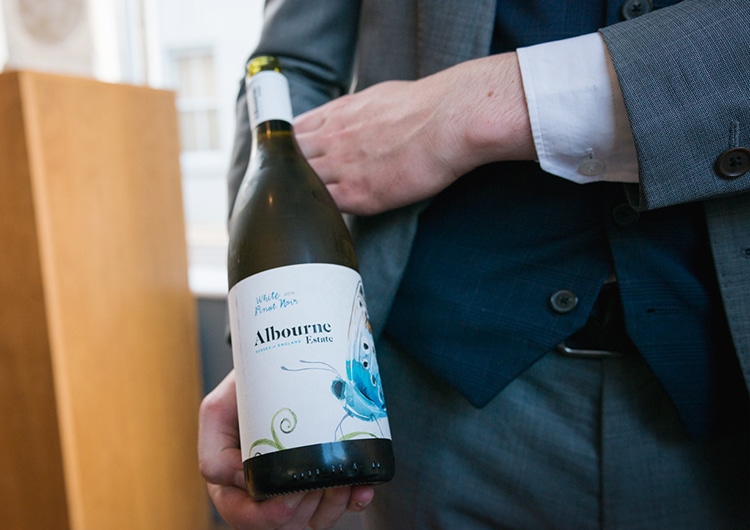 Soon after, our first course arrives: Charred Asparagus, Egg Yolk and Hazelnut. "The smallest starter in the world" I say to myself, The tip of an asparagus cut in half and plated, dressed and decorated with surgical precision. It's so tasty you want to eat it in as many tiny bites as you possibly can.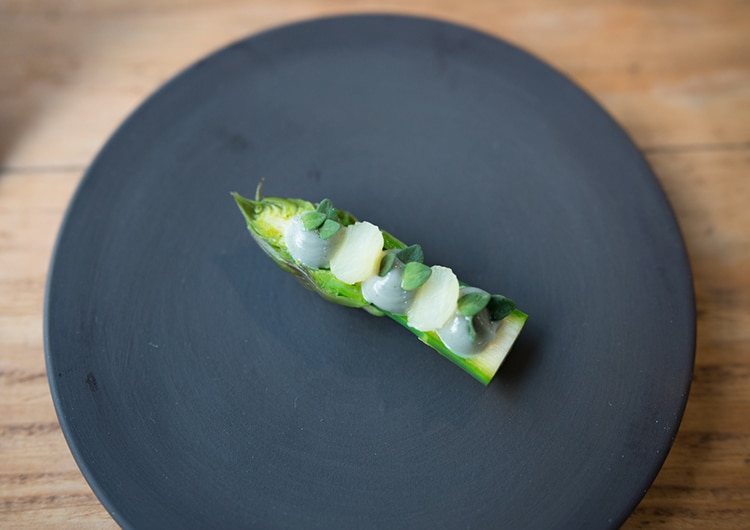 To our comfort, there is a second part of this starter consisting of the stem of the asparagus and the rest of ingredients beautifully arranged.
Loving every bite
In between courses, four very appetizing bread rolls are served; two treacle and stout and two caramelized shallot brioche buns which you can learn how to make on Isaac's website.
Black Bream, Celeriac & Dill follows and it's simple presentation is quickly overshadowed by the perfect texture of the fish, and the creaminess of the celeriac, gently put together with a drizzle dill oil. This dish is so delicate I could have done with a smoother wine but hey… that's just me being picky. I'm loving every bite of it.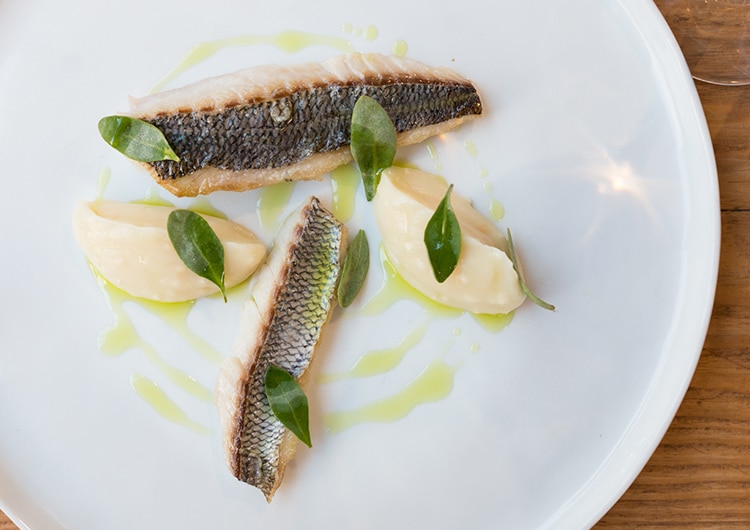 A couple more tables arrive by then and the restaurant starts to feel alive. The music choice is just right and at the perfect volume, diners are enjoying themselves and I'm wondering if they're aware of the wonders happening in this kitchen.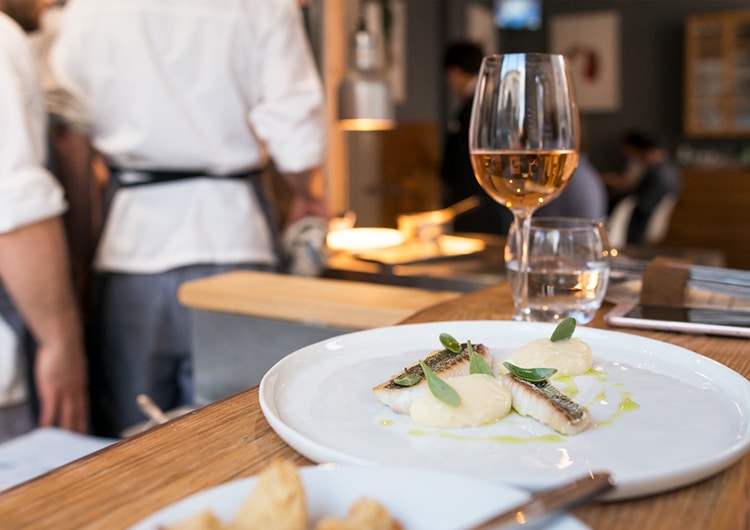 Showcasing the humble carrot
I stop pondering and take some notes of our dish arriving at the table: Roasted Carrot & Bay Leaf. This carrot has some history, it's travelled 28 miles all the way from Kent and spent hours and hours slow cooking developing all it's flavours. This dish served in three different textures to show what a simple carrot can do to your senses.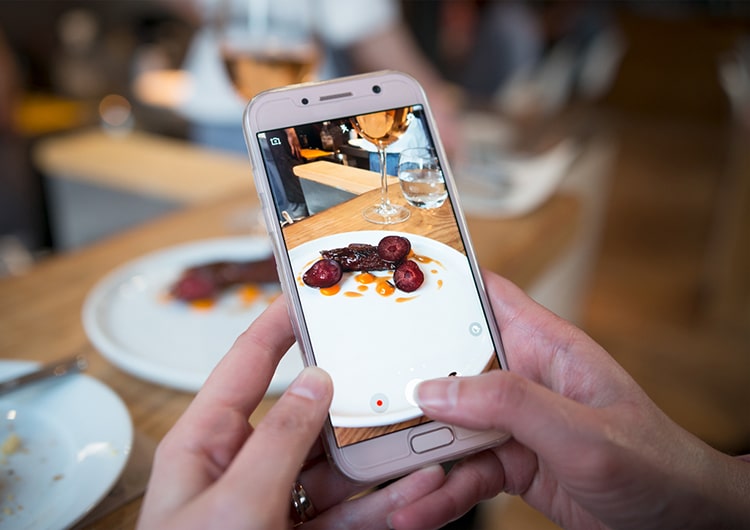 Chefs in action!
In between dishes I spot some action in the kitchen so I decide to do what I enjoy the most; take some pictures of chefs in action!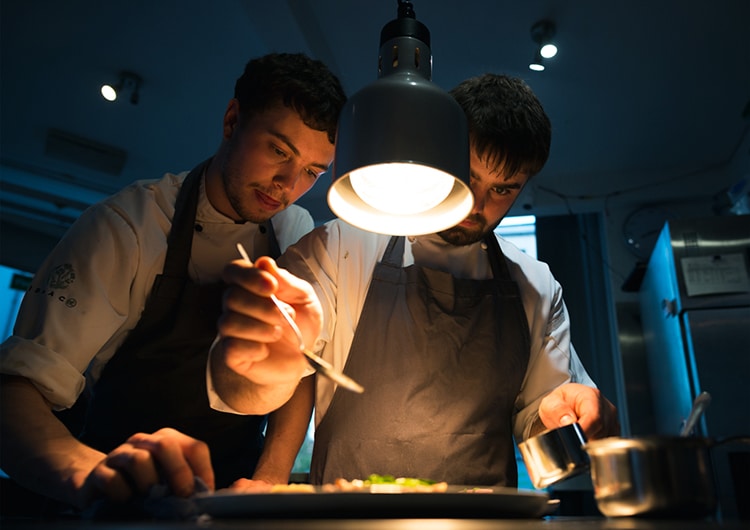 It just so happens, that I spot them plating our next dish; Lamp Chump with Aubergine & Coriander. Another simple dish with only three elements that work so well on their own. I eat the lamb and coriander first and then indulge in the aubergine puree…beautiful!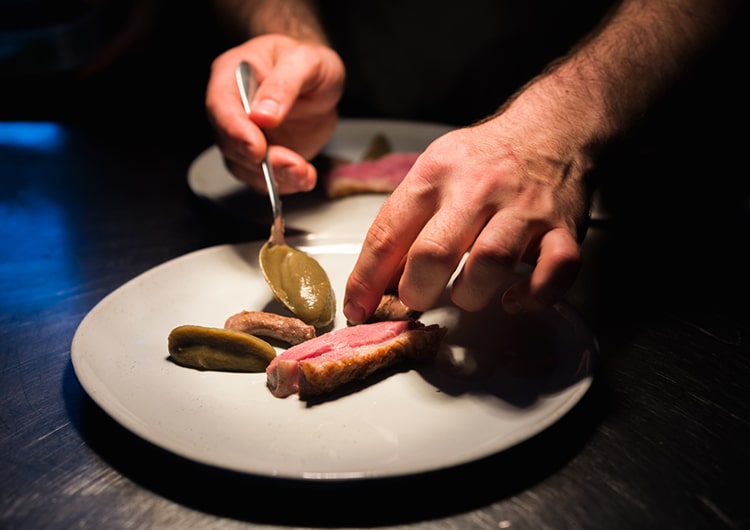 A celebration of local produce
Indeed our dinner is what we expected hearing other people's comments. It's a true celebration of local produce and the essence of each ingredient used. The food might look simple when it's plated, just like the Rosemary & Bramley Apple Sorbet but the process of getting that simplicity right is so complex and well executed that it looks effortless.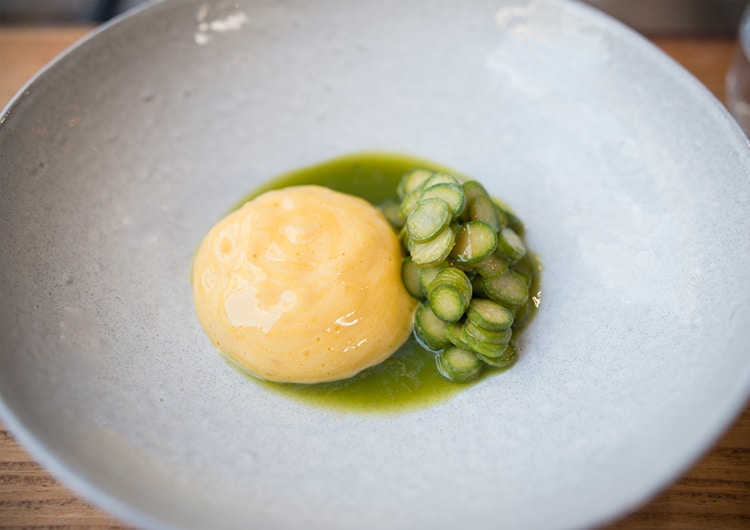 No words
My favourite, the grand finale with fireworks and everything: Alexander Bud Ice Cream, Tomato, Rhubarb, & Puff Pastry. I have no words to describe this dish.. every single ingredient is put together in the right texture, temperature and proportion.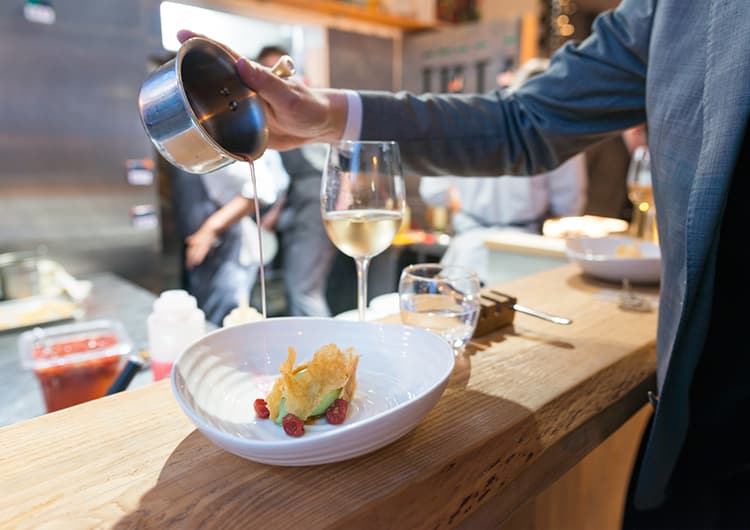 An experiential menu executed perfectly
Over coffee and petit fours we're still discussing that dish, it's not sweet, it's not your traditional dessert and really, Isaac At is not your traditional fine dining place. We're very glad we came to experience such a celebration of food and wine that this side of the world has to offer. We loved it!
What Next?
Book at table on 07765934740
See the listing for Isaac At Restaurant Brighton