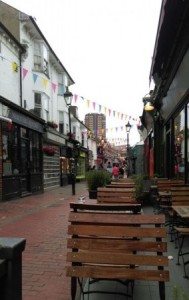 Lobster in the Laines
Brighton Food Reviewer, Brittany Hart, June 2015
On a sunny Saturday afternoon you will be hard pressed to find a street more full of shiny Brighton-loving faces than Kensington Gardens.
It is the beating heart of the North Laine and the epicentre for all things Brighton; vegan cafe's, zombie killing t-shirts, hand painted Brighton idolatry, and buskers serenading their way to stardom/ cider.
This little cobbled street may be the most photographed in Sussex, but behind all the hustle and bustle and the shopping hordes lies my new favourite Brighton oasis, Grow 40.
I was invited to come and experience Grow 40 on a sunny Thursday after work, and the walk down through the Laines was a very different place. With most of the shops and hawkers shut for the day, the daily siege of shoppers had given way to the calm of the warm evening.
Setting the Scene
When I arrived the patio was open for seating and filled with ladies giggling over bottles of bubbles, a couple chatting over their charcuterie, and a gentleman reading with a hearty glass of rose; I could already see myself indulging in after work drinks here with the girls.
Some of my favourite nights out are a mid week meet up with my ladies, drinking wine, eating cheese, and pretending to be sophisticated. At Grow 40 they offer a mix and match charcuterie and cheese board, and as an added bonus on Wednesdays they also have two for one champagne, yes please! I was already a regular and I hadn't even had my first bite. (Incidentally my Wednesdays are now booked solid until September.)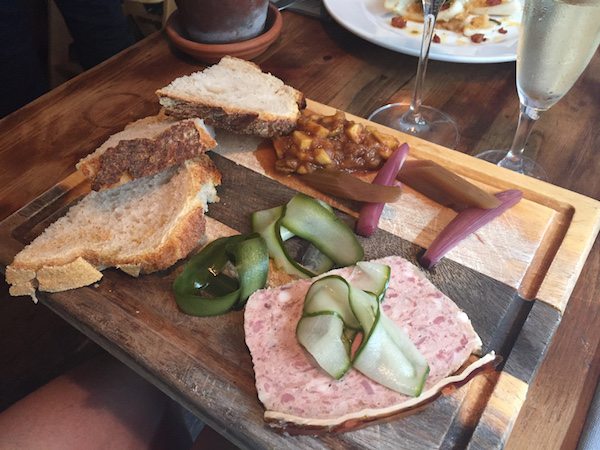 The restaurant is handsomely decorated with solid oak tables and tasteful herb centre pieces, and the wine racks are used as gorgeous features filled with beautiful bottles, giving the whole room a comfortable elegant feel; like being in a rustic French farmhouse in wine country.
For all you wine lovers
We were seated on a cosy table near the window and offered the extensive wine list.
For all you wine lovers out there, this is one of the most approachable, affordable, and extensive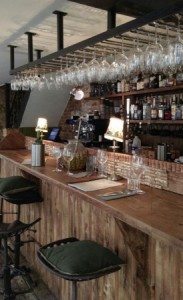 collections I have seen in a while.
I was curious about their ability to have so many fabulous wines by the glass, or the carafe, and not be constantly in waste. Luckily their wonderfully friendly head chef and owner Mickael was more than happy to explain their sophisticated method of removing the oxygen without compromising the flavour.
I was very impressed with, not only his knowledge about wine, but also his passion for not wasting a single drop…I had found a kindred spirit.
Starters
Once the wine was flowing it was time to start ordering. For our first course we shared the Rabbit terrine with home pickled rhubarb, chard, and strips of cucumber. The plate looked lovely and was served with fluffy chunks of fresh bread, from Infinity foods just across the road, and cinnamon apple chutney that was obviously home-made and delightful.
The chutney worked brilliantly with the salty and chunky terrine, just delicious!

Sizzling Squid – Grow 40
Next was the sizzled squids served with garlic puree and crispy seaweed. The squid was fresh and well cooked, and was topped with a crunchy fried crumb that gave it a wonderful texture. It was sprinkled with pan fried chorizo and finished with strips of crispy fried seaweed which I thought was a playful nod to their Thursday 'surf and turf' menu. I did find it a bit salty, but I think it still really worked for the dish and I loved it all the same, enjoying every last bite.
Grow 40 Lobster & Burger
Next up was the Grow 40 Lobster and Burger sharing plate and we were so excited.
For the price that most restaurants would barely let you look at a lobster, let alone eat one, Grow 40 are serving up a decent portion of crustacean along with a home-made burger piled high!
Not only is it plenty of food for two but it also comes with two glasses of bubbles; a perfect combination for date night or friends looking to share some laughs and catch up.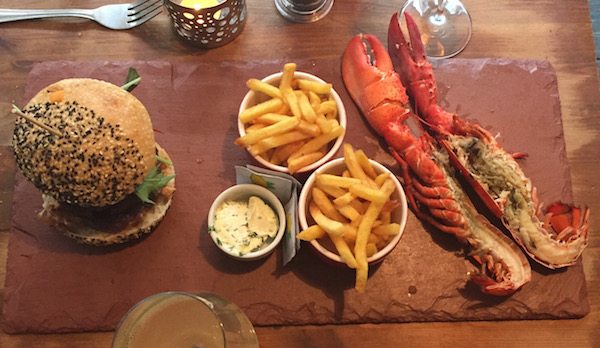 The Lobster is served with garlic butter, and it's pre-cracked so you don't have to worry about flinging your shellfish across the room and impaling anyone.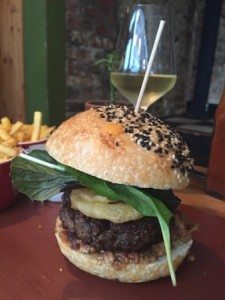 Lobster has a reputation for being an elegant food, but I think it tastes even better when you use your hands. You may get messy fingers, but I say dive in head first as the restaurant has wet wipes at the ready.
Their burger was also finger lickin' good!
Piled high with fresh onion rings and home-grown field greens, it was juicy and delicious.
The burger was topped with a fluffy sesame seed bun, and was served with crispy fries and home-made ketchup which my friend said she would 'happily go to bed with'.
We were both very impressed and I personally love the Lobster and Burger combo, it is the ideal Brighton combination; Casual and elegant.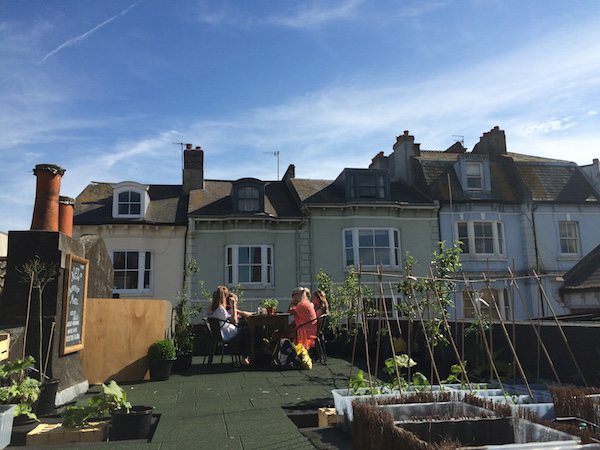 Yes Brighton I said roof terrace!
After our mains we were escorted to my favourite part of the restaurant, the roof terrace. Yes Brighton I said roof terrace, the unicorn of venues that seems to be but a myth in the Brighton restaurant world.
Overlooking Kensington Gardens is Grow 40's private dining terrace, it a large space partially taken up by the restaurants fresh herb garden, and has one long table in the sun. The garden is for private intimate groups of diners, serving up to 6 well deserving people.
Not only do you get your own terrace to enjoy, but you get a full service menu, and the herbs and vegetables are sourced from Grow 40's personal allotment.
The venue opens in July, and I will be honest with you, I already have a reservation so get in the queue.
After basking in the sun for a bit we made our way back to our table where we topped up our wine and got ready for dessert. On Chef's recommendation we ordered the strawberry cheesecake and Mickael's own creation, the sweet corn cake.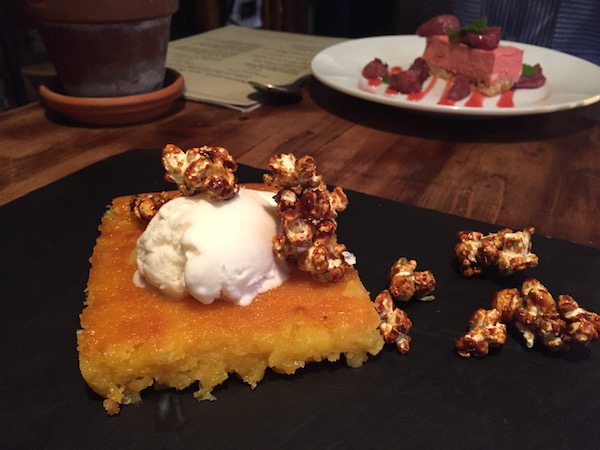 Dessert
The Strawberry cheesecake was luscious and creamy with a cookie crumb crust and served with merlot soaked strawberries from his garden. There were fresh sprigs of mint from the above terrace adorning the plate and it was swirled with strawberry syrup, a classic dish done very well.
Our final plate was the sweet corn cake, and in Mickaels own words 'it was a delicious mistake.'
Apparently he forgot the flour in the first batch and cooked it up anyway, and I am so pleased he did. The dish is unique and flavoursome and I can recommend anyone to get to Grow 40 and try it.
I loved everything about this dessert, the soft and warm corn cake, the crunch of the salted toffee popcorn, and the aromatic and cooling tarragon ice cream. All the flavours together brought me back home to warm Mississippi nights at the county fair; the smell of cornbread and popcorn in the air, and a triple scoop in hand ready for the next ride, just delicious!
Overall is was a lovely night and to say that I would recommend Grow 40 is an understatement, if you are in Brighton and want to try something new head down to Kensington Gardens and enjoy the friendly staff, fantastic wine list, and brilliant food, you will not be disappointed.