Sussex Casual Dining at the Glass House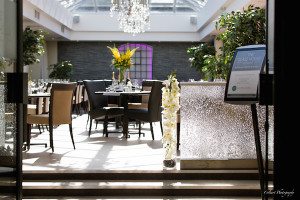 A 15 minute drive north of Brighton over the South Downs takes you to the rural village of Albourne; near to the villages of Henfield and Hurstpierpoint.
In a secluded and attractively wooded setting less than half a mile off the main road sits the Wickwoods Country Club complete with hotel, spa and now home to The Glass House Restaurant.
There is indeed an impressive amount of glass; the whole roof is made of it and a series of sliding glass doors, which open onto an outside dining area and large garden, make up nearly a whole side of the restaurant.
The design makes for a supremely light environment playing host to an elegant interior.
This evening I've dusted off the parents, who live round the corner, to join me for 3 courses.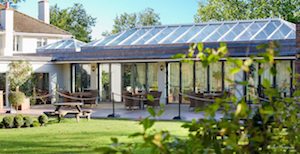 Boding well for an evening with good service, one waiter attends to us throughout, his name is David and hats off to the man he is exemplary from start to finish.
He sets the wheels in motion with some jolly nice gin and tonics and we place our orders.
Mrs A, prudent as ever, orders from the set menu offering two courses for an economical £11.95, Mr A Snr. from the A la carte and it's the specials board for me.
Mains are in the £15 to £20 range.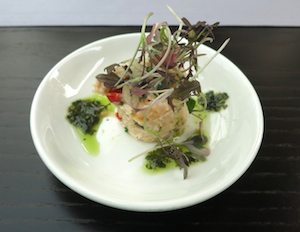 Just prior to the starters a cute looking amuse bouche turns up; a tot of soft shredded crab meat, delicately spiced with subtle chilli undertones and a coriander dressing; gone in a flash but a fine start to the meal.
The nod to Asia continues into the first courses; a crispy spring roll well stuffed with tender pork comes with a salad of spring onion, shredded carrot, bean sprouts and rocket, proving to be a light and refreshingly fragrant first course.
In the same vein, my dainty chorizo and chicken tian, well-seasoned, also retained a refreshing edge from the mango infused crème fraiche dressing, lending a hint of sweetness and fruity tang.
It contrasted favourably with the smoky chorizo.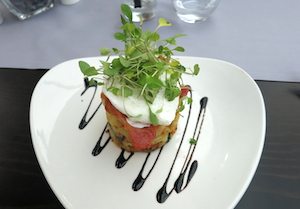 For those seeking weightier substances and perhaps more traditional flavours, fear not.
A hearty tower of bubble and squeak propping up a thick cut rasher of bacon and perfectly poached egg also ate well, a sweetish balsamic reduction shifting the dish away from breakfast to dinner.
The folks and I were more than pleasantly surprised and as we chatted the glass doors to the garden closed, the lights dimmed and Tony Bennett strolled in from the bar singing 'I left my heart in San Francisco'. Well, not quite but it would have befitted the occasion well.
Slow roasted rump of lamb

From the specials board slow roasted rump of lamb with crushed potatoes and greens awaited me and did not disappoint, the lamb was cooked to perfection.
Retaining a light pinkness, the meat was well seasoned, incredibly soft and mightily flavoursome.
It was a healthy portion and truly memorable.
Crushed pots and greens were well cooked and married up perfectly with the lamb.
Mrs A's fishcake was a substantially sized patty, a toasty brown and crisp breadcrumb shell housed soft chunks of white fish and salmon.
A classic tartare sauce lended some sharpness and moisture to the plate.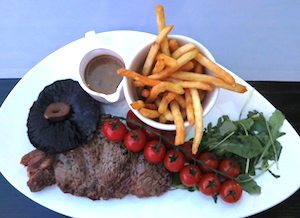 Mr A Snr. had requested his sirloin medium rare and was served as such; he was a happy man.
Again the meat was well seasoned and of good quality, tasting rich in beefy goodness.
Accompanying the steak and fries was a creamy horse radish sauce replete with a tart mustard kick.
A fine peppercorn sauce, warming to the palate with a nice underlying vinous acidity brought the dish together.
Roasted vine tomatoes, in abundance here, also added some acidity as well as sweetness too.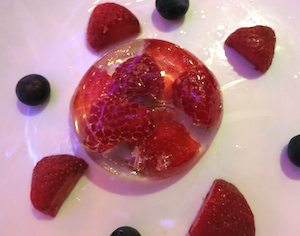 It was a satisfyingly wonderful dish to eat.
Mrs A's dessert was a champagne jelly with fresh strawberries, blue berries and mint syrup – sneakily housed inside the jelly.
The mint was potent both in terms of fragrance and flavour concentration.
A great concept but possibly a touch overpowering in its execution, nevertheless it lent a cleansing antidote to the conclusion of a meal.
Local ice creams from Pulborough were wholesome and creamy; we sampled the vanilla and also the deliciously rich fudge brownie.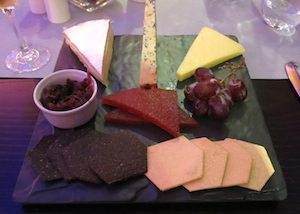 Preferring a savoury end to my meal I'd opted for the cheeseboard and a glass of sweet moscatel wine.
It was a generously sized affair and just what you'd hope for with a decent selection, savoury sweet red onion marmalade, quince jelly, grapes and biscuits.
Two hours or so had passed by and we'd enjoyed our experience here from the moment we'd walked in. The service had been faultless and the lamb alone was consideration for a return visit.
The Glass House delivers a touch of chic in the countryside, and come August they do actually have a lounge singer booked in. Fly me to the moon? That won't be necessary. Drive me to Albourne.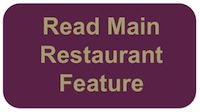 Make a Booking on 01273 857567