Passion to perfection!
Brighton Food Reviewer, Chloe McKellar, July 2014
I had heard many good things about Moonstone Restaurant in Hove, but I had never managed to get there to try it.
Owned by a lovely Sri Lankan husband and wife, this gorgeous little place has a very friendly feel about it, which makes you want to come back again and again.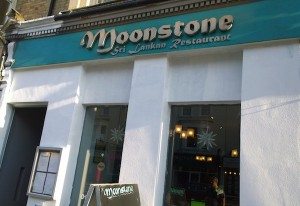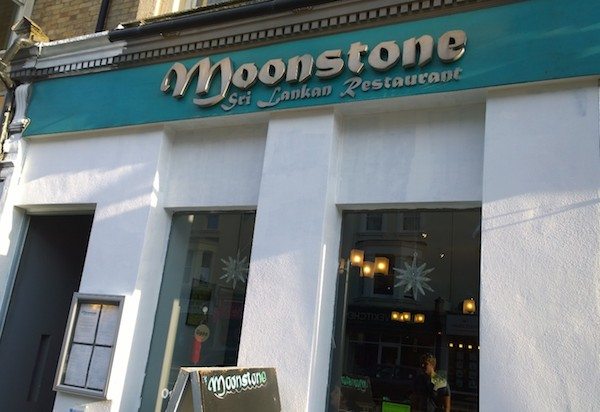 With Sri Lankan born chefs, and using the freshest possible ingredients, they offer a wonderful selection of mouth watering Southern Sri Lankan dishes, that cater for all types of dietary preferences and requirements.
I would best describe Sri Lankan food as fresh and spicy, with sweet and sour flavours, and lots of coconut.
They allow you to choose your level of spice in some of the dishes, so there is really something to suit all taste buds!
We visited on a Wednesday night, so it was not too busy and there was a relaxing vibe going on.
The decor is lovely and bright and airy, with Sri Lankan memorabilia dotted around the walls.
Their menu is of a very decent size, with plenty of delicious dishes to choose from, so you could go over and over again and not have to choose the same thing!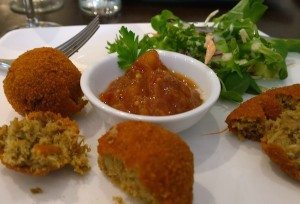 There were lots of exciting dishes that I had never heard of before, so I was almost beside myself with excitement about what I was about to eat!
The owner came over to introduce himself, and kindly explained the menu and what items were gluten free.
Nearly the entire menu is suitable for someone who is gluten intolerant, there is even more than one gluten free option to choose from for dessert! Hooray!
We started with a drink, and we both ordered a glass of Chilean Sauvignon Blanc, which was really fruity, and lovely and refreshing.
The starters all sounded amazing, there were just a couple that were gluten free and I went for the sardines, and my boyfriend chose the Fish balls (non gf) with pineapple chutney.
The sardines were crispened beautifully, and came with plenty of salad and a tangy salad cream. They weren't too fishy either, lovely and fresh and not too oily.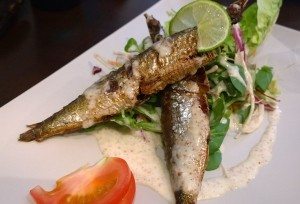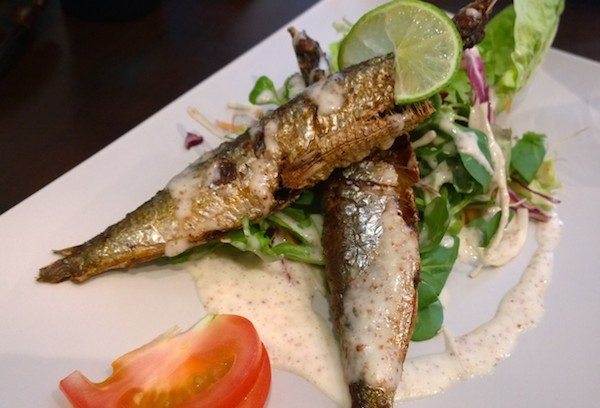 The fish balls were crunchy on the outside, with a soft flavoursome centre and came with a delicious pineapple and tomato Sri Lankan chutney on the side.
These starters were so fresh tasty and so full of flavour, our taste buds were tingling for what was going to come next!
For the mains, the menu comprises of fish & meat dishes, vegetarian curries, and Sri Lankan style noodles.
The majority of these dishes are gluten free, as wheat flour is not a common ingredient in Sri Lankan cooking.
We decided to get a couple of plates to share, and I would highly recommend this as it gives you a great the opportunity to try lots of new dishes, plus there is something I really enjoy about sharing.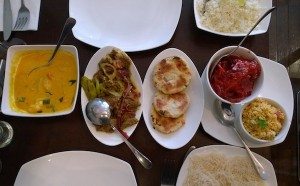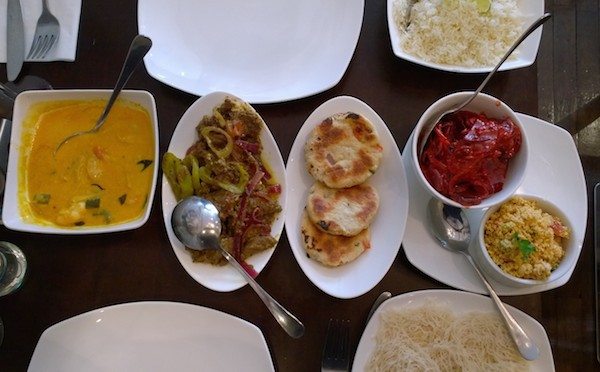 We chose the Seafood curry with prawns, and the traditional meat curry with lamb, alongside garlic and lemon rice, coconut sambal, and a beetroot curry.
There are a selection of Sri Lankan breads on the menu too, my boyfriend went for the Savoury Roti (not gluten free) and I gave the string hoppers a go! – These are fine strings of rice flour dough, spiraled into circles and steamed.
The prawn curry was our highlight, it reminded me a little bit of a curry laksa you would get in Singapore or Malaysia.
We ordered it as a medium spice, with creamy fresh coconut and garlic, and rich in herby flavours. The lamb curry was packed with cardamom, and lime juice (or tamarind), and the chunks of lamb were so tender they just melted in your mouth. I liked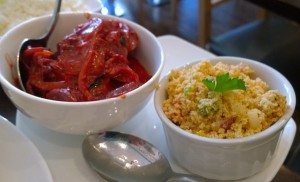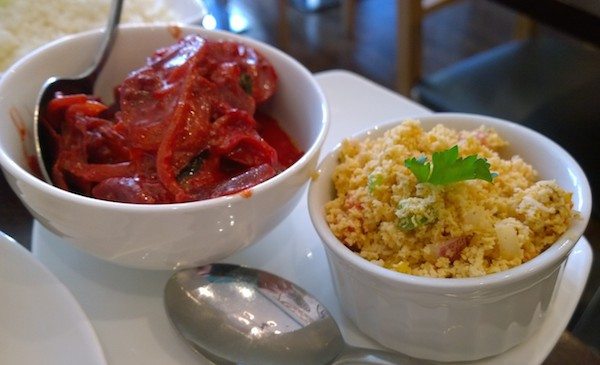 the soft silky onions, draped around the meat.
The beetroot curry was earthy and had a wonderful balance of spices going on, it wasn't what I expected at all, and I was pleasantly surprised with how good it was!
The lemon garlic rice was beautifully subtle in flavours, but highlighted the freshness in the all of the curries.
The coconut sambal had a mixture of fresh shredded coconut, chilli, tomato and onion, you should definitely order a side of this, as the combination seemed to intensify the rest of the dishes even more!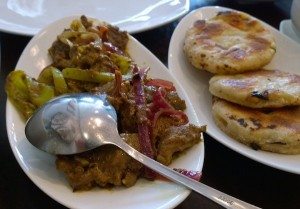 The roti and the hoppers were lovely too, the roti came as small patties with peppers and coconut, and the hoppers were really good at soaking up the curry liquid – you do get plenty though, so they would be good to share between a few of you!
Once again, I don't know how we did it but we ordered dessert. I was so glad I did as they were both really delicious.
I ordered the Wattalappan (I love the name of this), it is a traditional Sri Lankan pudding made with egg, treacle and coconut and a hint of cardamom.
I would best describe it as a dense bread and butter pudding, without the bready texture, and it was lovely and sweet, with a perfect balance of treacle flavours and cardamom.
My boyfriend went for the homemade baked cheesecake (also gluten free) with coconut and Malibu, and it was deliciously creamy and not too heavy.
Even though we were full, both desserts were a beautiful end to a very tasty meal.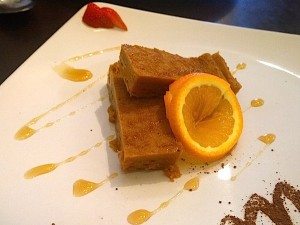 With very reasonable prices, and so much to choose from if you are gluten intolerant, there is no reason why you shouldn't visit Moonstone restaurant in Hove, I wish I had been there sooner!
I would definitely say I have been missing out by not visiting all of these years, and I am thankful for Moonstone for introducing me to the fresh, and flavoursome Sri Lankan food, cooked with obvious passion to perfection!