Tom Flint – Food Booze and Reviews
Tom is a freelance food writer who lives in Worthing and writes a regular food column for the popular Brighton Independent newspaper. After spotting him out and about we decided to find out a little more about Tom Flint and what makes him tick…
Tell us about your favourite restaurant in Brighton, Hove or Sussex
This is a question that I get asked a lot and is one that I think is pretty much impossible to answer. I find it really hard to come up with a favourite anything as it so dependent on how I am feeling at the time. Food is subjective and can be influenced by so many different variables that I could never say definitively that I have one favourite.
Of the restaurants that I have reviewed I would say my favourites so far are Fourth and Church, Isaac At and Flank – none of which are restaurants in the traditional sense. There are so many that I still need to try before I could say with any confidence what I thought the best restaurants in Brighton are – which is testament to how good the scene is at the moment.
We're coming round for dinner… what's on the menu?
I love to cook and my style is fairly traditional and inspired by French cooking. There is a lot of cream, butter and richness in most things that I cook as that is what I love – my girlfriend is into health and fitness and calls it evil but good food.
One of my absolute favourite things is pommes dauphinoise so that would be in there, with some slow roast lamb or pork for the main.
I love simplicity in cooking and it should be all about the enjoyment of eating – very much substance over style.
I got a pasta machine for Christmas and have really enjoyed playing with that so would probably make a salmon and scallop ravioli to start with a nice bisque.
I've a massive sweet tooth but desserts are not really my forte – you need to be far more precise and knowledgeable than I am. If I was trying to impress I recently made a berry delice that I was pleased with and all meals should end with an espresso martini.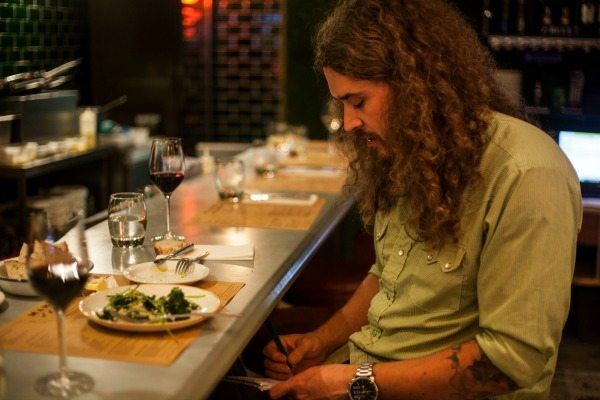 How did you get into food writing and restaurant reviewing?
I was finding it difficult to motivate myself to make new dishes and experiment at home. I cook for myself a lot as my girlfriend eats a strict diet apart from one day a week when I cook for her. I realised that I was making the same things over and over and so started the blog in order to push myself and rediscover my enjoyment in cooking.
It was a really great way to keep motivated and try new things – although I started making some ridiculous midweek meals and the shopping bill increased noticeably. I realised I enjoyed the writing as well as the food and so started to branch out a little and got an invite to a food event. I bumped into Bex from the Independent whilst there and she mentioned they needed a new food writer so I said I would do it. It was a case of right place right time and putting myself out there. It could have gone terribly wrong but has worked out so far I think.
Do restaurants know you're coming to review?
As much as I would love to be able to afford to eat out every week it's just not possible so yes they do. I contact them up front and arrange a time to come in and sometimes I ask them whether there are particular dishes that they would like reviewed. Some people might think that this means you do not get a real feel for what the restaurant is like but I disagree.
My approach is that I am not going there to try and catch people out as what is the point of doing that? Lots of places I review because I want to help support the restaurant scene in Brighton and the talented people out there who are great chefs but maybe not so great at promotion. That doesn't mean that I am not totally honest about what I write, if I think something could be improved I will say so and hopefully it is done in a constructive manner.
Where and when do you prefer to write?
I tend to do all of my writing at the dining table in our kitchen at home in Worthing. I prefer to work in the morning but as I also work a 9 to 5 office job for the NHS I do not have that luxury apart from at weekends. The writing and reviewing takes up the majority of my free time but I am not complaining as it is something I enjoying doing. Eating and drinking as a hobby is pretty great as far as I am concerned – although it is starting to take its toll on the waist line.
If you could fly anywhere in the world to eat a certain cuisine where would you go?
I am not that well travelled to be honest. Every childhood holiday was spent in France and I've not gone outside of Europe since then. It would be pretty amazing to try proper Indian, Thai and Japanese food as I imagine it is so different to what we are used to in this country; but I've never felt the urge to visit those places.
It is very tempting to look beyond what is directly on your doorstep and I think you can find incredible food much closer to home than you think.
I am a big fan of Europe and the variety of food and cultures so I would like to go on a food tour of Europe.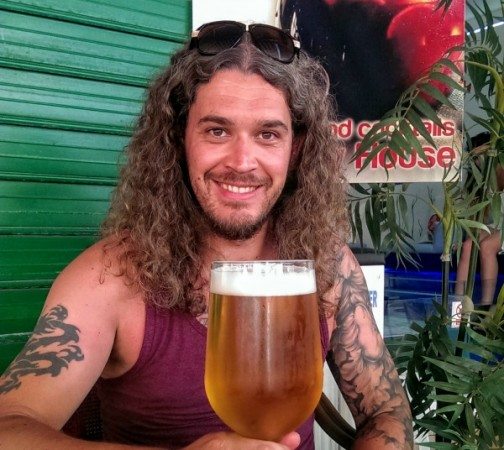 What question do you find surprising that people ask you about your work?
I get asked a lot of surprising questions at my day job – but this is neither the time nor place for that. People do tend to ask me whether I feel guilty writing a bad review of somewhere when they have given a complementary meal. I find this a little surprising as just because I did not pay for something does not make it good. Yes I like to help promote the restaurant, but I am mainly there to give an honest opinion for the people reading the column. Many people can only afford to eat out occasionally and so I do not want to recommend somewhere that is a disappointment – especially when it could be a special occasion or celebration.
What top tips would you give aspiring food writers?
Just get on with it and see what happens. Make sure that you enjoy what you are doing and when you write do so with your own voice – do not try and be something that you are not. I would say make sure you proof read everything but I hate proof reading – saying that there is nothing more annoying than finding an obvious mistake in something that has been published.
Do not be afraid of making mistakes or what people think. There are always going to be people out there who might not like what you do, but do not let that stop you. Have fun with it and just go for it and be open to any opportunities that come your way – never say no to something unless you really have to.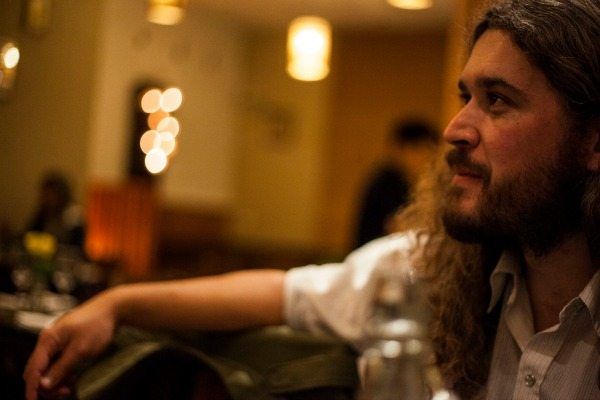 What do you feel are the main differences between the food scenes in London and Brighton? 
I personally cannot stand London and so avoid going there as much as possible, which means I am not the best person to answer this question. My only recent experience of the London dining scene was eating at the Chiltern Fire House last year which managed to encompass everything that I hate about London in one restaurant. By that I mean it was over-hyped, over-priced and full of lots of people who thought that they were somewhere important when they really weren't. As I said, I don't really like London very much.
What's next for Tom Flint?
More of the same really. I want to keep reviewing and writing about the Brighton food scene and promoting that as much as I can. Obviously I would love to be able to turn this into my actual job one day and so will keep doing what I am doing and getting involved in as many things as possible. There is so much more to learn and experience and I am completely open to that.
On a separate note I am planning on hosting my own supper clubs at my house in Worthing as I would love to cook for people and get feedback from them. I am currently trying to get people to vote for my Instagram feed @foodboozeandreviews in the Observer Food Monthly Awards 2016. I think it would be hilarious to get shortlisted and make it to the awards night if only to show Jay Rayner he has not got the biggest hair in the restaurant reviewing world.