FUMI's calm and understated frontage, tucked away on Circus Street, is a welcome oasis of calm, just minutes from the noisy bus routes and busy crowds of Grand Parade.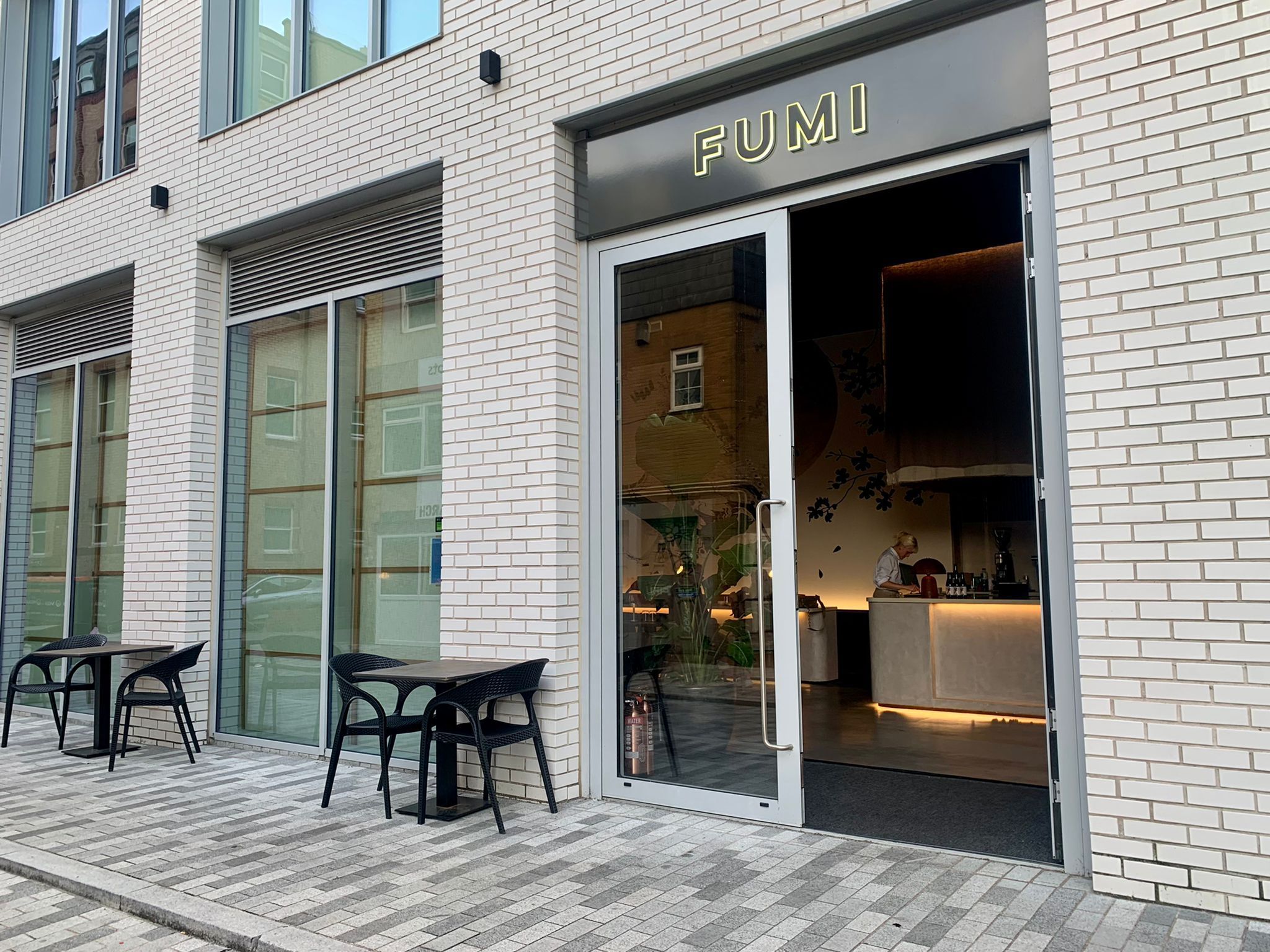 The stillness and quiet elegance of the interiors creates a sense of serenity from the moment you enter. Restauranteur Fabio Lauro's commitment to offering clients a 'unique, sustainable and stylish' design is evident from the intimate seating arrangement, complete with cosy tabletop lamps and authentic shoji screens. A seamless merging of Japanese and Scandinavian influences ensures the aesthetic feels minimal, elegant and comfortable with plenty of natural textures to soften the space. The commitment to sustainability is clear throughout. For instance, FUMI's table tops are made using coffee waste and discarded ground materials. 
Elegant and Instagrammable
Golden hues from the clever lighting add warmth, perfectly complemented by the show-stopping mural created by artist Rosalind Monks. Rosalind describes herself as a 'free spirit and seeker', inspired by the environments and people around her, dividing her time between snowy mountains and ocean waves – surely the perfect artistic for our proudly free-spirited city. Her bold sister mural in the bathroom might make this the most Instagrammable Brighton bathroom of the moment.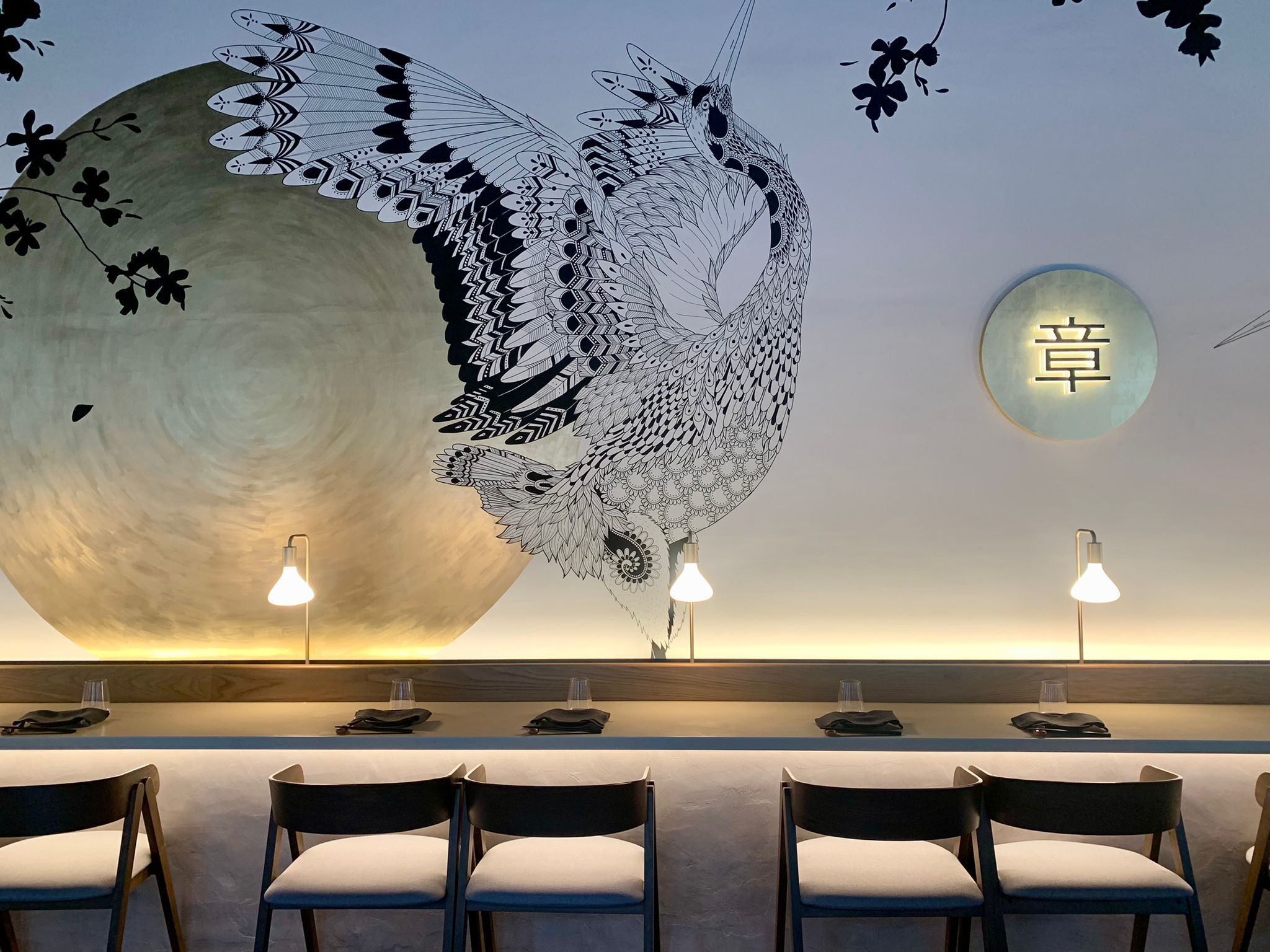 Sensational Cocktails and Small Producers
FUMI have nailed their drink options, with excellent cocktails featuring alongside an extensive sake and whisky collection. A pre-dinner cocktail comfortably seated in the shade of a blossom tree comes highly recommended.
We started with a Sakura, featuring crowd-pleasing flavours of lychee, ginger & mint and a White Peach & Marmalade Fizz. It's a dangerously drinkable combination of white peach liqueur with marmalade and fresh lemon juice.
FUMI has carefully curated their wine list, working with mostly natural and organic small producers and, if the lovely chilled glasses we enjoyed with our dinner are anything to go by, then the quality of their wine truly speaks for itself.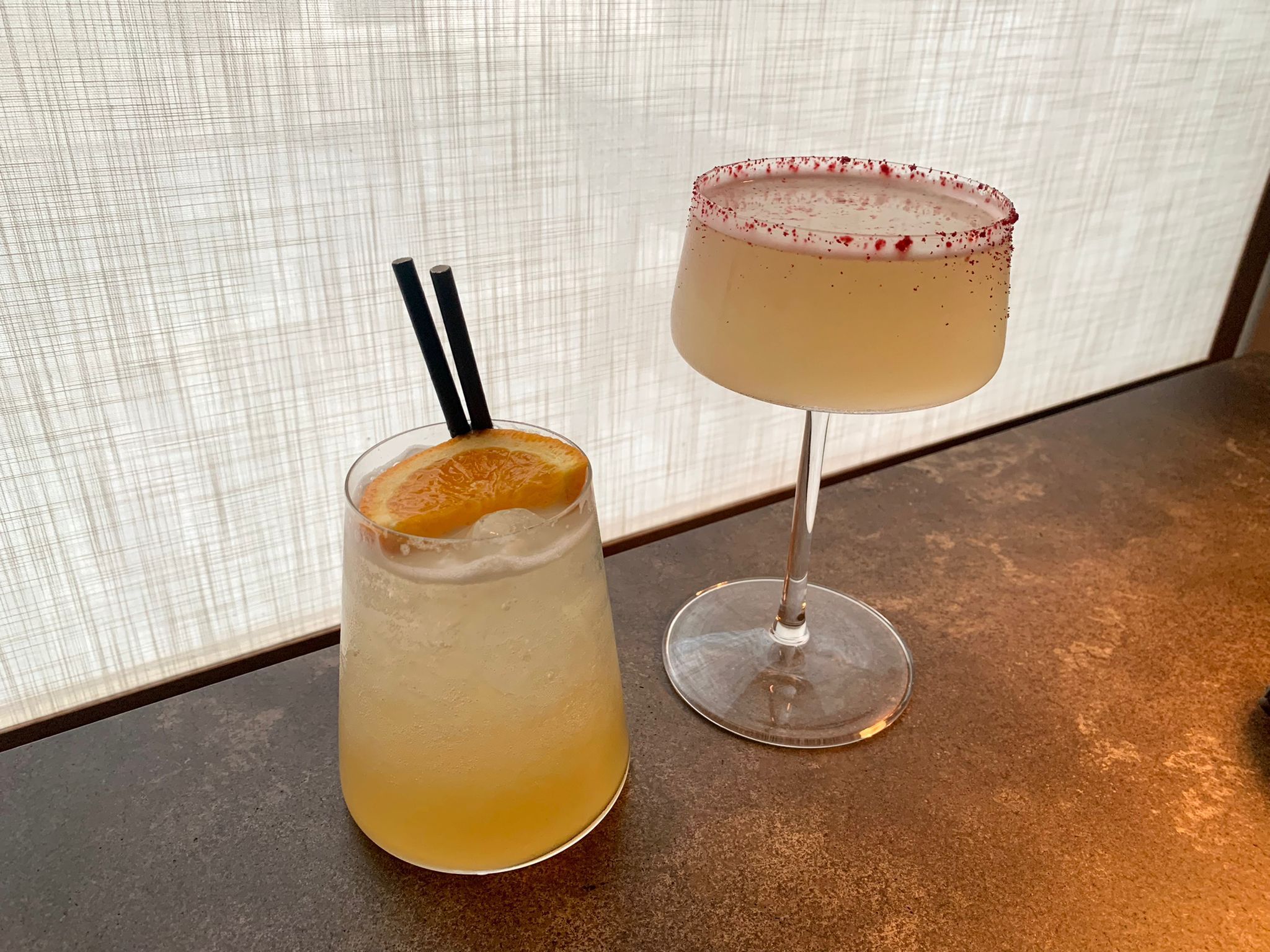 The seating arrangements and zoning of areas cleverly manage to make the large restaurant space feel like cocooning our table perfectly situated to take in the full scale of the mural.. The low-level music and gentle buzz of fellow diners add to the atmosphere. A classic, lamp-lit Japanese counter is an ideal option for small groups as well as offering a welcoming space for solo dining. Service was attentive, relaxed and knowledgeable. 
Seasonal Japanese-Inspired Menu
We happily took recommendations and weren't disappointed. FUMI's menu is proudly simple, Japanese-inspired and driven by the seasons. The small plates element of the menu offers a range of vegetarian and vegan options including our choice of Avocado, Cucumber & Beetroot Sushi Maki – a fresh, light and more-ish choice for sunny days served alongside a classic dipping sauce. We also enjoyed a portion of perfectly crisp Tempura Prawns, with a note to sample the Marinated Red Mullet version on our next visit!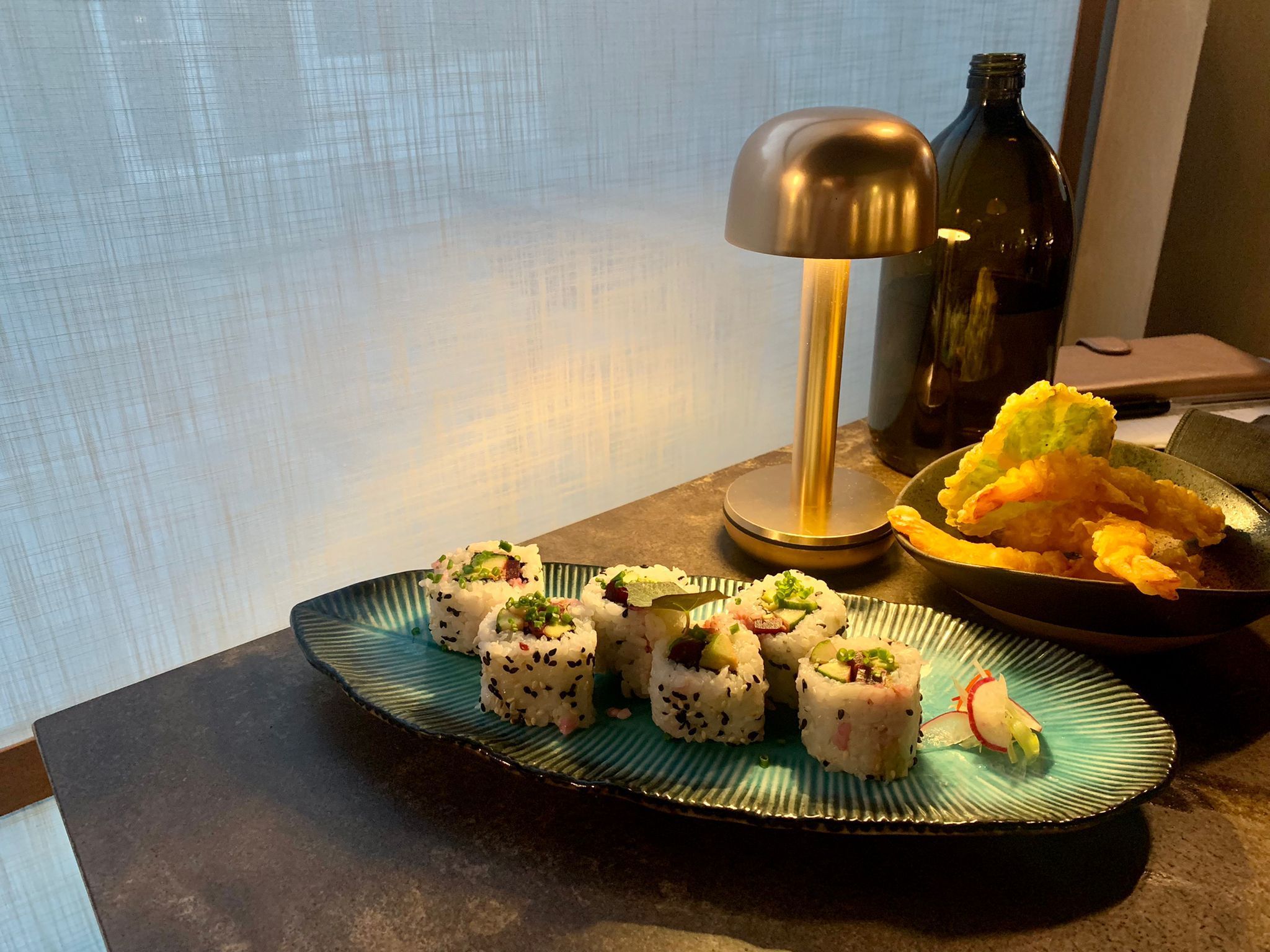 With produce at FUMI carefully sourced from small, local suppliers, nothing is mass-produced or served out of season. The mains section of the menu is minimal and lovingly curated, the Organic Beef Tenderloin was incredibly tender, and the kick of Japanese horseradish made it a dish to savour. Yes, we did indeed fight over the last mouthful! The recommended Chicken Teriyaki Yakisoba Noodles, combined perfectly cooked chicken (crispy skin and all) with the umami flavours so prevalent within Japanese cuisine.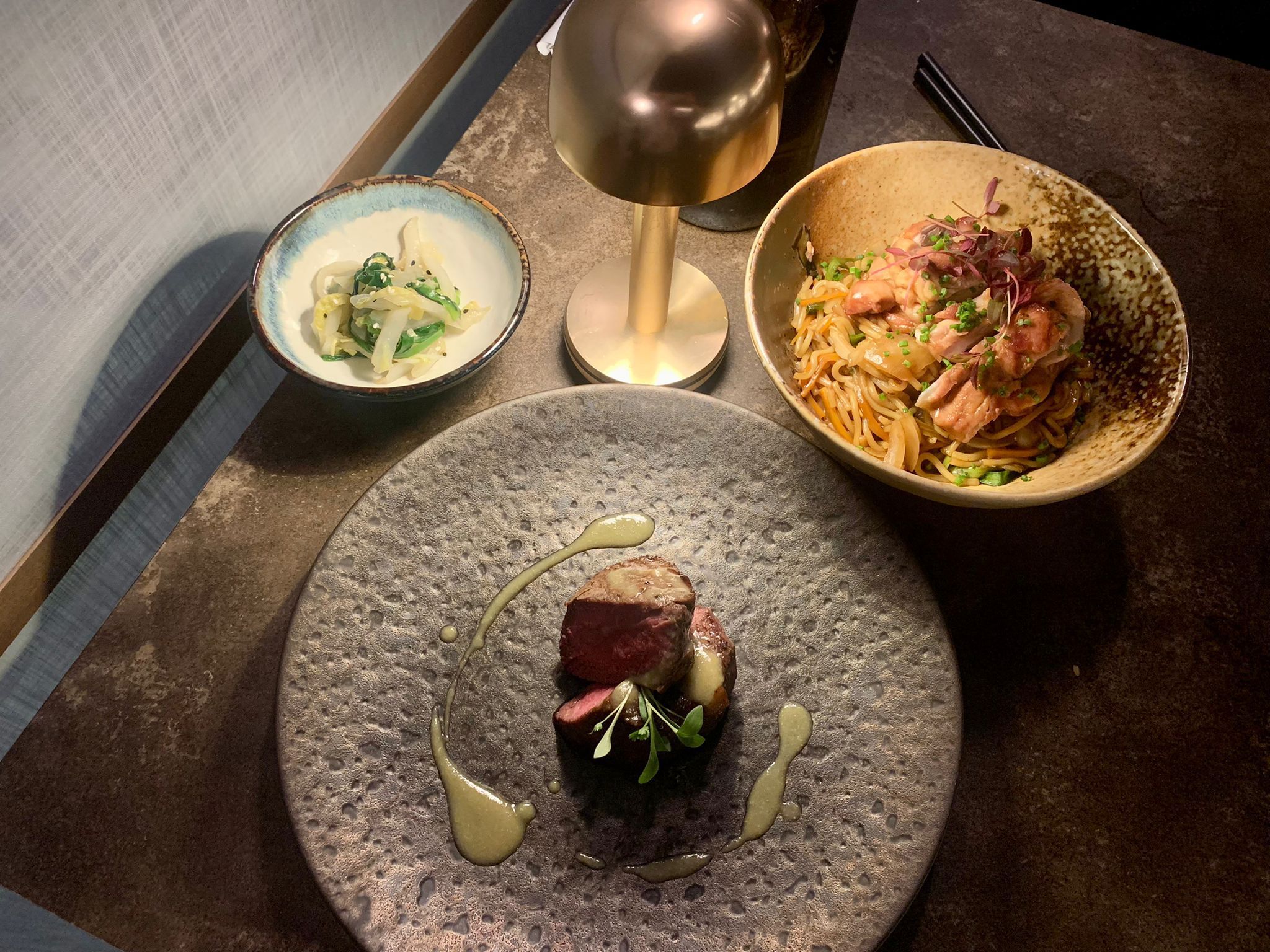 'Omakase'
With such diverse choices on offer, ranging from Roasted Black Cod to Watermelon Steak, perhaps FUMI's 'Omakase' menu or 'I'll leave it up to you', may be the best way to go.  Described as 'a sustainable dining path to an authentic experience of our culinary vision' we're sure you'd be in safe hands with FUMI's excellent chefs. 
Attention To Every Detail
FUMI cites the Japanese saying 'Ichi-go ichi-e,' (every moment is one-of-a-kind and something to be treasured) as its philosophy. This commitment to excellence is evident through the restaurant's attention to detail, from the authentic Washi paper menus to the handmade crafted crockery, the sensitivity of the staff to the carefully created dining environment. As a customer, FUMI makes you feel valued from start to finish.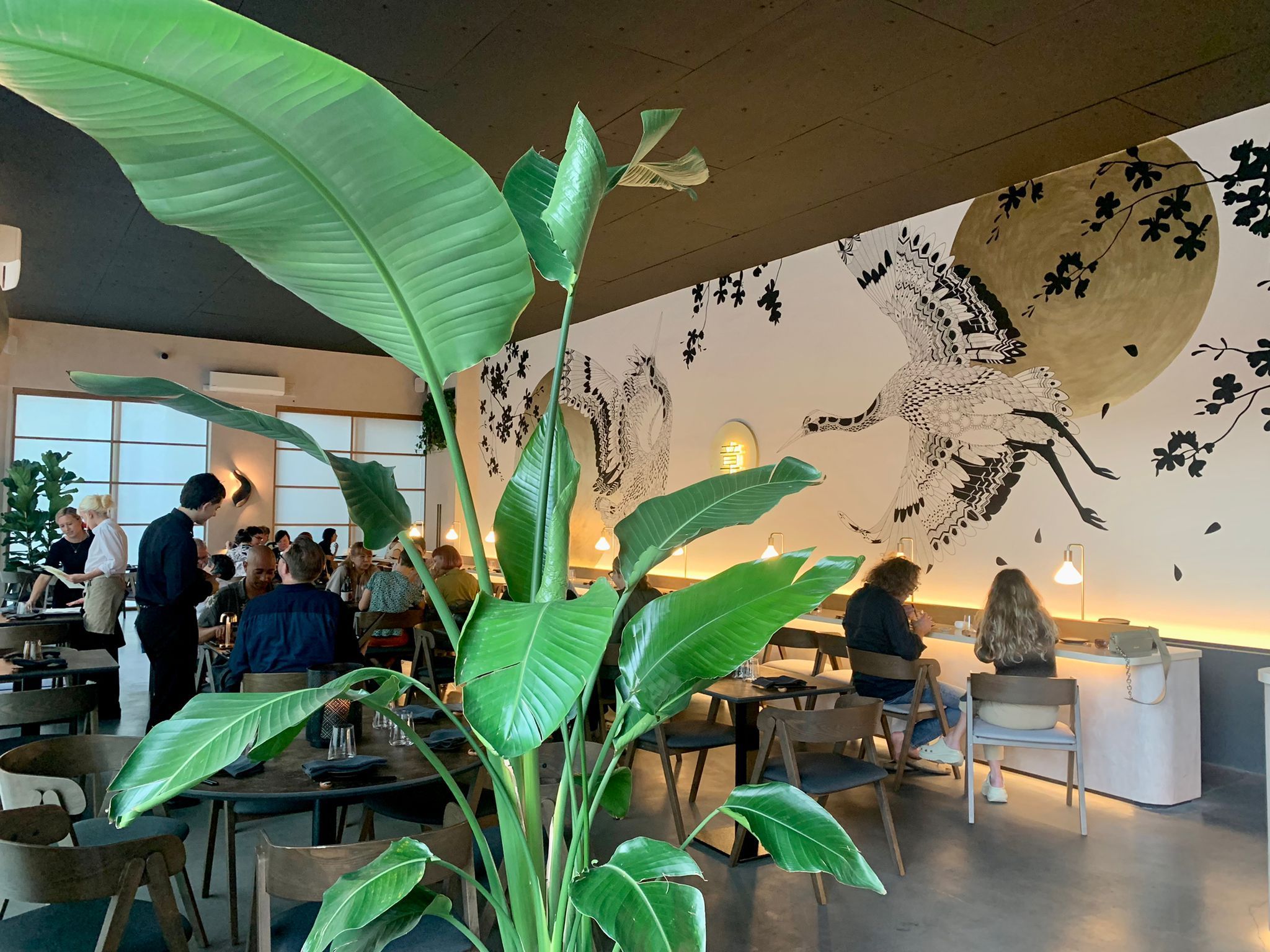 We'll certainly be back to sample more of FUMI's delights. – Their slow-living Japanese vision for mornings sounds wonderful Featuring locally roasted coffee, breakfast bowls and fresh smoothies, it's sure to appeal to the brunch crowd. Lunchtime Bento boxes and Sushi will give you a taste of their dinner menu and showcase just what makes FUMI special.  
FUMI's location in newly developed Circus Street is an exciting sign of things to come for this area of Brighton. Situated on a former fruit and vegetable market site it feels exactly right that a  commitment to fresh produce, 'bountiful harvests, beloved community, food and friends' lies at the heart of FUMI. 
Check out FUMI on Instragram here.