The Brighton Bar Industry Night of the Year
We meet Samuel Benson, director of ABV Media who organises the Brighton Bar Awards.
The BBA ran for the 5th year this September at the Hilton Brighton Metropole and it was arguably one of the highlights in the Brighton bar scenes' annual calendar. We talk to Sam about the awards, his aspirations and where it all started.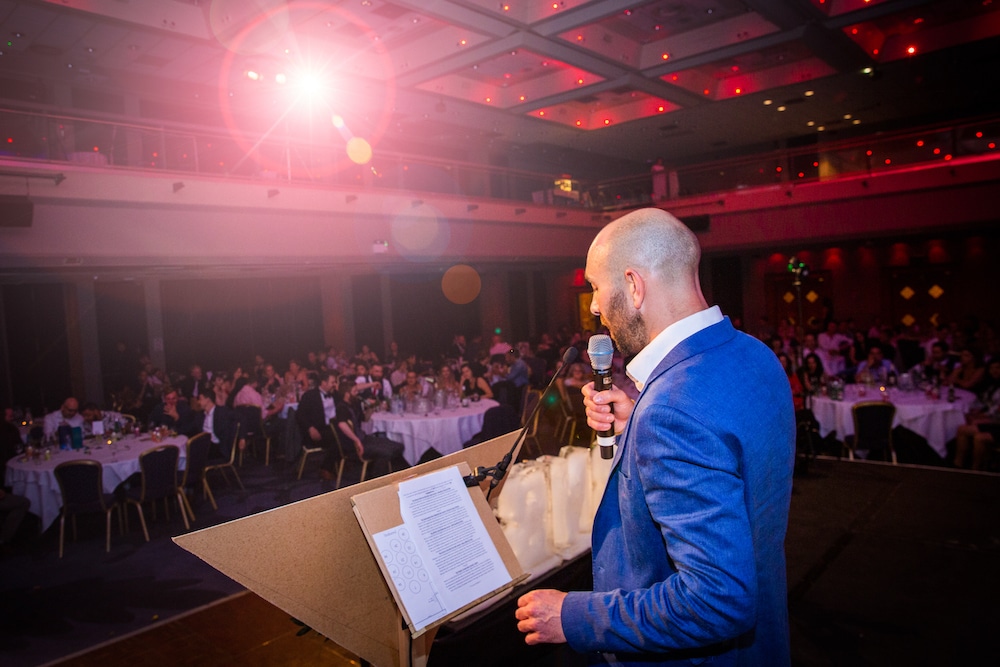 So who were the 2019 Brighton Bar Awards winners?
The Fentimans Best Hotel Bar Award – Merkaba 
The Villa Lobos Best/Worst Banter Award – Josh Williams
The Reyka Vodka Best Newcomer Award – Luca Zani, L'Atelier Du Vin
The Gorilla Spirits Best Licensed Cafe Award – Marwoods
The Jensen's Gin Best Pub Garden/Outdoor Area – Daddy Long Legs
The Bonzer Barware Best Bar Team Award – The Black Dove 
The Jagermeister Best Nightclub Bar Award – Legends 
The BNBA's Best Bathroom Award – Unbarred Brewery 
The Porter's Gin Best New Bar Award – The Golden Pineapple
The Monin 'George Best' Award – Ryan Green, Twisted Lemon
The Chivas Regal Best Cocktail Award – Joint first place: Jackie Lai – Marwoods, Jade Wildman – The Flint House
The Ganda Media Best Use Of Design Award – The Cloak Room
The Signature Wines Best Restaurant Bar Award – The Flint House 
The Maverick Drinks 'Godfather' Award (for long-standing achievement) – Elaine Larkin
The Difford's Guide 'Know-It-All' Award – Michael O'Flaherty, Bohemia
The Pardal Beer Best Pub Award – Joint first place: Daddy Long Legs & Seven Stars 
The Monkey Shoulder Best Bar Manager Award – Michael O'Flaherty, Bohemia
The Jack Daniels Best Bartender Award(Female) – Lucie Bekova, The Golden Pineapple
The Jack Daniels Best Bartender Award (Male) – Will Underwood, Bar Valentino
The Havana Club Best Bar Award – The Golden Pineapple 
In recent years the Brighton bar scene has positioned itself admirably as one of the best cities in the UK, why is this?
It's had it's ups and downs since I moved here in 2009, staff come and go…it's a fun job for students who obviously don't stick around forever. But the small number of locals who make a career out of drinks, whether it be beer, wine, spirits or cocktail bartending, they are the ones who make this scene great because they love the city and inspire the ones who haven't lived here that long and perhaps aren't aware of the whole industry.
That core group who have been here for years encourage the younger guys to partake in events and get involved. Hopefully convincing them to stay in Brighton long term. And yes, in recent years we've seen that happen more and more, which is fantastic!
What happens at the Brighton Bar Awards and when was it established?
Like all great endeavours, it started with two bartenders chatting over a Daiquiri in a dive bar, scribbling notes down on a napkin! Myself and Matt Simmons were bartending for a fantastic events company based in Hove called The Mixology Group and wanted to create an event that encouraged all the bar owners in Brighton to close their establishments and have one evening in the year that celebrated the sheer diversity of Brighton's watering holes. Award ceremonies at the time had become a bit boring and egotistical, so we decided to design an award ceremony show that would turn heads across the country (mainly London if I'm being honest!)
Instead of a self-appointed judging panel, anyone can vote for anyone (except themselves obviously), the sponsor fees are not astronomical so we can include some smaller local brands, plus the bartenders can have one night a year to feel a bit glam and have some fun after a busy Summer.
The first year was in 2015 and a bit of a test…Now we're in our fifth year and it's one of the most popular booze awards shows in the country. I think the secret is to keep it inclusive and never exclusive – remember it's all about good social fun, which is what bartending should be.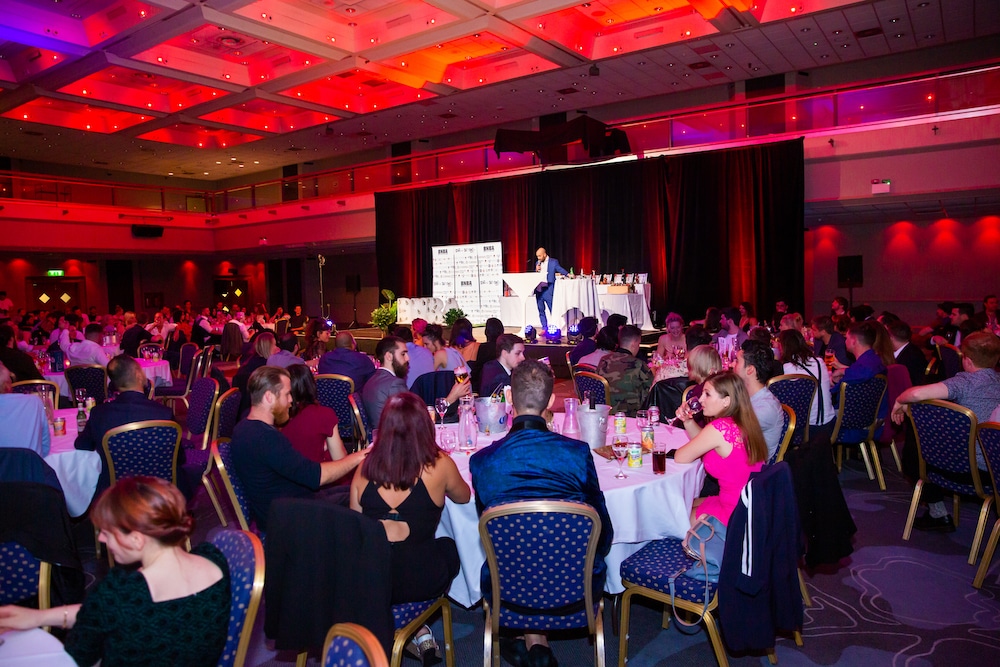 What drinks or techniques are on trend currently?
Low alcohol drinks are quite popular these days, which can only be a good thing. People are getting a bit tired of the Gin boom, but a positive way of looking at it is that it does give the spirit a sense of origin. It's funny to see how bored of Gin someone is until they see their hometown on a label and their face lights up! Technique wise, I think people are always going to love flair bartending, but perhaps more slick, creative and discreet moves rather than the 'look-at-me' exhibition flair.
Mixing styles, bartenders love a good 'thrown' drink, where the drink is poured from one vessel into another from a great height…good for Bloody Marys! Plus the hardcore Mixologists are playing a lot more with sous vide machines, where you basically put ingredients in a plastic bag and leave in hot water overnight, such as fruit and sugar for a homemade syrup. Not adding water makes it last longer and gives a more intense flavour. Mixologist geeks are usually the butt of the joke! But five years ago they were playing with dehydrator machines, now everyone's got dehydrated fruit in their drinks!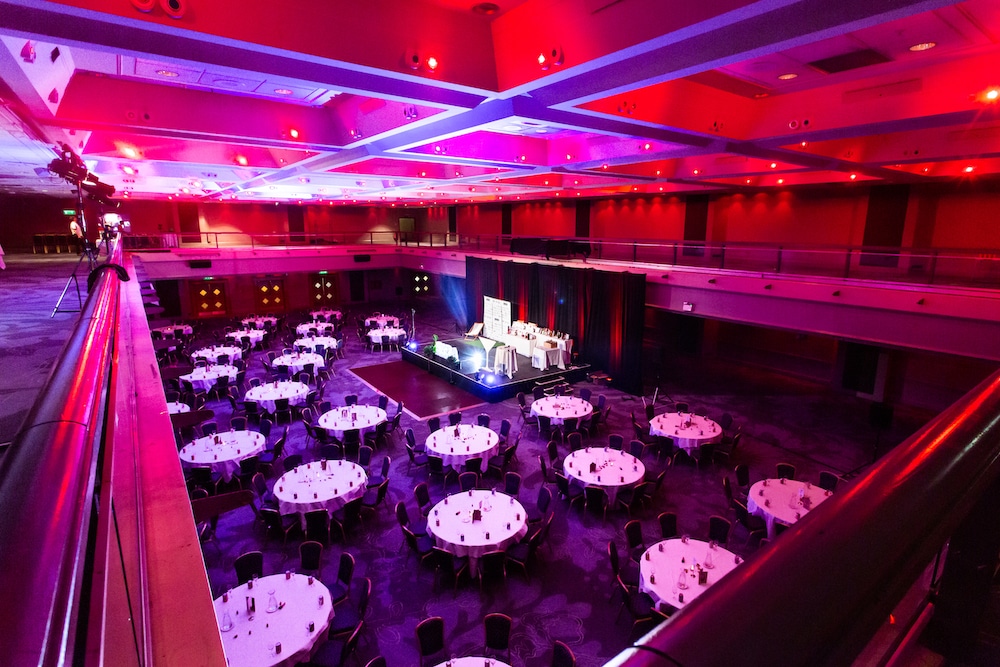 If you had to name a top five bartenders in the city who would be up there?
Yikes!…where is this being printed? Ok, I'm going to have to do the same and simply list the four guys and gals who have all won 'The Best Bartender Award' – Matt Ottley (Salt Room, now transforming The Hilton bar), Jo Smith (Bar Valentino), Jake Goldstien (Plotting Parlour, now at Cease & Decist on Middle St), Kat Shute (B@1), Julien Billet (Salt Room), Elaine Larkin (Bar Valentino), Julien Barnett (Gung Ho!) and Vicky Crouch (Twisted Lemon.)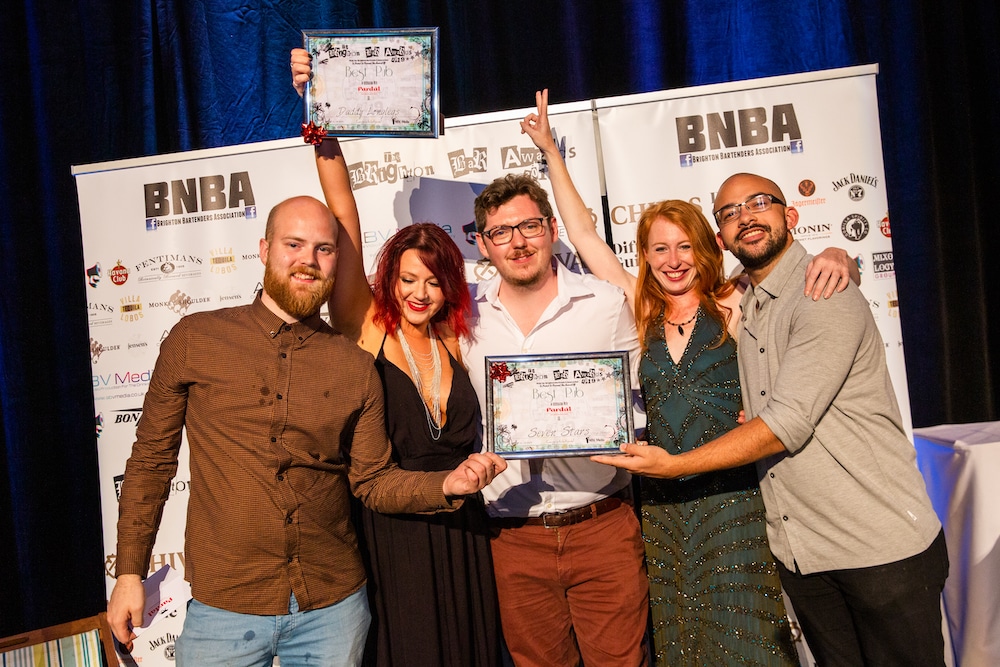 What do you do for a day job?
I run the drinks-based media company called ABV Media.
We cover photography, videography, live stream coverage, event design and management, drinks design and cocktail masterclasses thanks to the pop-up bar in the boot of my car!
What is your background in hospitality?
I did nothing but skateboard and work at Tescos during my teens. Saved up for a snowboard season in France, where a friend mentioned it's a good idea to have some bar experience before living abroad, so got a job in a local Mexican restaurant and cocktail bar. I could juggle as a kid so took to flaring quite naturally. Once in The Alps, I fell in love with the mountains and became a snowboard instructor but found myself drawn to the competitive side of snowboarding, which doesn't earn much so worked in bars all over the world. Six years later and many countries later, I was done living out of a bag so moved to Brighton. Ran Above Audio bar for a few years, won some cocktail comps, started ABV Media. Now anything goes really – I've just got back from filming in Bali, last week I was training up Whiskey brand ambassadors in London, now having fun planning the Bar Awards and after my friend has asked me to help him on an event in Saudi Arabia! (Although I can't imagine there are many alcoholic drinks out there.)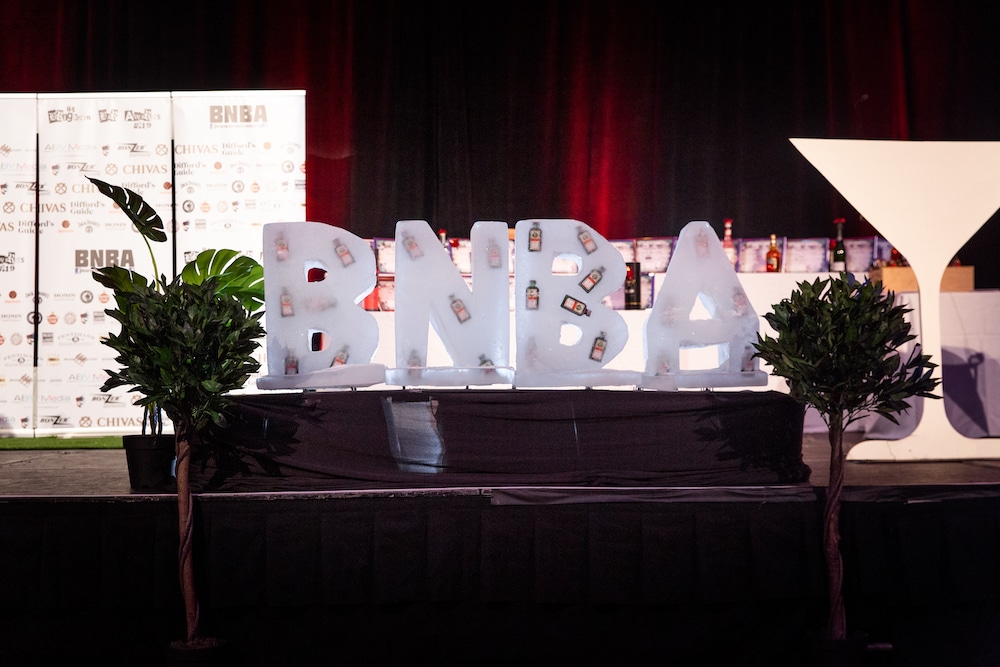 Who is Brighton's rising star currently and why do you think this?
Anyone who picks up litter from the beach.
What advice would you give to career bartenders?
Ah, that's a nicer question!
I'd say enter as many cocktail competitions as you possibly can.
It'll seem pointless when you're not winning any, but sooner or later something will click and you'll be on a roll. There are absolutely bucket-loads of them out there if you look for them and the bigger ones can set you up for life!
If that's really not your jam, then go to all the wine, beer, spirits tastings and learn learn learn, but always assume you know less than everyone – I hate over-opinionated bartenders – most information is second-hand anyway!
Don't be snobby, always serve what your guest wants, even if it's a terrible drink you can suggest something similar for their 2nd round.
Is there an industry forum or online resource which Brighton bartenders refer to?
Well yes, there certainly is!
In fact, it's arguably one of the most successful in the country, if not the world to be honest.
The Brighton Bartenders Association facebook group, affectionately known as the 'BNBA', is great for jobs, events, funny stories, crime awareness, recycling, upcycling, and general Brighton-based hints, tips and bar banter!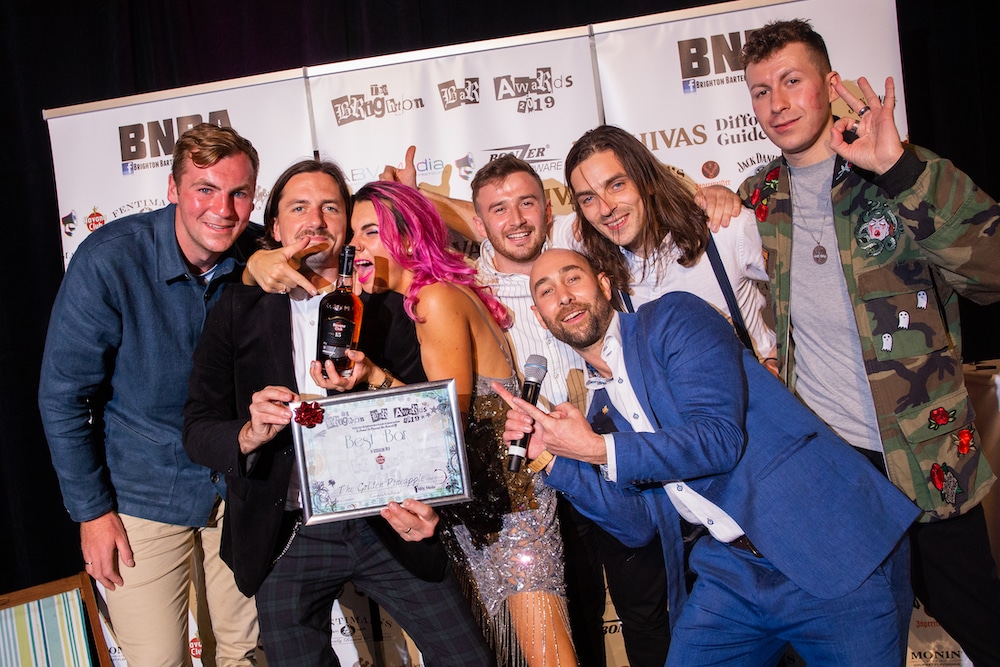 If there was something in the industry you could change what would that be?
The pay.
It's hard to put the blame on anyone in particular without getting too political, but the pay is really unjustified for some of the effort bartenders are putting into their roles at some of Brighton's establishments. Perhaps also I'd like to see people get fined for littering on the beach, but not sure that's directly aimed at the drinks industry!
What did you want to do when you were growing up?
Travel and sport were my two main interests. Plus my Mum owned a restaurant and Uncle was a chef so cooking with flavours was ingrained into me from a young age.
When you have time off, which restaurants and bars do you enjoy visiting in Brighton and Hove?
I'm a sucker for authentic Mediterranean food and drink.
There's a place in Hove called Semola – a little Italian restaurant, where you can watch the pasta being dried! I had a very strange looking Negroni in there and after asking about it was informed by the very Italian-looking man that it's the way they make it in his hometown…brilliant!
Trying to cut down on meat and especially seafood but I do love The Salt Room. The Curry Leaf Cafe has a great ethos and team behind it. Plus you can't beat a plate of oysters from that little hut on the beach with a nip of Sussex white wine (in your re-usable metal bottle of course!) When it comes to bars I usually go for anywhere independent. Don't get me wrong, the bartenders can be pretty awesome in chain restaurants, but small local businesses are what Brighton does best!
What next for the Brighton Bar Awards?
Exciting one to end on!… You know, I really don't have a clue other than just keep growing! As long as the cliquey-ness decreases and the camaraderie increases, then just keep getting bigger and better. I see it becoming more of a bartender's festival in years to come, similar to the Tales Of The Cocktail in New Orleans. But one thing's for sure, I love this world-wide industry of booze-based creatives and I'm definitely not stopping at anything to continually make the Brighton Bar Awards immeasurably big and as an immersive experience as possible!