Kujira Brighton (permanently closed)
Kujira Brighton opened in the summer of 2018 adding to the set of bright young things rejuvenating the Preston Street area of the city. The design throughout is sleek and modern with the upstairs restaurant ideally suited to small parties of two to six persons.
In 2020, Kujira won the Brighton Restaurants Award for Best Team, as voted for by the public.
Elle tries takeout
You may already know of Kujira for being one of the bright young things transforming Preston Street into Brighton's lively foodie centre, and, despite lockdown, it is continuing to thrive with its delivery service. 
I can wholeheartedly say that Kujira has the best Japanese takeaway Brighton has to offer. I often find that Japanese doesn't travel well but our food arrived timely, handsomely packaged (still presented in a restaurant-ly form), at a good temperature and with the same superb flavours as in the restaurant. I personally adore sharing plates and the delivery menu continues to offer a similar refined, yet diverse offering as the restaurant menu.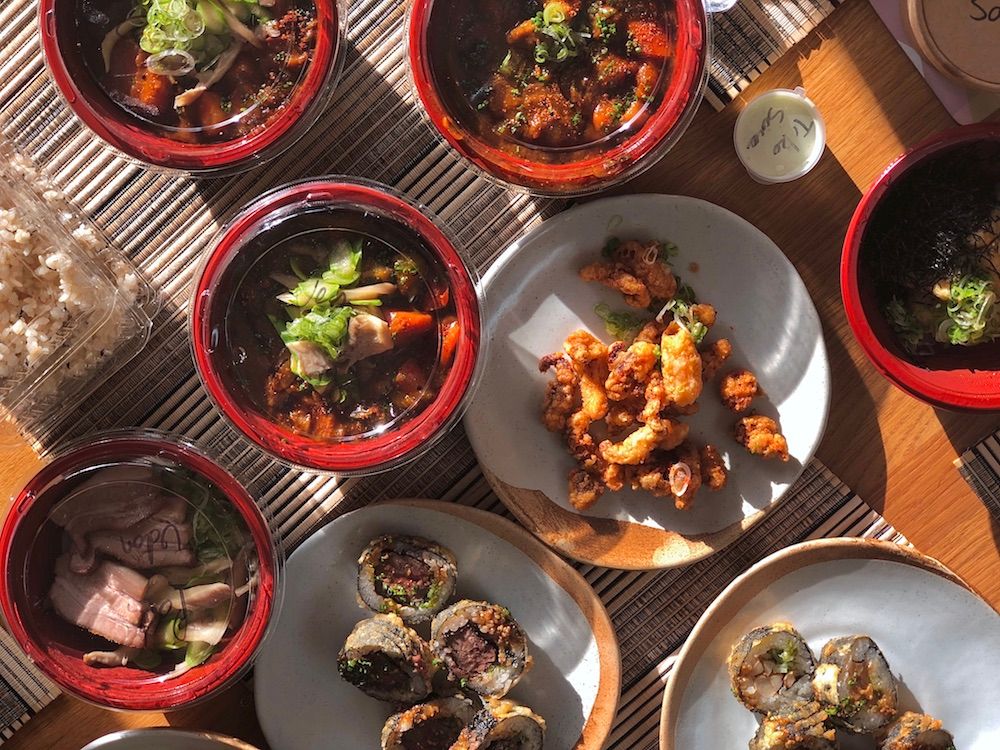 Between four we tried a variety of vegetarian and meat dishes from each section of the menu, beginning with four Kobachi (sharing plates). These were:
Tako karaage (deep-fried octopus with aioli). This is a healthier answer to your KFC cravings!

Nasu miso (aubergine, sweet miso and sesame). My favourite of all the flavour combinations 🤤

Agedashi tofu (meaning lightly deep-fried) with a side of Tentsuyu broth- a real explosion of taste and texture.

Chicken gyoza with Amazu (a sweet and sour dipping sauce).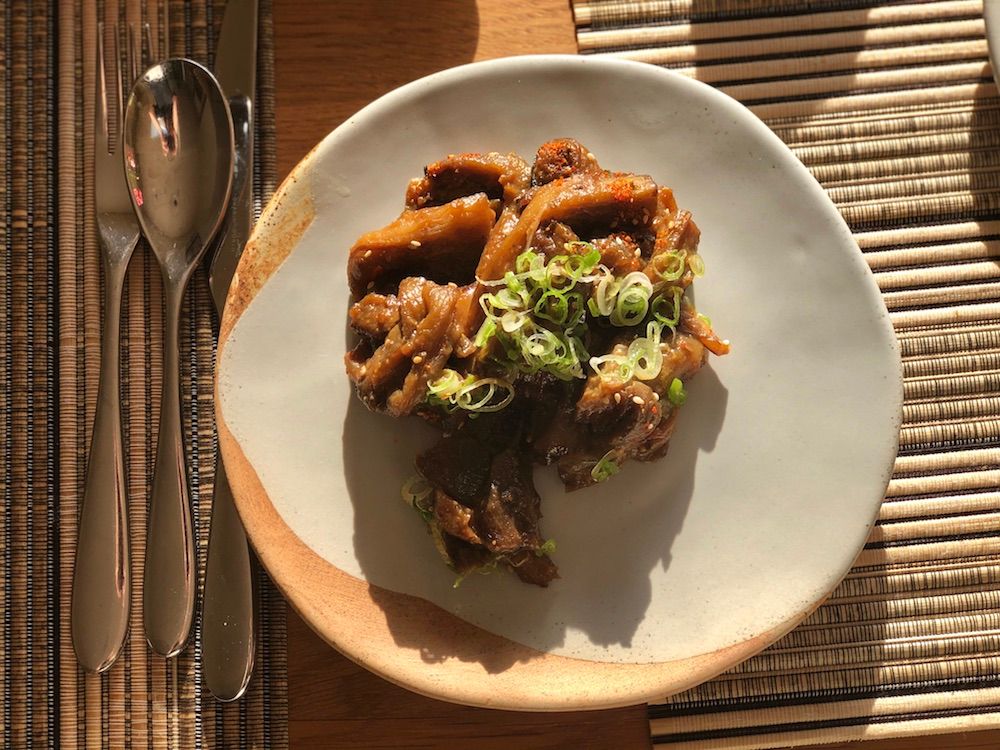 Four bowls: two veggie curries and a duck curry (all alongside rice), and a crispy pork belly udon bowl. All of these were in great portions and had our stomachs full to the brim!
And lastly, two types of tempura sushi rolls
Beef (this was served soft and rare unlike the often tough and flavourless kind you find in takeaways!)

King Oyster mushroom (the mushrooms were so rich and umami, not too dissimilar from our meat offering!).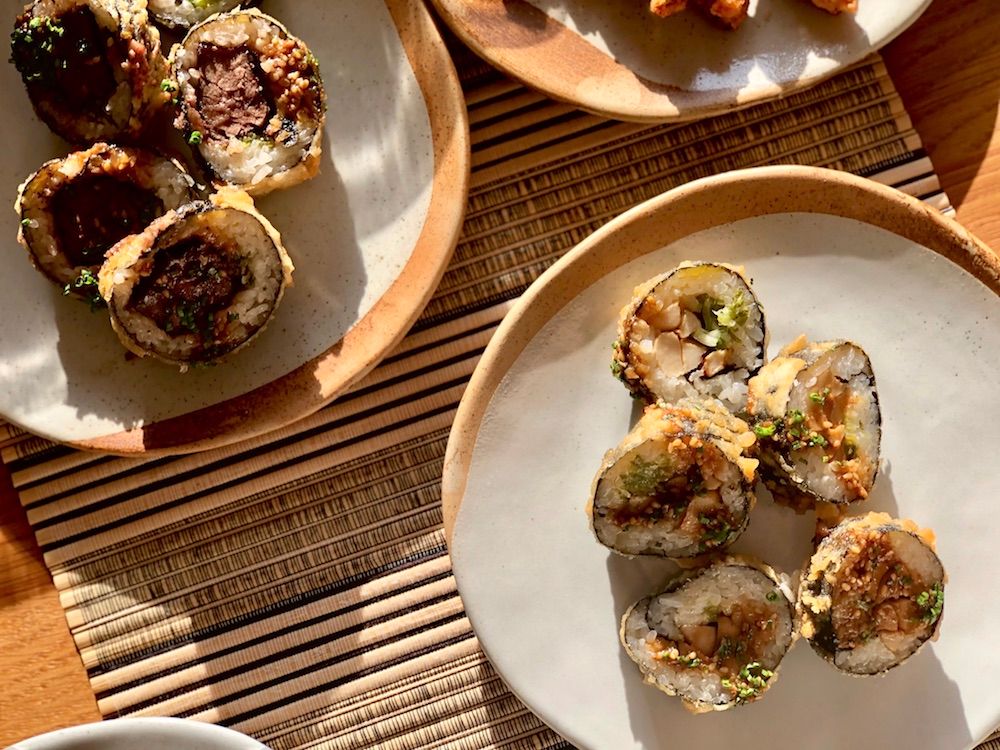 Both were mixed with spring onion, chives, garlic and sesame in a delicate and crunchy batter which had travelled surprisingly well and not become soggy in the slightest. I had never tried sushi rolls in this way, though I can guarantee I will be back for more!
Lastly, Kujira's famous Matcha Mille Crepe cake. This was my first try of the Japanese take on a classic French dessert. I often find matcha slightly too strong, but this was perfectly balanced with the aromatic taste of green tea and sweetness of the cream in-between each layer. A real treat to finish off an unblemished meal!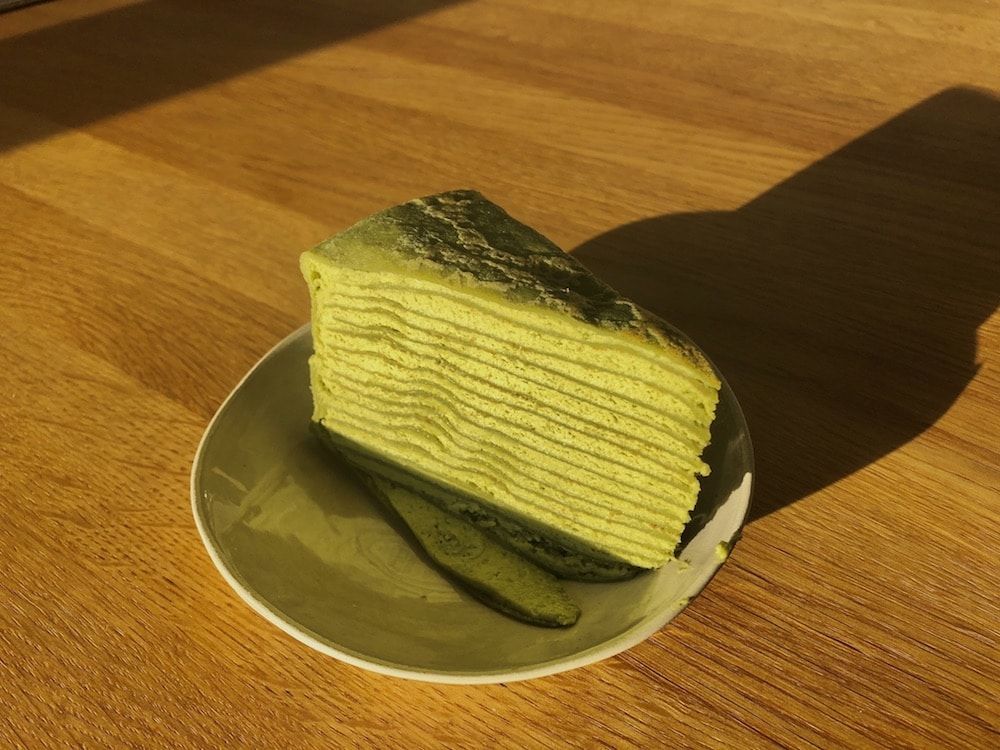 The team at Kujira are truly accomplished in bringing restaurant standard to your door, with fantastic food delivered by fun-loving yet diligent staff. Follow Kujira on Instagram (@kujirabrighton) to see their delivery menu and call 01273 777 988 to order, also available via Ubereats, Deliveroo and Justeat.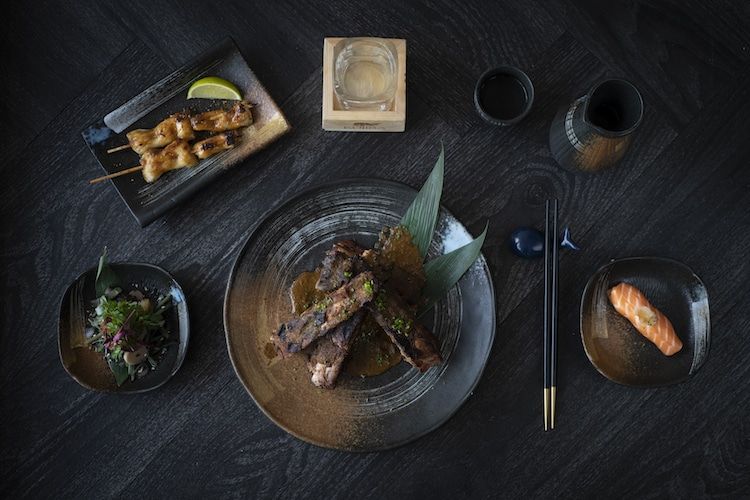 Strong black and gold décor runs throughout with the large glass front allowing for plenty of light and preventing any overly formal atmosphere. At the heart of Kujira and dominating the small restaurant is the open plan kitchen and grill.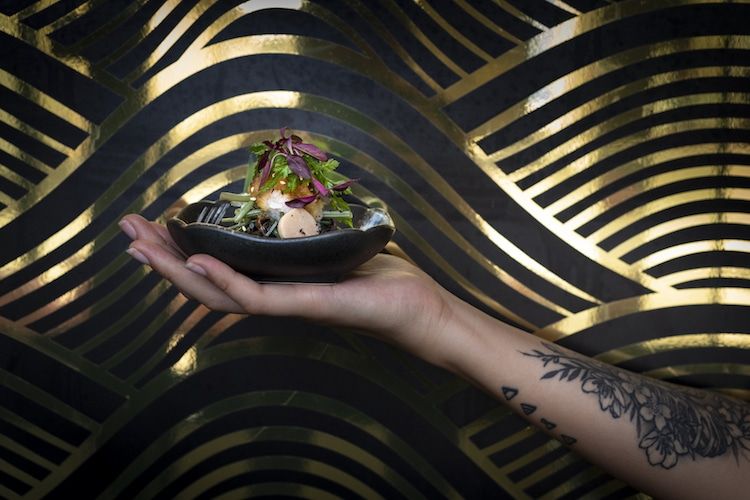 Not just sushi
Whilst for some Japanese cuisine begins and ends with sushi, Kujira Brighton is a Robatayaki grill restaurant; a style of restaurant that has been taking London by storm of late. Unlike the more familiar flame grills of Josper ovens and Persian grills, the robatayaki grill uses slow-burning coal or wood, without flame, to produce a much higher heat and ultimately intense flavour.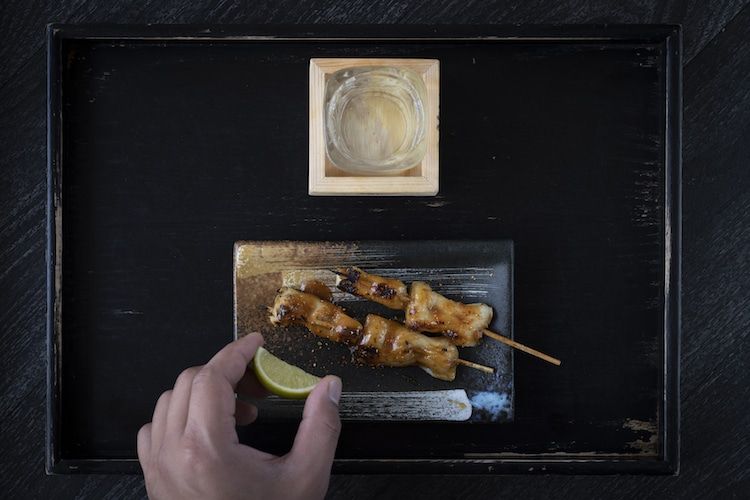 The Japanese grill requires incredible skill and knowledge to do well. Like sushi, robatayaki cuisine's finesse is in the apparent simplicity in which a difficult thing is done well.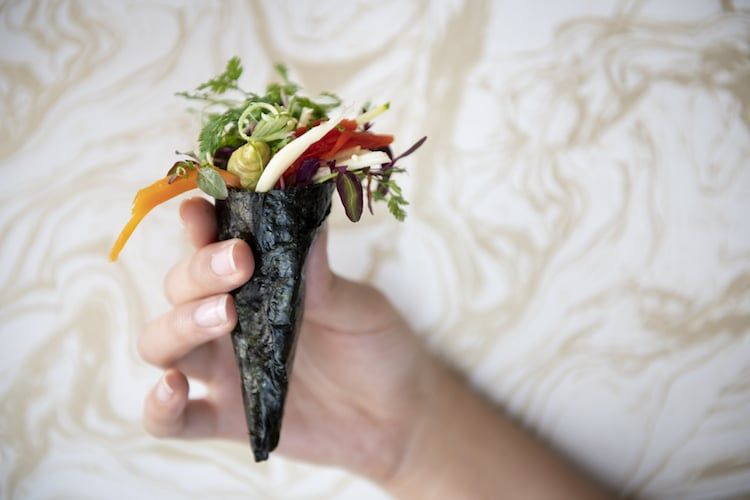 The Menu
The menu at Kujira Brighton is divided into Kobachi, small bowls or starters, salads, and small and large robata. The small plates providing an excellent opportunity for newcomers to this Japanese speciality to try several dishes, tapas style. The menu is also well catered for vegan, vegetarian and gluten free diets.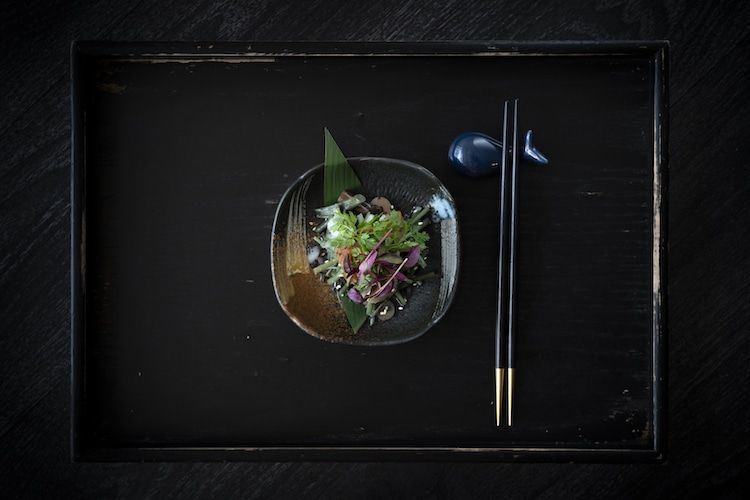 Japanese inspired cocktails
Kujira Brighton describes itself as an 'izakaya bar', this is a type of informal place to go after work for drinks and a little food. Kujira offers Japanese inspired cocktails invented by their mixologist and perfected through home made botanicals, juices and syrups, adding to the area's growing reputation as the cocktail capital of Brighton.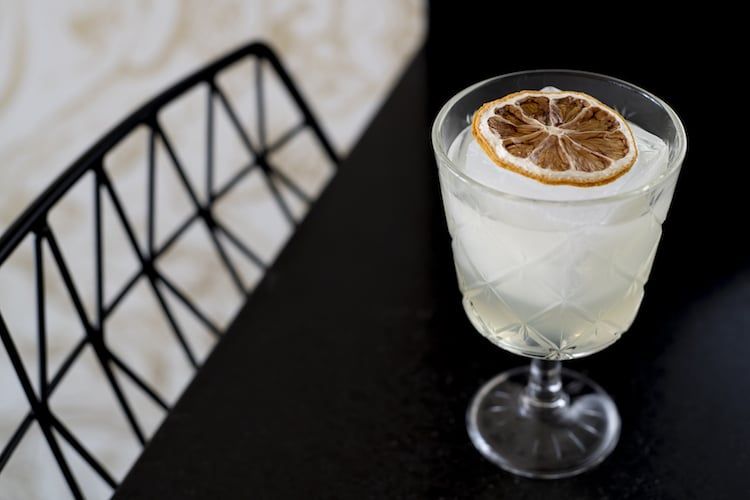 Private Hire
As well as the small but sleek restaurant upstairs there is a downstairs lounge bar featuring a karaoke booth and games consoles. This space is available for private hire, but when not booked is a great place to unwind with some cool drinks and entertainment.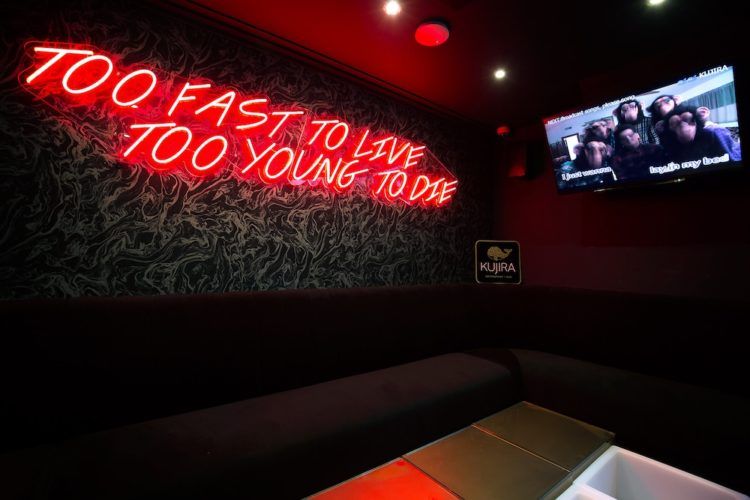 Reviews
Comments are closed.
Post a Review