Thali Nights at Planet India
Tucked away on Third Avenue, Planet India Hove(now closed) is an oasis of colour against the drab November evening upon which we pay a visit. Inside this majestic turn of the century, building is a restaurant sparkling with texture and character; it is uniquely Hove and uniquely Planet India all at the same time. Full of wow, it is warm, vibrant and welcoming from the moment you walk through the door. Expect to find everything you already love about Planet India but with added layers of comfort and space.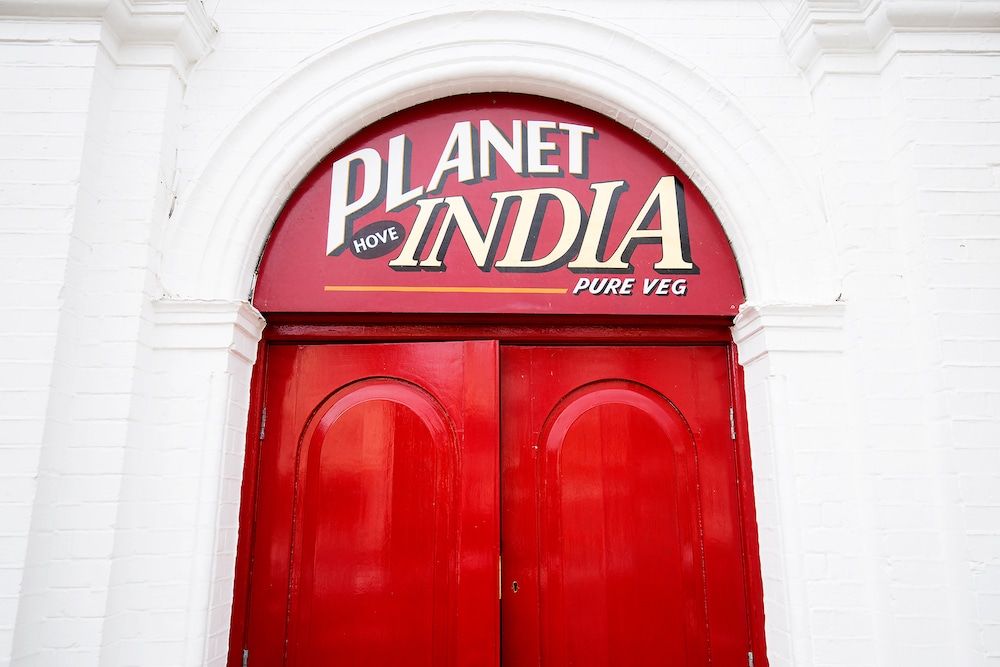 Delicious and familiar
The flagship Brighton restaurant opened in 2008 and has always held a special place in the hearts of locals. This grown-up sister version opened just three years ago and is already a firm favourite of Hoveites. It is the perfect option for groups who are looking for something delicious and familiar.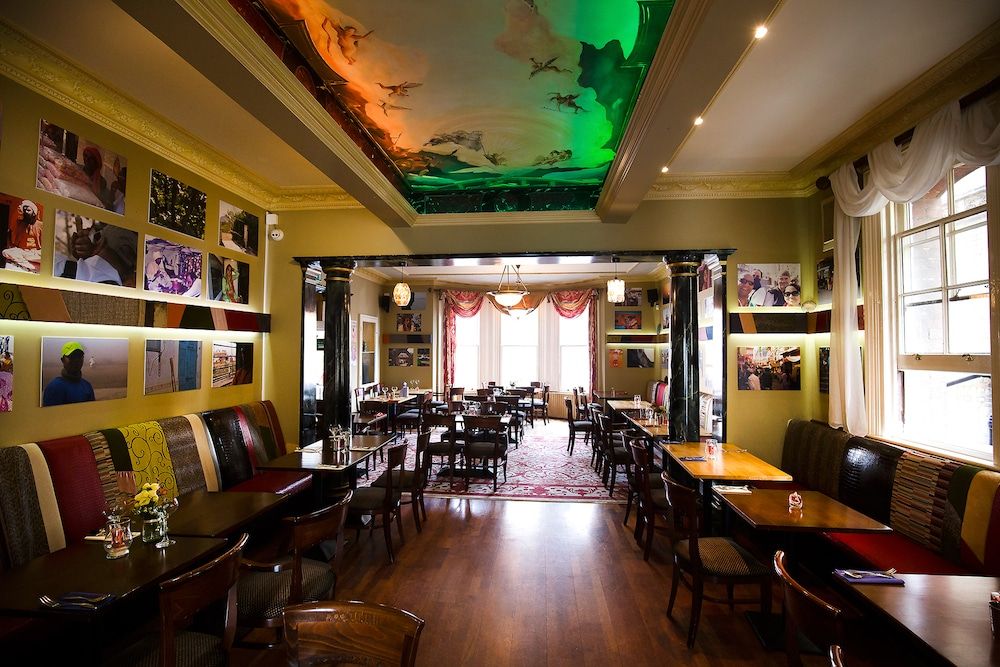 The Planet India family
The walls here, as with the Brighton restaurant, are adorned with photos of the Planet India family. There are photos of India, of marriage ceremonies and of blessings. They are a celebration of the love and family roots that inspired Planet India and over the course of our meal we found ourselves inspired to share tales of our own travels. It was an evening of good food and reminiscence.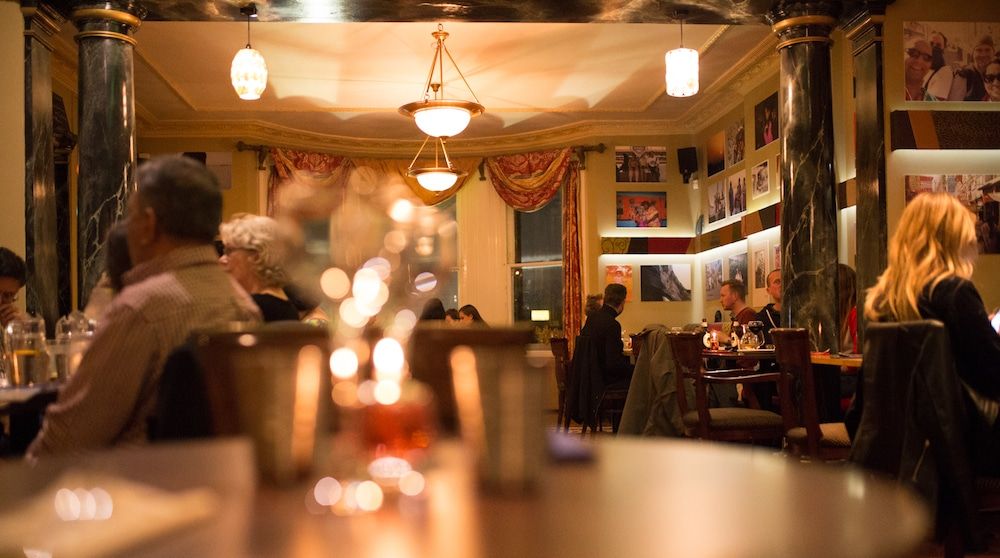 Vegan weeknight thali menu
Our menu for the evening was the vegan weeknight Thali menu with vegan starters and vegan dessert. As a non-vegan I was really looking forward to sampling the vegan menu as I would normally go to Planet India with the best intention then have my head turned by the peas and paneer curry.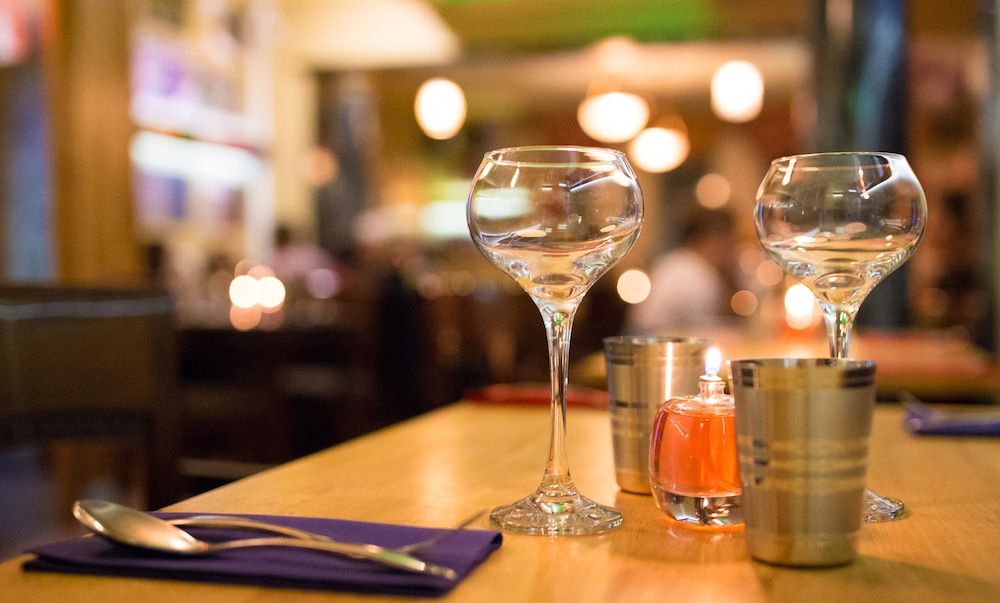 Famous favourites
For our starters we had the Planet India famous favourites of Dhai Bel Puri and Pani Puri which arrived quickly as is tradition. The sweet and sour flavours of the tamarind sauce were on show this evening unadulterated by any hint of yoghurt, it's an intense flavour, one that is welcome in the background of the crunchy freshness that makes up the Dhai Bel Puri experience.
My favourite was the Pani Puri which is made up of little poppadum cups that you fill with chickpea and potato mash, then sprinkle in masala spice and top with tamarind and black saltwater.
You build these yourself and it's a license to play with your food, I was immediately connected to childhood memories of building universes in mashed potatoes.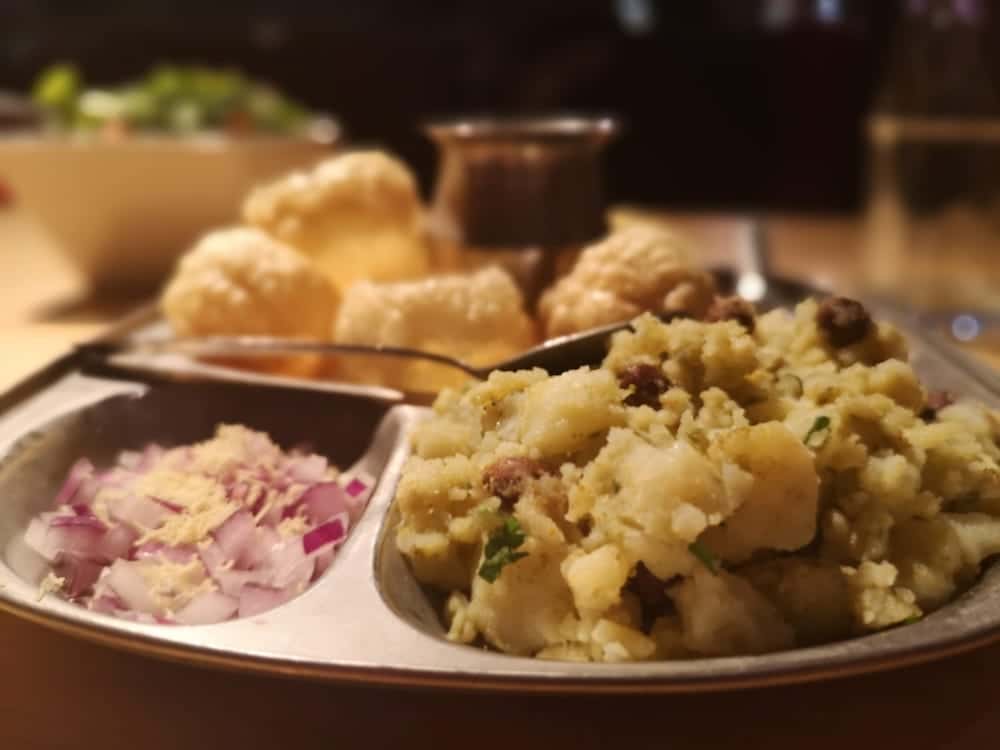 A lesson in the thali
In Indian cuisine, there are six flavours; sweet, salt, bitter, sour, astringent and spicy, and the idea behind the thali (meaning plate) is to present each of the six flavours in perfect balance together in one sitting. It is a famous form of street food in India and it is represented here, in this cosy corner of Hove, impeccably.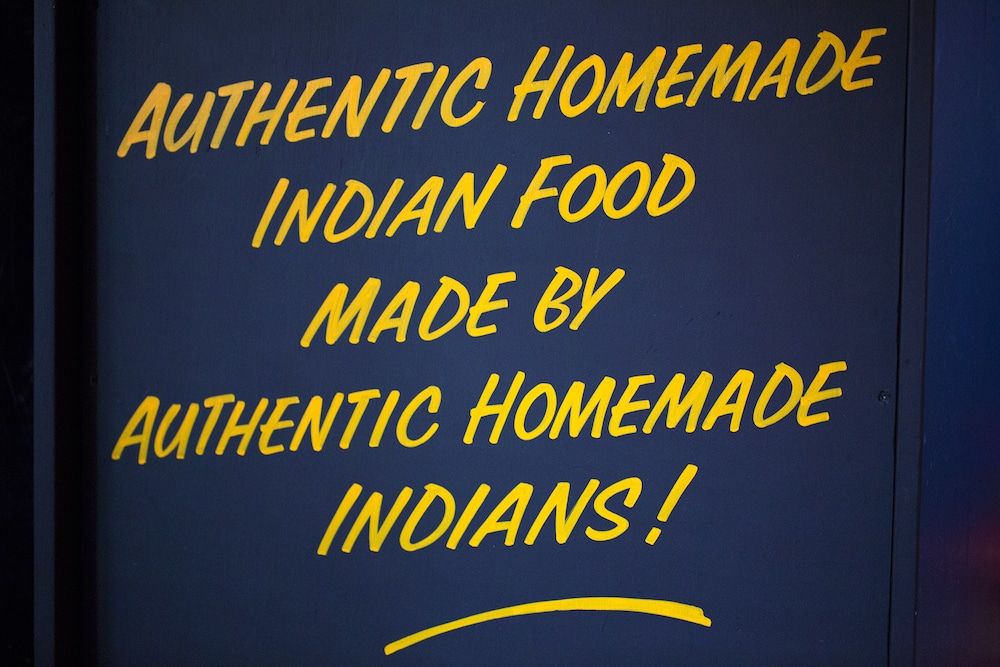 Plentiful thalis
The weeknight thali menu has two options: option 1 thali and option 2 thali and across the two options we are treated to dal of different kinds, potato curry, spinach curry, deep fried okra, pomegranate salad, sweetcorn salad, pickled vegetables, tamarind sauce, mint sauce, thepla bread, dhokla, onion bhaji and cumin rice. There is a no swapsies and no sharing rule in effect for the thali menu so be prepared to eat a lot of food, you might not need a starter but who can resist a Dhai Bel Puri?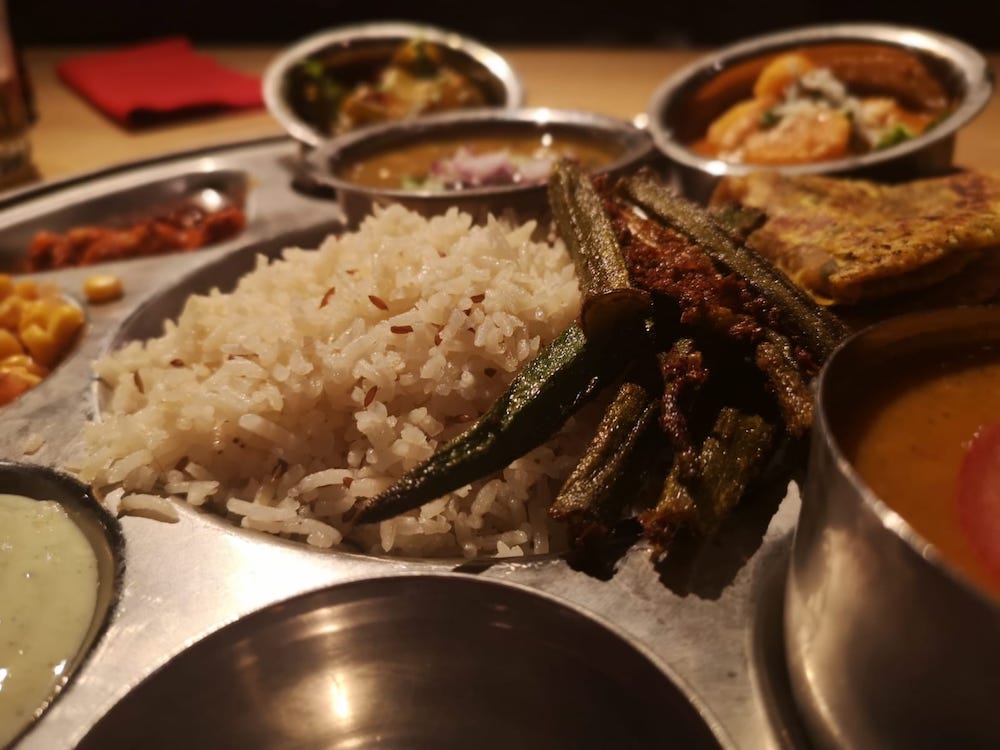 You will not leave hungry!
Our two thalis arrive and are beautifully presented – each element is housed in its own little silver dish placed around a central clock face made of cumin rice and thepla bread with each of the six flavours of Indian cuisine given a dedicated area.
I'm told that there is no particular order within which to eat the Planet India thali so just tuck in using the thepla bread as a spoon and mixing different flavours together.
It's all the things people tell you vegan food can't be – rich, filling, flavourful and varied, I would expect nothing less from the Planet India family of course, and when it's washed down with one of the delicious beers that Planet India offer.
It is a marvellous mid-week treat for vegans and non-vegans alike.

Vegan ice cream
For dessert, we had two scoops of home-made coconut vegan ice cream, which was so creamy you'd be fooled into thinking it did have some dairy somewhere, but don't worry it doesn't!
The vegan food on offer here is aromatic and rich in flavour, missing nothing from leaving dairy and meat at the door.
Both thalis are wholesome and filling and full of goodness. A special shout out goes to the mint yoghurt as an old favourite made vegan without losing its essence.
I am immensely proud of how this family-run business has gone from microwave meals in a corner shop on Upper Lewes Road to a spacious celebration of a building that is Planet India Hove. It is vegan food made with love and spices in a very special way that has made Planet India a part of the Brighton collective consciousness. It is such a delight to eat good, honest, humble food in this grand and beautiful building.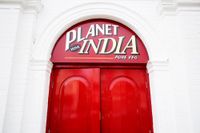 Want to know more about Planet India Hove – Permanently Closed?
Find Out More