Dining in the Shadows of a Prime Minister – The Duke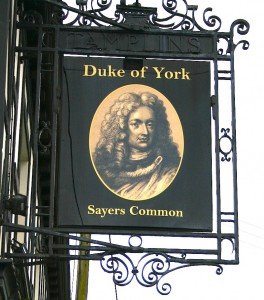 Last Tuesday we had the enviable task of trying the Duke of York in Sayers Common and we were not disappointed.
It was an express visit as we dashed in between a few different Sussex appointments and the experience was cosy, functional and delivered more than what we anticipated because of its location.
It was a lunch time visit so we weren't expecting too much to be honest but we were pleasantly surprised by how busy it was. Considering it was a Tuesday and it was actually quite a cold wintry day in November we weren't expecting to see over a dozen people in there.
Sayers Common isn't exactly a busy place so you think to yourself what do these people do and where did they come from?
The area is actually named after a prize bare knuckle fighter 'Tom Sawyer' and the 'Duke' as it is known has been around for many many years.
It is in fact a preferred drinking haunt for a previous prime minister – We don't know which one though I'm afraid.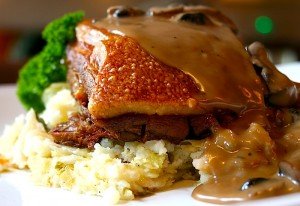 I was with Lisa on this occasion and as it was a lunch time we just opted for the one course, otherwise we may have been asleep for our afternoons activities. Not a bad approach for the afternoon I know (sleeping that is – I do love my cat naps!) but we had a busy day and evening ahead as we were off to a business networking event that evening and we were eating a curry for our evening meal.
It sounds like our world revolves around food – And it does!
Anyway when we arrived a the Duke of York we were warmly greeted by a charming lady who was friendly and enthusiastic. She didn't know that we were coming along to examine the food offering and she welcomed us in from the cold, explained what dishes were on offer and how long they would take to prepare and also which ones were her favourites.
The Duke itself was dressed from head to toe in a traditional wooden interior, carpeted and complimented by two fire places, one of which was blazing away – Incidentally this was the one that we wanted to sit around but it was proving popular with the locals already and they got in there first.
Slow Roasted, Succulent and Full of Flavour
I'd actually had a sneak peak on line before hand at the 'Dukes' website and their menus, so I knew which dish I was going to have and I must say it was very suitable for the cold autumn weather.
Plus, I wanted something that was going to give me a good foundation for the rest of the day ahead.
I opted for the Slow Roasted Pork Belly with colcannon, brandy mushroom sauce and broccoli.
Lisa on the other hand went for the fish of the day which was Sea bream with a Béarnaise sauce.
When belly of pork is slowly roasted like this, it produces fantastic, crisp crackling that just melts in your mouth.
My slow roasted belly of pork was just the way I like it.
A tough crispy outer layer protecting a slow cooked layer of succulent, tender pork.
It was the sort that would just peel away in layers with very little fork effort if you know what I mean. This was served with the rather rustic Irish recipe 'colcannon' which is mashed potato lightly mixed with cabbage (sometimes with kale too) and this was presented with a thick slightly alcoholic mushroom sauce which added a great sauce to the very hearty meal.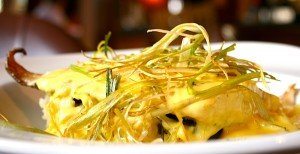 My drink on this occasion was a trusty half of Harvey's which worked very well. I was the designated driver and after all it was only lunch time.
The drink and meal combination set me up very well for the day, it was delivered within about 35-40 minutes which isn't bad at all for a slow roasted dish and so we were able to continue our day within the time frame we had allocated.
Lisa's dish was a success too. She cleared her plate in amicable fashion and did try and tempt me to taste a mouthful but I was too into the flavours within my own dish (I didn't think it would be a great combination!)
Lisa described her main course as tender, creamy, substantial, very fresh and perhaps a little indulgent on the sauce side.
Béarnaise is a french sauce often served with beef, flavoured with white wine vinegar and herbs and is also served perfectly with fish.
On this occasion we had no deserts to talk of, no elaborate starters and so this means we will have to return back for more. And we will.
So What is Our Verdict With The Duke?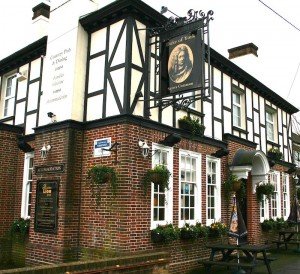 The Duke is a great little country pub serving honest decent food.
The food is well prepared, tasty and we would describe it as good pub food with a good selection of starters, classic pub dishes and specials of the day.
Home Baked Honey Roast Ham, Beer Battered Haddock & Rustic Chips, 10 oz Rump Steak and Venison Medallions were other good looking dishes that we could have tried. They also have lighter snacks like sandwiches, hot jacket potatoes and a kids menu.
It is a great venue to visit for the day from Brighton and the surrounding areas.
It has the Hickstead international showground just around the corner,  it is served by the South Downs National Park countryside and it is just seconds off the A23.
We could do with more lunch time appointments like these!
Make a Booking on 01273 832262