A Brighton Institution!
As an institution of Brighton which has been going for over 30 years, most Brightonians have at least heard of Gars but more would be a frequent diner there. Unfortunately, I am in the former category. I have always known of Gars having walked past there many times but I have never actually been. I'm sure there are many other restaurants in Brighton which I have walked past many times but have never noticed. I think the reason Gars is different is first of all the name but second of all it's one of those restaurants that looks inconspicuous but in a modest and stylish way which intrigues you. Quietly confident you might say.
Heard Good Things
Well, this Thursday evening I finally decided to see for myself and give it a go. I would be lying to say Chinese is my absolute favourite cuisine, but I had heard such good things about Gars I thought I'd make an exception. Also being a true foodie in every sense, there is no cuisine I don't appreciate in one way or another.
Excited To Visit
My best friend Kerri was down south for half term so we decided to catch up over dinner. She loves Chinese so was over the moon with my suggestion to visit Gars. Despite being a fan of Chinese cuisine Kerri was also in the former category of having only heard of Gars. She was very excited.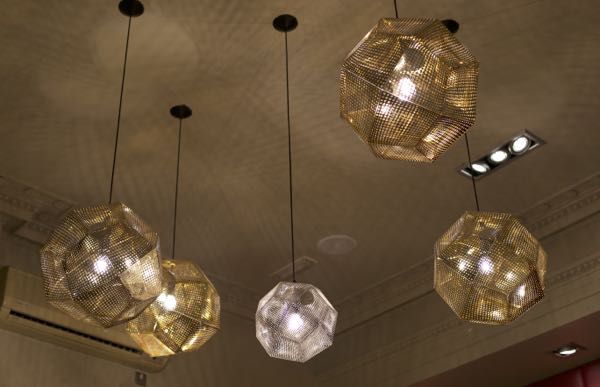 Friendly Greetings
On arrival, we were greeted immediately by one of the Gars. He shook our hands warmly as if we were old friends. First impressions mean everything. The reason I say 'one of the Gars' is as I understand it the restaurant is owned by 4 brothers, and they all go by the name Gar. I was told later by one of our waiters Danny, that Gar means 'family' in chinese. I wonder how many people know that or think to ask, but I was glad that I asked.
Relaxing Ambience
We were taken upstairs to the third floor by a waiter who introduced himself as Zack. We weren't even at our table and we already felt at home. Though just mid week, both the 1st and 2nd floor were pretty full, and we had the 3rd floor to ourselves. This did not affect the ambience in a negative way as there was soft but contemporary music playing, we could hear the hum of happy diners chatting and the staff working hard between the floors.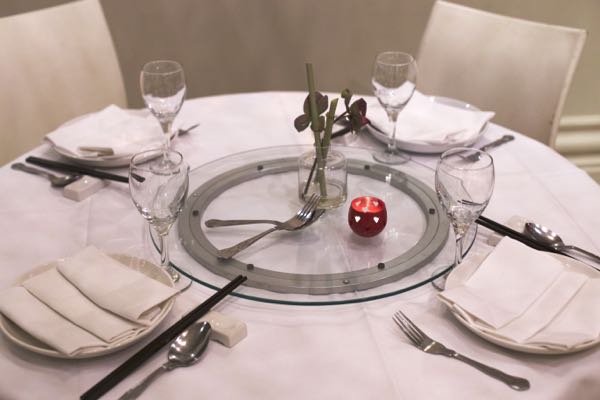 Stylish Decor
The decor was classy and very stylish. Sexy red leather panelling, clean and crisp white table cloths and bamboo flooring. There were a few photos of Brighton scenes going up the stairs to the bathroom, and giant Chinese symbols on the walls. Kerri said she felt it was a really good balance between China and Brighton. I agreed. The table settings included both cutlery and chopsticks. The menu focuses on 'modern' chinese and a selection of pan asian dishes too. I'm told by our waiter Danny that the brothers have lived in Brighton a long time so they want to serve food which reflects both their origin in the East but also their reality which is living here in the West.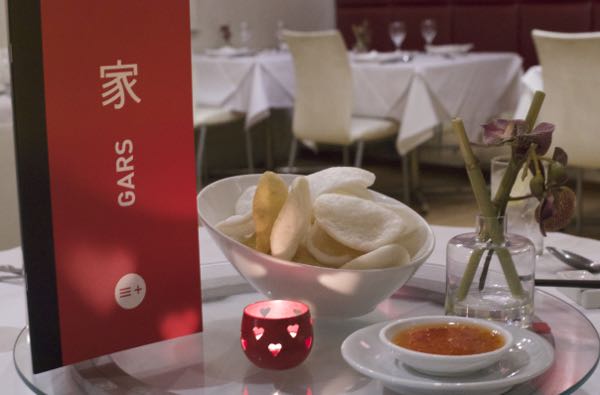 Mixed Platters
The selection of starters and mains is so extensive, it's a hard to choice to make. To make it easier for us to begin with we decided to go for one of three mixed platters as our starters: the Chef's Choice. This included sesame prawn toast (which I love if it's done well), quick fried chicken in salt and chilli, tempura vegetables and barbecue ribs. The only downfall was that neither of us were that keen on barbecue ribs and I knew deep down Kerri really wanted to try the Chicken Satay skewers. Danny must have read her mind as when he took our order he asked if we would like to swap anything. Nice one Danny! That pleased Kerri no end. Sensing we weren't quite ready to order our mains, Danny put absolutely no pressure on us and told us there was no rush. There is definitely not that sense of time pressure in Gars, in fact quite the opposite.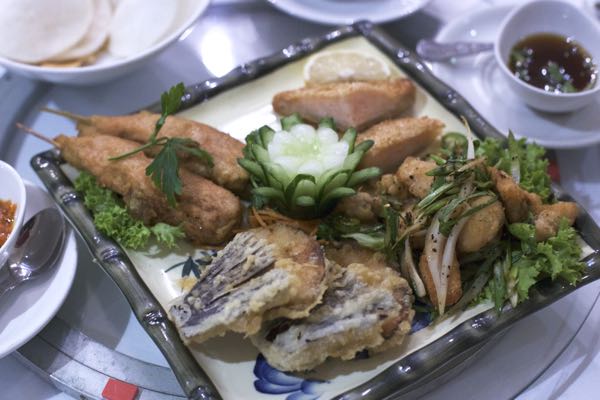 Lazy Susan
The starter was served on a beautiful hand-painted square plate which covered most of the 'lazy susan' in the middle of the table. Garnished with a beautifully carved piece of cucumber in the middle it looked delectable. The chicken satay were large and juicy accompanied by a gorgeous satay sauce. Kerri was more of a 'satay connoisseur' than me and she said it was 'ridiculous.' She meant this in a good way. For her, the texture was spot on, not too thin or too 'crunchy'.
What I liked about it was it's kick.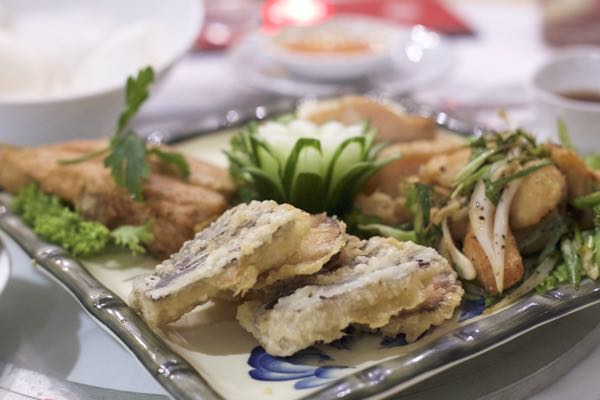 The tempura veg included two each of aubergine and two each of sweet potato with a soy sauce dip. Light, crispy and not at all greasy; it melted in your mouth. Everything on the platter was absolutely delicious and really moreish. When one of the friendly waiters Zack came to collect our empty plate he joked with us, 'You didn't like the food then?' I love it when restaurant staff interact with you like this. It all adds to the feeling of being at home.
Incredibly satisfied, we sat back and contemplated our mains.
Kerri decided on the Sizzling Chicken in Thai Green Curry with steamed fragrant rice. The Kung Po (aka Kung Pao) Monkfish on the specials was what tempted me. I've not actually tried 'Kung Po' anything before, so I thought I'd be brave and try something new. And I love monkfish. Not sure whether we needed a rice each we decided to play it safe and order two. Always best to have too much than not enough we say. For variety purposes I went for the Gars vegetable fried rice.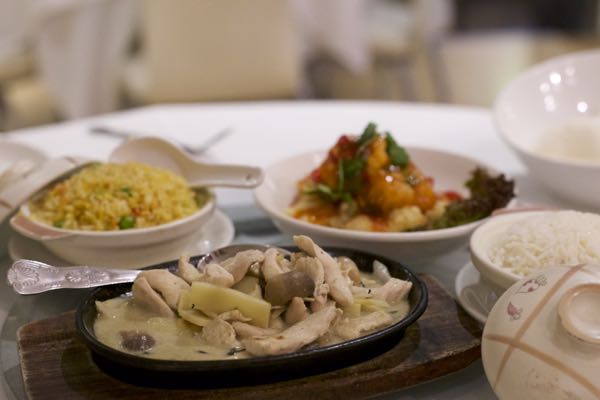 Generous Portions
When the food arrived and placed on the 'lazy susan' we were both delighted at the presentation, but slightly daunted by the portions. They weren't gastronomic or anything but because our starter had been so substantial they seemed large enough! Well practised in eating more than we should however, we were not put off.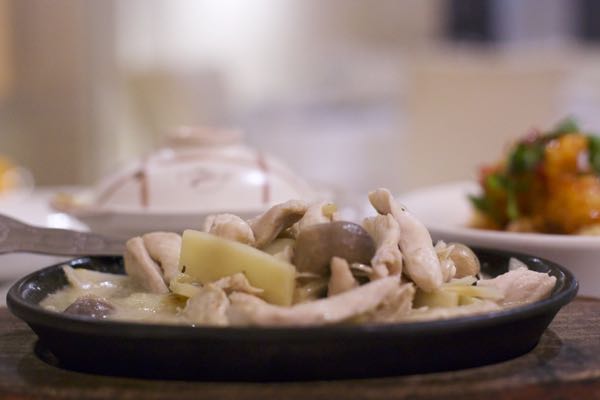 Packed With Flavour
Kerri's curry wasn't particularly colourful looking but when you tasted it, oh my goodness, if taste was a colour it would have been a rainbow. It was the best and most authentic tasting thai green curry either of us had ever tried. It had a slightly different twist also with a few scattered green olives throughout. The rice portions came in the most gorgeous little Chinese handpainted pots with matching ladels.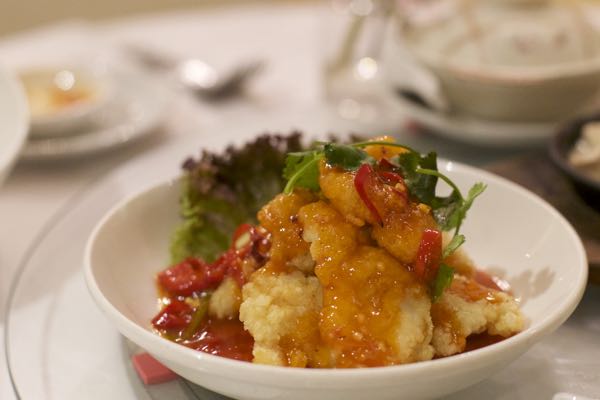 Vibrant And Fresh
My Kung Po monkfish was a different story to look at, it was a vibrant red with big juicy pieces of golden fried monkfish throughout. The kung po sauce was sweet, sticky and slightly spicy. It had fresh red chillis and peppers with it which gave it a lovely zing. Delicious with the vegetable fried rice.


When Danny asked us about desserts we said we'd look at the menu, but had every intention of declining, albeit sadly. Danny wasn't having any of that though and must have sensed we were girls of adventure, suggesting he bring us a surprise dessert. Despite our ridiculously full bellies, of course we could not turn down such an intriguing offer.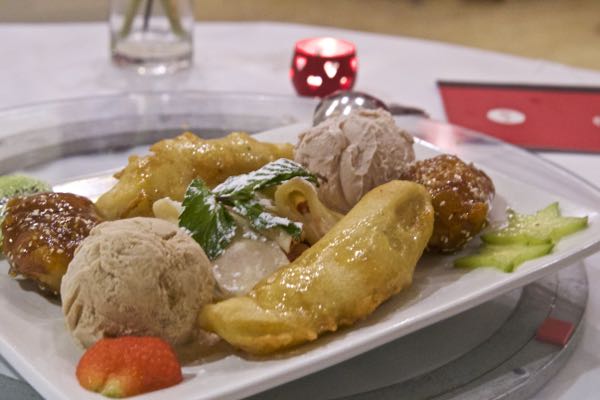 What materialised was a huge platter of nearly every dessert Gars have on offer including the banana fritters, toffee banana (yes just like toffee apples but banana), Japanese strawberry crepes and home made cinnamon ginger biscuit ice-cream.
It's lucky Kerri and I are not faint hearted.
Though we could 'only' manage a few bites of each, each taste was explosive. The toffee banana particularly was warm, gooey and sweet – everything a dessert should be.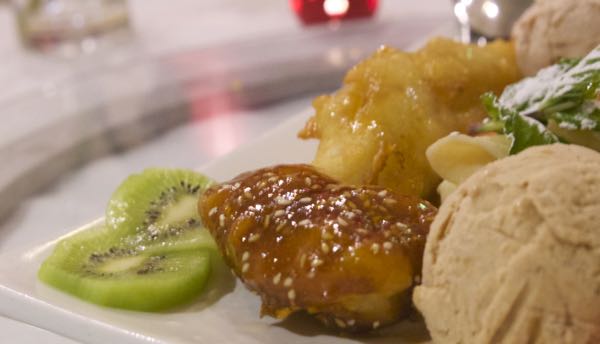 Making Friends
After my first experience of Gars I now know why it has such a fantastic reputation and has been pleasing Brightonians and visitors for over 30 years. The food is exquisite, in taste and presentation. The service is superb and the staff are so friendly you not only feel looked after the whole evening but you leave feeling as if you've made friends.
Want to know more about Gars Brighton, Chinese Restaurant, The Lanes?

Find Out More