The Rural Star of the Gingerman Group, The Ginger Fox
Brighton Food Reviewer, Carissa Wyten, November 2015
Coming from a long history of flashy press lunches across London and earning my right to a reserved booth at Cecconi's Mayfair coupled with a regular table at Scott's – I don't take my sea-change and the gastronomic consequences that come with it lightly.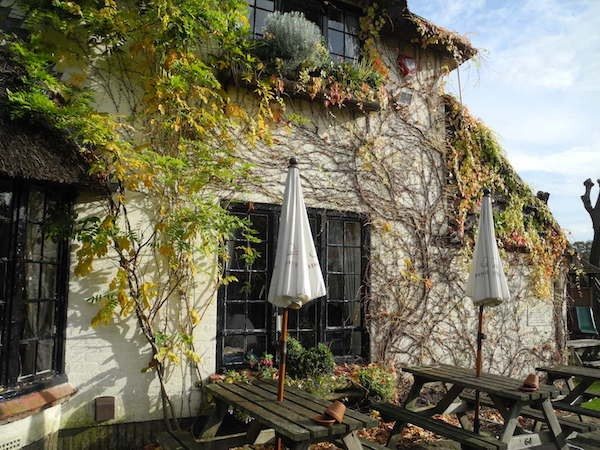 You may also like..
A mini country escape
However when asked to visit Hassocks, home of The Ginger Fox – Ben McKellar's rural star of the Gingerman group of restaurants, I must admit I jumped at the chance for a mini country escape to depart from my beloved comfort zone of Hove (aka HOme+loVE).
Having been a regular of The Ginger Pig and a two-time visitor of their Ginger Dog counterpart – sadly The Ginger Man was closed each time I went to visit – I felt immediately confident of a wholesome and farm-reared, gastronomic experience.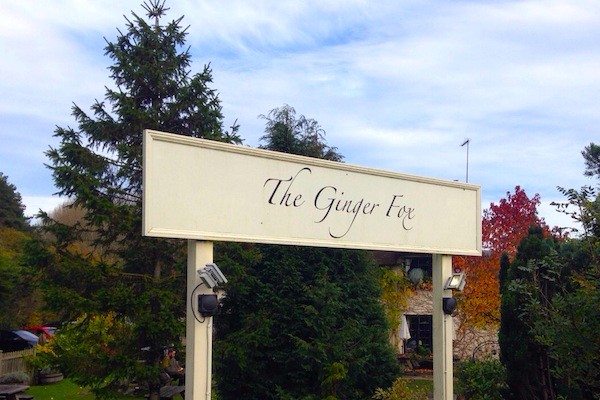 Four key components
The Ginger group empire as it is fast becoming known, marries four key components well; locally sourced produce, talented head chef's, home-style cooking and personable staff. With an acceptable arrogance that can only be achieved from standout restaurants pushing the norm from gastro pubs, as we have come to know them.
The Ginger Fox was no exception.
If a full house is anything to show for it, one rainy Friday afternoon saw this gastro pub buzzing to the grapevine, thatch-eaves in a picturesque country scene reminiscent of one of Keats' poems 'Ode to Autumn'.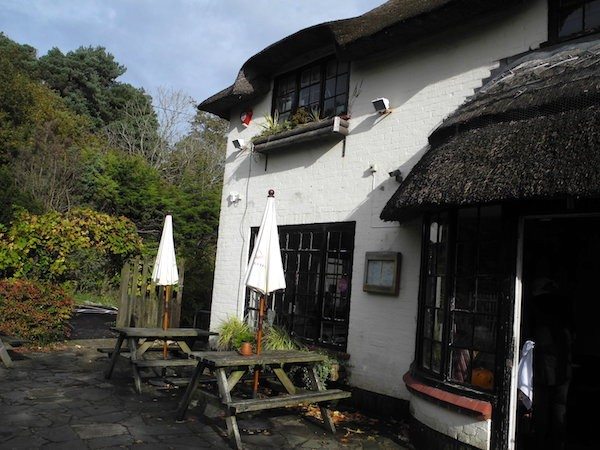 Flavor packed
Our decisions on what to order were influenced by the quaint rural setting as much as from eyeing up neighbouring dishes, enjoyed by the robust local crowds. It seems all of the Hassocks' residents along with the Lewes affluent bourgeoisie set frequent this ginger haunt.
The entrees came fast and bold, mine first, comprising of handmade pork croquettes with beetroot square, marinated apple and celeriac salad set on top of a savoury biscuit tuil. My companion's was as equally indulgent, being a tasty thyme puff pastry encrusted vegetarian scotch egg. The mushrooms didn't disguise this as being a healthier version of the British favourite, but the flavor packed a punch along with the ale veloute.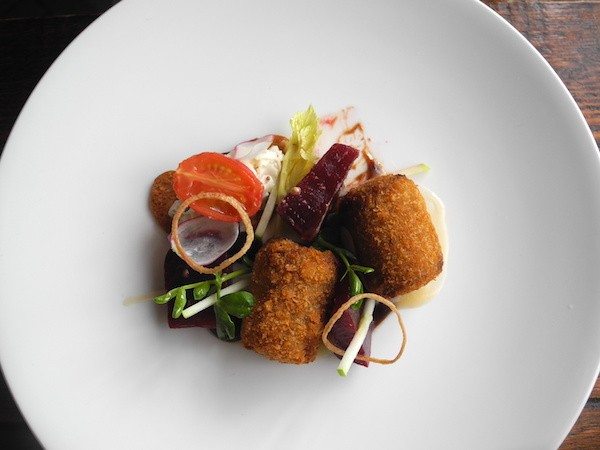 These were washed down with a fine glass of Ridgeview sparkling wine.
A busy kitchen meant a suitable and welcomed wait for our mains, enough time to contemplate a large and rather pricey wine list.
I settled on Yarra Valley Pinot while my lunch partner chose a Shiraz Viognier from S.E Australia, a region recommended and close to my heart.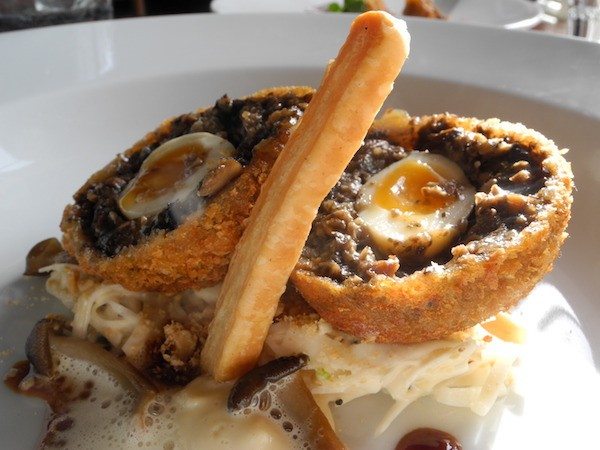 Having booked a later lunch sitting meant we welcomed in our mains while we slowly watched the busy early diners finish their desserts and depart the pub as farewelled by jovial female waitresses, zipping around in cool urban trainers.
Mains were a tough choice between seafood and steak, however feeling quite at home in this rural setting, I ultimately decided upon the Redlands Farm Beef with oxtail croquette, romesco puree, wilted spinach and what can only be described as artery thickening duck fat chips.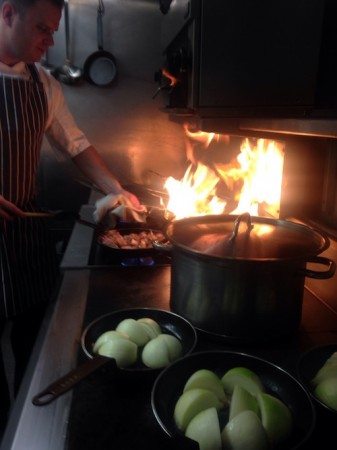 Head Chef James Dearden informed us (while elbow deep in a carcass carving – post lunch of course) that all of the produce is locally sourced were possible..
and The Ginger Fox actively supports farmers and markets in the close vicinity.
I knew I was onto something with the Redlands Beef, which was delicious by the way, cooked to a perfect blush medium and carved like butter. My only critique would be the tomato choice as accompaniment – a beef of this standard I felt deserved a slightly sweeter cherry tomato. Perhaps they weren't local?
Still raving about this dish a week later
My gastro counterpart chose the enviable Partridge Crown with confit leg samosa, parsnips, almonds and zesty lemon oil. I had to stop myself from eating half of this and trading a beef slice, it was that moreish.
He is still raving about it this dish a week on – perhaps as a competitive boast to a slightly better choice or merely because it was so deliciously wonderful and moist. Even so based on this dish alone we feel the restaurant warrants a repeat visit.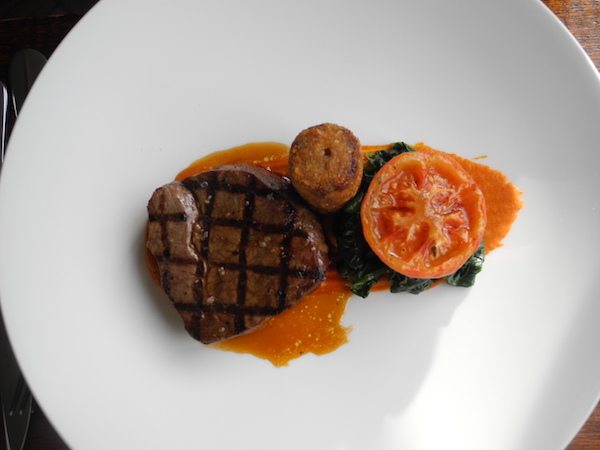 Although healthily full, we couldn't resist the temptation to trial dessert. If only because of the eight options on offer, it had seemed too rude a gesture to the Chef to simply not order anything.
Soon enough a 'light' dessert focused around a Lychee Granita and combinations of basil ice cream with sesame biscuit and some salt baked pineapple thrown in for good measure, arrived at our table. In retrospect the only thing light about this dish was the colour, but it was very refreshing and tasty with its strong Asian flavors cutting through.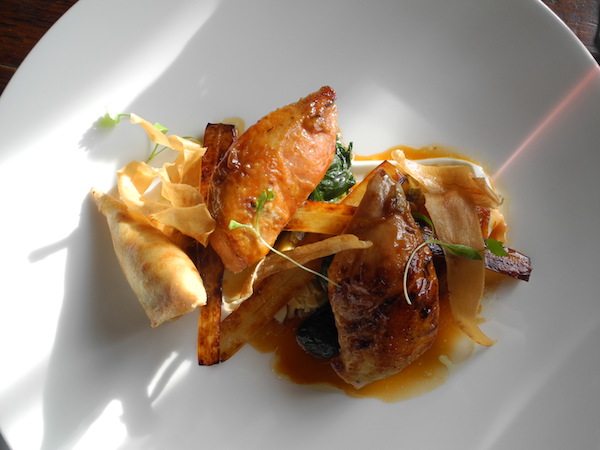 Valhrona Chocolate tart is what followed my food partner in crime's partridge lunch with a creamy malt ice cream. One would imagine based on his 3-course menu choice that he was already well on his way into Christmas party lunch mode.
By the time we left and braved the cold outside, the open fire had dwindled and we left with a gamey, wine and sugary taste singing … 'This little piggy went to market', all the way home.