Discovering local seafood at GB1
Brighton has so many great restaurants that its hotel-based establishments tend to slip under my radar. In fact, I hadn't considered The Grand's double AA Rosette restaurant, GB1, until I was invited to do a review last week. As it turns out, it seems I've been missing a trick.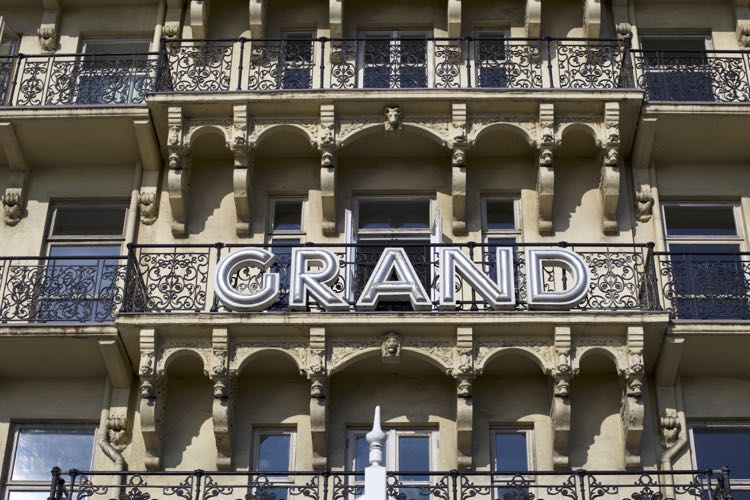 Entering the lobby, The Grand's Regency elegance quickly confirms that you've arrived somewhere special. Continuing through to GB1, the huge central bar is immediately striking – this has to be one of the city's best spots for slurping oysters and sipping champagne. With marble pillars and intricate cornicing, GB1 echoes the hotel's historic roots, while modern lighting, comfy seats and modern decor add a relaxed, contemporary feel.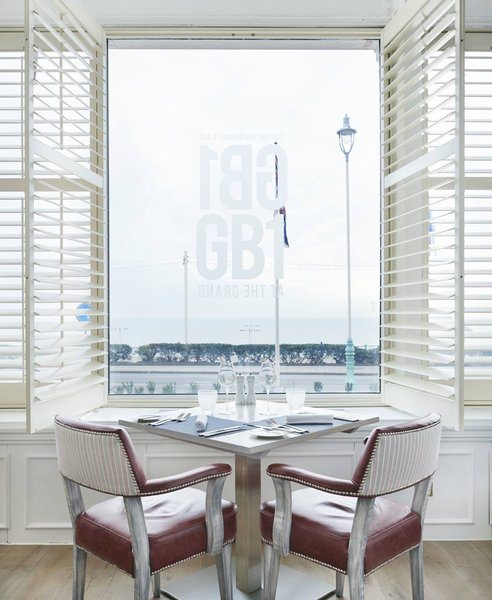 My friend Adele and I were seated in the conservatory area, with its prime sea-facing location. It was early evening but there was already a buzz about the place, and the well-spaced tables meant we weren't brushing elbows with other diners.
Fish-focused 

Fish and seafood dominate the seasonally changing menu. The Special Board is all about local south coast catch, served filleted or on the bone. And you can choose classics like Cod 'n' Chips, as well as adventurous Goan squid curry, or 'blow the budget' beluga caviar.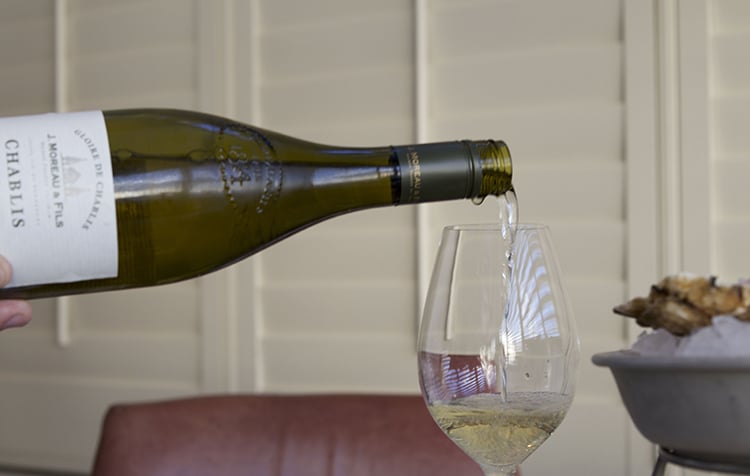 Carnivores fear not. The Grill offers Aberdeen steaks, Dingley Dell pork and more, while veggies can enjoy the likes of butternut salad with Brighton blue cheese. If you fancy some seafood on the side, you can order cockles, clams and other shellfish by the bowl.

Oysters are a must
It seemed only right to start with oysters and something sparkling. Served on crushed ice, my perfectly prepped oysters had been 'pre-released' from their shells. Opting for all three accompaniments – vodka & tomato juice, chilli & pickled ginger, raspberry & shallot – the zingy chilli & ginger was the stand-out for me.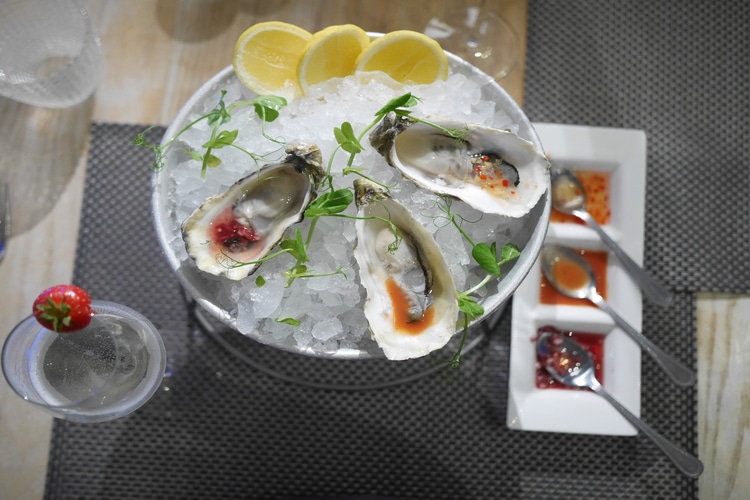 To wash them down, we sipped Sussex's Ridgeview sparkling wine. If you're here to celebrate, the wine list includes no less than 14 champagnes, plus several other sparkling options.

Inventive fish starters
To start, I went for Mackerel – my favourite fish. Pickled and seared, three filleted fingers arrived with chunky heritage tomatoes, cracked pepper, a punchy basil parfait, and snow-white olive oil powder. After a little experimentation, I discovered that my favourite flavour combos involved dipping the mackerel into the powder, and the tomatoes into the parfait. Mildly pickled rather than full-pelt vinegar, this dish would appeal to all palates.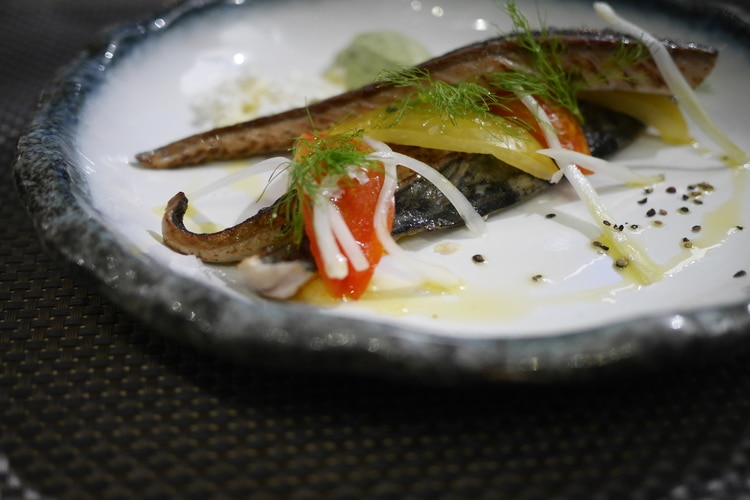 Seasoned with scallop roe, Adele's meaty Monkfish starter was served with black pudding puree (all the flavour, minus the coarseness of classic black pudding), a shard of wafer-thin bacon, and poached quails eggs with gooey yolks. On top was an eggy brioche that was crisp and soft in all the right places.
Generous portions
For main, I enjoyed a precision-cooked fillet of bream on a bed of kimchi and smoked duck stir-fry.
Adele's Dover sole was enormous. A very meaty fish, it was characteristically firm and served simply, with beaure blanc, and a scatter of mussels and oversized cockles.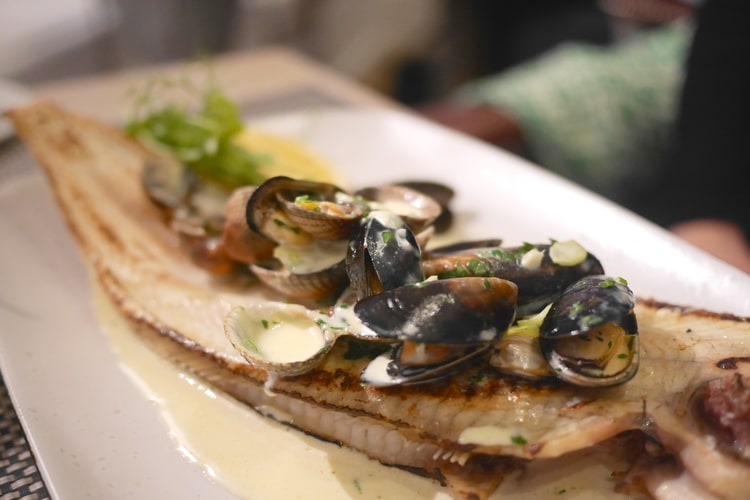 With portions this generous, she struggled to finish her side of samphire and bacon. But if you're particularly hungry, or simply can't resist, you could try other sides like mojo potatoes, cauliflower rice or chunky chips.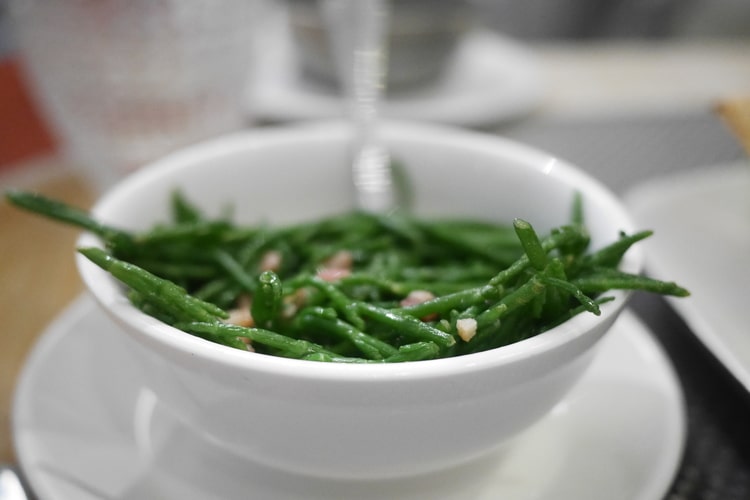 For a wine recommendation, we asked Luca, our smiley waiter. "Try the Chapel Down Bacchus," he enthused, "it's an English wine, from Kent." Light and citrusy, with a grassy aroma, it went well with both mains. I'd definitely drink this again.
Finishing on a high
Ordering two puddings to share, Adele's favourite was the Rhubarb: firm stems of English rhubarb with moist almond cake, apple puree and, a real revelation, whipped cream flecked with black pepper.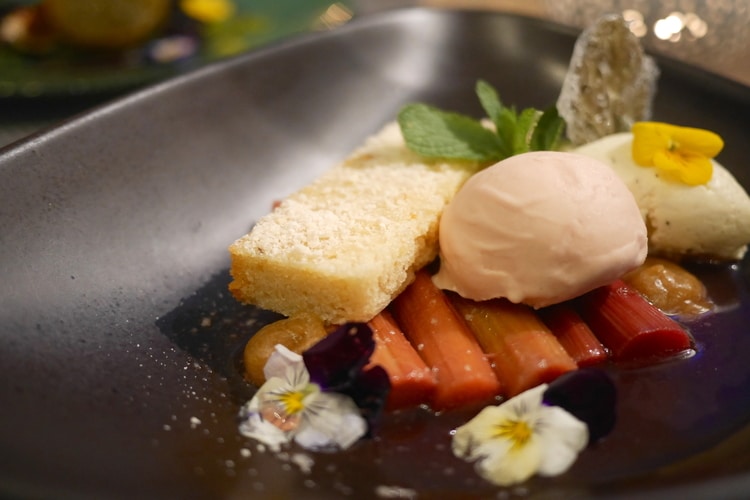 I was a big fan of the pistachio Baklava – thick discs of green baklava with yoghurt ice-cream, fresh figs and the biggest blackberries I've ever seen.
We were thoroughly impressed with our puddings, and the Americano I sipped with mine boasted impressive, Guinness-style crema.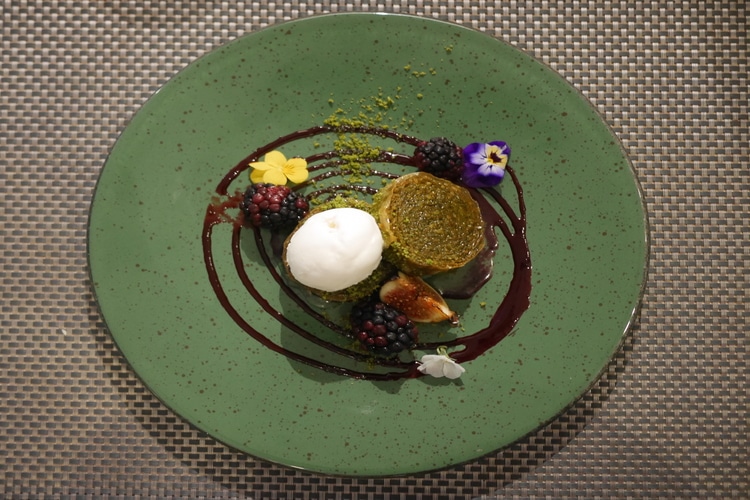 After party
Standing up to leave, we looked in disbelief at the time. We'd been here for almost four hours! Testimony to GB1's relaxed ambience, we'd been chatting away and savouring our meal slowly, unaware of the hours slipping by.
Back in the lobby, we discovered another secret of hotel dining – the bar was abuzz with after-dinner drinkers. Whereas you might feel awkward about lingering in a high-street restaurant that wants to close for the night, here at The Grand the champagne was still flowing.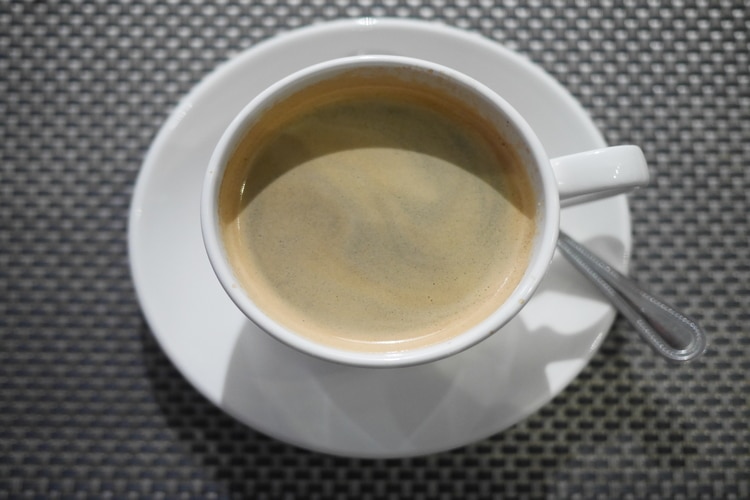 With an impressive variety of fish-dominated dishes, and an elegant yet relaxed atmosphere, I'm convinced that dining at The Grand is something everyone should experience, at least once.
What Next?
Make a reservation on 01273 224 300
See the listing for The Grand Brighton – GB1 Restaurant