Waterside Sunday
Last Sunday nanny and grandad agreed to have our 4 and 5 year old boys as we were off to the Waterside Bar and Brasserie at the Rendezvous Casino.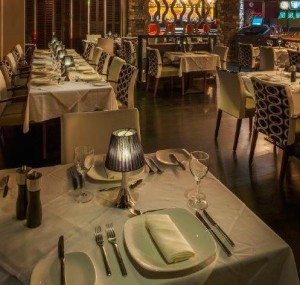 Maybe they're getting a bit weird with their old age or something – otherwise why would they? 🙂
Our 4 year old has a high pitched scream that goes right through you and our 5 year old loves to wind him up – thus ensuring we hear the scream more often than we'd like!
We obviously told our parents that they had been great all weekend and dropped them off as early as we could. Then we sped off in the direction of Brighton Marina high fiving each other!
We had decided on the Waterside Brasserie at Rendezvous Casino as it is exceptional value for money, has a live Jazz band and best of all no screaming kids.. Well it is a casino and so only adults are allowed in – hee hee!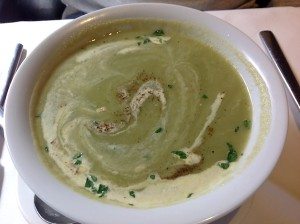 On arrival we were greeted by Carl who showed us to our table, a lovely window seat although the blinds were down – just letting in some light as it was 3pm and too bright to have open.
This only added to the relaxed vibe, with the jazz band in full swing, comfortable seats and immaculate white tables and linen.
Steve and I agreed we felt instantly relaxed with the Sax playing in the background.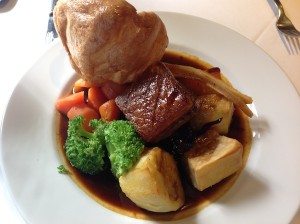 There was no singing, just the musicians and they were brilliant and sounded wonderful.
Carl brought us our wine: Las Ondas a Chilean Savignon Blanc and I have to agree with him…
This is a very good drop of white for the money (£19.50 per bottle), dry but not overly, clean crisp, moorish and very fruity.
On Sundays you get a choice of 4 starters at the Waterside Brasserie, 4 different roasts including a fish option and 3 desserts.
I opted for chicken liver parfait, roast chicken and chocolate fondant.
Steve decided on leek and potato soup, roast belly of pork and sticky toffee pudding.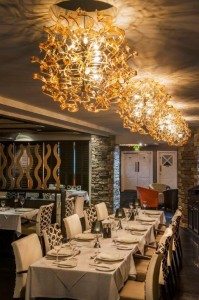 We were offered fresh rolls and soon after starters was delivered to the table.
Both our starters were presented very well and with a smile, in fact the service here cannot be faulted, our glasses never empty and the staff attentive from start to finish.
My chicken liver parfait was a creamy smooth, with the twang of liver really coming through.
Combined with the chutney and white toast – always a winning combination for my taste buds.
More rolls were quickly brought to the table to ensure there was no parfait remaining!
Steve's soup was good, subtle in flavour and of medium consistency.
The band were playing in the background, we felt more relaxed than ever and we eagerly awaited our roasts.
When they arrived we both agreed they looked delicious, so pleasing on the eye; both with a colourful array of vibrant vegetables.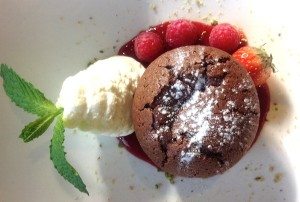 Steve's pork belly tasted as good as it looked, with a crisp layer of crackling, a thin layer of fat and then succulent tender pork which just pulled apart in strips.
My chicken was equally tasty, well seasoned and cooked well.
Each came with carrots, swede mash, broccoli, red cabbage and a sweet potato wedge.
The vegetables were not to hard or soft but just how we like them.
Both roasts had a large crispy yorkshire and were covered in a delicious rich, dark gravy jus. We didn't talk much through the mains, just the occasional grunt of mutual appreciation.
We had left absolutely no room for dessert but who can refuse when its just £15.00 per person for 3 courses?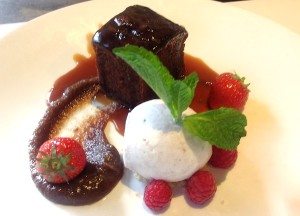 Not us – we know from experience that we will fit it in and we were so glad we had found the room.
Both desserts were presented beautifully and we couldn't wait to dig in.
The fondant was perfect, with a slightly crisp exterior, then a smooth denser layer and then into the gooey runny centre.
The fondant held its shape when broken and was divine combined with the fresh raspberries and whipped cream.
Steve ummed and nodded until I nudged him for a taste of his sticky toffee pudding before he totally devoured it. Served with vanilla ice-cream… Ummm yes – delicious, light in texture but not in flavour.
Yes we will be going back to have another child free roast as soon as the grandparents eardrums have recovered and they forget we lied to them about the grandchildren's behaviour!
I would highly recommend this Sunday roast, a safe bet and a clear winner in my book!
Reviewer: Leigh Carrington, May 2014
IMPORTANT: As you are entering a gambling environment, please remember to bring along a form of ID (passport/ photo driving licence). the venue is strictly for age 18+ years.
Make a Booking on 01273 
961634