After soaking up what I fear may be the last of the summer sun, my dining companion and I headed along to The West Hill Tavern – our stomachs empty and ready for pizza. For me, the West Hill is something of a Brighton institution. I've spent many long afternoons surrounded by their gorgeous houseplants and colourful decor, drinking wine and stuffing myself with their amazing roasts.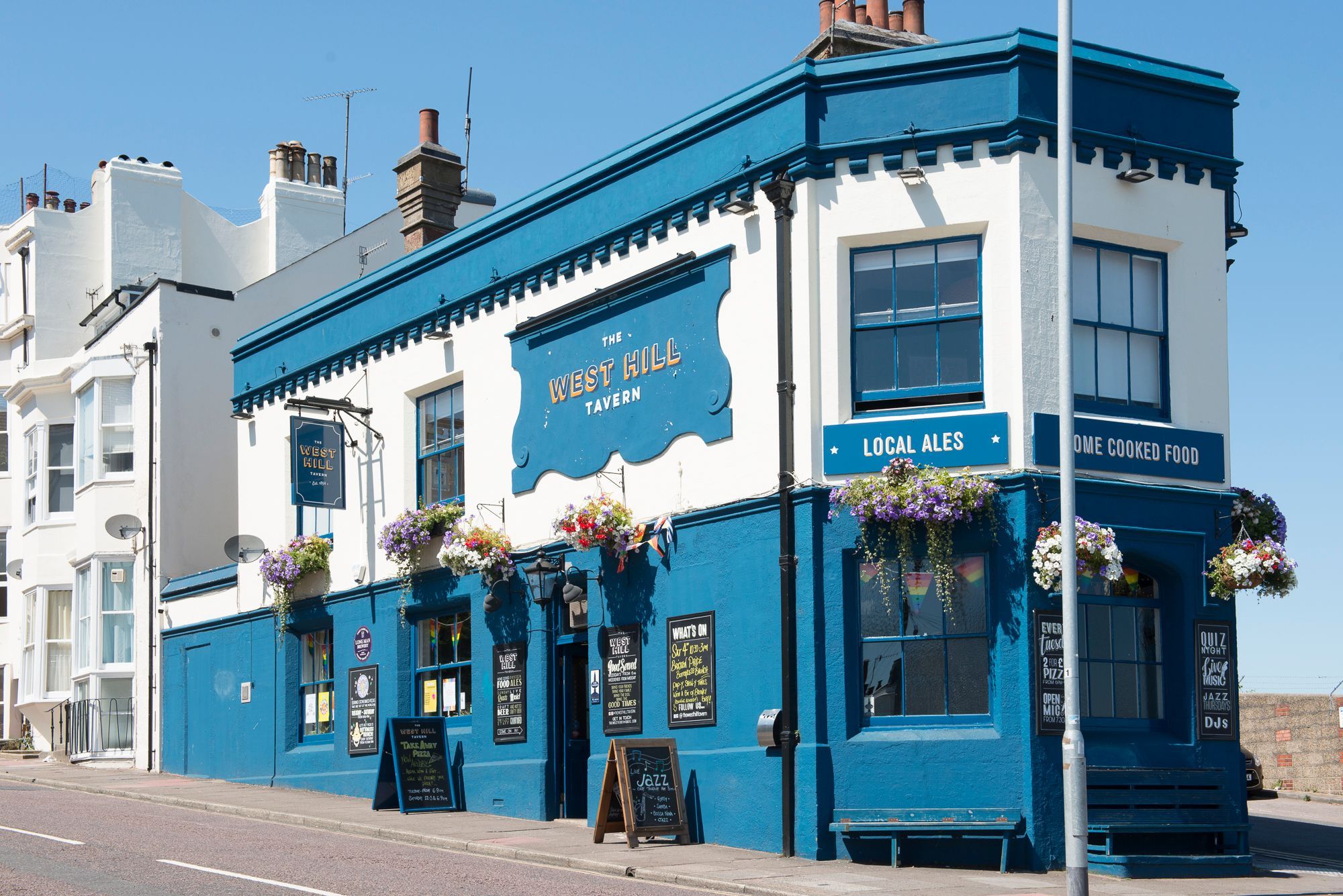 The West Hill is definitely known for delivering a fantastic Sunday roast, but I'd never had their pizza before. So, with this new revelation, I was extremely excited to see what they had to offer. I definitely was not disappointed!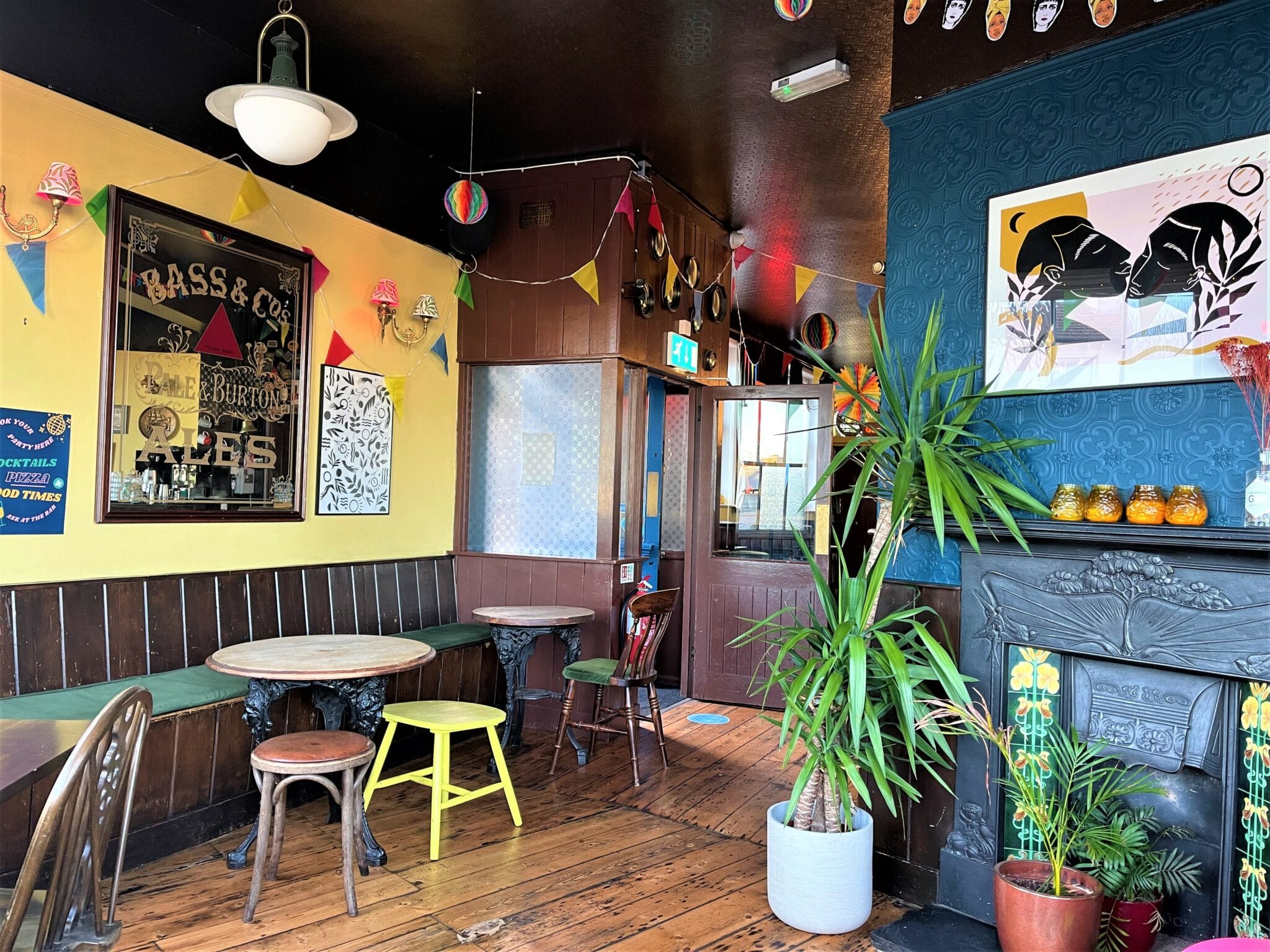 We were welcomed in by the lovely Emma, who was on hand to talk us through the special pizza and the drinks menu. The dough for The West Hill's pizza is made on-site daily and all meat and cheese is supplied by the incredible GB Charcuterie. What with that and all the expert drink advice from Emma we knew we were in good hands. 
After much back and forth over what we would go for I opted for the special The Grape British Tandoori Pizza (Mozzarella, Tandoori Paneer, Grapes, Chilli & Coriander). One pound from the sale of each pizza goes to St Paul's C of E Primary which is nearby. My dining partner went for the Wagyu Reuben (British Wagyu Pastrami, Mayfield Swiss, Pickles & Dressing) and we also chose a side of walnut and raisin slaw. 
The food came in good time – long enough for you to know it's made fresh but not so long that you feel like you are waiting as your hunger grows. I wasn't sure about grapes on a pizza but I'm always willing to try something new and I must say that it really worked well and provided a good balance to the heat of the other toppings – spicy cubes of tandoori paneer and fresh chillis.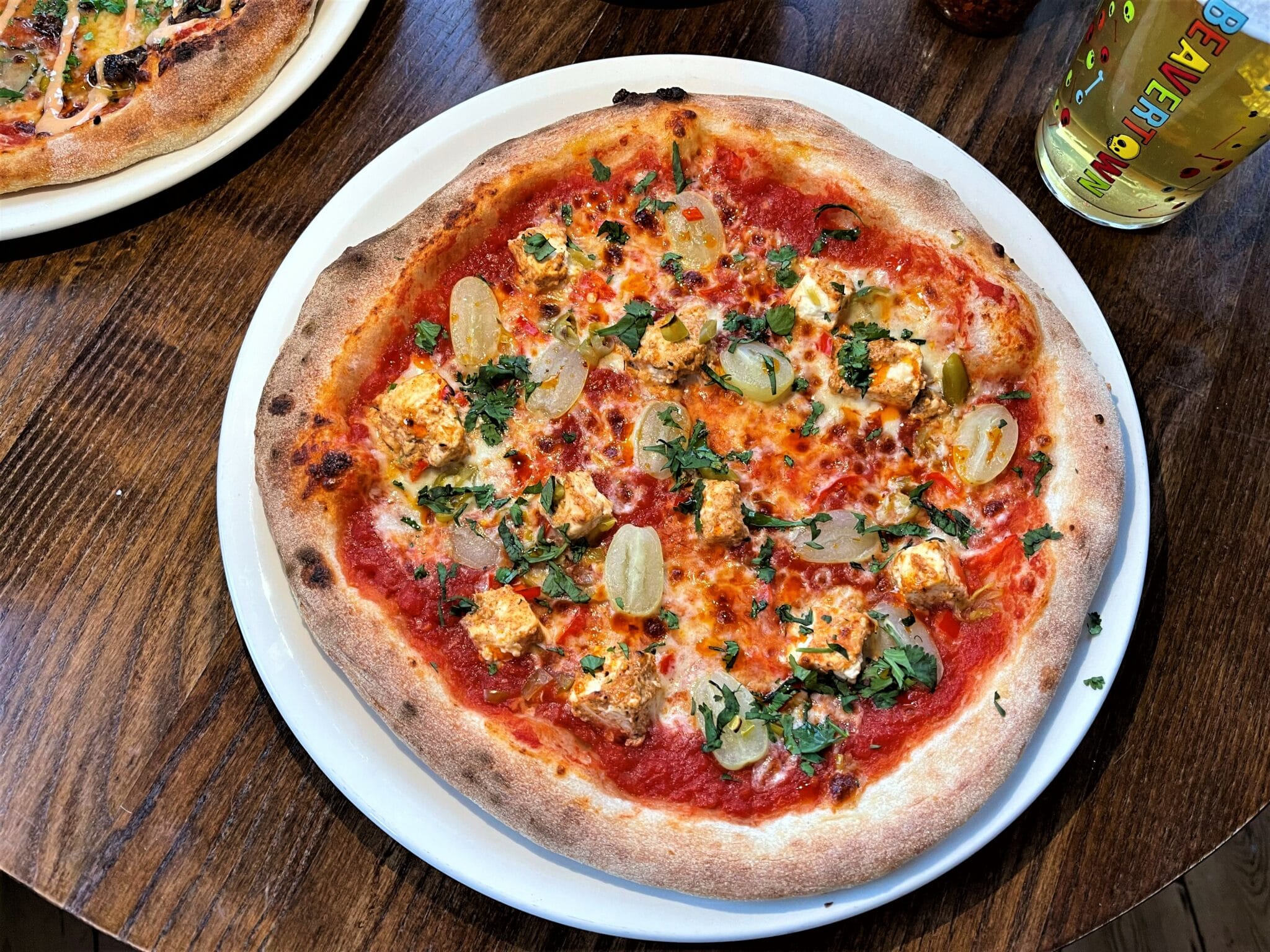 The Wagyu Rueben was also very good. Tangy Swiss cheese with those pickles and the dressing were delicious. The pastrami was really the standout ingredient on this one though, the meat was so tender and perfectly spiced. Next time I visit this will be my first choice.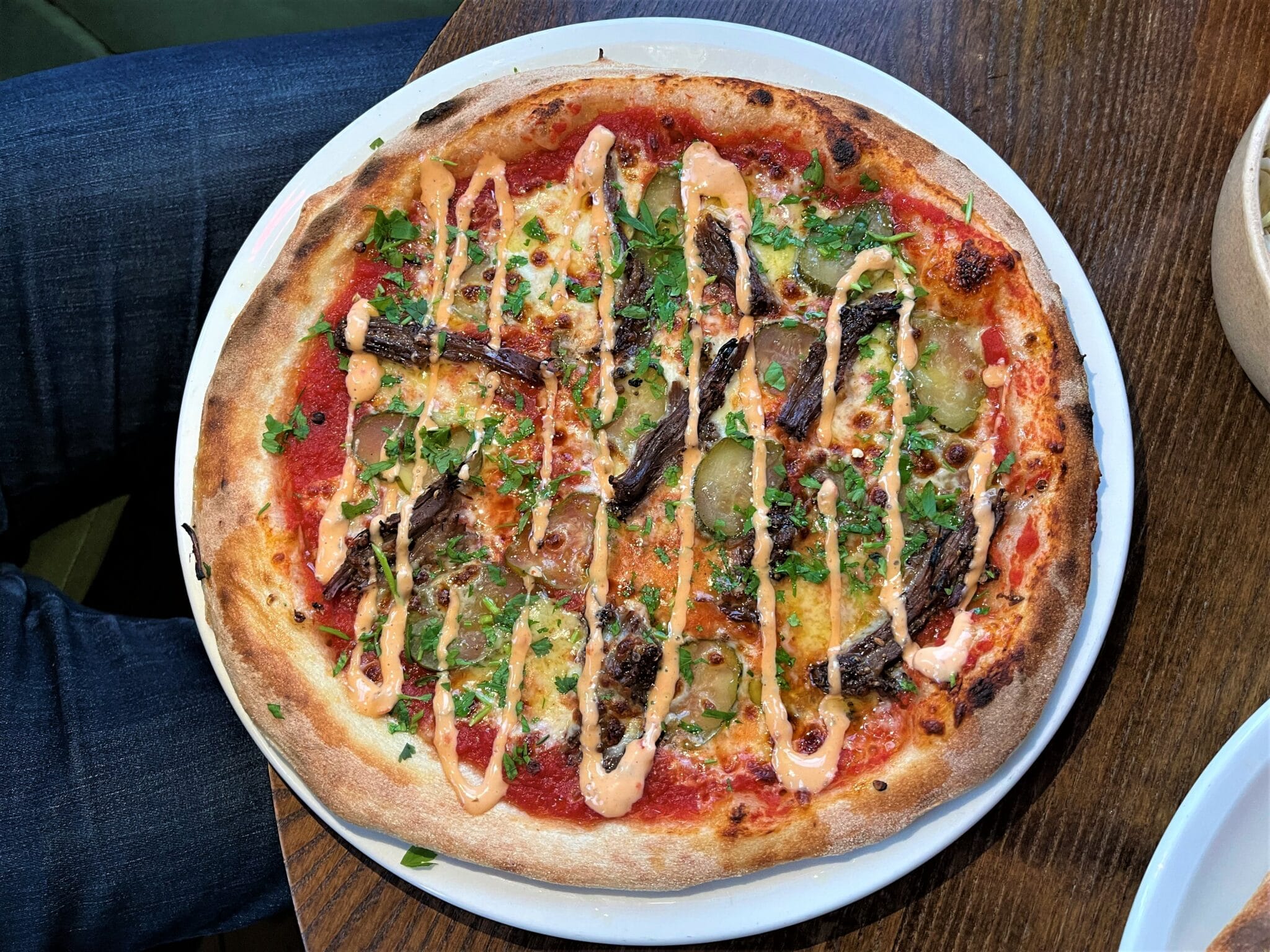 Both pizzas had lovely well-cooked bases with chewy crusts and the tomato sauce tasted very fresh. Toppings were plentiful, definitely no scrimping here. The slaw accompanying the pizzas was made up of the classic cabbage and carrot with added golden raisins and walnuts – very good. Fresh and nutty with sweet tasting pops from the golden raisins. 
I am going to give the chilli oil a special mention. Often, I find chilli oil to be quite flavourless, just hot. This one, however, had a noteworthy depth of flavour to it, far more complex than the often bland oils I've tried. I had to know what was in it, and the ever knowledgeable Emma informed us that as well as chillis the oil is infused with star anise which gave it an extra breadth of flavour.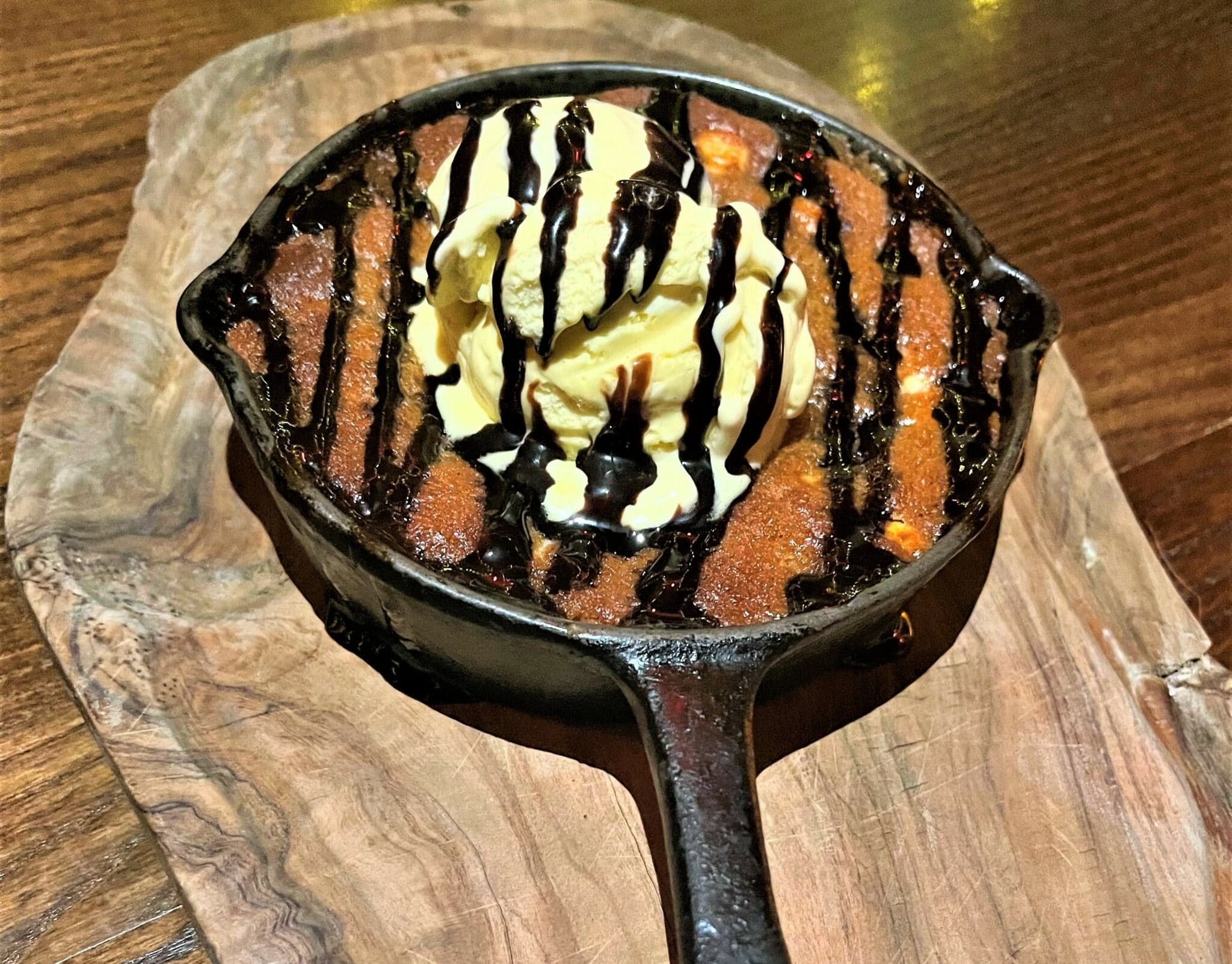 Although full from our pizzas we managed to squeeze in a dessert to share and opted for the baked cookie dough with chocolate sauce and vanilla gelato.
It came in a cute little hot skillet served on a wooden board. Sweet cookie dough laced with dark and white chocolate chips and two big scoops of smooth vanilla gelato. Perfection and not much more to say other than make sure you save room for this. It is a winner.
The portion was definitely enough for two to share. Along with dessert, we had to sample a couple of drinks from the negroni menu. We went for a pineapple negroni and the breakfast negroni. For me the breakfast Negroni was a lovely little twist on the classic but I am not sure my taste buds were ready for the pineapple version.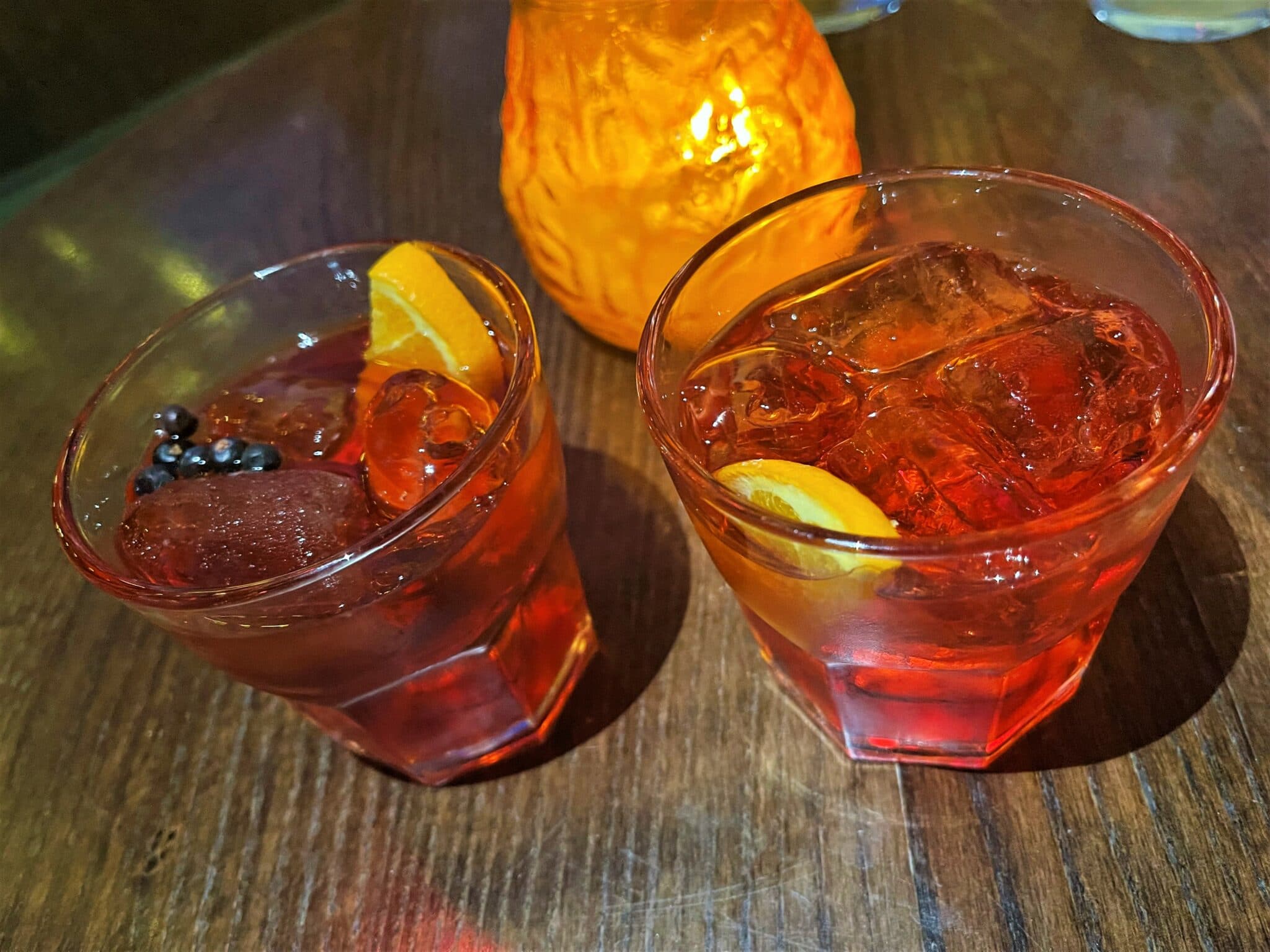 After all this glorious food and drink it was time to head off into the night, full and content. The West Hill is a cosy and welcoming pub a short walk from Brighton station, the food is good quality and clearly well thought through.
The pizza menu offers your classics from ham and mushroom to margarita but also something a little different – breakfast pizza with egg and black pudding anyone? If pizzas aren't your thing, then you are mad but will also be catered for as The West Hill does a selection of toasted sandwiches and a great Sunday roast. The bar is well stocked with classics but they also offer a cocktail menu and separate negroni menu to work your way through. A great pub to while away the hours.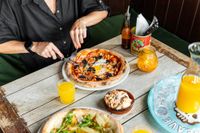 Want to know more about The West Hill Tavern Brighton?
Find Out More