Woman in Hospitality Interview
Current position: Co-owner at Wild Flor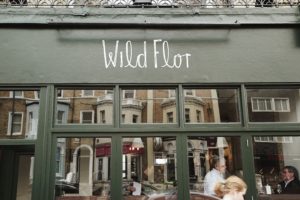 Please can you share a whistle-stop tour of your career?
I was never the most academic at school. When leaving I decided against enrolling in college & felt very unsure of what I foresaw my future to be.
My Nan was a great cook and I felt a kitchen role would be something I could do. So, I decided to follow in her footsteps.
My first job was as a kitchen porter. I had in mind that I could possibly later go into an apprenticeship. I was asked to then cover a couple of shifts FOH. I then realised that I'd found the area I naturally fitted into and enjoyed.
In later years, despite being awful at any form of banter, I held a job as a pretty good barmaid for a good few years before eventually moving to Brighton in 2010 where I joined the Gingerman group and remained at The Gingerman in an assistant management role until 2018.
Since May 2019 I have been the co-owner of Wild Flor with Robert Maynard & James Thomson.
Describe your job in three words;
Eventful, challenging and Rewarding
Favourite aspect of the job?
Being a part of this bizarre daily experience of different people in many different roles all under one roof. Muddling through together with the same goal of creating the same thing- A wonderful dining experience for complete strangers.
What excites you most about your role?
I've always loved how everyday is different. Learning to be versatile and potentially having to be a different person to every one of your tables is quite an exciting challenge.
I've had the joy of serving some of the same faces in Brighton & Hove for over 10 years now and to welcome them now into my own place is really quite wonderful.
The toughest aspect of your job?
Juggling our schedules around being the owners of a new restaurant as well as parents to our children is and will probably always be our toughest challenge. It's hard to sometimes not beat yourself up a bit and feel you're not doing the best you can for them.
Is there a moment in your career that stands out above the rest?
The day we opened our doors to Wild Flor. Our friends & family were the first in for a soft launch. All the stress, all the sweat and just a few tears had gone in from all four of us to create a space we all believed and hoped people would love. The moment you open a lot of it really is then out of your control.
By late Summer we were included in The Michelin & Good Food Guide and had also received a glowing review from Tom Parker Bowles which made for a terrific start.
Don't get me wrong, I know full well the road ahead is still a long one and no one will be resting on their laurels but I do feel so very proud for what we have all achieved since opening.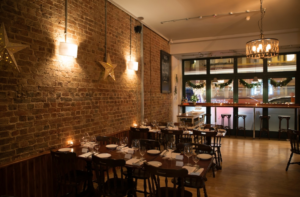 What are you most proud of?
It's got to be Wild Flor. It is in many ways like having another child. You feel all the similar emotions you would if someone was to criticise them, likewise when you hear praise, you feel nothing but personal pride. I helped create that!
Would you agree that hospitality is a male dominated industry?
I don't believe I do. Not within Brighton & Hove anyway. The Gingerman Group, for example, has female general & assistant managers all over the group. Never in my years with them did I feel my role was judged or belittled by a male colleague. If anything embraced and respected. An experience I very much continue to feel with my two male business partners.
Both Cin Cin & Fatto A Mano should also be highlighted in holding the torch for female equality in our city.
Can you summarise what it is like working in a male dominated industry?
Starting up on our own, Robert Maynard & my husband James Thomson were both very well known throughout the city. There was a time in the beginning that I couldn't help but feel slightly overshadowed by two such strong well-known males. Especially in a society where you feel pressure as a female. I was told repeatedly to "get yourself out there". Many people probably still don't know that there is a female owner between the two guys at Wild Flor.
In the past year, I've learnt that even if you're not necessarily being seen by every single customer it doesn't mean that all your hard work back of house is any less important. It's learning to see the bigger picture and just roll with it a bit more. Wild Flor is exactly what we wanted to open. I walk in everyday and feel so very proud, Knowing and believing in that as well as yourself is so incredibly more important than people knowing your name.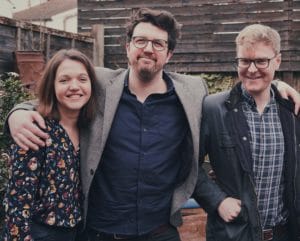 What has been your biggest challenge?
Most definitely the period in which James, Rob & I turned in our comfortable jobs within the city to do our own thing. Rob was soon to be married and James and I had a young child. Ollie our head chef did the same shortly after in order to come on board, having also two young children at home. The wonderful thing is despite our delays and the obvious concerns we heard from our family & friends, none of us ever doubted what we were doing. We all shared a dream and went for it and that's rather special. Especially to see where we are now.
Do you have children?
I have two beautiful girls. Evelyn whose three and Ava, my stepdaughter whose nine.
Has raising a family affected your career development?
Not at all. I feel incredibly lucky to have had Evelyn during my time at The Gingerman Group. I felt nothing but support from the owners and was back at work, in the same role within 6 months. It's an absolute credit to their group to see the amount of women who have and will continue to work for them for years to come.
They definitely do give the flexibility women need to achieve that right balance between work & home life.
Going into our own business. Hospitality gives us the ability in working opposite shifts because of the hours involved (one on lunch the other dinner) If we were both 9 to 5 say, one of us would most definitely not be able to work as much as we both currently do. The two evenings a week we do than get together are always seen as a wonderful treat and we never take our time together as a family for granted.
Who have been your mentors? 
I'm lucky enough to call Jamie (former manager of the Gingerman) a very close friend as well as a tremendous mentor.
Credit to him for teaching me all I know about customer service.
Learning to have that confidence of knowing that it's your room and you're in charge but the importance of being humble and knowing that you're also the least important person in it.
To know and understand that mix is golden.
Who has inspired you along the way?
Many people. Even after 15 years in the industry, I am so very much just at the beginning of my career and now have a whole new chapter where I must learn and mature further. So even more so than ever, I find ongoing inspiration from women who have been doing this for so many more years than I.
For me to name just a few, women such as Pamela (Gingerman Group) Dawn(Chilli Pickle), Louise (Flour Pot), Carla (64 & Murmur) Julie (Sugardough) Kate (Market Restaurant) are a huge female asset to our city and a definite inspiration to young women looking to embark on a career in hospitality.
It's only since actually operating a restaurant that I'm acknowledging the day to day stresses that come with not only keeping a restaurant afloat but also the raising of children, being a wife, a boss and most importantly also finding the time to just be you without all of that and it's really rather difficult. I know none of them would change it for the world but I really do hope nobody is to believe it has been an easy ride for any of them.
What has been your philosophy that has seen the successful development of your career?
Kindness, especially towards your team. Your day will always start and end with them. Take time to listen and build relationships. If you have a happy team you'll get the best from them. You'll then find that taking care of your customers will be a walk in the park.
What advice would you offer for women looking to embark on a similar career?
Always believe in yourself but don't be too proud to take advice. Especially from the ones who have been doing it for longer, even if at the time they are in a lower position than you. You won't always know the best thing to do.
Always keep going and work hard everyday. It'll be long hours for many many years and an even longer time before you'll reap the full rewards. If your hearts in it though you'll see many smaller rewards that will come your way when you least expect it and it's those that will most definitely keep you going.
Words of encouragement for women who aspire to reach a senior position in hospitality?
Appreciate the importance of starting from the bottom as it will give you the experience needed to then confidently manage the many roles within a restaurant you'll face in years to come. Being able to relate to all of your staff is key. Always also remember to share in your success. Your staff work hard for you.
Do you have a go to or failsafe plate of comfort food?
A Unithai Duck Curry never goes amiss.