Restaurant Brighton's guide to
Sussex Suppliers to the Hospitality Industry
Wholesale Brands and Suppliers
The Sussex Shortlist | The Best of Sussex
Sussex Shortlist is the brand new Sussex wholesale supplier directory, dedicated to championing local produce while considering everyone's carbon footprint. It serves as the go-to guide for restaurants and chefs in Brighton, Hove, and Sussex, providing a curated selection of Sussex suppliers. Whether you're searching for a Sussex vineyard or wine supplier, artisanal cheeses for your cheese boards, or sustainably sourced meats, Sussex Shortlist showcases a diverse range of high-quality local products.
By supporting these Sussex wholesale suppliers, businesses can contribute to the growth of the local economy and reduce their environmental impact. Trust Sussex Shortlist to discover new and exceptional Sussex suppliers for your culinary needs. Please get in touch too if you would like to recommend or add another Sussex wholesale business. 
A Share of the Crop is a remarkable business that is redefining the concept of sustainable agriculture. With a focus on urban farming, they bring fresh and organic produce directly to the community. Their innovative approach combines technology and agriculture to create vertical farming systems, ensuring optimal growth and minimal environmental impact. From nutrient-rich microgreens to flavorful herbs, A Share of the Crop offers a diverse range of locally grown produce. With their dedication to sustainability and quality, they are transforming the way we think about food production and fostering a healthier future for all.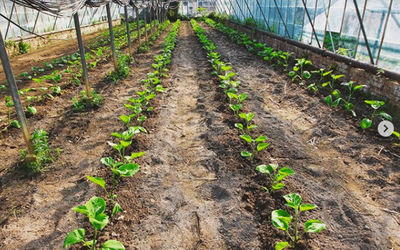 Barcombe Nurseries is not only a haven for plant lovers, but also a hub for fresh and sustainable produce. With their focus on supporting local communities, they offer a range of veg boxes filled with seasonal and organic vegetables, sourced directly from their nursery and local suppliers. Their commitment to quality extends beyond individuals to restaurants, as they supply top-notch vegetables to culinary establishments, ensuring chefs have access to the freshest ingredients. Barcombe Nurseries is bridging the gap between farm and table, providing both individuals and restaurants with a bountiful supply of delicious and nourishing vegetables.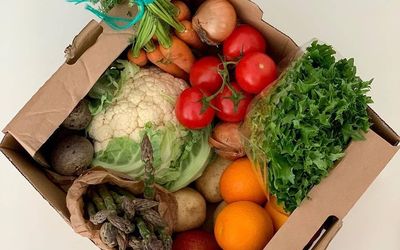 Florence Road Market is a thriving business that takes pride in connecting communities with fresh and locally sourced produce. Their veg boxes are a testament to their commitment to quality and sustainability, offering a delightful assortment of seasonal and organic vegetables. Not only do they cater to individuals, but they also supply restaurants with a bounty of flavorful vegetables, ensuring chefs have access to the finest ingredients. Florence Road Market's dedication to supporting local farmers and providing exceptional produce makes them a trusted source for veg boxes and a vital contributor to the vibrant culinary scene in their community.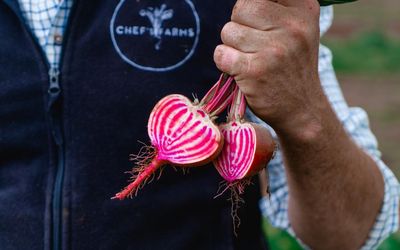 Chefs Farms provides a daily supply of premium, locally-sourced fruits and vegetables to its customers. With an efficient and user-friendly system, complete supply chain transparency, and product marketing, customers can seamlessly integrate us into their marketing strategies. Our daily presence on the farms enables us to offer a reliable forecast of upcoming produce, whether it's a small quantity or a large order. From a single kilo to a ton, we offer volume, reliability, and customizable packaging solutions to help our customers make the most of the incredible produce we supply.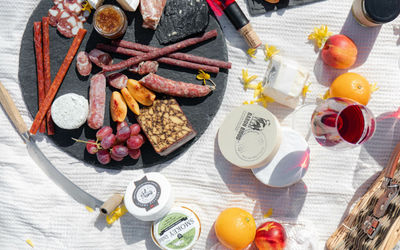 Great British Charcuterie offers an exceptional wholesale service for restaurants in Brighton and Sussex.
With their passion for artisanal charcuterie, they provide a range of premium-quality cured meats sourced from independent British producers. Their commitment to quality and flavor ensures that restaurants can elevate their menus with a selection of exquisite charcuterie offerings. Whether it's succulent salamis, flavorful hams, or tantalising pâtés, Great British Charcuterie delivers excellence to the dining tables of Brighton and Sussex, providing a true taste of British craftsmanship.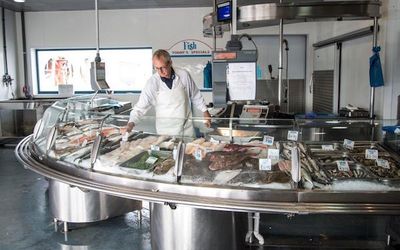 BNFS (Brighton & Newhaven Fish Sales) is a trusted name in the wholesale seafood industry, supplying top-quality fish and seafood to restaurants and chefs in Brighton and Sussex.
Located at Shoreham Harbour, their Sussex base allows for quick and efficient delivery of the freshest catch. With their vast selection of sustainably sourced fish and seafood, BNFS ensures that establishments can serve their customers the finest culinary delights from the sea.
Embrace the ocean's bounty with BNFS as your trusted seafood partner in the vibrant culinary scene of Brighton and Sussex.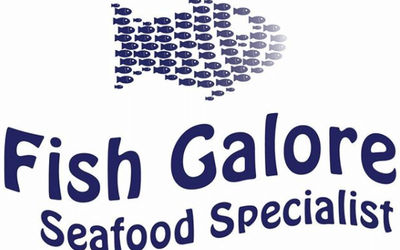 Fish Galore is a trusted supplier of wholesale fish and seafood, catering to the needs of restaurants and chefs in Brighton and Sussex. From their Sussex location, they provide a diverse range of fresh and sustainable catch, ensuring the highest quality products reach the dining tables of establishments. With their efficient delivery service and a wide selection of seafood options, Fish Galore supports the culinary creativity of chefs, helping them create unforgettable seafood dishes for their customers. Rely on Fish Galore for exceptional seafood sourcing and supply in the vibrant culinary scene of Brighton and Sussex.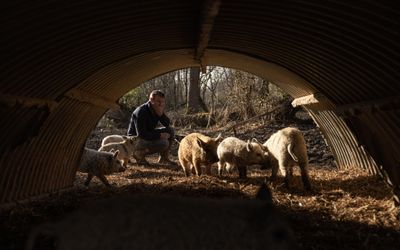 Beal's Farm has produced award winning charcuterie in Sussex from their own herd of Mangalitsa pigs since 2012. Now located on the Eridge Estate, the oldest deer park in England, they also supply raw venison and venison charcuterie. Whole animal butchery to order fulfillment is carried out in house, ensuring the highest standards every step from field to fork. Hence why you'll find Michelin star chefs, Top 50 Gastropubs and a number of England's finest vineyards among their customers. Photo credit Stuart Mack Photography.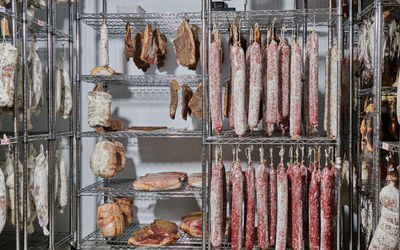 Born in Brighton – Curing Rebels is a creative butchery collective focusing on all things smoked, cured and fermented. High welfare British produce is at their forefront working alongside our ethical packaging and processing principles.
They produce a range of multi award winning charcuterie products in whole kilo formats as well as pre packaged retail solutions shipped nationwide.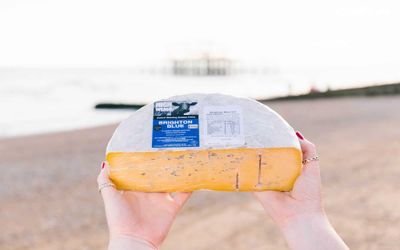 A first choice supplier for cheese for many Brighton and Sussex restaurants. Showcasing artisan businesses from Brighton, Sussex, and beyond, GB Charcuterie celebrates the fine cheese, wine, and charcuterie produced in Britain and Ireland. Numerous venues in Brighton and Hove proudly serve the GBC range. Additionally, their products are available for wholesale purchase at competitive prices, allowing you to order cheese in whole truckles by weight or individually – great for retail.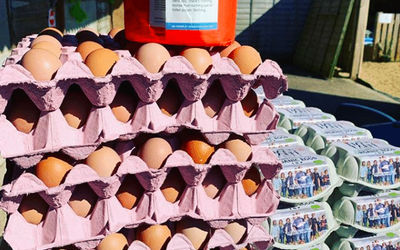 Macs Farm is a trusted name in the realm of sustainable agriculture, offering a remarkable dairy and egg delivery service for restaurants. Known for their organic and free-range eggs, Macs Farm ensures that restaurants receive the highest quality produce straight from their happy hens. With a focus on animal welfare and organic farming practices, their eggs embody the essence of freshness and taste. Restaurants partnering with Macs Farm can serve their customers with confidence, knowing that they are supporting ethical and sustainable farming while providing exceptional ingredients for their dishes.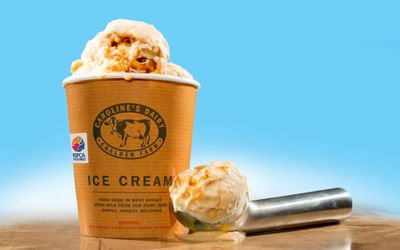 Caroline's Dairy makes Great Taste Award winning luxury ice cream in a variety of all year-round flavours plus seasonal, limited- edition flavours. The Dairy Parlour uses only fresh milk from the farm's own dairy cows who graze the grasslands and meadows around Pagham and Chichester
harbours, giving the ice cream a deliciously creamy taste. The product comes in 120ml, 500ml and 4 litre tubs and is delivered weekly to pubs, restaurants, farm shops and village shops across East and West
Sussex.
Sweet Treats & Baked Goods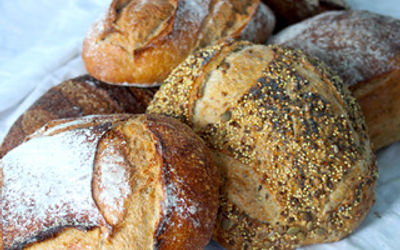 Home of the original Chewy Brown™, Brighton's oldest and best loved bakery has delighted customers with artisan breads, tarts and savouries since 1998. From its new, state-of-the-art bakery in Southwick, Real Patisserie today serves restaurants, shops, hotels and cafés throughout Sussex and beyond. 
Honouring traditional techniques, every loaf is hand crafted and baked fresh each morning in stone decked ovens. Founder Alastair Gourlay says: "There's a real authenticity to our product. We bake good, honest bread that brings pleasure."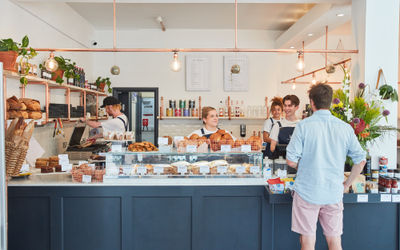 The Flour Pot's ethos is simple, quality products made with skill and passion by people who really care. The bakery started with their first wholesale customer in 2014 and has rapidly expanded, currently producing up to 2000 kilos of bread a day for their huge wholesale list across Brighton, Hove and Worthing. 
As the business has grown, the team have worked hard to maintain their artisanal quality and hands on dough ability, while delivering the best bread around for 363 days of the year. Their team of skilled bakers rotate shifts, with production going on 24 hours a day to ensure their products are delivered to wholesale customers in the early hours of the morning, in time for breakfast.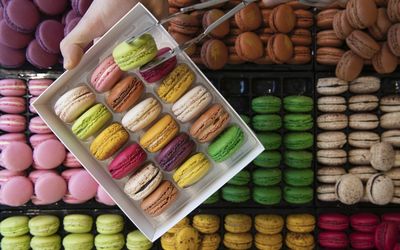 Julien Plumart is a true master of cake making, bringing his exceptional expertise to Sussex restaurants. With a passion for creating exquisite and visually stunning cakes, Julien offers a service that elevates the dessert experience in restaurants. From intricate designs to tantalising flavours, each cake is a work of art that delights both the eyes and the taste buds. Restaurants partnering with Julien Plumart can expect nothing short of perfection, with his dedication to quality, craftsmanship, and personalised service. Indulge your diners with the culinary mastery of Julien Plumart's cakes, adding a touch of elegance to any dining experience.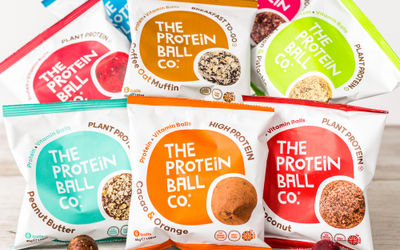 The Protein Ball Company, an award-winning brand, was established in 2015 by Matt & Hayley Hunt, driven by the desire to provide convenient and healthy protein snacks.
Their range, consisting of 100% natural and refined sugar-free protein balls, has grown to include 10 delicious flavors across three ranges.
With a focus on nourishing ingredients and great taste, The Protein Ball Co offers a guilt-free and nutritious snacking option for all.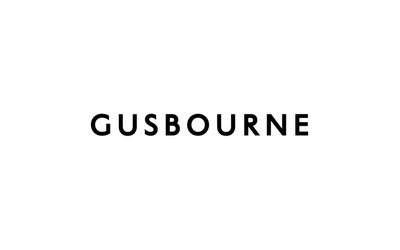 Gusbourne Estate produces top quality English Sparkling wine in the West Sussex countryside. This Sussex vineyard have an uncompromising quest for quality and a vision to create the finest wines possible. Gusbourne supplies some of the UK's leading restaurants and is the official English Sparkling Wine supplier of the Goodwood Estate. Their wine is also found in many retailers and specialist wine merchants across the UK.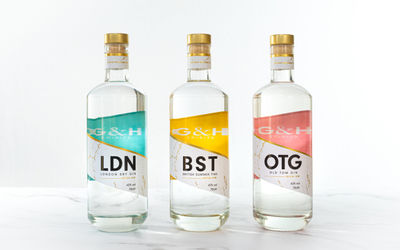 G&H Spirits are based in Steyning, West Sussex.  We produce small batch craft spirits that look as good as they taste. 
There are three gins in the range, including our LDN (London Dry Gin), voted the best in Sussex by the IWSC.  We also have a selection of lower ABV drinks which have become legendary and have a strong following in Sussex including our Lemon Gino and Choc Chilli Vodka.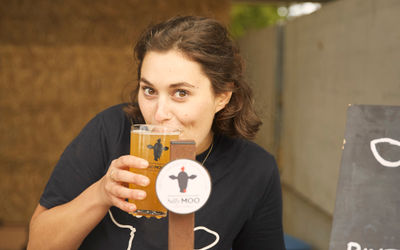 Silly Moo Cider is made at Trenchmore Farm in Cowfold, just 30 mins north of Brighton. Rachel & her dad Andrew blend apples from their 4 acre cider orchard with garden apples swapped for cider by their neighbours and fruit from a farm in East Sussex to create a beautifully balanced full-juice cider. They supply Sussex pubs directly with bottles, cans & draught and work with wholesalers such as Pig's Ears, Real Al Company, LWC & Latin Spirits. The Moo Tap is open in their farmyard every Saturday, where you can enjoy a pint of the good stuff right where it was grown & made.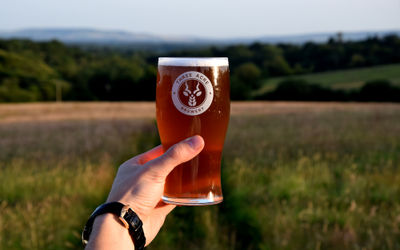 Three Acre Brewery was founded by three best mates, set on reimagining the future of cask beer.
​By breathing new life into a historic, artisanal craft, their award-winning beers are 'modernising the traditional'.
From their Sussex Best Bitter, to the Blood Orange Pale Ale, to the Hayloft Lager, Three Acre brews every style in small, handcrafted batches to ensure the very highest quality.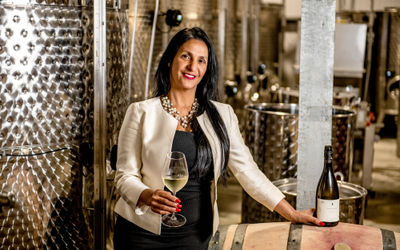 Oastbrook is an award winning English vineyard voted one of the best wineries in Europe nestled into the Rother valley near to Bodiam Castle. Run by Nick and America Brewer, Oastbrook produces both sparkling and still wines including white, rose and red wines. Oastbrook can ship wines direct to your establishment from the winery from individual cases to larger deliveries. We prefer direct relationships with local businesses and we are happy to support your business with hosted tastings with the owners.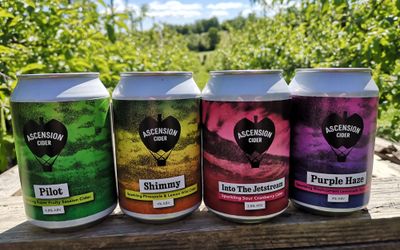 Ascension ciders showcase the apple, as well as blending with other fruits and flavours to create a core range of ciders of differing tastes and strengths, plus ciders and blends that change with the seasons.
Their cider is made from 100% fresh eating and cooking apples, principally those rejected by the supermarkets because of their unsuitable shape and size. All are also gluten free, and suitable for vegans and vegetarians.  Ascension supports local growers around Sussex and Kent wherever possible.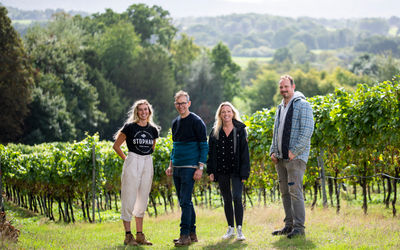 Stopham Vineyard is a 15 acre site part of Stopham Estate, nestled in the beautiful South Downs National Park near Pulborough in West Sussex. We are specialists in crafting aromatic still whitewines from Pinot Gris, Pinot Blanc, Bacchus and classic method sparkling wine from the champagne varietals, Chardonnay and Pinot Noir. Passion, precision, craft and sustainability lie at the heart of their Sussex wine making and grape growing. Visitors to the estate can enjoy vineyard, winery and wine tasting tours on Saturdays at 11am or 2pm between April and October.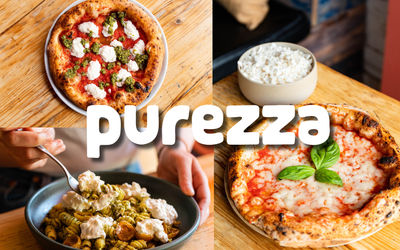 Unhappy with existing vegan mozzarella, they spent 8 years perfecting their recipe. Based in Brighton, their factory crafts delicious allergen-free mozzarella, stracciatella, & more.
Now tested on 1.2 million pizzas, these cheeses have also adorned award-winning creations.
Elevate your menu with high-quality vegan cheeses, certain to delight customers, no matter their dietary preferences.
Bringing a taste of
Mexico
to the south coast, Casazul's range of ambient and fresh salsas and taco kits are made at
Brighton Open Market
with love and pride. 
Created using locally produced ingredients, almost entirely organic, fully
gluten free
and
vegan
, our salsas will keep you coming back, for all the right reasons.  Our taco fillings meet the same requirements and boast vegan versions of every recipe. We also work closely with stockists, creating opportunities for returns to reduce food waste and improve reducing, reusing and recycling.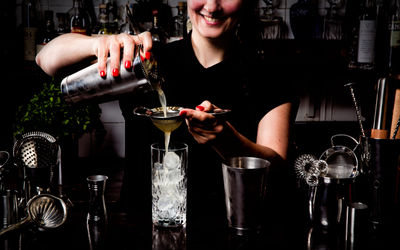 Established in 1879, Mitchell & Cooper Ltd. design, manufacture and distribute catering equipment in the hospitality industry including their world renowned Bonzer® brand. Working with large global brand campaigns, and delivering professional cocktail equipment worldwide. They are always looking to support local businesses and have partnered with many restaurants and bars across Brighton.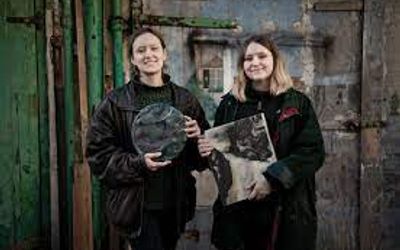 Sister duo Weez & Merl recycle waste LDPE plastic from their Hove studio, exploring the beauty of this undervalued material. They are motivated by the desire to utilise waste materials, combined with a fascination and passion for traditional crafts.

On offer for hospitality venues are a range of hand-marbled wares: from branded reusable coasters, to table tops. They provide a highly personalised service, with clients welcomed to choose their own colour palette to match their decor.