Restaurant Brighton's guide to
Sussex food and drink suppliers serving Brighton, Hove and Sussex.
Here is our list of Sussex food suppliers who are supplying the Brighton, Hove and Sussex area with essential food items such as fruit and veg as well as some some more luxury items such as cheese and charcuterie. 
A Share of The Crop is based just outside of Brighton and set up their family run business in 2012. Their main aim is to work with as many local people as they can to support local business and also to provide locally sourced produce. A Share of The Crop delivers fresh fruit and veg boxes filled with produce which is in season. These boxes always contain potatoes, carrots and onions as well as a range of other seasonal fruit and veg which may be different each week.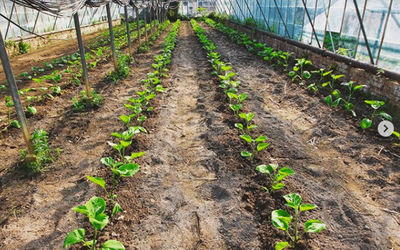 Barcombe Nurseries is located just four miles west of Lewes and has been growing organic vegetables and delivering veg boxes for 21 years. Barcombe Nurseries produce fresh and organic veg boxes which are seasonal and locally sourced as much as possible. They have different size boxes to suit you whether you're a family of four or you live on your own, these veg boxes can be delivered to your door for free! The veg boxes can be customised and you can also add eggs, fruit or herbs and spices to your order.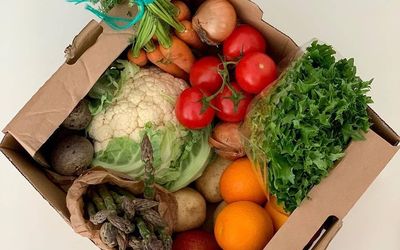 Florence Road Market is a community famers market and have recently started up an online shop. Due to the current circumstances preventing their usual outdoor stalls, Florence Road Market have adapted to bring the people of Brighton a weekly box scheme. You can choose a range of products from their online shop, including dairy, sweet treats and home goods. The veg and fruit boxes are 'buy one give one' which means for every box you buy, they will donate the extra box to two sister projects – Chomp and Pro Baristas. Chomp provides free meals for families on low incomes and Pro Baristas is supporting unemployed people in the coffee industry.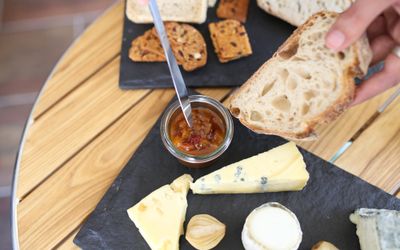 Not only are The Great British Charcuterie perfect cured meats, they have the finest artisan British cheese, made by small scale producers in the UK. They have everything from blue cheese, soft cheese, goats cheese and even sticky toffee cheese. All cheese can be purchased on The Great British Charcuterie website and will be delivered to your door.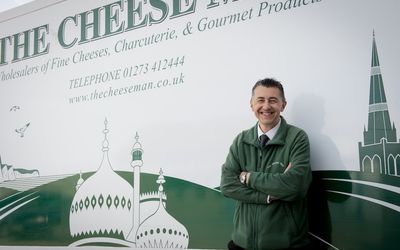 The Cheese Man is a family run, local business who are passionate about cheese. With over 30 years of experience in the industry. Fred Cowling began The Cheese Man in 1995 and has since expanded to a retail arm on the Shoreham Port, just a stone's throw from Hove Lagoon. The product list at The Cheese Man consists of over 300 varieties of cheese from 15 different countries which can be delivered to your door throughout East Sussex, West Sussex and Mid Sussex.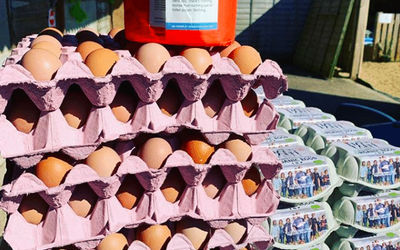 Macs Farm are a fourth generation organic egg farming family located in Ditching, East Sussex. The farm produces 70,000 free range, organic eggs every single day which are available for collection. Allowing contactless payment only and sticking to social distancing guidelines, The Egg Shack is open from 9 am until 12 pm for organic, free range egg collection. 
Sweet Treats & Baked Goods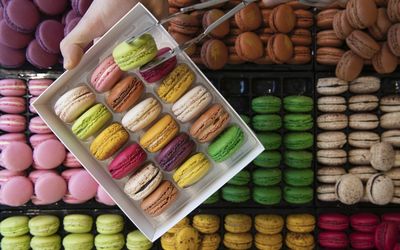 If you're in need of a sweet treat then this is perfect for you. Julien Plumart is an award winning French Patisserie in the centre of Brighton and is very popular for their amazing macarons. You can enjoy amazing Julien Plumart pastries, patisseries, cakes and the all important macarons which will be delivered straight to your door via Deliveroo or Uber Eats. Julien Plumart is also offering breakfast boxes and brunch options for you to enjoy in your own home – what more could you want?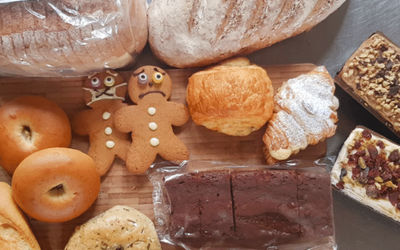 Coburn and Baker are an artisan bakery located in the heart of Brighton. They are dedicated to wholesale and supply many of your favourite Brighton eateries with delicious hand crafted sourdough, artisan breads, fine patisserie and unique cakes. Coburn and Baker are now available for home delivery via their online portal, where you can order occasion cakes, selection boxes and artisan baked goods.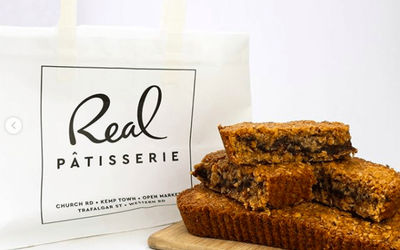 Real Patisserie were the first artisan bakery in Brighton and have been supplying the people with delicious breads, pastries, savouries, and cakes since 1997. Real Patisserie are now delivering to BN1 and BN3 postcodes and have everything from freshly baked pastries to a sourdough making kit to try at home. They also have a vegan option making it perfect for everyone.  
Flour Pot Bakery have six venues in and around Brighton – their fresh bread, pastries and homemade sandwiches have been very popular with the people of Brighton and Hove since their opening in 2015. Flour Pot are offering home delivery as well as click and collect seven days a week and have a wide range of bread, pastries, cakes and even lunch options. In addition, you can add essential items to your order such as eggs, cheese and butter.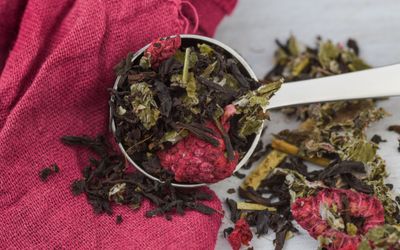 Bird & Blend began life as Blue Bird Tea Co. operating as a two-person team blending and bagging up tea to sell at local markets. Quick fast-forward and a name change and Bird & Blend is a successful tea shop full of heart and ethical values, with multiple retail outlets and a presence in many restaurants, cafes and hotels around the city.