MARKET Restaurant & Kitchen Bar, Hove
MARKET Restaurant Hove, established 2015 by the experienced restaurateur and designer/chef duo Kate Alleston and Neil Mannifield (Manni) was named and inspired by them stumbling upon the old Camden Market sign at an antiques fair, and this adorns the front of the building. This year you'll find them in both the Top 10 Best Restaurants of our very own BRAVO awards and the Top Twenty of Brighton's Best Restaurants.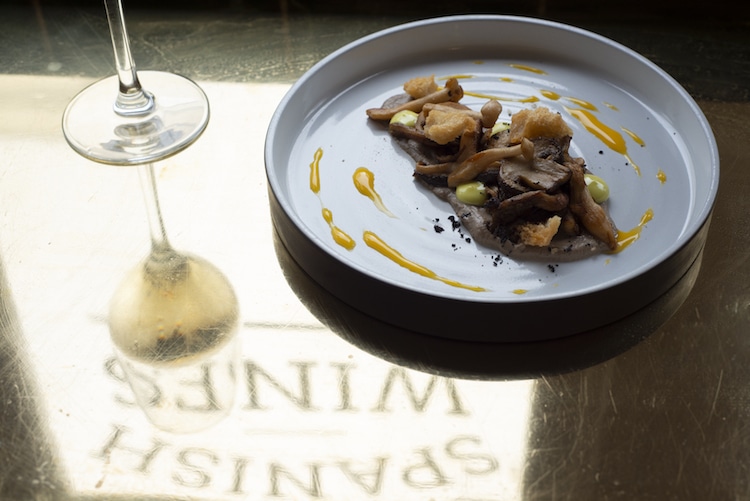 A TRADITIONAL MARKET SETTING
A long counter dominates the main restaurant from where diners are entertained by the chefs while enjoying the fresh, modern look which has been designed (by Manni) to give the feel of a traditional market yet with a very Spanish feel. You'll discover a swathe of Victorian Green metro tiling, plenty of mirrors, a lawn wall and a bright, clean, utilitarian approach to the furniture and lighting alongside an array of hanging Spanish cured hams.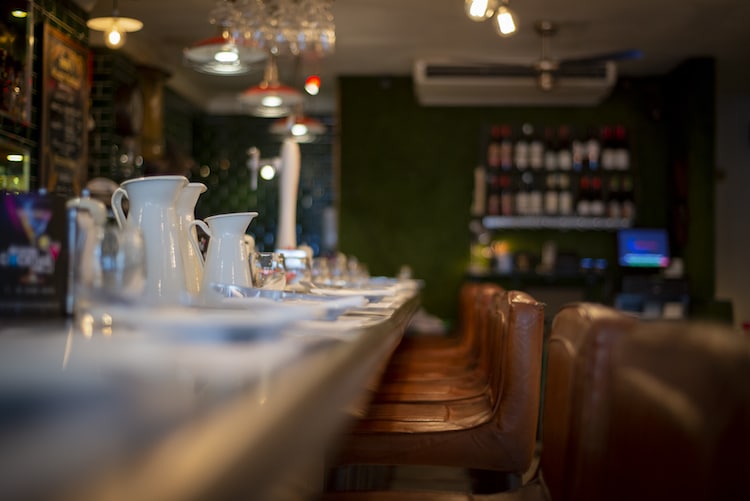 The décor at MARKET shouts Modern Tapas which is exactly what the restaurant is about. Go downstairs to 42d DOWNMARKET and discover more of the same but with a more intimate feel. This space is perfect for groups and private diners.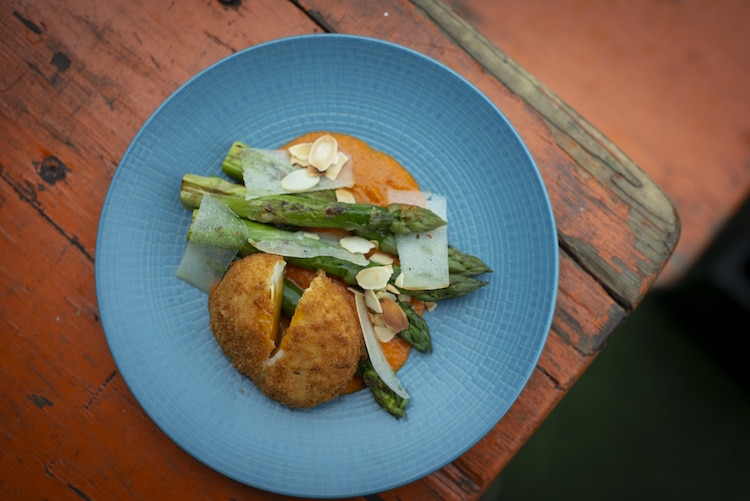 PERFECT FOR SHARING – MARKET RESTAURANT HOVE
Tapas as MARKET is varied and innovative and aptly presented on the menu under the headings 'Fishmonger', 'Butcher', 'Greengrocer' and so on. Alongside traditional tapas 'Para Picar', such as Padron Peppers, Croqueta del Dia and Market's almost famous Goats' Cheese Churros with Truffle Honey, you'll discover dishes like Sea Bass with Burgos Morcilla & Chorizo Piperada and Beef Short Rib with Pedro Ximenez Sweet and Sour Sauce with Cauliflower & Crispy Shallot.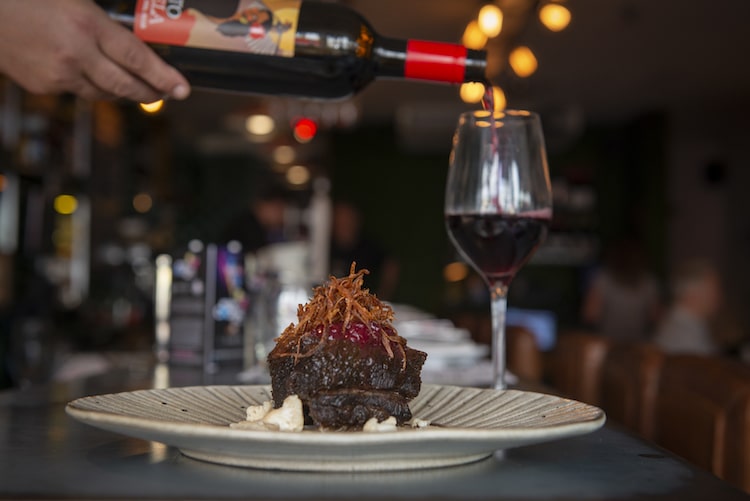 The menu also features a delicious range of Spanish meats and cheeses, including of course, the Jamons (hams) hanging from the ceiling, and these can be ordered separately or enjoyed as a selection board. Due to the wide offering all dietary requirements are very well catered for at Market so if you are an omnivore or a vegan you can be sure to leave satiated.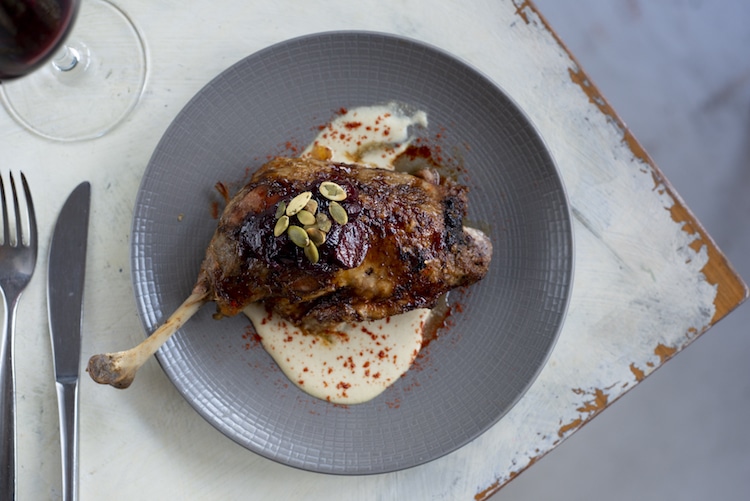 SUNDAYS AT MARKET
The Market Restaurant offers a slightly different approach to Sunday dining by switching out the traditional roast meat, potatoes and two veg approach with a £20 per head a la carte sharing steak plus tapa accouplements. For the traditionalist amongst you, you can always add the potatoes and greens back in. They'll be running their usual daily menu and other daily specials alongside this Sunday best.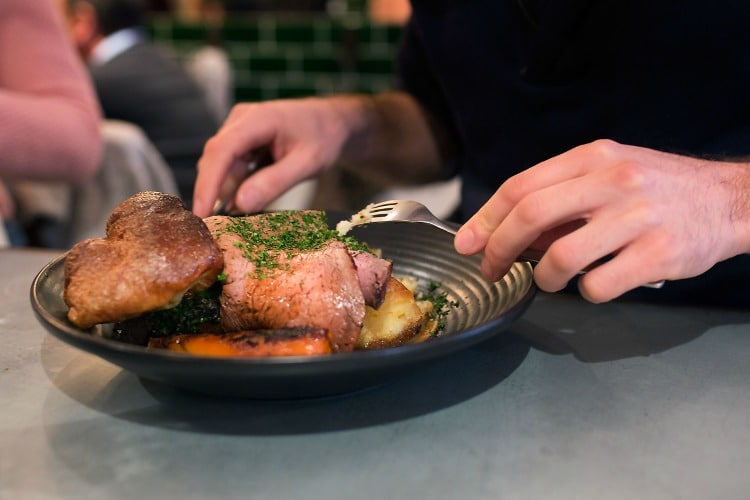 DRINKS AT MARKET RESTAURANT
The exciting and niche wine list featuring almost exclusively Spanish and Sussex wines has been carefully chosen to match the food. Beers are either locally brewed or sourced from Spain and available on tap and by the bottle. Market also offers a superb range of cocktails many of which, as you'd expect features a Spanish twist or two. Our favourite is Padron My French which includes Padron Pepper infused gin with a cheeky dash of Chartreuse.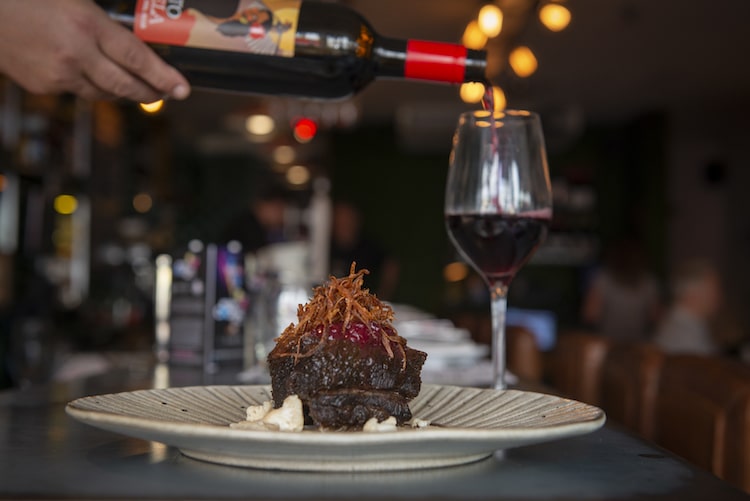 WEEKLY MARKET OFFERS
As well as their daily menu, Market Restaurant have special offers running from Monday-Thursday*.
Tuesdays – Tapas Tuesdays – Choose Four Tapas from the Menu from 6pm – £22
Wednesdays – Date Night-  A special set menu designed for two people to share on couples night -£25 each
Thursdays – Oyster and Fizz- 6 Oysters and 2 glasses of Castellblanc Reserva Cava – £20
*Offers subject to change

PRIVATE DINING AT 42d DOWNMARKET
Private Dining is a superb experience at MARKET. Enjoy the privacy of 42d DOWNMARKET, a unique dining space which can seat up to 30 guests but is also perfect for more intimate parties and events. Booking your party at MARKET means you enjoy an array of benefits including indulging in The Chef's Menu (a sharing feast of tapas), having your own dedicated waiting and bar staff, and even putting up your own decorations and playing your own music. All with no hire charge. Private Dining bespoke menu options are also available. For further info and sample menus email info@market-restaurantbar.co.uk.