MARKET Restaurant & Kitchen Bar, Hove
MARKET Restaurant Hove was established in 2015 by the experienced restaurateur and designer/chef Neil Mannifield (Manni). The Brighton and Hove restaurant was named and inspired from stumbling upon the old Camden Market sign at an antiques fair, which now adorns the front of the building with pride.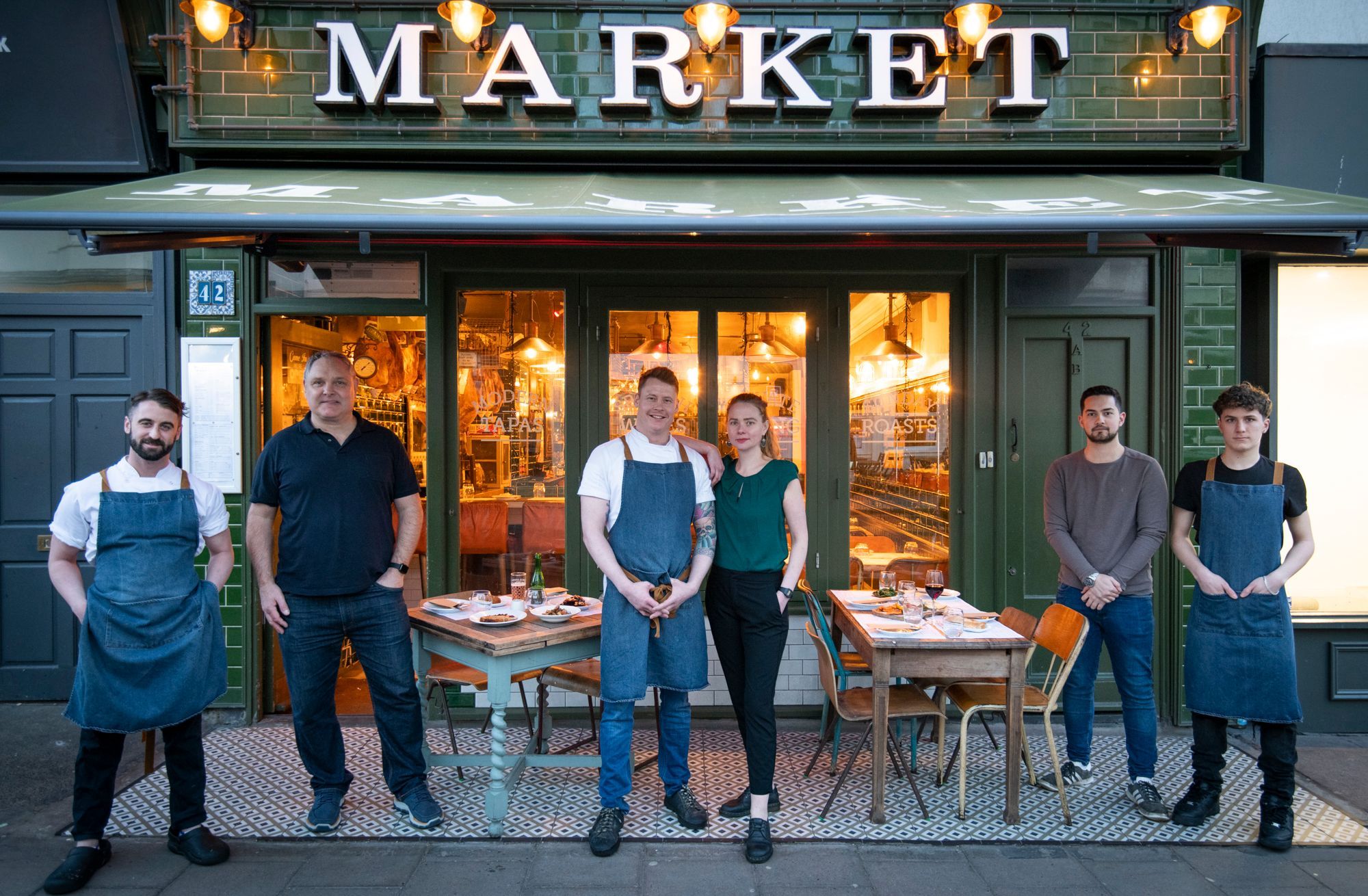 A TRADITIONAL MARKET SETTING
A long counter features in the main restaurant from where diners are entertained by the chefs and cocktail staff whilst enjoying the fresh, modern look and feel of the interior which was designed and built by Manni himself to give the feel of a traditional market and Spanish tapas bar.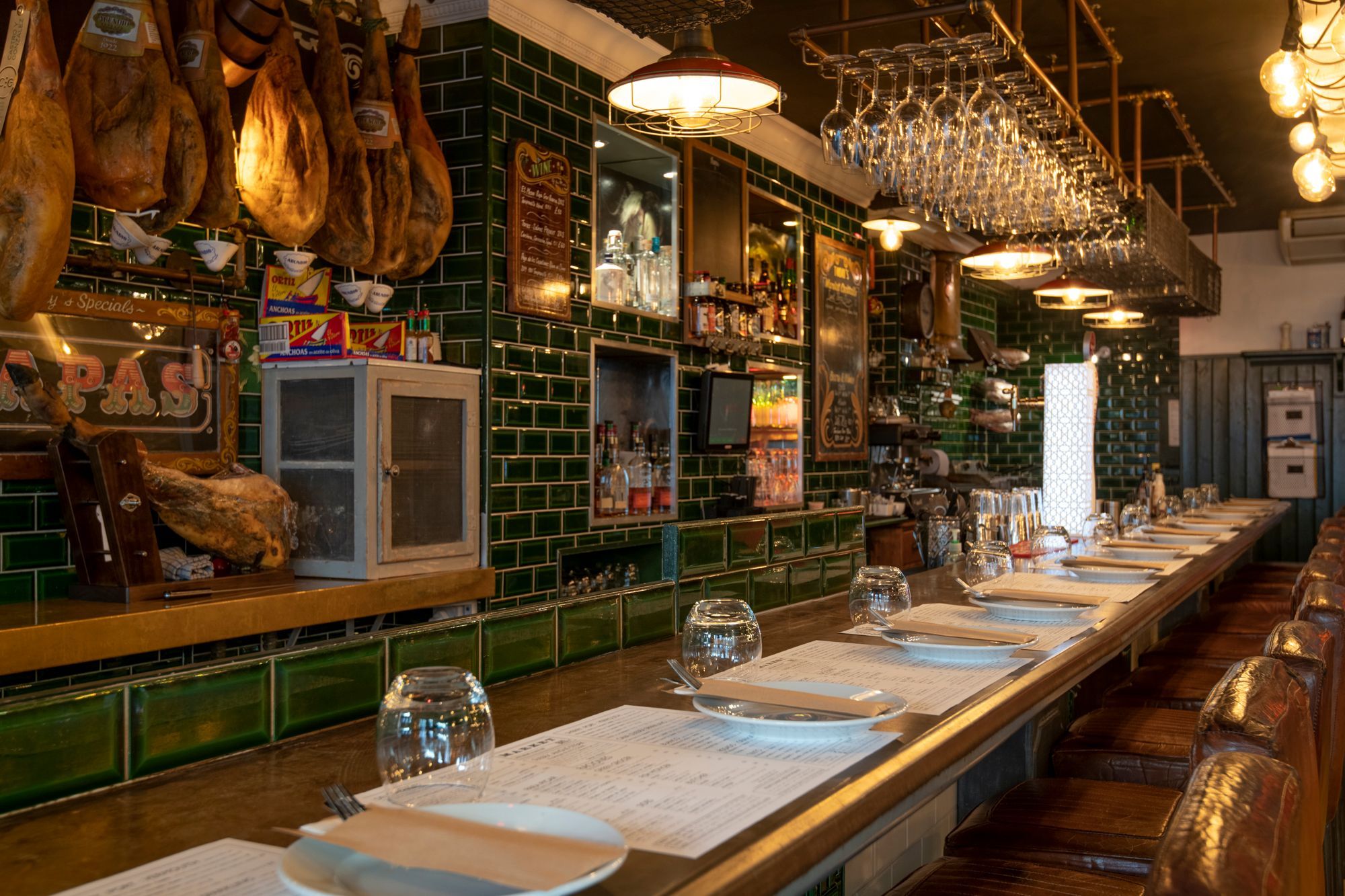 An array of Jamons hang from the ceiling but ultimately the décor at MARKET shouts Modern Tapas which is exactly what this Hove restaurant is all about and unique to Brighton. Go downstairs to 42d DOWNMARKET and discover more of the same but with a more intimate feel. This flexible private dining space is perfect for both party groups and private diners alike.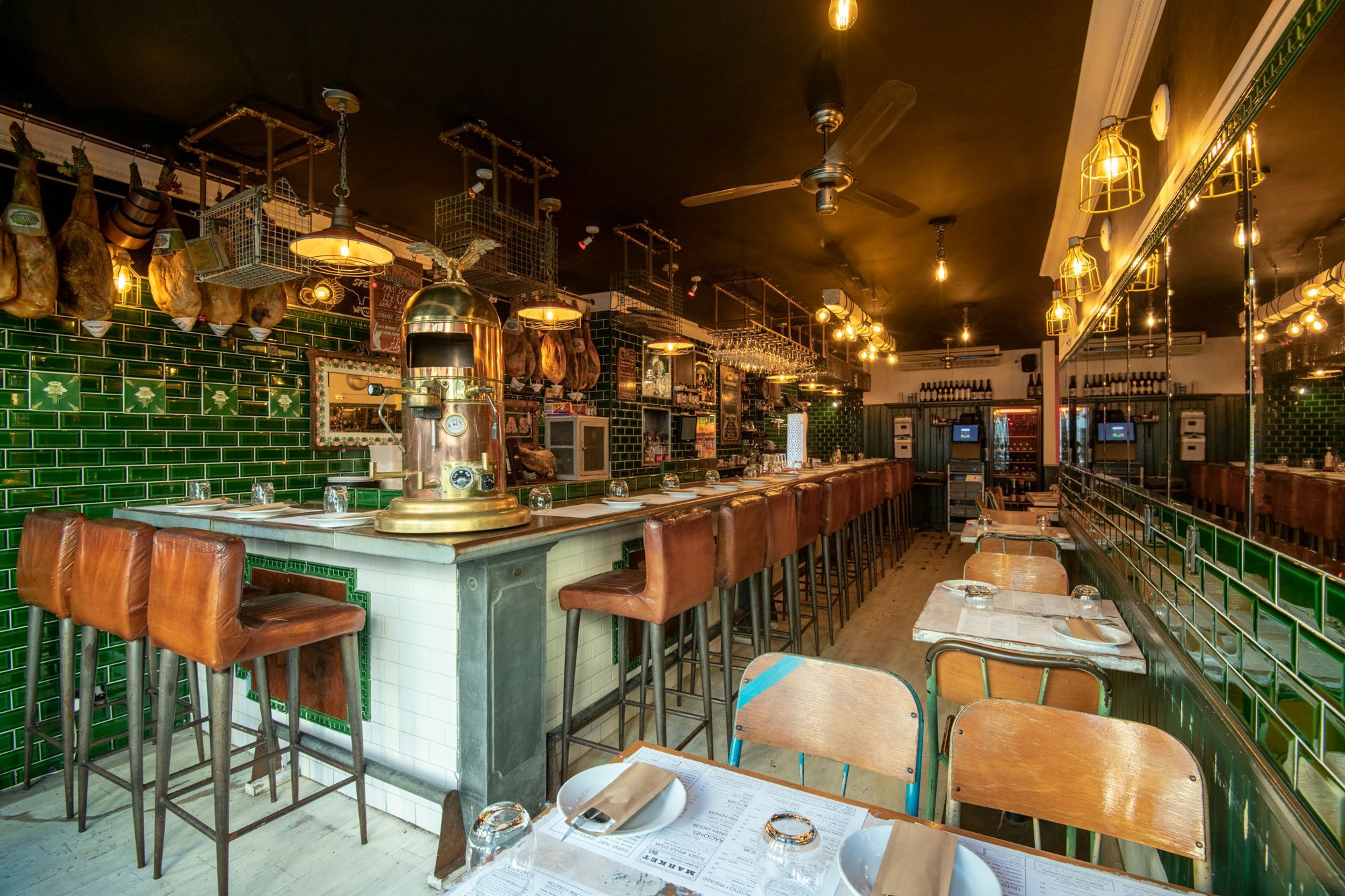 PERFECT FOR SHARING
Tapas at MARKET is varied and innovative and aptly presented on the menu under the headings 'Spanish Deli', 'The Tapas Bar', 'Best of Sussex' and the 'Market Place'. Expect to see traditional Spanish tapas such as 'Croquetas de Jamon', 'Pichos de Pollo' and traditional desserts such as the 'Santiago Tart' but also more modern and unique favourites, including some veggie and vegan dishes, such as Market's 'almost famous' 'Goats' Cheese Churros with Truffle Honey', 'Tallo de Brocoli with Kale Zaatar and Almonds' and the moreish 'Smoked Cashew Croquetas with Orange Emulsion'.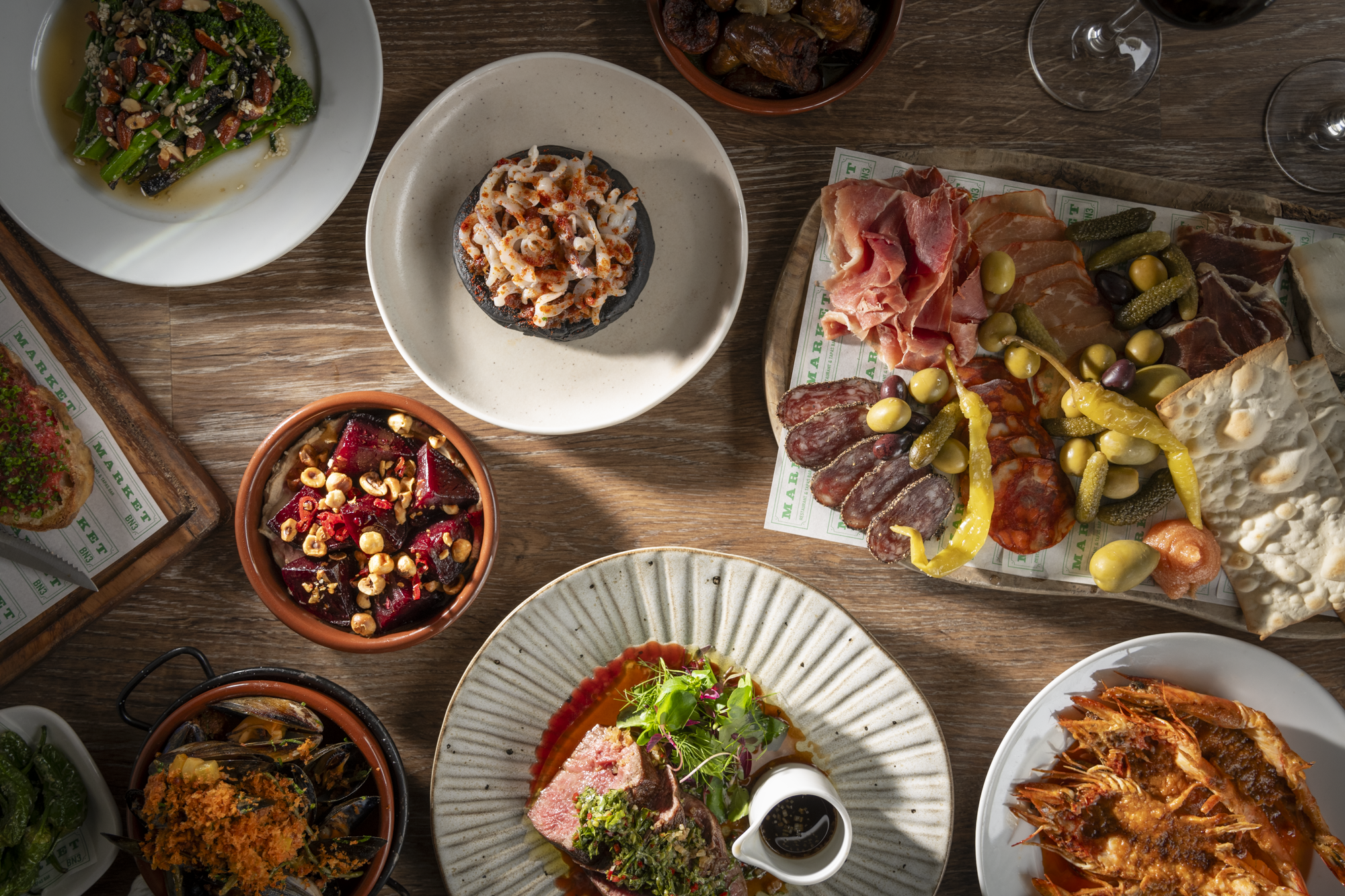 You'll discover dishes like Cochinillo (Suckling Pig, Romesco, Calcots), Alemejas (Clams, White Beans, Manzanilla Sherry) and fall off the bone Pequena Costilla (Glazed Beef Short Rib, Anchovy Garlic Butter, Cabbage).
The menu also features a delicious range of Spanish cured meats, fish and Spanish regional cheeses, including of course, the Iberico Cebo de Campo Jamon and these can all be enjoyed separately or as a selection on a board. Due to the wide range on offer, all dietary requirements are very well catered for at this Hove restaurant, so if you are an omnivore or a vegan you can be sure to leave satisfied as there is literally something for everybody.
SUNDAYS AT MARKET
The Market Restaurant offers a slightly different approach to Sunday roasts by switching out the traditional roast meat, potatoes and two veg approach with a large Sussex Wagyu Beef sharing Sirloin Steak plus three tapas accompaniments which are taken from the a la carte menu. They also run their usual daily menu and other daily specials alongside their Brighton Sunday best.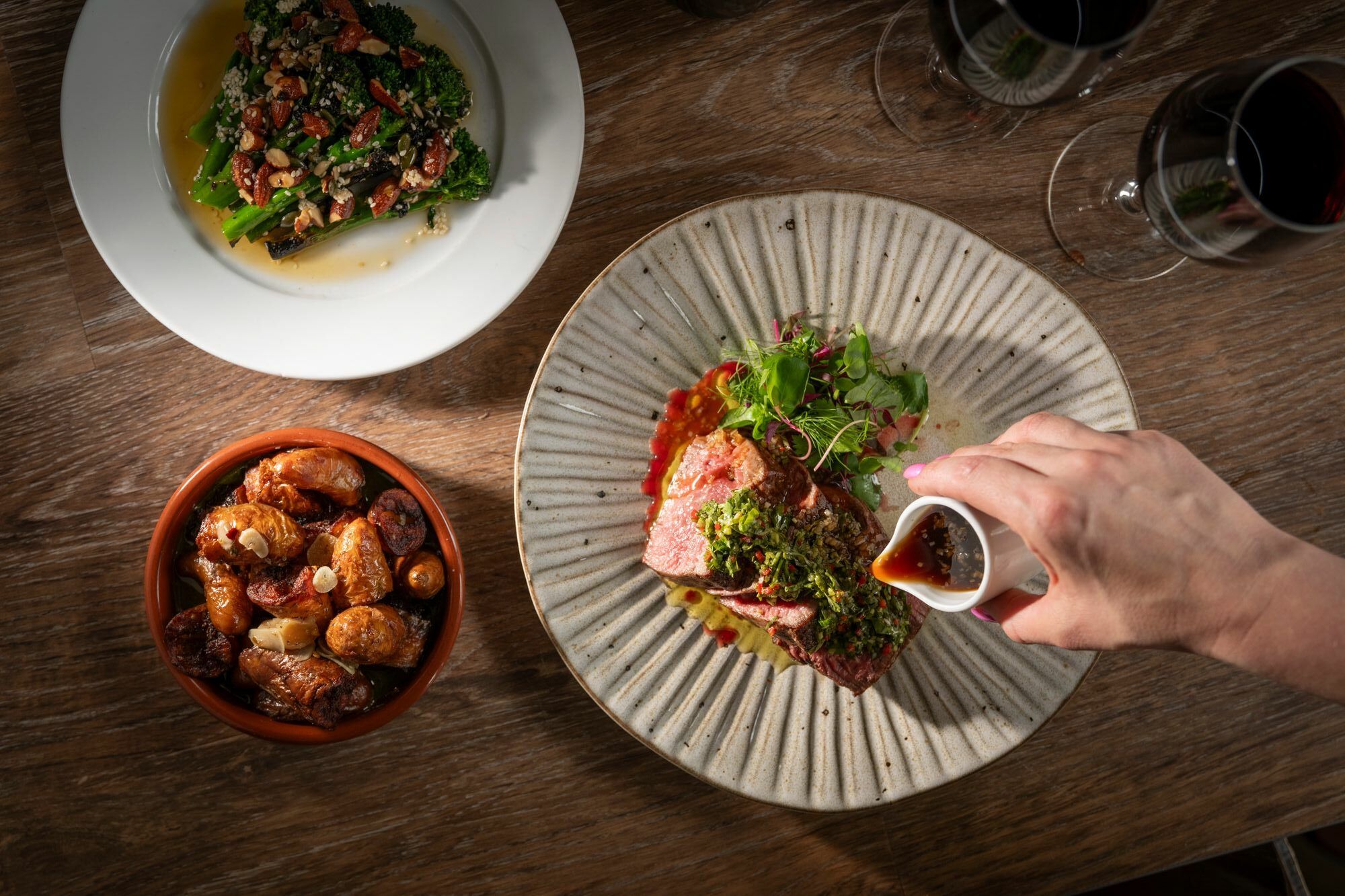 DRINKS AT MARKET RESTAURANT
The exciting and niche wine list features an entirely Spanish selection, with a couple of local Sussex sparkling wines added for good measure, and has been carefully chosen to match the food. Beers are all sourced from Spain and available on tap and by the bottle, but again like the wine list, local artisans are represented with an amazing Cider which is produced by our beef supplier 'Trenchmore Farm' who use the bi-product of the cider process to feed their slow-grown premium cattle.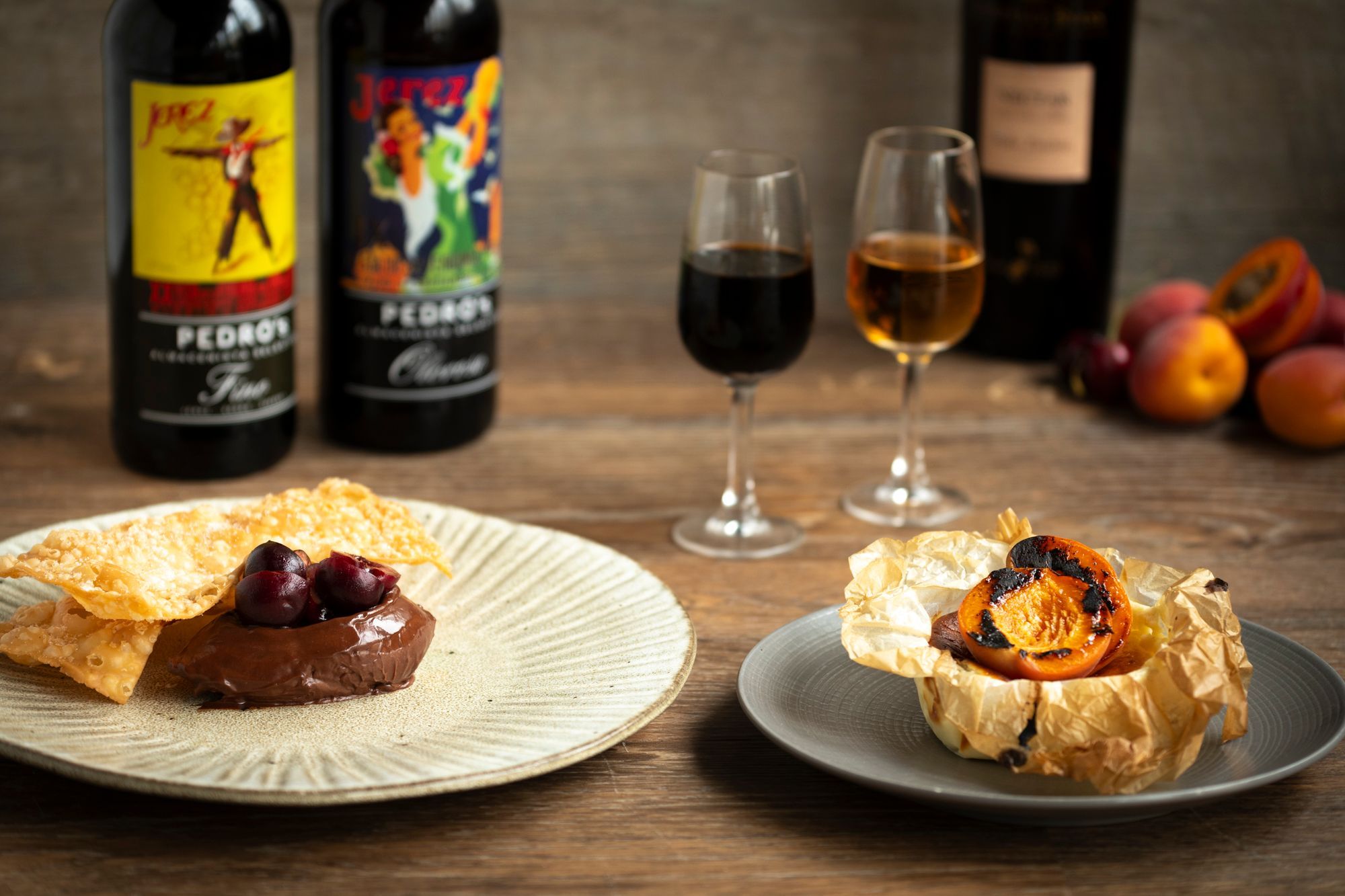 Market restaurant is also known for its superb range of cocktails, many of which, as you'd expect, feature a Spanish twist or two and some use rare Spanish spirits, such as the Nomad Whiskey, which is produced in Jerez and features in our 'Spanish Old Fashioned'.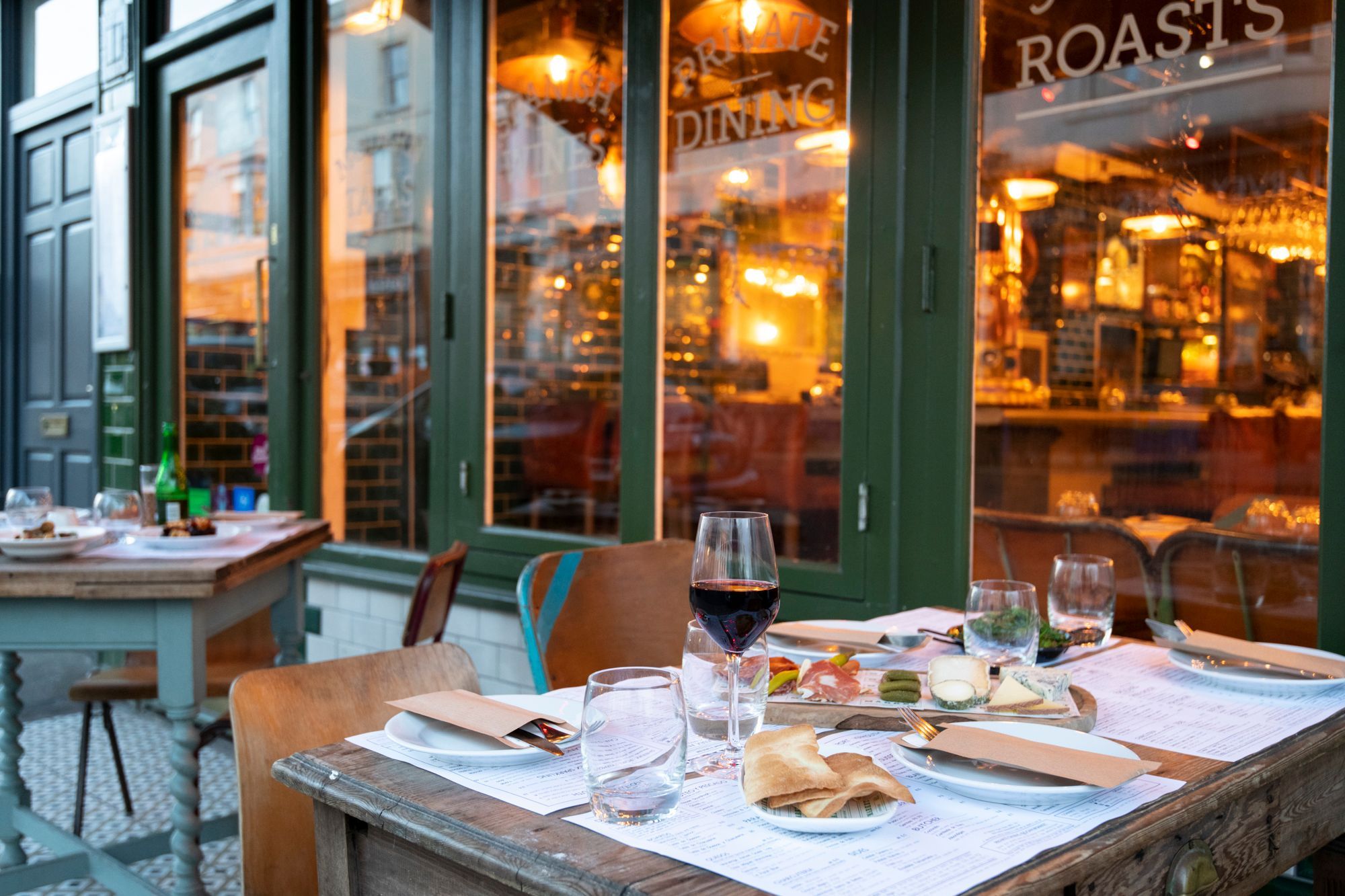 WEEKLY MARKET OFFERS
As well as their daily menu, Market Restaurant have special offers running from Tuesday-Thursday*.
Tuesdays – Tapas Tuesdays – Choose Four Tapas from the Menu from 6pm – £20pp
Wednesdays – Date Night-  A special set menu designed for two people to share on couples night -£30 each
Thursdays – Oyster and Fizz- 6 Oysters and 2 glasses of Castellblanc Reserva Cava – £25
*Offers subject to change

MARKET Restaurant – PRIVATE DINING AT 42d DOWNMARKET
Private Dining is a superb experience at MARKET. Enjoy the privacy of 42d DOWNMARKET, a unique dining space which can seat up to 22 guests but is also perfect for more intimate parties and events. Booking your party at MARKET restaurant means you enjoy an array of benefits including indulging in The Chef's Menu (a sharing feast of Tapas), having your own dedicated waiting and bar staff, and even putting up your own decorations and playing your own music. All with no hire charge. Private Dining bespoke menu options are also available. For further info and sample menus email info@market-restaurantbar.co.uk.