Woman in Hospitality Interview
Current Position: Penny Streeter OBE, owner of the Benguela Cove wine and hospitality group, that includes Mannings Heath Golf and Wine Estate and Leonardslee Lakes and Gardens, Horsham, Sussex.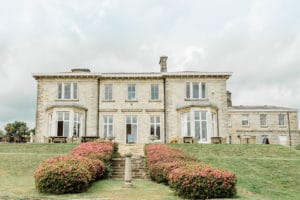 Please can you share a whistle-stop tour of your career?
In respect to hospitality, I've been travelling at 1,000 mph since 2013!
Eight years ago, I had no involvement in the hospitality business at all. I had built a highly successful medical staffing group, winning the Fast Track 100 'Fastest Growing UK Companies' in 2004, and awarded the OBE (Order of the British Empire) in the 2006 New Year Honours for 'services to enterprise'.
I was living in South Africa in 2013, and running my UK medical staffing business A24 Group, when the Benguela Cove estate where I lived came up for sale. I bought it, and the purchase included a rather run-down vineyard – but producing wonderful wine. With this new challenge, I invested in creating a South African-style wine experience, with restaurants and entertainment.
Deciding to ship our wines to the UK just seemed logical. But I had to find a large property for storage and sales support here, ideally in the South East, near our London offices. I thought a golf course would make a great location, with a drinks licence and membership that might buy wine. I bought Mannings Heath golf club in 2016 and created the first UK golf and wine estate – turning one of the two 18-hole golf courses into a vineyard. Our first harvest is in 2020.
I was driving by Leonardslee Lakes and Gardens one day saw it was up for sale and was bowled over by its beauty. So that was another purchase, in 2017. It took two years to renovate and update its facilities, including creating a cafe – and the jewel in our crown, Restaurant Interlude at Leonardslee House. It won its first Michelin Star last year, after just nine months operating. Amazing.
How and when did you train in hospitality, was there a particular reason for this career path?
Never! I learned 'on the job', applying the skills and disciplines I picked up running a successful staffing business.
Describe your job in three words;
Inspiration. Application. Perspiration.
Favourite aspect of the job?
Seeing happy people enjoying hospitality and service that we are proud to deliver.
What excites you most about your role?
Resolving the current challenge. Preparing for the next.
The toughest aspect of your job?
People. Bureaucrats who don't understand what we are trying to do. People who let you down. It doesn't happen often though!
Is there a moment in your career that stands out above the rest?
Yes, winning the first Michelin Star for Restaurant Interlude.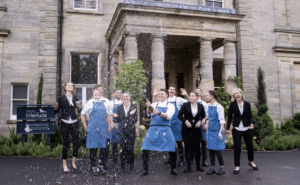 What are you most proud of?
The Michelin Star, and seeing and hearing from people who love the experience, with its wonderful tasting menu and foraged produce, in the beautiful surroundings of the mansion house and gardens.
Would you agree that hospitality is a male dominated industry?
I never really noticed! I'm too busy getting on with my job. Chef Jean Delport at Restaurant Interlude is a male of course, but his wife is the manager and his team is diverse. Equality is not an issue.
Can you summarise what it is like working in a male dominated industry?
Again, I had not noticed. Being a woman has not held me back in hospitality, but then I came into the industry with the confidence and resources of having an already successful career in a different sector.
What has been your biggest challenge?
The task at Leonardslee was colossal: two years of hard work to restore and recreate this fantastic and historic destination. With no footfall, and no income for all that time. But it worked, we succeeded.
Have there been any obstacles in the way of your professional development?
No, I have learned as I have gone along. It is the best way, for me at least. I have got a great team around me, my chefs and managers, and other staff. I learn from them, and them from me.
Do you have children?
Yes, four – my eldest, Adam, is general manager at Leonardslee Lakes and Gardens.
Has raising a family affected your career development?
Well it has been a challenge of course, but my mother Marion has been great, sharing childcare duties, until she took a back seat a few years ago. It can be very difficult for women of course who don't have this kind of support.
If so, how and why do you think that is?
It is the extra demands on a working mother's time: dropping off and picking up from school; kids' illness and all the other things that arise.
Who have been your mentors?
No one other than my mother Marion, who shares my work ethic and I trust.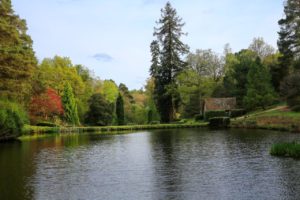 Who has inspired you along the way?
I have read about other women who have succeeded of course, but it is really a personal thing: you have got to want to succeed, find and conquer new challenges, for you and your family. At the start of my career, I was homeless with three children: that demanded inspiration just to survive and protect my family!
What has been your philosophy that has seen the successful development of your career?
Look to the next challenge; get organised; then focus all your energy, intelligence and hard work in winning. Change if you have to: don't be afraid to adapt or even to walk away. But that happens rarely.
What advice would you offer for women looking to embark on a similar career?
You can do it! It just takes hard work and intelligent application. Learn your lessons and move on. I left school at 16, was in a homeless refuge – but from that start, I have built a successful hospitality business in the UK and South Africa. I hope that is an inspiration to other women.
Words of encouragement for women who aspire to reach a senior position in hospitality?
I left school at 16, and was in a homeless refuge with three kids – but from that start, I have built a successful hospitality business. I hope that is an inspiration to others.
Do you have a go to or failsafe plate of comfort food?
Well, I am into a strict training and diet regime at the moment – so trying to avoid comfort food! When I do indulge, a classic English afternoon tea at Leonardslee House is perfect!