Top-Notch Cuisine
Tucked away between The Lanes and the sea, Hotel du Vin is known for its top-notch cuisine and outrageously long wine list. It's been on my list of places to try for years but, assuming it would be all 'starched tablecloths and silver cutlery,' I'd been waiting for the right occasion. When I visited last week, however, I discovered that I'd be as comfortable here in jeans and a nice top as I would in a cocktail dress.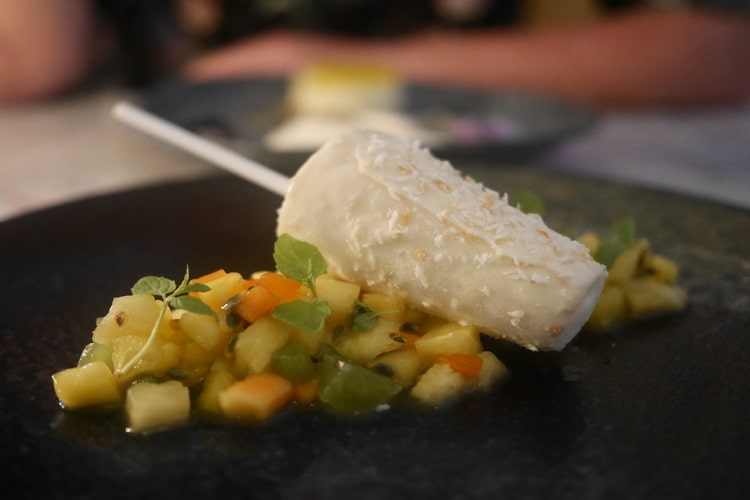 Smart, bistro-style dining
Visiting with my friend Ella (a self-confessed Brighton restaurant addict) we entered through the pretty courtyard area, where a few people were enjoying pre-dinner drinks.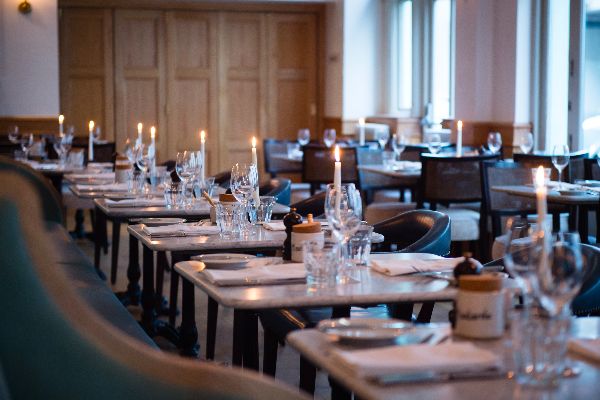 Met by a friendly receptionist, we were escorted through to the restaurant. With minty-green seats, wooden flooring and big windows letting in lots of light, the room is fresh and modern, with not a single starched tablecloth in sight. It was a Monday evening but there was already a good buzz about the place and, with a bistro-style feel, I immediately felt at ease.
Champagne starter
Before we ordered starters, we were confronted with the wine menu. Featuring hundreds of wines, it's as long as a short novel but don't panic – there's an in-house sommelier on-hand, plus a choice of aperitifs to sip while you scroll through.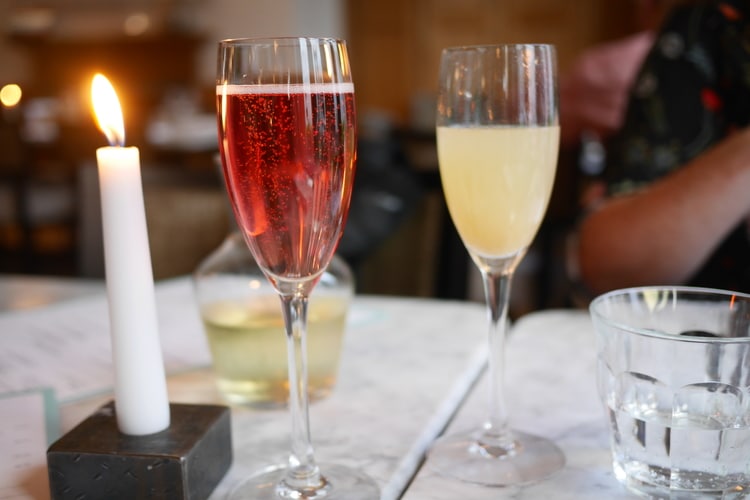 To kick the evening off, Ella chose a Bellini, and I went for a Kir Royale, which was mixed with the Hotel du Vin's house Champagne. After we'd clinked glasses and taken a sip, we nibbled on glistening green Cerignola olives (the really big ones) and home-baked breads.
"You can always tell how good a place is by the olive oil," Ella grinned, dipping a slice of onion bread into oil and balsamic.
After a brief chat about wines we liked, our waiter Carlos recommended the Viognier Cambria – a crisp and citrusy Californian chardonnay.
Sensational starters
Next, Carlos talked us through the newest additions on the à la carte menu, which include salt baked beetroot, Wye smoked salmon, and cured meats from London charcuterie specialist, Cobble Lane. "They send us the best cuts each week," he explained.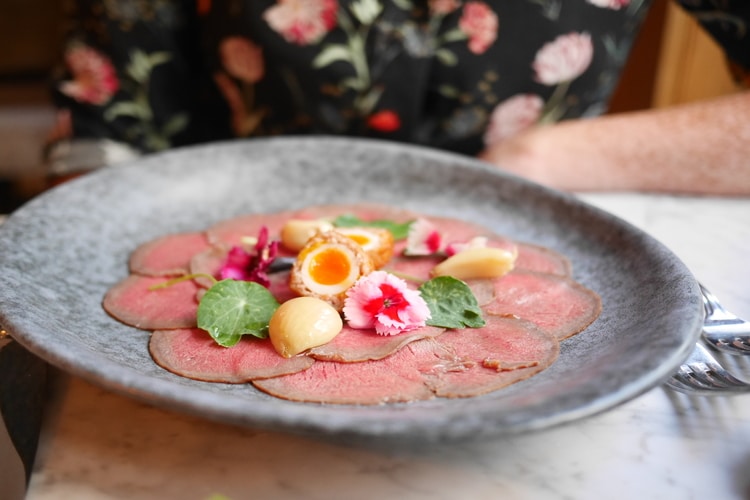 Struggling to choose, we asked for suggestions and Carlos told us that the beef carpaccio and the scallop ceviche were his personal favourites. Taking his advice, we ordered both.
Served in three pearly-white shells, my scallops were bathed in lime juice, and topped with red chilli and pink pomegranate seeds. The bitterness of the lime and sweetness of the pomegranate created a refreshing flavour that revved-up my taste buds. Light and fruity, it's a great dish for summer.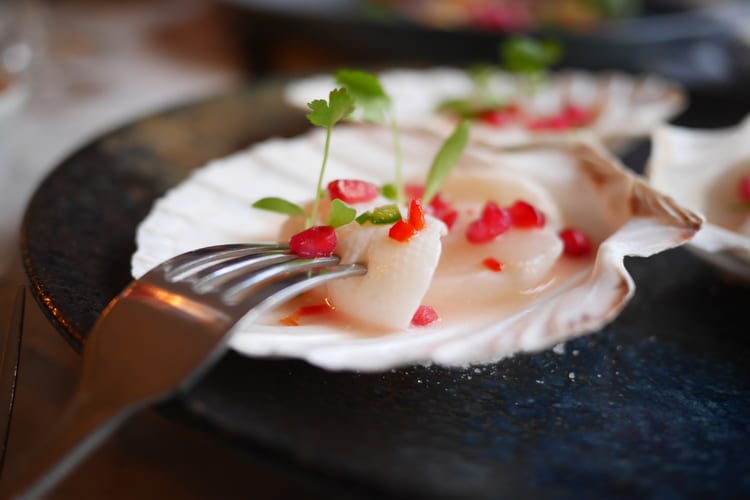 Ella preferred her beef carpaccio – wafer-thin disks of meat that were so soft she barely had to chew. Served with squishy roasted garlic, edible flowers and an oozy boudin blanc scotch egg, it looked as good as it tasted.
Clever classic twists
For mains, we chose two new additions on the menu – butter-poached cod, and crispy porchetta. Other new mains include Yorkshire rack of lamb, sea bass with panzanella salad, and Normandy poussin with black pudding hash.
Several inches thick, my eyes popped when my cod arrived. Coated in a creamy sauce with cubes of smoked salmon, it was served with Lyonnaise potatoes and hispi cabbage. A decadent take on home-style cooking, it tasted like luxurious comfort food.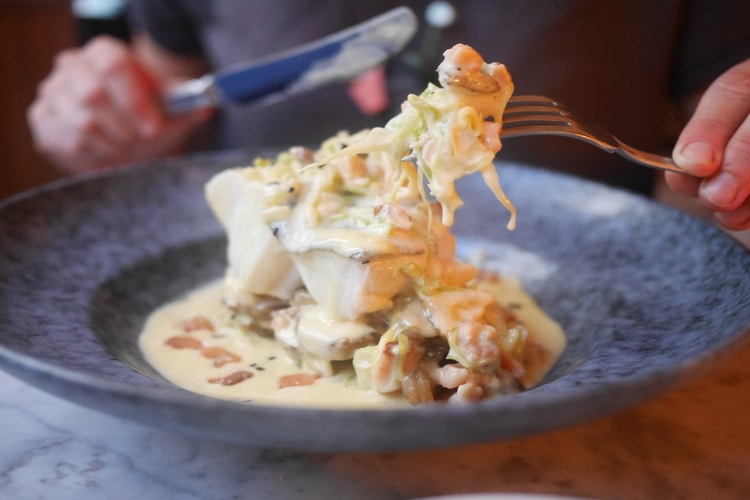 Ella's porchetta was served 'French onion soup style,' with onion gravy, a cheese crust, pork crackling and Bramley apple sauce. A clever combination of Italian, English and French cuisine, this dish really shows off the restaurant's flair for classic twists.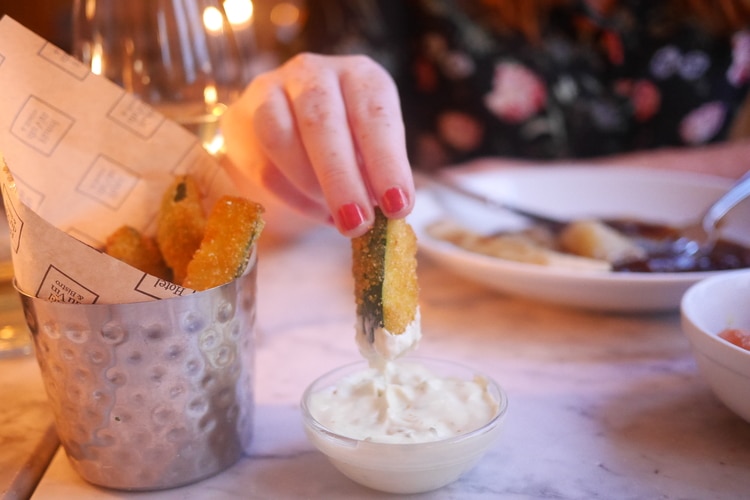 On the side, we ordered Chantenay carrots (miniature carrots served whole) and courgette frites – thick fingers of juicy courgette in a crispy coating with an anchovy and parsley dip. More than a mere 'side', I really enjoyed sinking my teeth into these.
Tongue-tingling lemon
For dessert, we chose the lemon meringue and the coconut kulfi – both recently added to the menu.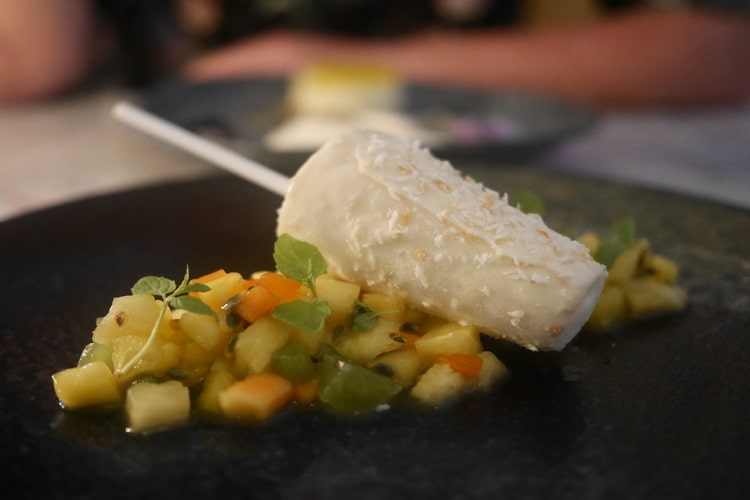 Inspired by an Indian dessert, my frozen pineapple and coconut kulfi was served on a stick, over diced mango, papaya, kiwi and passion fruit. I loved the big flakes of fresh coconut in the kulfi, and the fruit salad had a sharp lemon dressing that gave a refreshing finish to my meal.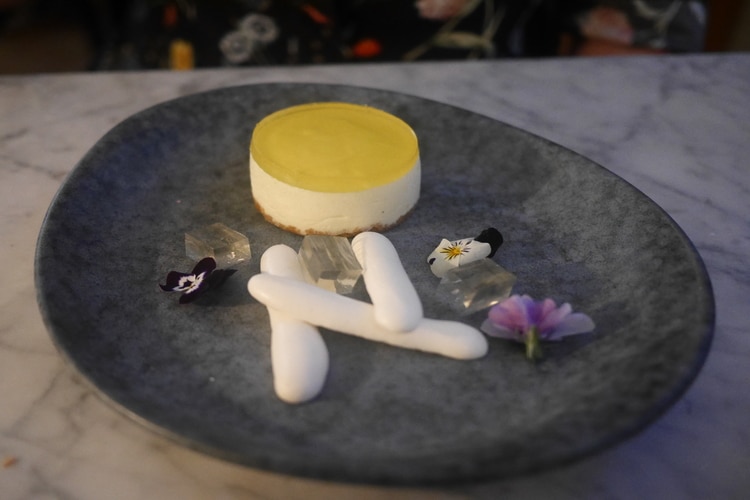 Ella's lemon meringue was more decadent. A creamy cheesecake with meringue fingers and cubes of elderflower jelly, it was topped with a zesty reduction that was so deliciously lemony it almost made us wince. If you're a fan of lemon puddings, definitely save room for this one.
Refined yet relaxed
Sadly, we had no room left for coffees or after dinner cocktails but, if the rest of the meal was anything to go by, they would have been excellent.
Hotel du Vin certainly lives up to its reputation and, with modern furnishings and easy-going waiting staff that really know their stuff, the atmosphere is elegant yet far less formal than I'd anticipated.
Refined yet relaxed, I'd say they've got it spot on.
See the listing for Hotel Du Vin Brighton, Restaurant and Bistro