Restaurant Brighton's guide to
Best vegan restaurants in Brighton
If you're looking for vegan restaurants Brighton won't disappoint. Whether you're looking for old school whole food wholesomeness, new wave fake meat fast-food or fine dining with elevated plant excellence you'll find it here. 
We've divided this page into purely vegan venues, meat free vegetarian and vegan venues and our pick of omnivorous  eateries where you'll find more than just a five bean chilli. Use the buttons below to jump to what you're looking for.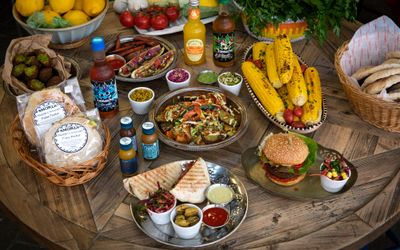 Tucked away inside Brighton's Open Market is one of our favourite vegan spots in the city, Smorl's Kitchen Brighton. Understated, unpretentious and under the radar (not for long) Smorl's Kitchen is owned by siblings Christian and Sarah. The totally vegan menu at Smorl's Kitchen is dedicated to all things chickpea. From delicious pitta's filled with earthy homemade falafel to huge salad bowls filled to the brim with goodness. Why not try their famous warming spicy falafel-based Bolognese, served with oven-roasted Hasselback sweet potatoes? Or their seasonal Waffalafel? Head to Smorl's Kitchen for a delicious plant-based menu and a wonderful community feel.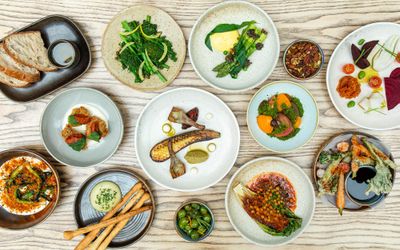 When it comes to plant-based dining, it's hard to find better than Kokedama. This innovative restaurant in The Lanes has been brought to Brighton by the acclaimed team behind the multi-award-winning Roundhill. Dishes are delivered as small plates, each unique and bursting with colour and flavour. Even the drinks at Kokedama are exquisite and expertly crafted – no fuss, fine dining at its best.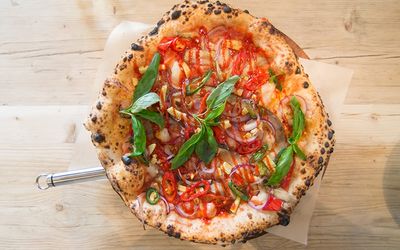 Purezza was born in 2015, opening its doors on St James' Street, Kemptown as the UK's first 100% plant-based pizzeria. Since then they've gone on to win numerous awards nationally and locally and grow with additional restaurants in Hove, London, Manchester and Bristol. The original Purezza, which sits at the forefront of the vegan revolution, remains an integral part of the local community as well as a Mecca for vacationing vegans keen for a delicious slice of history in the making.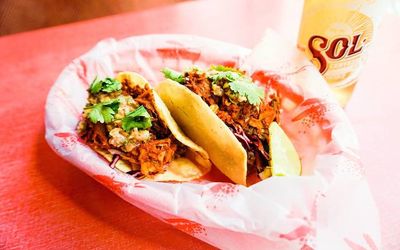 Beelzebab started off as a pop-up serving vegan donna kebabs but has since set down roots in The Hope & Ruin on Queen's Road and expanded it's repertoire into a truly glorious, 100% vegan, junk food champion. The extended menu has seen the original kebab buddy up with creatively topped hot dogs and wickedly loaded fries. With monthly specials including a seasonally inspired 'dog of the month' these sinful creations are the stuff of dirty vegan dreams, because sometimes you just don't want lentils.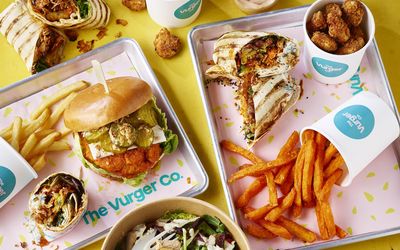 The Vurger Co. opened in the newly developed Hannington Lanes. The Vurger Co. serves a selection of burgers using their own 'chicken' soya burger, as well as Beyond Burgers, each presented as a variation of classic meaty burgers. There are also salad boxes, if you're not into junk-plant and shakes, with an option for boozy shakes too. 
Botanique in Hove has a paired back modern-rustic interior with pale hues and exposed wood. It certainly looks the part for a fine dining vegan restaurant. Botanique is open for brunch, lunch dinner and Sunday Lunch, all 100% plant based. The menu is seasonal and fuses cooking styles from throughout the globe to create inspired and unique dishes. 
Happy Maki make delicious and entirely plant based sushi, and they make it the size of a burrito! If this isn't already a winner then the side dishes of stuffed tofu pockets and popped 'chicken' cauliflower should be getting you there. Happy Maki have two venues, the original (mostly takeaway) place in Pool Valley and the new "pay as you feel" restaurant above Yum Yums in Sydney Street, in the North Laine.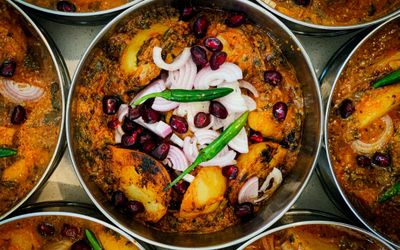 Dinner made easy with Majahma's finish at home, plant-based tahlis. The weekly rotating menu of nutritious and homemade meals are a welcome feast and the tiffin delivery container a welcome break from plastic. Each tiffin contains: a curry, dahl, salad or soup, rice and two freshly made chapati. Should you wish to add some extra crunch then delicious crispy sides and dips are also available. You'll have the option of weekly or fortnightly deliveries, or skip a week with the flexible ordering service. Once you're finished, simply clean the tiffin and on the next delivery day they'll exchange it with a full one.  
Set as the flagship restaurant catering for vegan and vegetarian diners, Terre a Terre has reigned as restaurant royalty here in Brighton since 1993. The offering is innovative and creative which result in culinary masterpieces. Modern British dining at its best, quality ingredients are creatively finessed, resulting in an elevated experience. Plant-based diners will be able to enjoy the vast majority of the menu as many of the vegetarian dishes have a vegan alternative.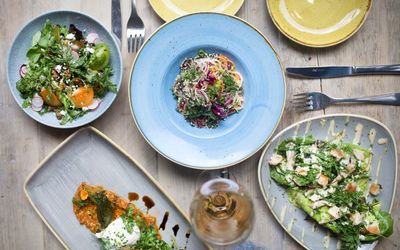 Whether you're a vegetarian or not, award winning Food for Friends is a must visit for everyone living in or visiting Brighton. It's probably Brighton's most famous vegetarian restaurant (with many vegan dishes), receiving many accolades and serving customers since 1981. Their ethos is 'tasty, affordable, honest cooking using the freshest produce, totally homemade, whilst supporting local suppliers where possible.' You can't argue with that.
Wai Kika Moo Kau is a testament to the longevity giving powers of a plant based diet. They've been operating out of North Laine for over 30 years. The menu retains its honest cafe feel but with a menu that's all vegetarian and largely vegan.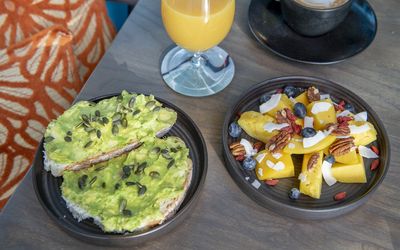 New to Brighton at the end of 2019, the menu at Cyan is approx one third plant based. Unique dishes colocasia crisps, pickled daikon and pineapple tatin are all recommended by executive chef Alan White which are all perfectly paired with a glass of vegan sparkling wine by Hindleap. Live cookery at the bar is another reason to visit Cyan, which is located inside the iconic Grand Hotel.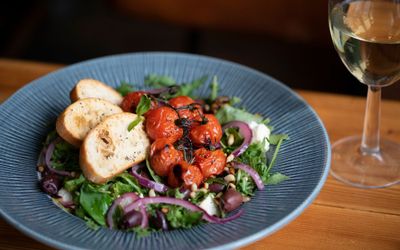 Having recently just upped their veggie and vegan game, a majority of the menu at The Dorset is now meat-free and we are loving their options. Try the coconut curry served with tandoori marinated tofu or the veggie bean burger served with a healthy helping of avocado. Enjoy alongside a pint of Bevertown's Gamma Ray or a crisp glass of white wine.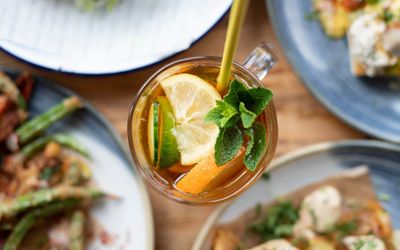 Lucky Beach is the worlds highest scoring SRA (Sustainable Restaurant Award) venue in the world so it's no wonder their menu is great for vegans. Head here for the Moving Mountains B12 Burger, the worlds most realistic non-meat burger served with vegan cheese fondue and be prepared to ask your server if they're sure they didn't mix your order up. If you'd like something a little less realistic head over to their sister site Redroaster for plant-based food that still looks like plant.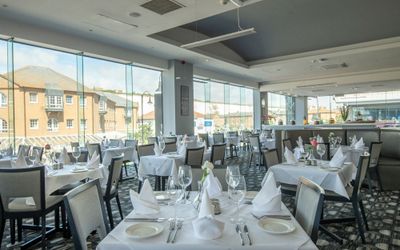 If you're searching for exceptionally made, authentic Indian dishes then this place is for you. Marina-based pure Indian restaurant Malika has done notably well with its plant-based offering. The acclaimed Chef, Surender is a master of flavour and aesthetic, so if you feast with your eyes your tummy won't be disappointed. You can enjoy the delicious dishes in the sleek and sophisticated setting, lap up the white cliff views and when you're done take a stroll around the docks to digest.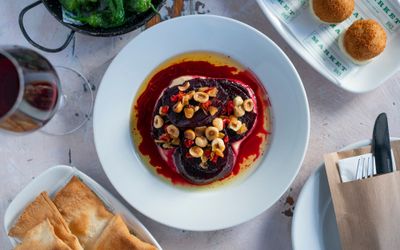 Vegan tapas at Market Restaurant is a thing. Whilst plant-based may not be their driving point, it's well catered for on the menu. The smoked cashew croquettes are sublime and we encourage everyone to try them! If something takes your fancy but it's not dietary appropriate, most things on the menu are made to order so the kitchen may be able to tweak it.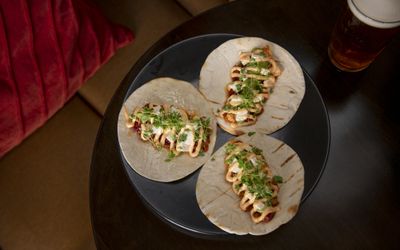 The Mesmerist might not be your first thought when trying to find somewhere vegan-friendly to eat in Brighton, which is why we are here to tell you why it should be! After a recent renovation and menu overhaul, vegans can look forward to plenty of options that deliver on flavour, seasonality and the 'something a little different' front. Serving a lunch to dinner menu of authentic and delicious Caribbean food and delivering outstanding flavour and variety, The Mesmerist have upped their game with the 2022 introduction of 'The Vital Indigent'.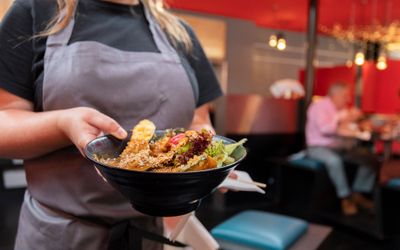 The iconic Japanese inspired building in Bartholomew Square, Moshimo, has long held its head high as a leader in supporting sustainable fishing. As the plant-based tide continues to surge they have celebrated this with Vegan Wednesdays. Moshimo cardholders receive 50% off all vegan sushi whilst non-member still get to enjoy a 25% discount. Moshimo have even received a 'Proggy' award from PETA, a fine endorsement for a 'fish restaurant'!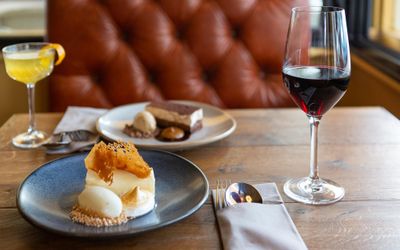 Introducing Eastern Mediterranean-inspired small plates in Hove. While the menu is balanced for all dietary needs, there's an entire section dedicated to plant-based diners, as well as other options being available throughout. There's a good amount of choice and several vegan desserts to choose from including the Chocolate Cremeux, which currently has our mouths watering!