Restaurant Brighton's guide to
Vegan Restaurants in Brighton
Best vegan restaurants in Brighton
Vegan Restaurants Brighton guide. If you're looking for vegan restaurants Brighton won't disappoint. Whether you're looking for old school whole food wholesomeness, new wave fake meat fast-food or fine dining with elevated plant excellence you'll find it here. 
We've divided this page into purely vegan venues, meat free vegetarian and vegan venues and our pick of omnivorous  eateries where you'll find more than just a five bean chilli. Use the buttons below to jump to what you're looking for.
Vegan Restaurants Brighton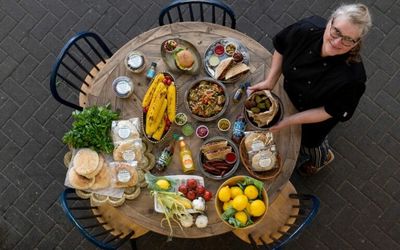 Tucked away inside Brighton's Open Market is one of our favourite vegan spots in the city, Smorl's Kitchen Brighton. Understated, unpretentious and under the radar (not for long) Smorl's Kitchen is owned by siblings Christian and Sarah. The totally vegan menu at Smorl's Kitchen is dedicated to all things chickpea. From delicious pitta's filled with earthy homemade falafel to huge salad bowls filled to the brim with goodness. Why not try their famous warming spicy falafel-based Bolognese, served with oven-roasted Hasselback sweet potatoes? Or their seasonal Waffalafel? Head to Smorl's Kitchen for a delicious plant-based menu and a wonderful community feel. One of the best vegan restaurants in Brighton.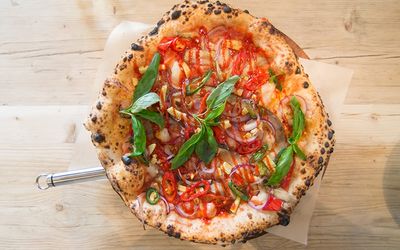 Purezza was born in 2015, opening its doors on St James' Street, Kemptown as the UK's first 100% plant-based pizzeria.
Since then they've gone on to win numerous awards nationally and locally and grow with additional restaurants in Hove, London, Manchester and Bristol. The original Purezza, which sits at the forefront of the vegan revolution, remains an integral part of the local community as well as a Mecca for vacationing vegans keen for a delicious slice of history in the making. Brighton are very proud to have this as one of their standout vegan restaurants. Did you know Purezza have also created their own version of vegan Mozarella which is featured on the Sussex Shortlist.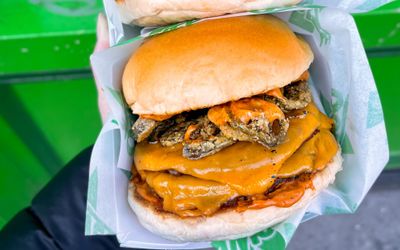 First opening in that other vegan haven, Bristol, Oowee Vegan wanted to deliver a 100% vegan fast food experience that was big on portions, options and flavour. They expanded south and naturally decided to open their flag ship store here in the UK vegan capital. Eat in and takeaway as well as delivery is available from this Lanes haven of vegan indulgence.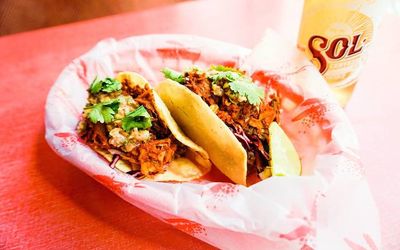 Beelzebab started off as a pop-up serving vegan donna kebabs but has since set down roots in The Hope & Ruin on Queen's Road and expanded it's repertoire into a truly glorious, 100% vegan, junk food champion. The extended menu has seen the original kebab buddy up with creatively topped hot dogs and wickedly loaded fries. With monthly specials including a seasonally inspired 'dog of the month' these sinful creations are the stuff of dirty vegan dreams, because sometimes you just don't want lentils.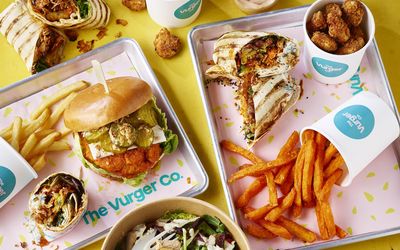 The Vurger Co. opened in the newly developed Hannington Lanes. The Vurger Co. serves a selection of burgers using their own 'chicken' soya burger, as well as Beyond Burgers, each presented as a variation of classic meaty burgers. There are also salad boxes, if you're not into junk-plant and shakes, with an option for boozy shakes too. A relatively new vegan restaurant in Brighton.
Botanique, Vegan Restaurants Brighton
Botanique restaurant in Hove has a paired back modern-rustic interior with pale hues and exposed wood. It certainly looks the part for a fine dining vegan restaurant. Botanique is open for brunch, lunch dinner and Sunday Lunch, all 100% plant based. The menu is seasonal and fuses cooking styles from throughout the globe to create inspired and unique dishes. Vegan restaurants Brighton newcomer. 
Happy Maki make delicious and entirely plant based sushi, and they make it the size of a burrito! If this isn't already a winner then the side dishes of stuffed tofu pockets and popped 'chicken' cauliflower should be getting you there. Happy Maki have two Brighton vegan venues, the original (mostly takeaway) place in Pool Valley and the new "pay as you feel" restaurant above Yum Yums in Sydney Street, in the North Laine.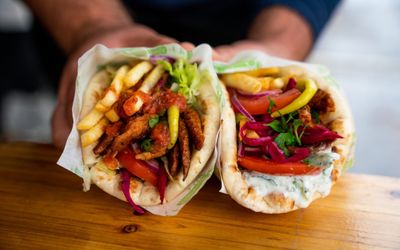 The guilty pleasure of kebabs are no longer off the table for vegans. What The Pitta established itself in London as the place to go for hung-over plant eaters. They started serving their unique donna meat substitute with all the extras in 2019 and the city's vegans-with-sore-heads have never stopped being grateful. A vegan kebab restaurant in Brighton.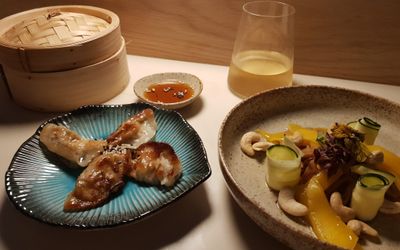 Located near Preston Park, Kusaki opened in late 2021 as the newest member of the Food For Friends/ Botanique/ Wolfox Chapters family. The interior feels very New York, and the menu is a contemporary plant based take on familiar Japanese fare. Beautifully presented food and Japanese inspired cocktails makes this a good venue to impress, or update your Instagram (you can watch our tips on smartphone food photography video here)
No trip to Brighton beach would be complete without fish and chips. But oh no, wait, fish isn't a plant and chips and chips just doesn't have the same appeal! Fear not, The No Catch Co., serve 100% vegan fish and chips. You'll find 'cod' and chips, 'saveloy' and chips. Extras like mushy peas and chip shop gravy make it both a trip down memory lane and a taste of the future.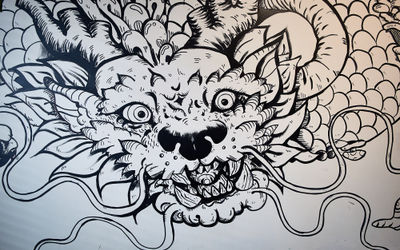 A 2023 award winner as Brighton Plant Champions and coming in runner up for the best restaurant in Brighton.  Located on Baker Street, Bonsai Plant Kitchen is edgy and cool with strong New York vibes. It's 100% vegan South-East Asian inspired food which is flavour packed and creative. The menu is largely sharing plates, but so tasty they'll test even the strongest relationship. Great cocktails and beats make this a real vegan gem and quite unique for the city.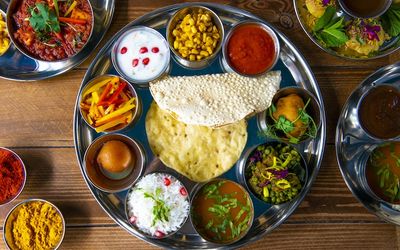 Manjus Brighton is a delicious addition to our cities Indian cuisine scene, found tucked away at the bottom of Trafalgar Street, a stone's throw away from Brighton station. Manjus focuses on Gujarati vegetarian food with an excellent range of vegan, gluten-free and nut-free dishes. The menu at Manjus is currently 75% vegan, as well as having a wide range of vegan drinks including vegan wine and local craft vegan beers. Using the freshest ingredients they can get their hands on, Manju and Dipali use the same family recipes handed down through generations, delivering authenticity with every dish. Manjus is hugely affordable and with a children's menu, a range of Indian pale ales and lagers, wines and spirits, and authentic desserts, you won't be disappointed!
Iydea in the North Laine serves home cooked food that's wholefood based (you won't find much in the way of meat alternatives here). It serves canteen style so start with a big or small plate/ takeaway box and build a meal to your liking. It's as flavoursome and fresh as it is healthy and satisfying. And very affordable. 
The vegan menu at Jo and Co has plenty to choose from for brunch, lunch or dinner. Starting the day with their delicious Jo's Vegan breakfast is always a good start! Or for something different, try their Hash with vegan sausages, sautéed potatoes and siracha sauce for a kick. For lunch or dinner (Friday and Saturday's) the Crispy Spiced Cauliflower Gochujang Sauce has got us hooked, or maybe a few sharers to accompany a spritz or two.
Plant based options are plentiful at Shelter Hall. Little Bao Boy serves a wide array of veggie and vegan dishes. Chick 'n' Bun also has several dishes that are plant based and super yummy.  Or, try one of the vegan friendly, topped pizzas from Very Italian Pizza. The bases are made with a traditional Naples sourdough and are a spot-on accompaniment to a beachside social session.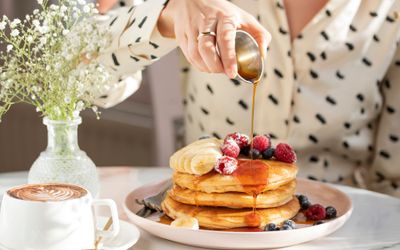 Ouef Café in Hove is a beautifully styled and spacious cafe with a large rear garden. The menu is an indulgent mix of breakfast and brunch dishes with wines and cocktails available for delicious daytime dining. Vegan options include a full vegan breakfast with locally made Burmese tofu (made with chickpea flour, so soya free) and vegan black pudding. Pancakes, burgers, salads and veg nugs all grace the menu for a plant eaters' delight.
Kebab shops in town centres might be the sort of establishment that vegans have well learnt to swerve. But don't let anything about Lavash on North Street fool you. They serve authentic Middle Eastern cuisine with a large selection of vegan options, all freshly prepared with quality ingredients. Falafel is a vegan go-to, and it's well worth trying it here with an excellent offering that's one of the most popular dishes on the menu. But don't overlook the spicy lentil and bulgur kofta as an alternative and in case (heavens forbid) you're not in a falafel mood. For a bit of everything that's plant-based and good, the vegan platter is a delight with kofta, falafel, smoky baba ganoush, homemade hummus, roasted peppers, cabbage and much much more. All are best eaten scooped up with freshly made lavash bread that's chewy, bubbly and charred to perfection.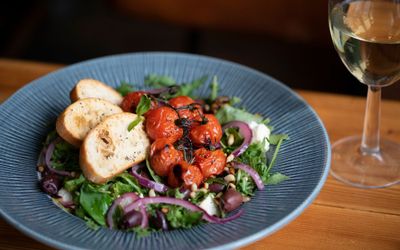 Having recently just upped their veggie and vegan game, a majority of the menu at The Dorset is now meat-free and we are loving their options. Try the coconut curry served with tandoori marinated tofu or the veggie bean burger served with a healthy helping of avocado. Enjoy alongside a pint of Beavertown's Gamma Ray or a crisp glass of white wine at this iconic pub in Brighton.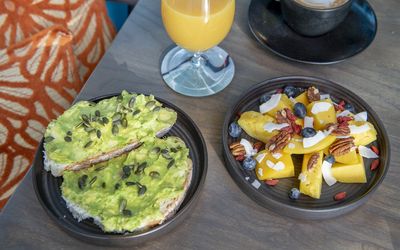 New to Brighton at the end of 2019, the menu at Cyan is approx one third plant based. Unique dishes colocasia crisps, pickled daikon and pineapple tatin are all recommended by executive chef Alan White which are all perfectly paired with a glass of vegan sparkling wine by Hindleap. Live cookery at the bar is another reason to visit Cyan, which is located inside the iconic Grand Hotel.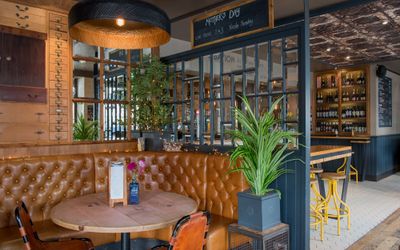 Libation in Hove serves a great selection of cocktails, wine, beer, and delicious food. Whether you're a plant-based eater or not, they've got you covered with their Lebanese falafel, Vegan Empire Burger, and 'Chicken' Wrap. Plus, they're accommodating to dietary preferences – just ask, and some dishes can be made vegan upon request.