Restaurant Brighton's guide to
Best vegan restaurants in Brighton
A selection of the best vegan restaurants in Brighton, a city that has a reputation for being a mecca for those who abstain from animal products and is home to many vegetarians and vegans. Historically rated as UK's most Vegan friendly place, it lost it's crown a few years ago to Glasgow, despite the exclamations of many Brightonians who disagree and say that it's better than ever for vegan options.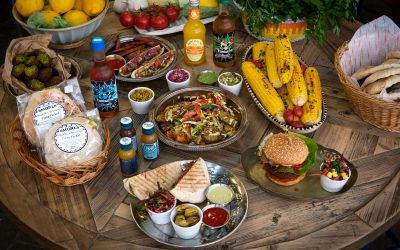 Tucked away inside Brighton's Open Market is one of our favourite vegan spots in the city, Smorl's Kitchen Brighton. Understated, unpretentious and under the radar (not for long) Smorl's Kitchen is owned by siblings Christian and Sarah. The totally vegan menu at Smorl's Kitchen is dedicated to all things chickpea. From delicious pitta's filled with earthy homemade falafel to huge salad bowls filled to the brim with goodness. Why not try their famous warming spicy falafel-based Bolognese, served with oven-roasted Hasselback sweet potatoes? Or their seasonal Waffalafel? Head to Smorl's Kitchen for a delicious plant-based menu and a wonderful community feel.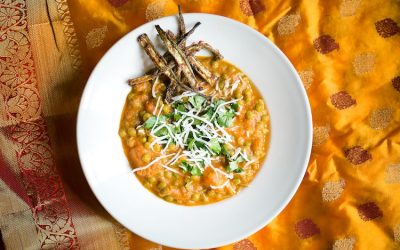 Easy going and fun-filled, Planet India serves a pure vegetarian menu (pure vegetarian doesn't use eggs), of which around 70% is vegan. Indian food is frequently meat-free and the recipes here are those handed down to owner, Nilesh, by his mum; it is the food he ate growing up. Located in Brighton's Richmond Parade, the restaurant has something of a cult following and booking in advance is strongly advised. The Pani Puri is undoubtedly their most raved about starter (available vegan, just ask for no yoghurt), it is a tangy, sweet and spicy salad of chickpeas and tamarind that lights up every inch of the pallet and keeps it dancing to the ambient 70's disco beats right through to the last mouthful.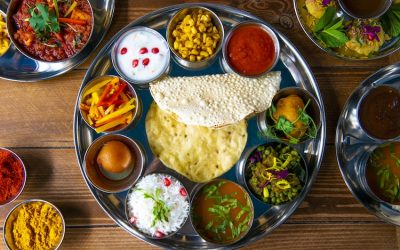 Manjus Brighton is a delicious addition to our cities Indian cuisine scene, found tucked away at the bottom of Trafalgar Street, a stone's throw away from Brighton station. Manjus focuses on Gujarati vegetarian food with an excellent range of vegan, gluten-free and nut-free dishes. The menu at Manjus is currently 75% vegan, as well as having a wide range of vegan drinks including vegan wine and local craft vegan beers. Using the freshest ingredients they can get their hands on, Manju and Dipali use the same family recipes handed down through generations, delivering authenticity with every dish. Manjus is hugely affordable and with a children's menu, a range of Indian pale ales and lagers, wines and spirits, and authentic desserts, you won't be disappointed!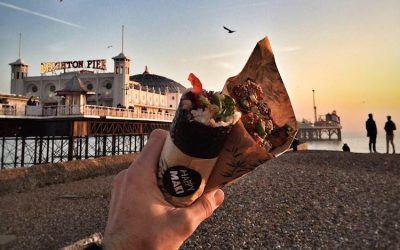 Happy Maki make delicious and entirely plant based sushi, and they make it the size of a burrito! If this isn't already a winner then the side dishes of stuffed tofu pockets and popped 'chicken' cauliflower should be getting you there. Still not convinced? Knowing every sale will help plant a tree and feed a hungry child should convince you these guys are full of bright ideas. For fresh concept food, great taste and all round feel good factor Happy Maki has it wrapped up in nori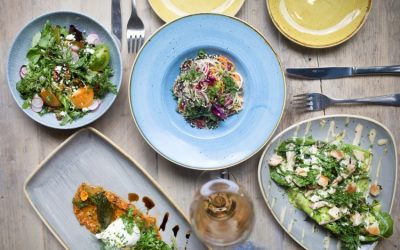 Whether you're a vegetarian or not, award winning Food for Friends is a must visit for everyone living in or visiting Brighton. It's probably Brighton's most famous vegetarian restaurant (with many vegan dishes), receiving many accolades and serving customers since 1981. Their ethos is 'tasty, affordable, honest cooking using the freshest produce, totally homemade, whilst supporting local suppliers where possible.' You can't argue with that.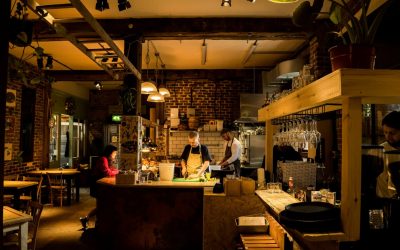 Head up to the historic town of Lewes and head straight to The Needlemakers Cafe, this charming and nostalgic cafe has been taken over by the team behind the award-winning, plant-based Brighton pub, The Roundhill.
Everything on the menu is 100% vegan and sourced from local, organic or sustainable suppliers. Enjoy everything from pastries and shakes to Buddha bowls and natural, organic wines or simply knock back some of the town's finest local brewskies. The cafe is steeped in Leweisian charm and we're certain it'll have even the plant-based critics among you planning your next trip.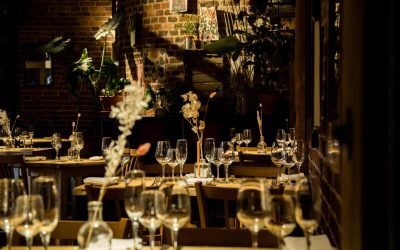 Brought to you by the acclaimed team behind the multi award-winning vegan pub, The Roundhill. Kokedama is the first 100% plant-based restaurant in Lewes. Set inside the historic landmark, The Needlemakers, the restaurant is intimate, unique and offers guests an unparalleled dining experience. Each exquisite dish is presented as modern small plates, available as a la carte, tasting or wine paired menus. For the full Kokedama experience, we recommend that you set aside a few hours, as you will want to savour your time at this gem of a restaurant.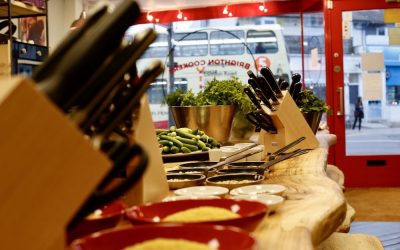 Brighton Cookery School is a fun, interactive and professional way of learning new cooking techniques. Classes run for a minimum of two hours and are all run by professional chefs. Classes are interactive, so you'll learn on the job, and get to enjoy the fruits of your labours sharing what you've prepared at the end of the session. The Brighton Cookery School run regular vegan classes, so whether you're new to veganism, looking at sharpening up your skills or just enhancing your plant-based repertoire the Brighton Cookery School is for you.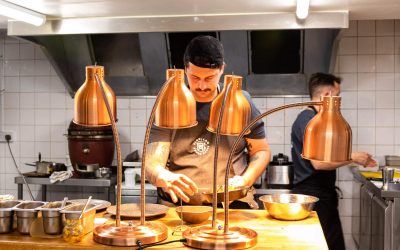 Forget all you know, or think you know, about smokehouses when paying a visit to The Bronze, St James Street. This simply isn't American or Australian style barbeque but pure Sussex. Locally and sustainably sourced produce is smoked up the road in Hurstpierpoint and cooked creatively and with panache. They have a whole menu dedicated to the herbivore and all the beers are plant-based- so get stuck in!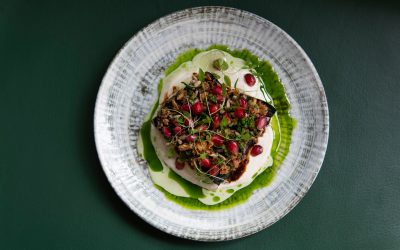 Burnt Orange is the youngest sibling in the Coal Shed and Salt Room family, famed nationally and locally. Burnt Orange takes a more relaxed approach to dining and is more of a bar-restaurant than its siblings. There's also a good selection of vegan dishes on the menu. Speaking to your server about your requirement will really open the menu up since everything is made fresh and there are additional vegan options then available. Think local and seasonal produce elevated with creative cooking and exquisite presentation. Forget fake meats and meat substitute dishes.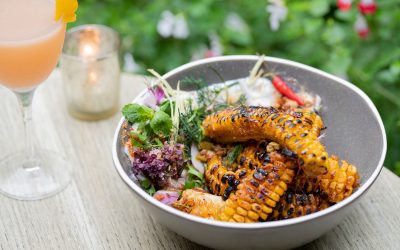 Lucky Khao, Brighton's only Northern Thai restaurant and barbeque. They combine great ingredients and authentic flavours with knock out cocktails and banging beat and it results in an infectiously happy atmosphere. Their big on charcoal fire grills and you can trust it'll be cooked to perfection, they also offer spicy sharing curries and zingy fresh salads. There a lots of plant based options to choose from and the staff are there and eager to help guide you through the options.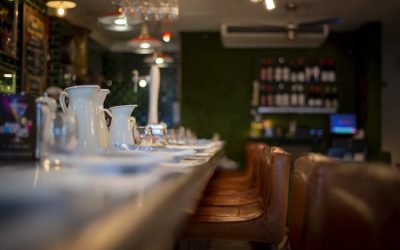 Vegan tapas at Market Restaurant is a thing. Whilst plant-based may not be their driving point, it's well catered for on the menu. The smoked cashew croquettes are sublime and we encourage everyone to try them! If something takes your fancy but it's not dietary appropriate, most things on the menu are made to order so the kitchen may be able to tweak it.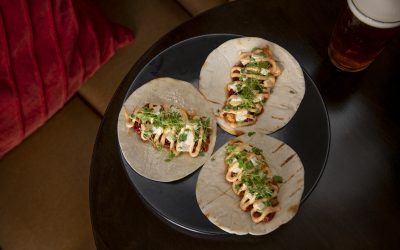 The Mesmerist might not be your first thought when trying to find somewhere vegan-friendly to eat in Brighton, which is why we are here to tell you why it should be! After a recent renovation and menu overhaul, vegans can look forward to plenty of options that deliver on flavour, seasonality and the 'something a little different' front. Split up into bar snacks, small plates, mains and sides, there is something for everyone's tastes no matter how hungry. Why not head up to their rooftop terrace to enjoy the exclusive burger menu served up there?!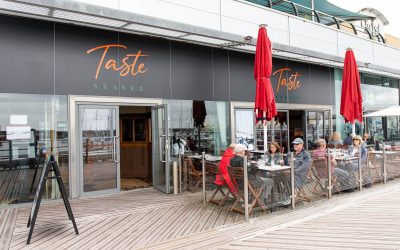 Taste Sussex on the Brighton Marina boardwalk has the outer resemblance of a national chain lounge-diner, but don't let that deceive you. It's independently and locally owned and sources quality ingredients that are responsible. Pretty much every section of the all-day menu features a thoughtful vegan option (unlike the big chains), including vegan breakfasts, "milk" shakes, burgers, pasta, risotto, topped tater tots.