Restaurant Brighton's guide to
American Restaurants in Brighton
American Restaurants Brighton Guide
American Restaurants Brighton Guide. A selection of American-style venues across Brighton and Hove. Including authentic 1950's style diners, Brighton burger joints, LA inspired coffee houses and venues specialising in the art of smoking meats including succulent ribs. Oh and don't forget American-style fluffy pancakes!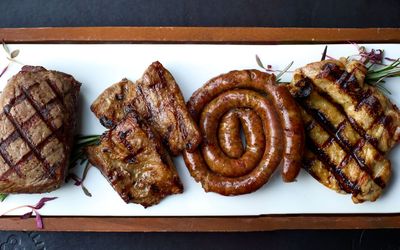 Step aside fast food and welcome the flavours of (South) America that are well worth savouring at this Hove restaurant. LatinoAmerica in Hove was the first Argentinian restaurant to open in East Sussex. Here you'll find beef and full-bodied wines from South America, a country famed for both. Indulge in prime cut steak with fries and classic Argie sauces over a glass of robust Malbec, amid authentic Argentinian hospitality.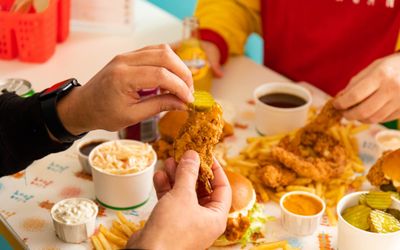 Lost Boys Land on York Place is the chicken shop from locally acclaimed Lost Boys Chicken. Here they've taken what people have grown to know and live since they first started serving out of local pubs in 2017 and really run with it. All their chicken is soaked in buttermilk before being breaded with their secret Southern spice mix. Their home made sauces also take their offering to another level, where you'll be offered the option to dip, drizzle or drench your choice of drumstick, breast or strips. We recommend the meal deal which includes a bit of each with hot honey and gravy.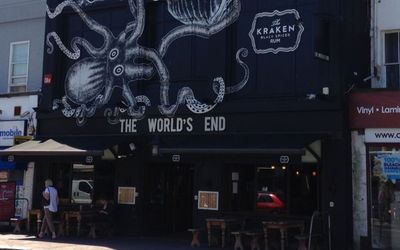 Bar-B-Q Shack at The Worlds End
The Worlds End pub houses the renowned Bar-B-Q Shack famed for some of the best Texan Ribs around. Award-winning chef, John Hargate spent some time in Texas where he perfected the skill of proper 'dirty' Texas Barbeque. Luckily for Brighton, he came back and decided to share this skill. The ribs are smoked nearby then properly basted in John's homemade sticky sauce, Texas-style. Be prepared to go through a lot of napkins!