Restaurant Brighton's guide to
American Restaurants in Brighton
A taste of the USA in Brighton
A selection of American-style venues across Brighton and Hove. Including authentic 1950's style diners, burger joints, LA inspired coffee houses and venues specialising in the art of smoking meats. Oh and don't forget American-style fluffy pancakes!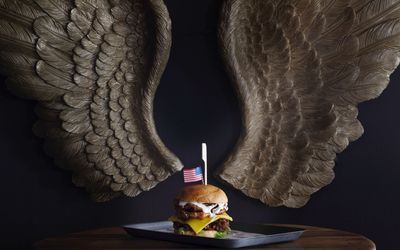 The bona fide flavours of the American smokehouse are as authentic as they are tasty at Bluegrass Fire & Smoke at The Freemasons, Hove. The kitchen champions real-deal smoking of American meat, using Oklahoma imported US smokers. Offerings range from pig 'wings', to slow-smoked 'n' seared steaks and loaded burgers. On the side, guests can enjoy options like jalapeno slaw, corn ribs and smoked pit beans so packed with flavour you won't need to fly 5,000 miles to eat the real deal.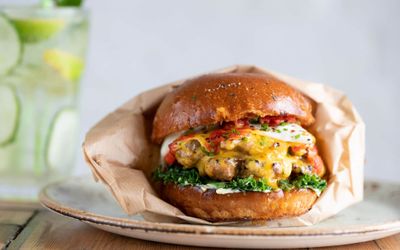 The best way we can think to describe the Lucky Beach menu style is almost Californian, with plenty of fresh flavours and healthy options for those who don't fancy a heavy lunch. When the sun shines it's possibly the best place to be hanging out in the city. It may not be Miami Beach, but we reckon it's the next best option – especially as there's a watersports rental next door!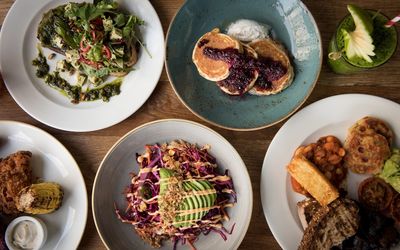 LA indie style coffee house meets New York bar and diner. The food is of superb local quality and the décor and atmosphere cool, stylish and relaxed. If what you need is a big meaty burger, this is definitely a good choice. Although they feature a range of other dishes in their menu, their 'Dirty Burger' is fast becoming legendary as one of the best in Brighton.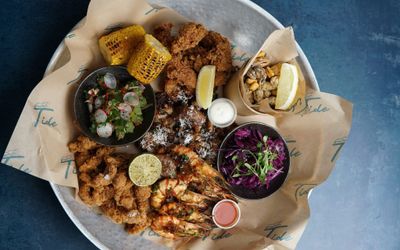 Tide fills a gap in the Brighton seafood repertoire by providing us with the pure joy that is Southern American street food. Drawing from the harvest of the south coast and Southern American flavours. Tide is a food fiesta best enjoyed kicking back with good company.
A little bit messy, ever so moreish, this is quality food bursting with flavour. Currently, available Friday and Saturdays via Uber Eats or Click and Collect. Tide is brought to us by the fine folk of Lost in the Lanes for takeaway only.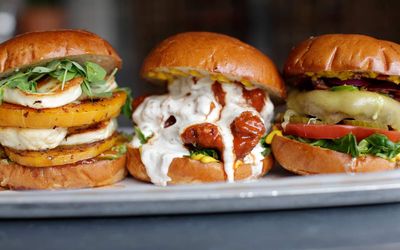 London's successful Breakfast Club dining experience has ventured into Brighton's Lanes after much anticipation. The Breakfast Club has brought a bit of Miami Vice and Art Deco to Brighton. Painted bright yellow with baby blue seats outside, it's hard to miss! With an extensive menu featuring American dishes such as Beef Chilli, Buttermilk Fried Chicken and Pulled Pork it is definitely the place to be if you're hungry!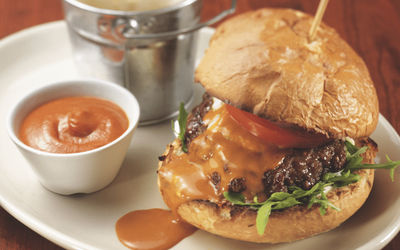 East to West coast American style dining, Coast to Coast is a great place for lunch or dinner when you want a proper feed. Authentically American, it serves quality American dishes in the American way. So think the friendliest of servers, the biggest of burgers and the dirtiest of martinis. Dishes range from New York to San Fran' so there's something for everyone's tastes.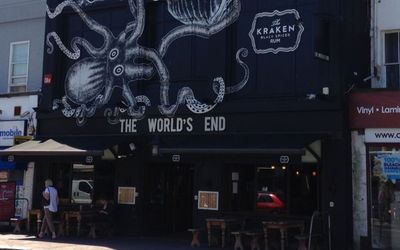 Bar-B-Q Shack at The Worlds End
The Worlds End pub houses the renowned Bar-B-Q Shack famed for some of the best Texan Ribs around. Award-winning chef, John Hargate spent some time in Texas where he perfected the skill of proper 'dirty' Texas Barbeque. Luckily for Brighton, he came back and decided to share this skill. The ribs are smoked nearby then properly basted in John's homemade sticky sauce, Texas-style. Be prepared to go through a lot of napkins!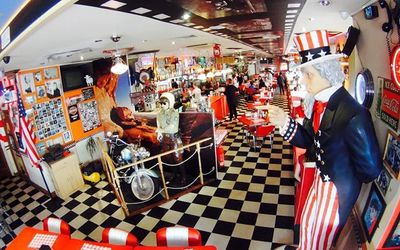 The Watershed bar and kitchen has a waterfront spot within the harbour, accessible via the boardwalk. There's a good selection of drinks including local craft beers, and a good wine and spirits list. The west-facing aspect is what makes this spot a real catch, especially in the summer, with sundown evenings stretching out to the gentle lulling of the docked yachts.