Restaurant Brighton's guide to
Places to Eat in Brighton
Places to Eat in Brighton and Hove
Looking for the best place to eat in Brighton and Hove?
Brighton is known for its hedonistic, bohemian and creative spirit, all of which is reflected in the independent Brighton restaurants scene. From award-winning fine dining to international eats, from sensational street food to down to earth sustainably-led dining Brighton has it all.
To help you go exploring we've divided Brighton restaurants into Casual, Modern, Fine Dining, International and European, some fit into more than one category so we've tried to organise them by what they are best known for. You may also like our feature on the best restaurants in Brighton. 
Listed here are just Brighton restaurants, you can find Hove restaurants here, Brighton Food pubs here and Brighton cafes here. 
Casual Places to Eat in Brighton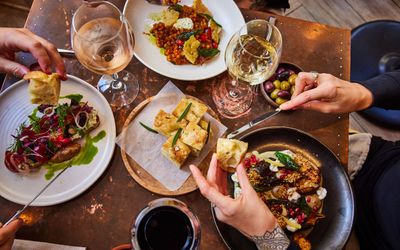 Lost in the Lanes is an oasis tucked away in the busy shopping area. A grand place to punctuate your day, be it for morning coffee, brunch, or lunch. Lost focuses on fresh ingredients sourced locally. The lunchtime menu focuses on six seasonal dishes that really showcase the talent of Head Chef James Flavell. Pair your meal with expertly mixed Brighton cocktails or from their carefully created wine list and you could easily lose an afternoon soaking up the luxurious experience of Lost in the Lanes in the Brighton Lanes.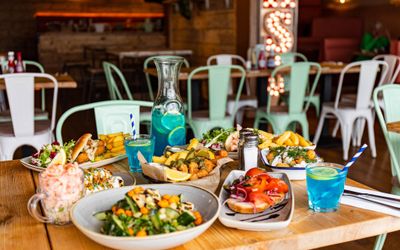 Brighton beachfront all-day dining for the whole family. If you're looking for a quintessential day out in Brighton then OhSo can keep you fueled from breakfast to sundown with a menu of seaside classics. Located next to the Palace Pier and right on the beach, you're perfectly located to punctuate your day's activity with reasonably priced, good quality food. Or park yourself on one of the benches for a whole day of sun, drinks and food all in one place.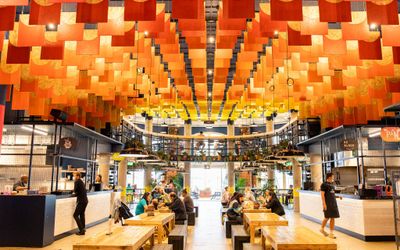 Guests can enjoy a medley of all the seven permanent and one pop up kitchens that are housed at Shelter Hall. The unique dining experience offers an unbeatable range of quality and value from acclaimed chef's hailing from Brighton and beyond. The acclaimed team behind Salt Shed present Sear – serving a unique menu full of crowd pleasers that have been developed over six years of trading across multiple street food markets and iconic food halls. VIP Pizza is Amalfi and remains true to their authentic Italian pizza dishes. Whilst the fresh flavours of Asian street food are delivered by Little Bao Boy, expect beautiful, loaded rice bowls, gyoza and bao buns. Conchita's delivers authentic Mexican street food and the sweets treats are provided by award-winning pâtissierr Julian Plumart. Down on the beach, oozing with social and bustling energy, entertainment and unbeatable views of the seafront. Mark Shelter Hall as a must-see on our map of culinary escapades.
Modern Places to Eat in Brighton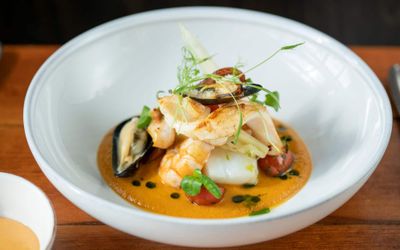 Annexed on to The Hilton Hotel on the seafront, The Salt Room offers stylish modern dining and spectacular sea views that attract local foodie residents as well as holidaying visitors. The grill restaurant is seafood led, but not exclusively so, with sustainable, locally sourced top-quality produce at its heart. The Salt Room offers an exceptional quality dining experience with an a la carte menu and award-winning Sunday Lunch sharing platters.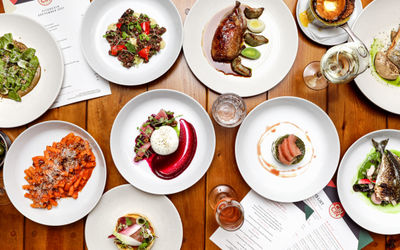 An award-winning neighbourhood restaurant in Hove, perfect for any occasion and accommodating for the entire family. Cin Cin serves authentic Italian small plates, pasta, and antipasti, paired perfectly with a selection of wines and aperitifs. Whether you're seeking a spot for lunch, a mid-week dinner, or a place to celebrate a special occasion, the friendly team at Cin Cin will warmly welcome you.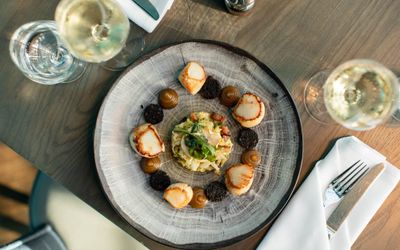 Cyan is a fresh new look for the iconic old lady, The Grand. This all-day eatery takes its inspiration from the bounty of the sea and the Sussex countryside (the colour cyan is a mix of blue, the sea, and green, the land). Cyan offers an all-day dining menu, a two and three-course set menu, has a special kids menu and serves up roasts on Sunday. All delivered with the standard and quality you would expect from The Grand Hotel.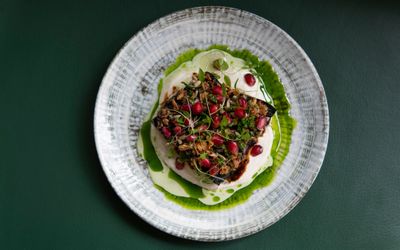 Opened in June 2021, Burnt Orange is the newest member of The Coal Shed and The Salt Room family of local fame. Expect a little more fun from this younger sibling, but the same exemplary quality. Seasonal small plates are creative and perfect for sharing. The cocktails are expertly mixed and the wine list well-curated. Add a seductively comfortable and relaxed setting and a carefully pitched playlist for afternoons that melt into evenings and evenings that meander into nights.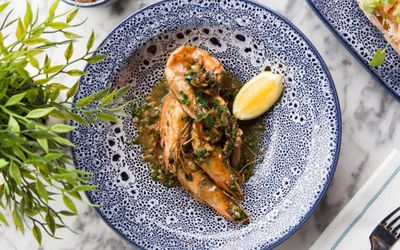 Coppa Club is located in the Lanes taking up one entire side of Brighton square and the courtyard, where, during the winter its igloos provide a popular alternative dining experience. Inside there is a spacious dining area and lounge making it an ideal venue for drinks and nibbles or a full family meal. The all-day menu is extensive, giving something for everyone. Brunch is an extra feature added to weekends and bank holidays. 
Fine Dining | Places to Eat in Brighton
Experience contemporary and stylish fine dining at Dilsk, Brighton. Set in Drakes Hotel with a sea-facing view of Brighton Seafront, Dilsk offers an intimate and accessible dining experience with a five-course menu at £55 and a full 10-course menu for £95. The restaurant champions sustainable practices and seasonal produce, using ingredients that are largely sourced from within Sussex. Enjoy an exceptional tasting menu, crafted cocktails, and an impressive wine list featuring handpicked producers from Sussex, Kent, and other international vineyards. With an impeccable attention to detail, Dilsk promises a gastronomic adventure that should not be rushed.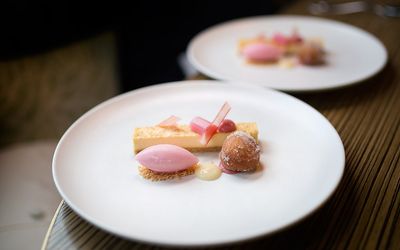 Steven Edward's Hove restaurant Etch is the MasterChef winners first restaurant and voted Brighton's Best Restaurant in the 2018 and 19 BRAVO awards, as well as being featured in the National Restaurant Association top 100 for the past two years. Steven's style is unique, each plate in the tasting menu has only two primary ingredients and no spices, not even pepper are used in their preparation. Instead, cheffing skill and sensitivity are used to finesses ingredients for a dining experience that is practically flawless. 
While Furna Brighton is chef-patron Dave Mothersill's first solo venture, he is one of the best known and respected chefs in the city. He spent many years working with the Blackrock Group, running the kitchen at The Salt Room, then setting up The Coal Shed London. On his return to Brighton, he became head chef at The Gingerman. Now Dave has used his vast experience to realise his restaurant dream and created the perfect environment to showcase his uncompromisingly exquisite menus.
International Places to Eat in Brighton
Effortlessly cool and infectiously fun, Kitgum is located on Preston Circus. The restaurant focuses on the finest flavour pairings from the east coast of Africa and the west coast of India and reimagining them with a European twist. You can dine on small plates, drink locally supplied beverages and enjoy the wonderfully friendly and upbeat atmosphere of this charming independent restaurant. Once you've visited, something tells us you'll soon be back for more!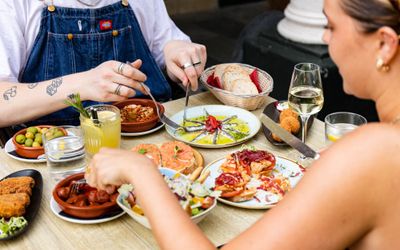 Tinto Taperia in the North Laine is a contemporary restaurant serving traditional Spanish cuisine. Next door to the Theatre Royal and with views of the Pavillion Dome, it's well situated for pre and post theatre dining, as well as an attractive setting for family get-togethers or romantic rendezvous. You can expect authentic Spanish tapas, paella made to order and weekly specials that champion seasonal ingredients. The drinks list has an impressive Spanish offering, with many of the wines, liquors and gins hailing from the same origin. If you're after pre or post dining drinks, you can visit their sister venue Bar Valentino, which is upstairs from the restaurant.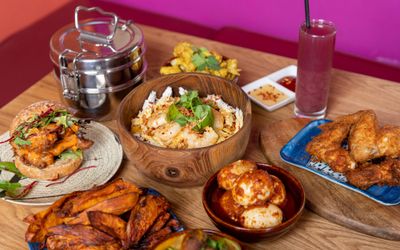 You can enjoy delicious, freshly prepared, pan-Asian cuisine at Nanima in Kemptown Village. The intimate cafe/restaurant is family-run and bursting with personable charm – you'll most likely find the owner Lonnie at the helm, with advice on the daily spread of tasty food. The menu at Nanima changes daily, with a fantastic selection of choices for both meat and plant-based, which typically includes a meat or veggie main, noodles or rice and then a mix and match of delicious sides. You'll also be able to enjoy a well-considered selection of alcoholic beverages, homemade teas and other delicious homemade and impressive sustainable treats.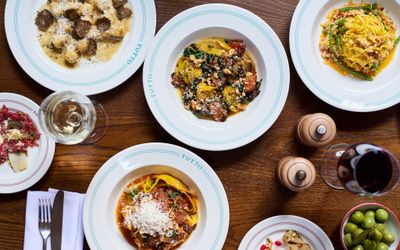 The fourth restaurant from the acclaimed restaurateur Razak Helalat and team, Tutto Brighton boasts an impressive lineage. Set in a reclaimed 1930s bank building on Marlborough Place which faces the recently revamped Victoria Gardens – it's an impressive setting to match the restaurant's grandeur. Tutto champions Italian dining culture by providing a premium experience of a la carte Italian cuisine. The team delivers Italian wines and cocktails and proudly upholds open-armed hospitality. The overall atmosphere gently ripples with a social buzz and it's a wonderful space to enjoy any time of day or night. Tutto also has an intimate courtyard to the rear and a large street terrace if you prefer to dine al fresco. 
European Places to Eat in Brighton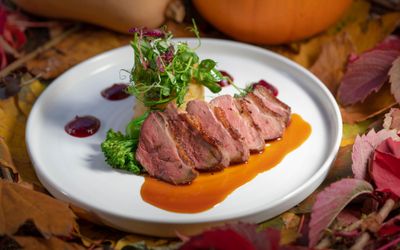 This intimate French bistro in the Lanes seems capable of adapting to whatever your occasion; from romantic dinner for two to a family meal out or friends get together. The menu is unmistakably French but ingredients are sources largely locally for freshness and seasonality. Two major diversions from the traditional French bistro also take place in the Petit Pois menu, a thoughtful range of vegan options (not just "vegan the way French fries are vegan") and a Sunday lunch menu.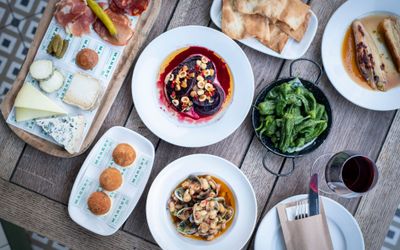 Market Restaurant on the boarder lands of Brighton and Hove serves Spanish inspired small plates in a lively congenial setting. The market theme runs throughout with a menu divided into butcher, fishmonger, baker and greengrocer from which you can build a sharing menu. Weekly offers such as Tapas Tuesdays and Oyster and Cava Thursdays, means every day can be a Market day.