Restaurant Brighton's guide to
Brighton Beer Garden Guide
Beer gardens in Brighton, Hove and Sussex
The Brighton Beer Garden Guide.
Beer gardens we love them! There is nothing quite like enjoying a refreshing drink in the sun and a fully stocked bar on a summer's day. We have put together a list of the best beer gardens that Brighton pubs, Hove pubs and Sussex pubs have to offer for you to enjoy with friends and family whenever the sun shows it's face!  You may also enjoy our dog friendly guide for Brighton.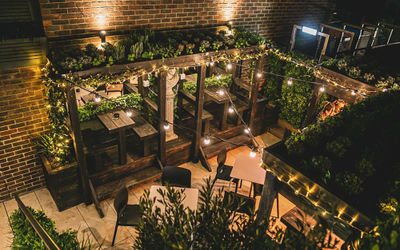 At Oculist you'll find one of Brighton's best rooftop gardens to enjoy on a sunny afternoon, or if it's on the chilly side there are plenty of heaters to keep you warm. Even better, it's centrally located a short walk from the seafront and in the busy Lanes area. So the perfect spot to stop after an afternoon of shopping or a day at the beach. Oculist will take you through to the evening with great music and DJ sets on the rooftop. An amazing selection of drinks such as craft beer, wines and their signature cocktails are offered at Oculist. If you're feeling peckish, then the pan-Asian, Daddy's Dim Sum menu will have something for you to devour.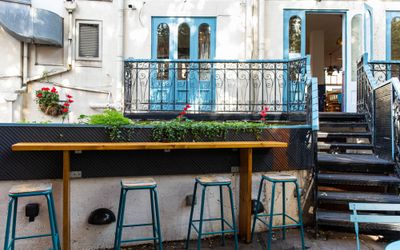 The garden at Arcobaleno is well secluded and sheltered. Festival lights hang from the trees growing up amongst the beer garden benches and smaller tables and chairs. The feel is casual, friendly and a little bit of a festival vibe. Drinks-wise, Arcobaleno has a strong offering of signature cocktails, with classics available too, and a good range of beers, wines and spirits. Local entertainment (which is nearly always free) keeps their indoor stage busy, making this a super Kemptown destination for summer nights when you're looking for relaxed fun.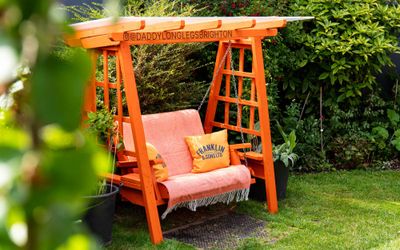 Lawned beer gardens are hard to come by in the city, so if you're craving the lushness of real grass and flower beds then head to DaddyLonglegs. Set in Kemptown this sea-facing pub is a prime destination spot for outside wining and dining with friends. Their drinks offering is abundant with local and international organic wines, a dazzling array of spirits and plenty of great beers to enjoy in the garden. 
The Coppa Club is conveniently located in the centre of the Lanes in the newly developed Hannington's Lane. The spacious venue has full use of the adjoining square for a stylish and sheltered spot of drinking. The Igloos give you a little sense of exclusivity mixed with the practicality of protection from the elements, for cocktail sipping and living the paparazzi lifestyle whatever the weather.
This Brighton relic is seeped in our city's fruity history. One of those venues that if you're here on holiday it should be circled in red on your map, and if you're a local you'll likely be very familiar with it's Victorian interiors. The Cricketers serve classic pub grub and offers its guests covered street side dining. Being placed in the heart of the trendy Lanes, it makes for the perfect spot for people watching whilst knocking back a pint and pie. Definitely one of our Brighton beer garden favourites.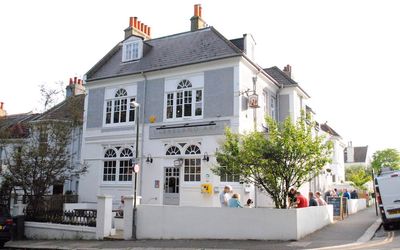 The Cleveland Arms is a bright modern Brighton pub in the Fiveways area with both Blaker's Park and Preston Park in close proximity. The family friendly pub has an outdoor seating area at the front, perfect for keeping an eye on activity in the park while soaking up the sun and a crisp white wine or perfectly chilled pint. Inside there is a large conservatory area for sun worshippers on sunny but cooler days. The excellent food menu blends classic but elevated pub fare with stylish modern small plates that are centred on bold and creative flavours.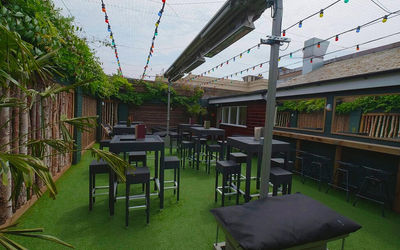 The roof garden at the Mes will elevate you above the crowds, here you can enjoy classic cocktails, freshly mixed and shaken by the pros, well into the night. Decked out with overhead heating, shelter and a sound system to rival a club. It can be enjoyed all year round with weather dependent retractable awnings. The Mes is a must for your Brighton nightlife bucket list.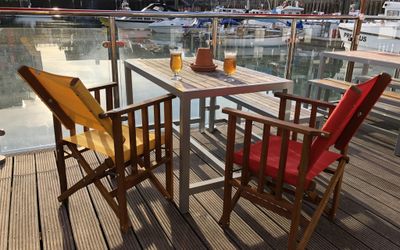 The Watershed bar and kitchen has a waterfront spot within the Brighton Marina harbour, accessible via the boardwalk. There's a good selection of drinks including local craft beers, and a good wine and spirits list. The large west-facing deck is what makes this spot a real catch, especially in the summer, with sundown evenings stretching out to the gentle lulling of the docked yachts.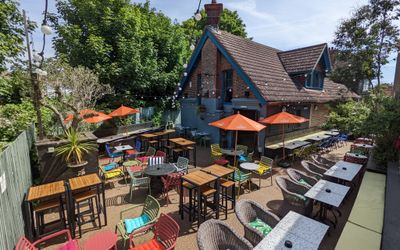 The Railway Inn in Portslade is a large, community pub that's popular for its fusion street food and busy calendar of events and offers. It has a large sunny beer garden at the rear that also offers shelter. The garden is designed for comfort and lazing in the sun, with a mix of basket, bench and stool seating and parasols for shade should you need them. The menu is a mix of Mexican and Asian street food with some pub classics there too, as well as a dedicated kids' menu. So there really is something for everyone to enjoy.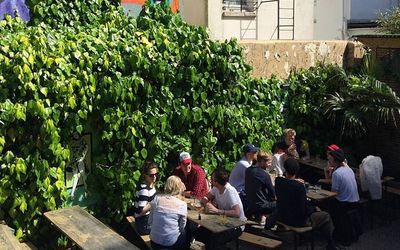 Head up to Kemptown and you can start getting a little bit more garden for your money. The prize for the biggest and most impressive beer garden in Brighton must go to The Sidewinder. With covered seating throughout this has got to be one of the best pub gardens Brighton has. An outdoor barbeque gets stoked-up most summers, expect good food, good drinks, friendly staff, DJs and live music.
Photo credit: Sidewinder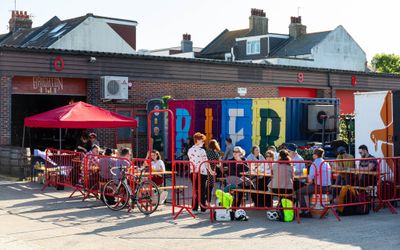 Drink internationally award-winning beer straight from the brewhouse. Brighton Bier are as authentically Brighton as you can get and when it comes to beer gardens these guys have brought an unrivalled gift to our city. With a capacity matched by few others in town and a bar stocked with the full range of their best house bevies, their Brighton beer garden offers the perfect spot to meet friends for post work drinks or weekend get-togethers. Pop-up food vendors are on rotation offering up Mexican, Japanese and Slovakian street food.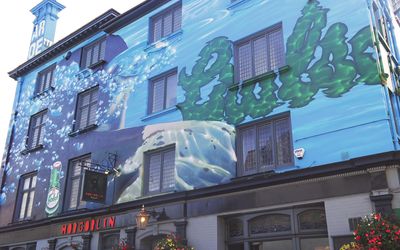 When it comes to sheer scale the beer garden at The Hobgoblin is the daddy of beer gardens in Brighton. This massive space is one of the best spots in Brighton to take in some sunshine while enjoying a delicious real ale or craft beer. The Hobgoblin garden is open all year round with purpose-built sheltered booths and heat lamps. Regular drinks deals and daily student deals make this a good-spirited vibrant bar that attracts but isn't restricted to, the alternative, rock, metal and indie crowd.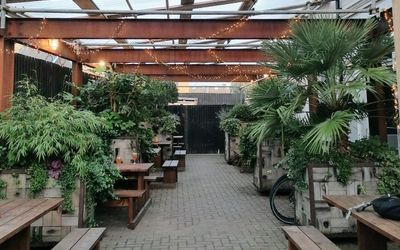 The Urchin pub pulls a crowd from all over the city and beyond, famed as it is for its amazing seafood menu and an epic selection of craft beers. Their own brewery The Larrikin is situated in the basement where co-owners Nick and Austen get up to all kinds of mad alchemy that always seems to work. A small garden area sits at street level with the good times frequently spilling out into this lovely neighbourhood street that keeps The Urchin at its heart. A stand-out Hove pub that we highly recommend.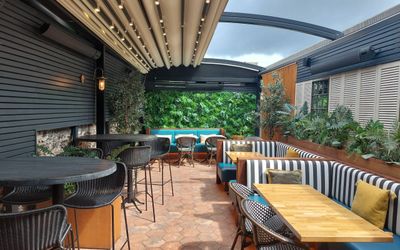 You wouldn't naturally look at the exterior of Paris Wine Bar on Church Road and think it boasted a spacious secluded rear garden, but it does. And this fact makes it extra special and a great find. On a sunny day head through the darkly decorated, luxuriously comfortable bar to a spacious garden that's shielded from the wind but catches the daytime sun. The wine and cocktail menus are both extensive, as well as a good selection of beers and spirits. The food is modern British tapas, perfect for sharing al fresco style.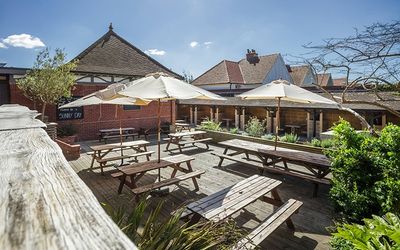 As the name suggests this pub is very focussed on their garden. The mock Tudor building houses a large family-friendly pub and kitchen, around the back you will find the largest beer garden in Hove. The large decked area features heated private booths with iPod docks, a large number of picnic tables with parasols and a BBQ. Situated on Portland Road in the area often now referred to as West Hove, it is the ideal option for those looking for somewhere in this area of the city. Photo credit: The Garden Bar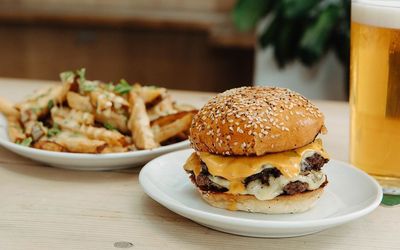 Another sizeable beer garden in Hove can be found at The Brunswick. Situated just a stone's throw from the seafront, pub-music venue and kitchen has a lot going for it and is perenially busy. The garden has plenty of seating for large groups and is sun-drenched in the summer. The bar is well-stocked and there is a wide choice of food. As evening draws in you can even catch a show in the large separate performance space inside. Photo credit: The Brunswick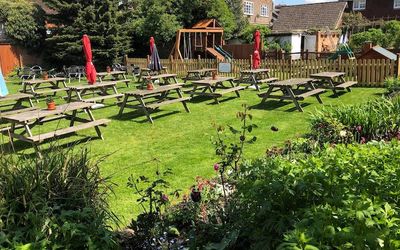 Hidden at the back of The New Inn in Hurstpierpoint is a gorgeous south-facing pub garden that catches the whole day's sun. The floral border is a traditional English country garden and there's a picturesque kitchen garden just beyond the children's play area. The outdoor barbeque regularly gets fired up for pizza nights while the daily menu is modern, fresh (from the garden) and seasonal. It is a perfect family spot to relax with grass beneath your feet and a drop of something cold and sparkling from the local winery, Albourne Estate, in hand.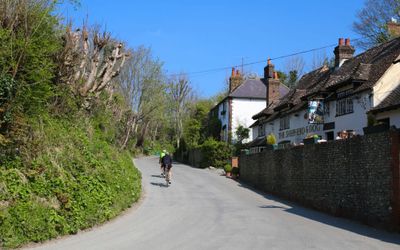 The Shepherd and Dog is well known and loved in the city and beyond, and with good reason. This scenic country pub offers a modern line up of craft beers and ales and superb food. The fabulous garden offers wonderful views of the South Downs and plenty of respite for walkers, families and revellers alike. Grab the bus up to Devils Dyke and take the short walk down the other side to reap the rewards on offer.