Beer gardens and Pub Gardens
There is nothing quite like enjoying a refreshing drink with the sun in your eyes and a fully stocked bar just a few yards away. This is the special place a beer garden occupies. All the comforts of your favourite public house, with the benefits of a park or outside space. For families, they represent a place where parents can sit and enjoy a drink whilst the children keep themselves occupied. For everyone else the beer garden is the first thought that pops into our heads when the sun decides to show its face.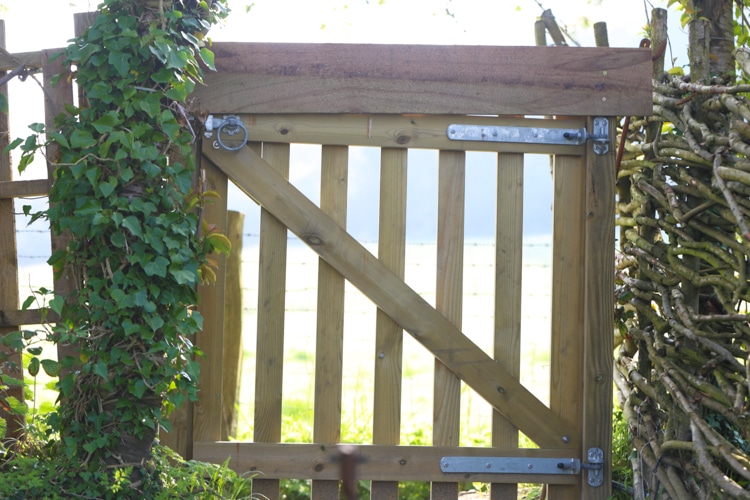 Here is our breakdown of the best beer gardens in Brighton, Hove and beyond. Be sure to check these out at the next opportunity to indulge your alfresco drinking needs.
Brighton beer gardens
Brighton beer gardens can be difficult to come by, but once you know where to look the rewards are there to be reaped. There are plenty of outdoor spaces to enjoy a beverage but these beer gardens take things up a notch.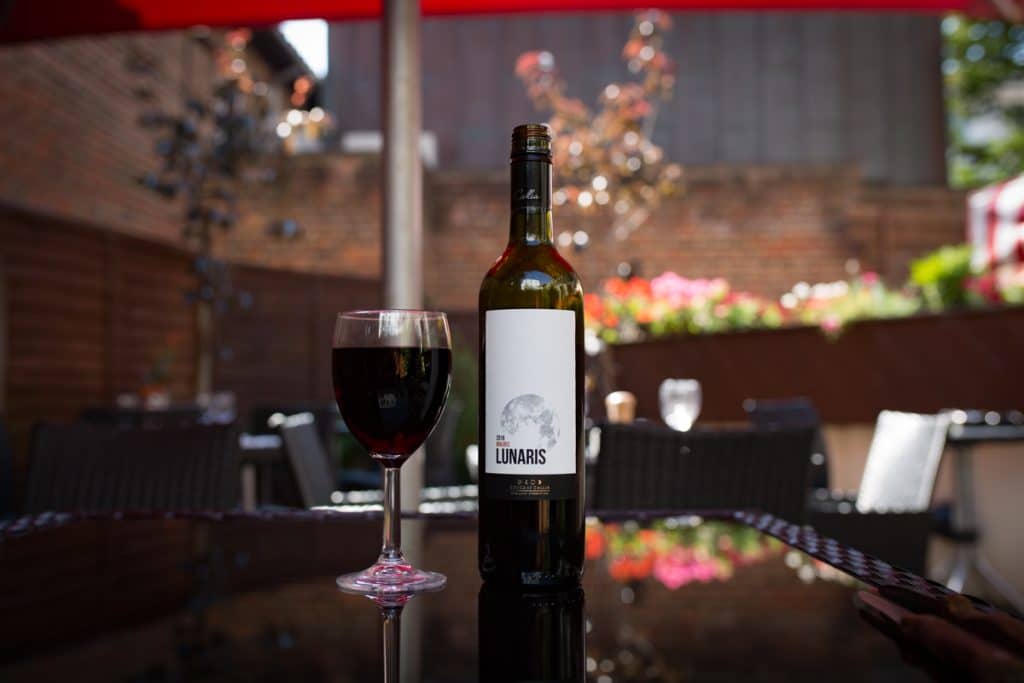 This lively pub, venue and kitchen is one of Brighton's best-known spots. The popular pub is often packed come Friday and Saturday nights with people drinking, dancing and having a generally great time. Their outside space consists of a heated and covered garden, with booths and BBQ which lends itself well to some late night alfresco action. With outside DJ's in the summer months this is certainly one to keep the party going. Read our evening food review at The Black Lion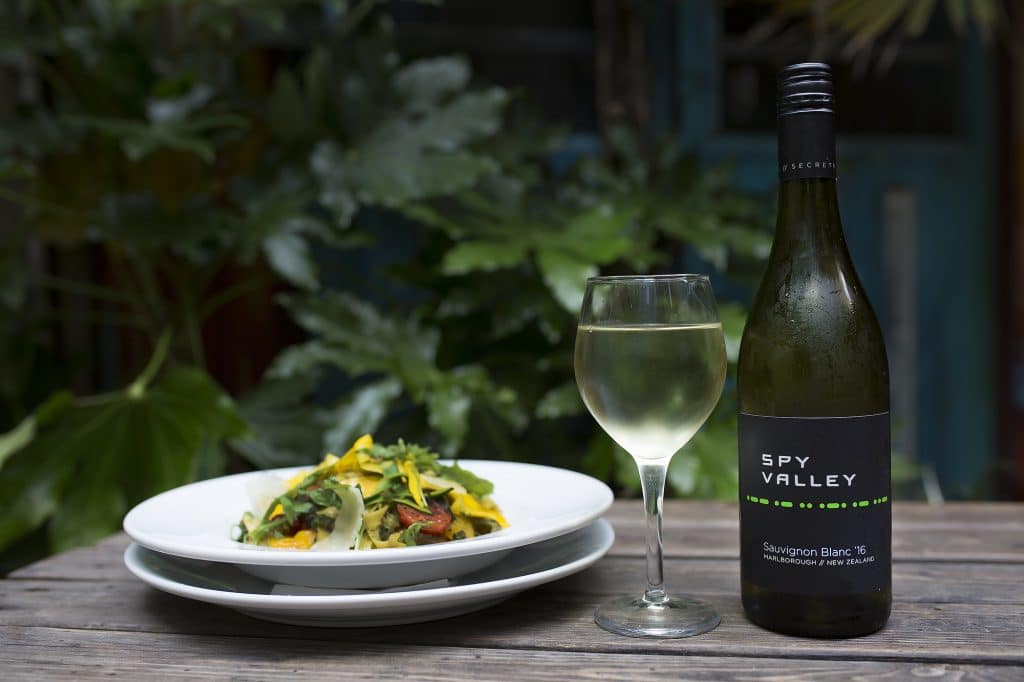 From the outside, you might not believe that this classic neighbourhood boozer had much outside space, but you would be wrong. With a balcony and lower level courtyard garden, The Caxton Arms fits the bill as a city pub garden spot. Secluded and set away from passers-by, this garden is a great spot to escape the hectic inner-city pace and sit back with your favourite pint and a plateful of proper pub food.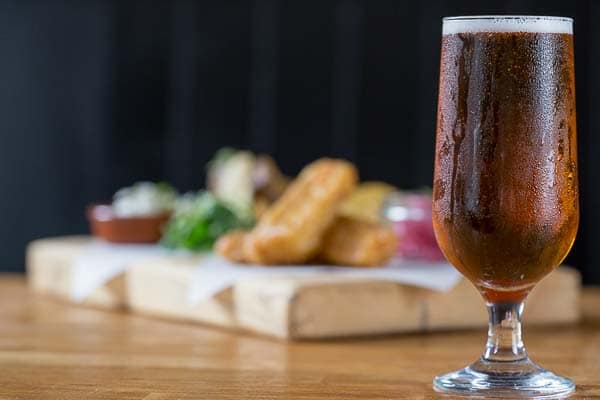 Possibly the smallest pub garden in Brighton, The West Hill Tavern is well worth a trip, especially to try their speciality gin selection and great food. Sip you G&T in the sun and peruse their home cooked food menu. The Sunday roasts are getting a good reputation with the locals. You should definitely check out their music nights too, the Jazz Thursday event is getting pretty popular with the musos of Brighton!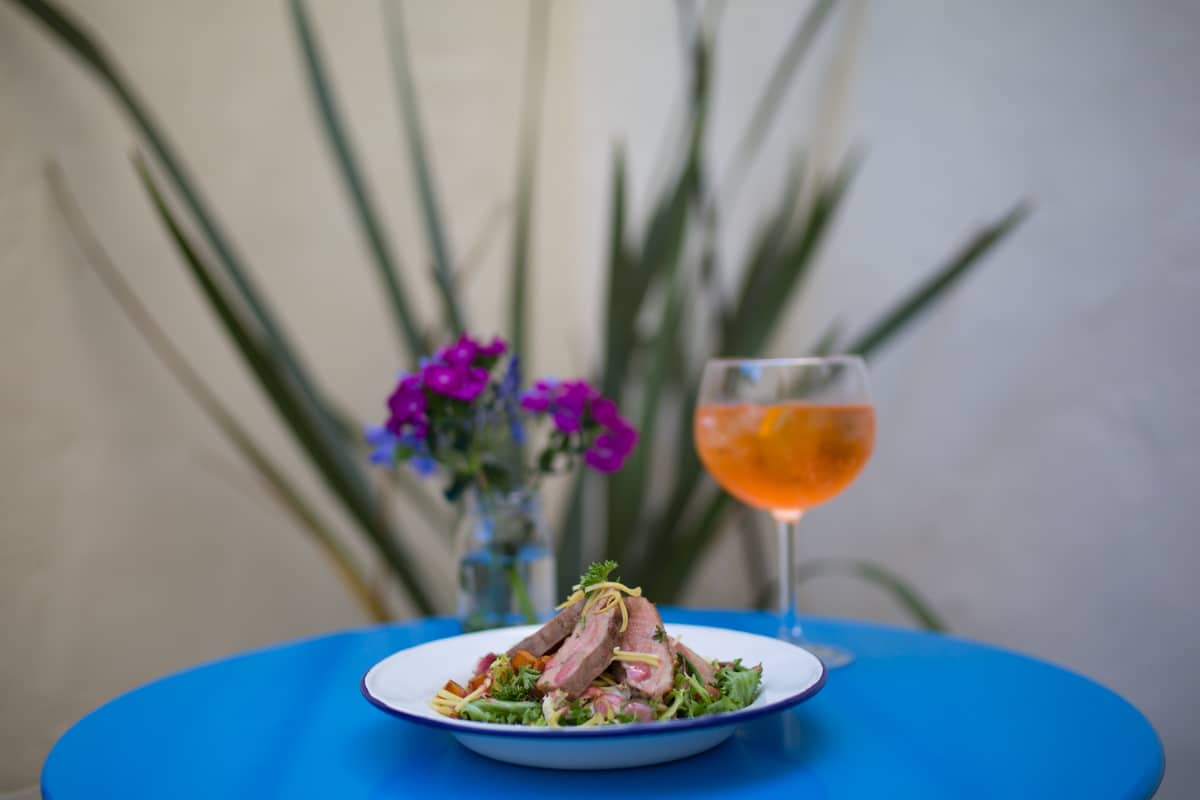 No other pub can boast a city centre roof garden like The Walrus. This is not just a pub garden, it is a two storey roof terrace with its own bar. Perfect for large groups this space is beautifully bright and just the place to be on a sightly windier day along the front, as tall elegant windows frame the terrace protecting the area from wind. Doesn't sipping a cold glass of Rose on a botanical inspired rooftop beer garden sound like just the ticket?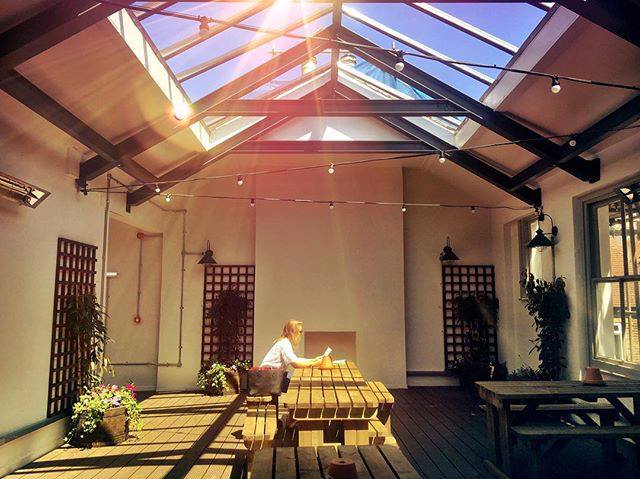 When it comes to sheer scale then most city centre pubs cannot compete with the beer garden at The Hobgoblin. This massive space is one of the best spots in Brighton to take in some sunshine whist enjoying a delicious real ale or craft beer. If that's not enough, the pub kitchen is also situated in the garden where you can currently enjoy the gooey carb goodness of Doughbo. This gives the Hobgoblin the double outdoor whammy of being able to drink in the sun and dine alfresco from the Doughbo shack. Read our review of Doughbo at Hobgoblin
Just behind Brighton's busy Western Road you can find a few great spots for some pub related escapism. One such spot, that fits the pub garden bill, is The Windmill. The front pub garden catches the sun throughout the day and is ideal for a spot of sun soaked refreshment. This popular city pub has a fantastic range of drinks to whet your whistle, and the Italian small plate dishes mean you can stick about for a little longer for a complete refuel.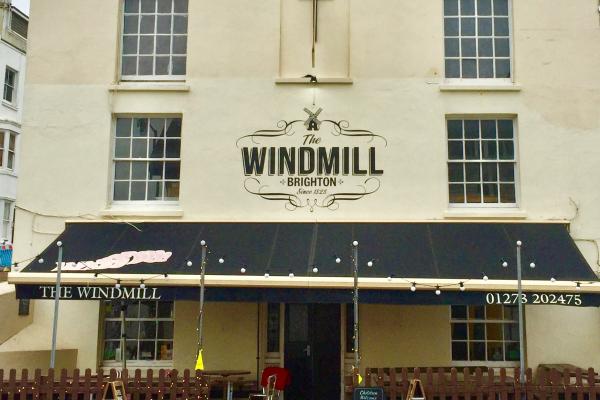 Head up to Kemptown and you can start getting a little bit more garden for your money. The prize for the biggest and most impressive must go to The Sidewinder with their double aspect garden running around the side of the pub. With an added balcony area and covered seating throughout this has got to be one of the best pub gardens in Brighton. One of Brighton's most popular pubs, this lively and lovely pub has regular DJ's and club nights, retro gaming and some great soul food and Sunday roasts. Photo credit: Sidewinder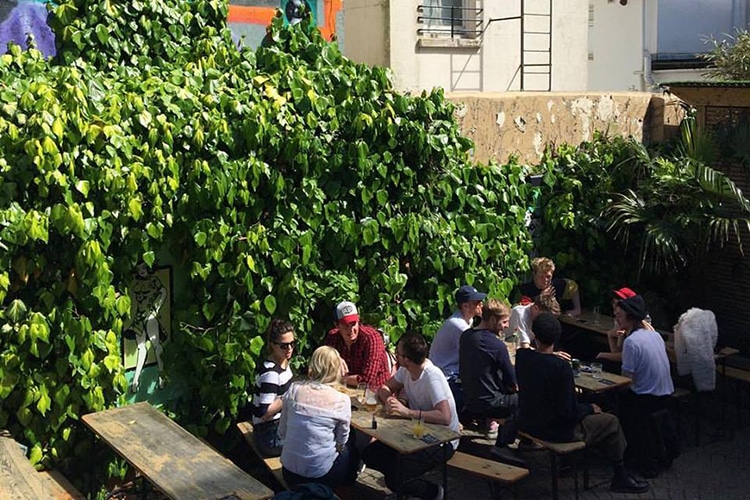 This popular and stylish pub by London Road station is another contender for the biggest Brighton pub garden. The pub is well known for its bohemian and arty clientele who are drawn in thanks to the pubs artist open houses and galleries. With three separate inside spaces and a large and beautifully landscaped garden you can always find a place to settle here. With a reputation for excellent food and a great atmosphere this pub what are you waiting for! Photo credit: The Open House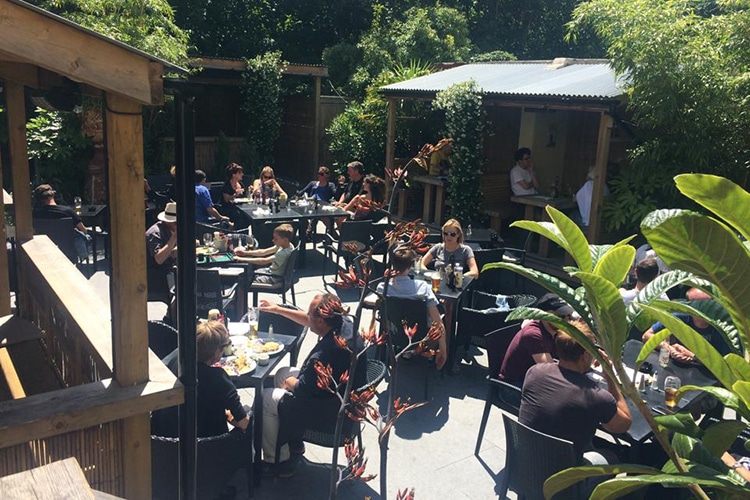 This massive pub on the busy Preston Circus junction might not appear to be the sort of place with a tranquil outside space, okay tranquil might be pushing it, but it has got a fab outdoor area. With characterful booths and greenery in abundance this is a great spot for some outdoor eating and drinking with friends and loved ones. With a fantastic selection of craft beers, ales and spirits plus the kitchen (which is soon to be in the hands of The Little Blue Smokehouse), The Hare and Hounds is a top pub for any occasion. Photo credit: The Hare and Hounds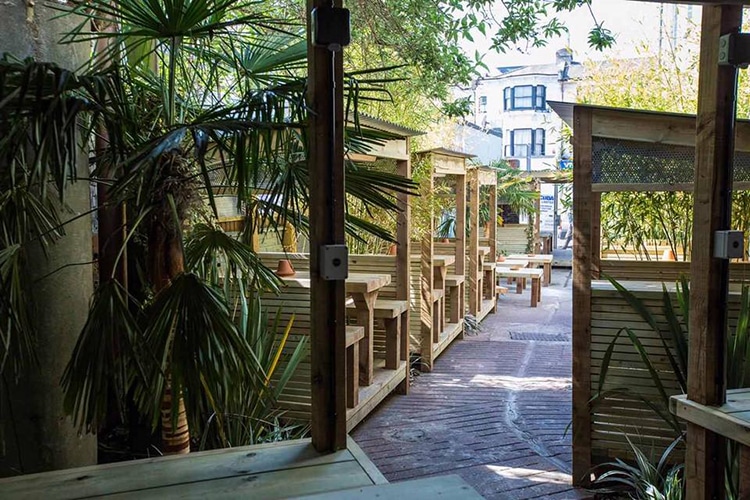 As the name suggests, this pub comes with views over the glorious Preston Park. This large corner pub dominates the area, and is a popular venue with locals and visitors alike. The garden area has many different levels and areas, four in fact, meaning that you can find your own space. With a BBQ, outdoor bar and covered dining area, the Preston Park offers sun worshippers and al fresco drinkers many options when it comes to their summer pub enjoyment. Photo credit: The Park View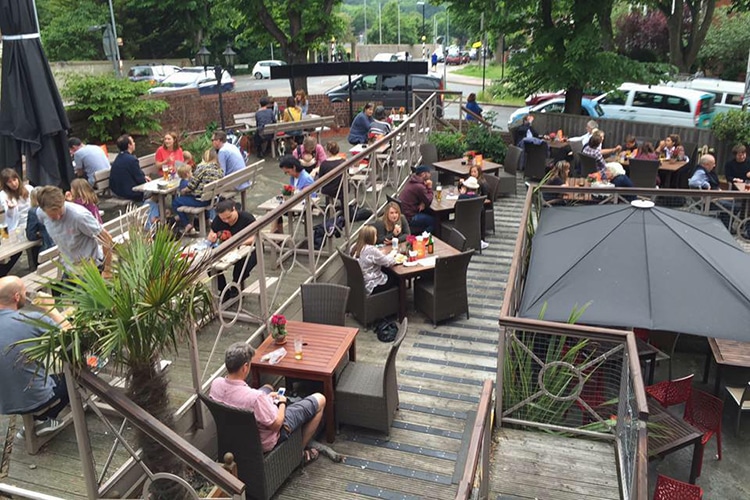 If it is a garden with a view you are after then this one has got the best in town. Situated on the edge of Hanover, the panoramic views of the city are breath taking. Head up there during sunset and find out for yourself how this pub got its name. The stunning views aside, this is a classy neighbourhood pub with high end food and drink. Popular with locals and visitors in the know, this pub garden is certainly a winner when it comes to the scenery. Photo credit: The Setting Sun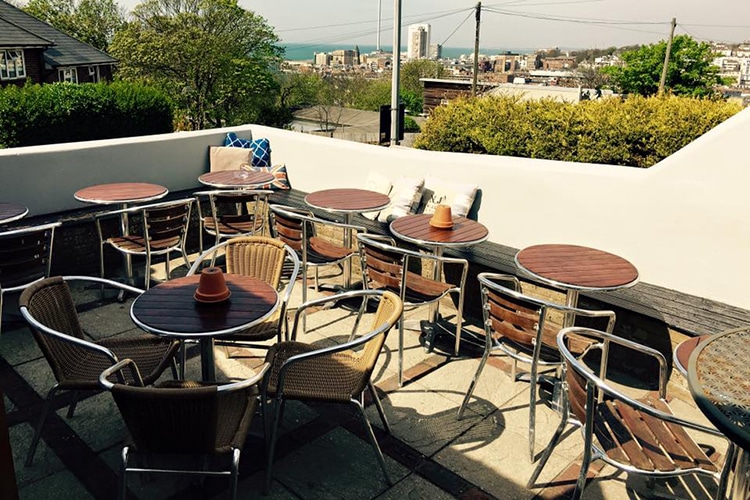 Hove beer gardens
Hove is Brighton's slightly leafier and relaxed neighbour, and this is reflected in the quality of its beer gardens. Wider streets and grand avenues leave some more room for pubs to make use of the space available to them. Life is of a slower pace in Hove, and the areas beer gardens are a fantastic place to relax and unwind.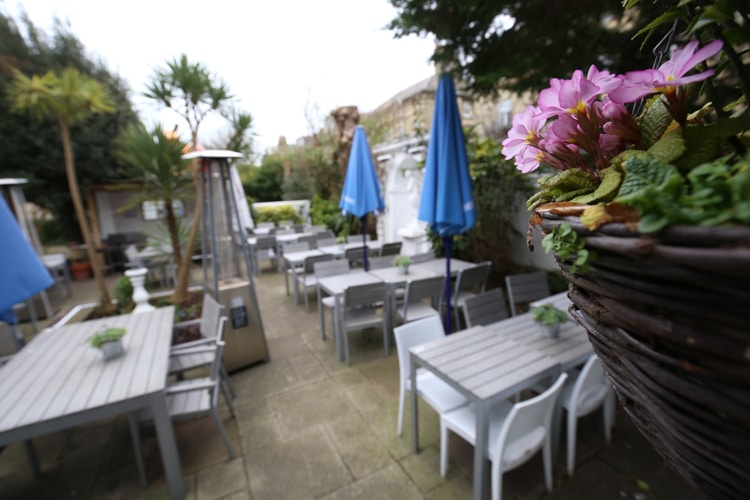 This popular gastropub and bistro boasts a fabulous Italian garden for those summer afternoons. Situated on First Avenue in the Palmeira Square area, Hove Place, is a multi-faceted pub. Suitable as a spot to enjoy a social drink with a sharing charcuterie board, or head to for a full evening meal from their impressive menu. The secluded garden features plenty of greenery and shaded areas in addition to varied seating and social spaces.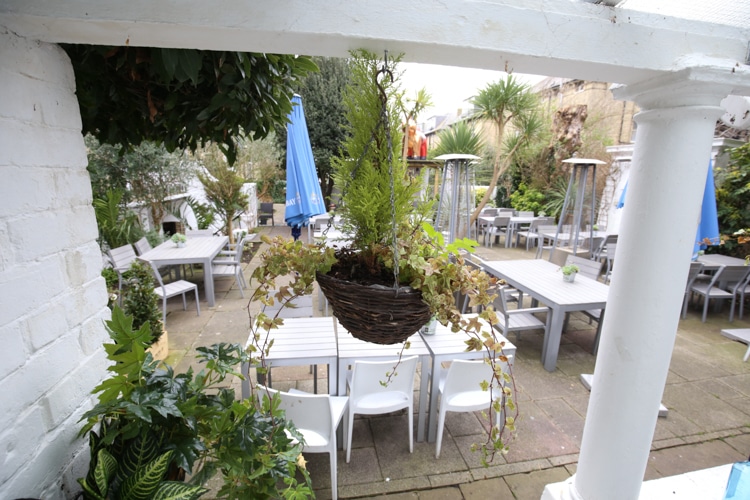 As the name suggests this pub is very focussed on their garden. The mock Tudor building houses a large family friendly pub and kitchen, around the back you will find the largest beer garden in Hove. The large decked area features heated private booths with iPod docks, a large number of picnic tables with parasols and a BBQ. Situated on Portland Road in the area often now referred to as West Hove, it is the ideal option for those looking for somewhere in this area of the city. Photo credit: The Garden Bar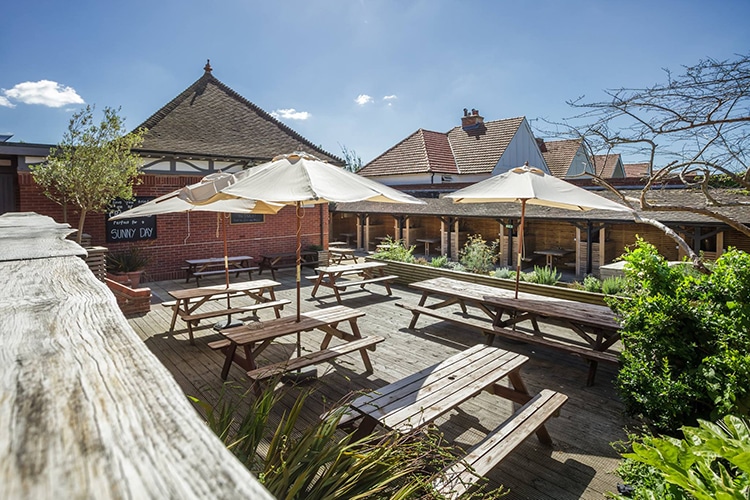 Situated just down from Portslade station, The Railway Inn is a pub that has gone through a revival in recent times. The large and spacious interior has been modernised and given a new look and the garden area has plenty of character. Great for families and those with a love of trains, you can relax in the sun or take a seat in the Portslade Express carriage that takes up a corner of the space. Another pub that is well known by locals, it is well worth the trip for the rest of us. Photo credit: The Railway Inn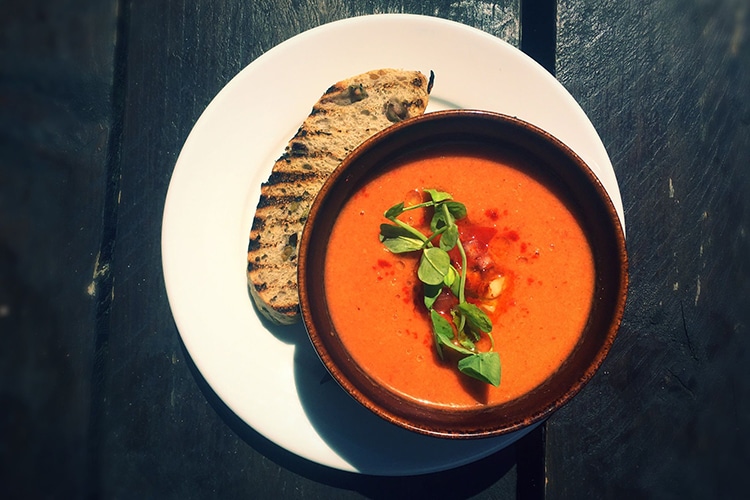 This pub is well known as one of the best places in the city to eat shellfish and drink craft beers, well you can also do this al fresco when the weather allows. The side garden is easily accessible from the street and features secluded picnic benches separated by exotic greenery in large industrial planters. The Urchin is one of the best kept secrets in our city, with some amazing food and a great atmosphere. The added bonus of outdoor space continues to cement its place as one of the city's best pubs. Read our food review at The Urchin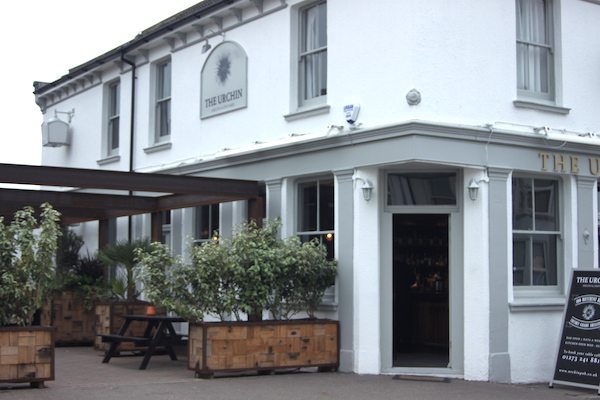 Another contender for biggest beer garden in the city must be The Brunswick. Situated just a stone's throw from the seafront, this pub/venue/kitchen has plenty going for it. The garden has plenty of seating for large groups and is often busy thanks to its sun-drenched qualities. The well-stocked bar gives plenty of choice when it comes to drinks and there is a wide choice of food. As evening draws in you can even catch a show in the large separate performance space inside. Photo credit: The Brunswick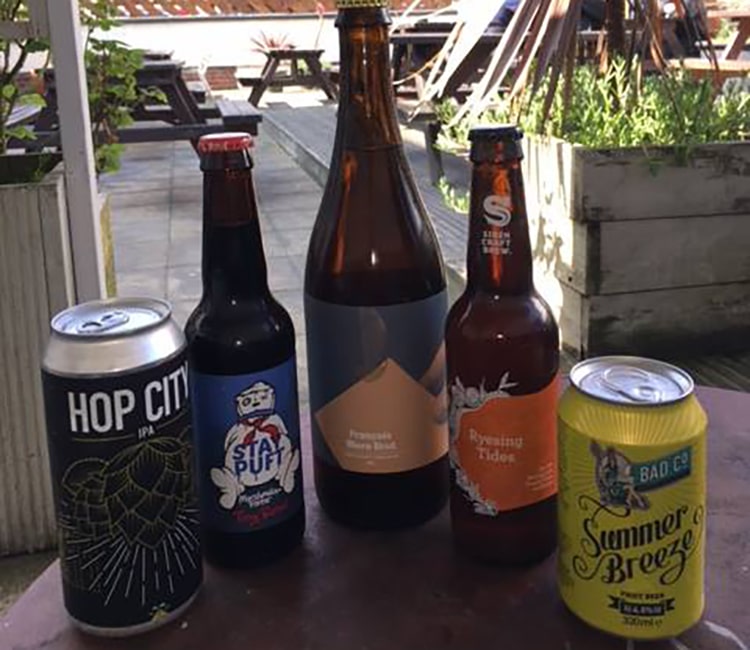 Sussex Beer Gardens
Nothing beats a trip to the Sussex countryside when the sun is high in the sky. With some many superb country pubs and walks just a few minutes from the city, we are spoilt for choice when it comes to places to enjoy the great outdoors. With so much choice you would be forgiven into thinking that Sussex is just one big pub garden.  These are our favourite pub gardens across the county for you to check out.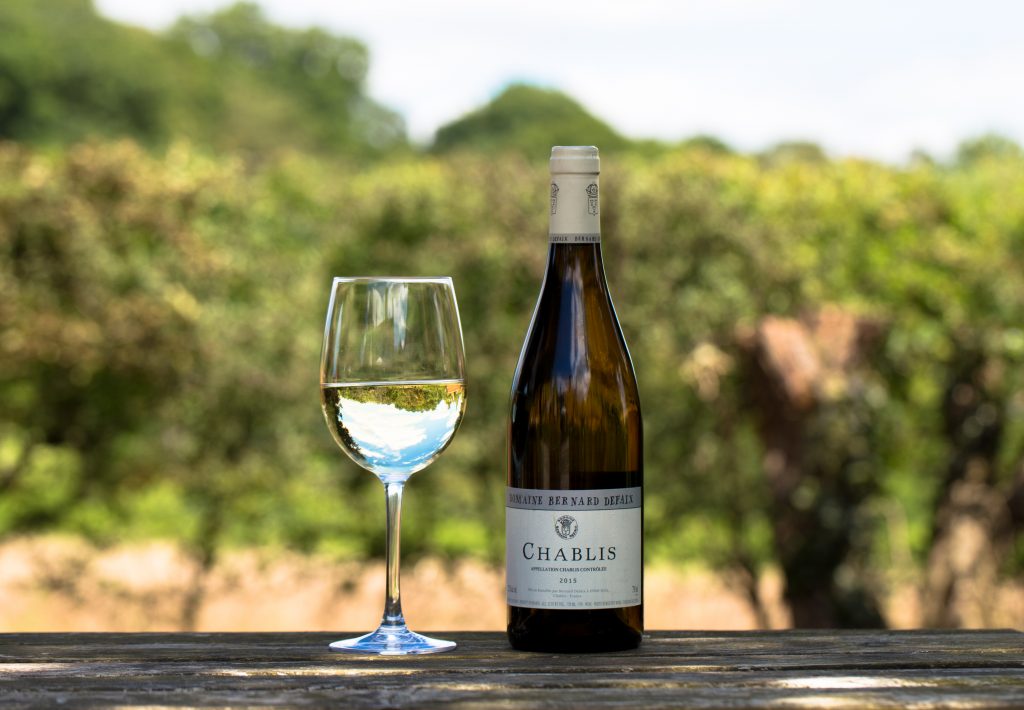 Arguably one of the most stunning beer gardens in Sussex, The Ox has panoramic views of The South Downs. If you look closely you may even be able to see the organic farm in which the meat and vegetables on the menu come from, owned by The Sussex Ox. The garden is also a fantastic area for children to let off some steam while Mum & Dad enjoy a well deserved drink in the sunshine! With the Long Man Of Wilmington close by there are plenty of walking trails to enjoy around The Ox too, perfect for walking off that delicious burger!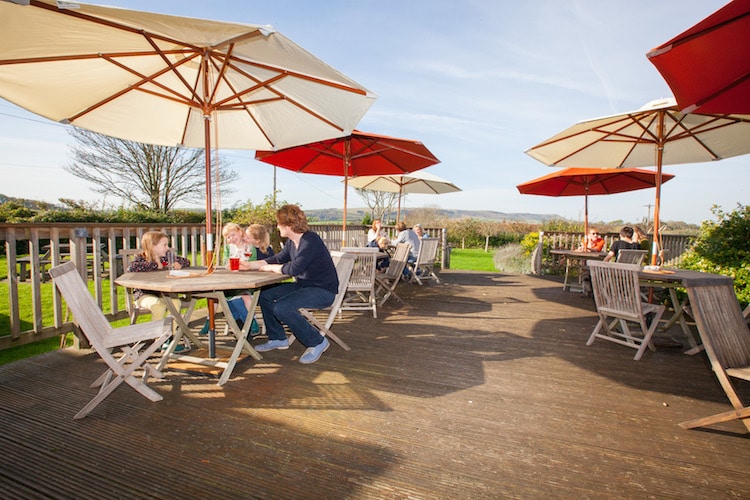 Just the other side of Devil's Dyke is one of our all-time favourite Sussex pubs. The Shepherd and Dog is well known and loved in the city and beyond, and with good reason. This scenic country pub offers a modern line up of craft beers and ales with superb food to boot. The fabulous garden offers wonderful views of the South Downs and plenty of respite for walkers, families and revellers alike. Grab the bus up to Devils Dyke and take the short walk down the other side to reap the rewards on offer. Read our food review at The Shepherd and Dog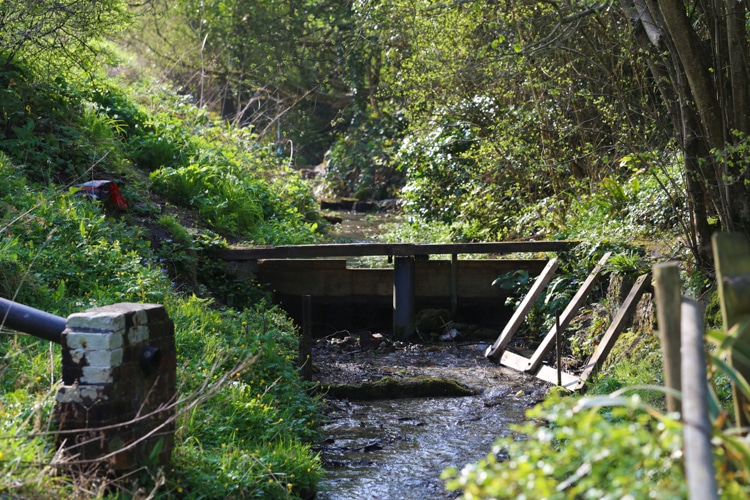 Just down the road from The Shepherd and Dog, in the village of Poynings, you can find The Royal Oak. Another superb Sussex pub with a gloriously green and pretty garden, The Royal Oak is a slightly different offering to its neighbour. This traditional pub offers a menu of classic dishes and Sunday roasts which can be enjoyed in their garden whilst enjoying views over the Sussex countryside. The Royal Oak is family and dog friendly making it a great place to visit for some country air. Read our food review at The Royal Oak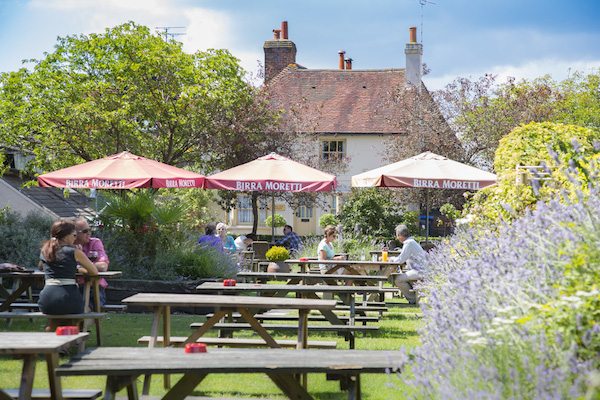 This wonderful example of a classic 16th Century English pub is situated in the small village of Ashurst. The beautiful pub with flagstone flooring and inglenook fireplaces is impressive enough, but then the garden takes things up a notch. With fantastic green spaces and picnic benches to enjoy them, the real star of the outside space is the duck pond and deck. An idyllic spot to enjoy a drink and bite to eat, things do not get much better than this on a summers day. Read our food review at The Fountain Inn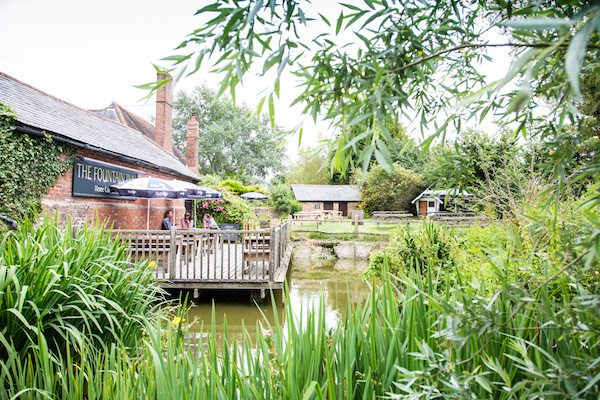 This family run pub, just south of Horsham, serve delicious seasonal food, organic wines and well-kept real ales. The beautiful pub is a popular venue for weddings and events thanks to its charming good looks and large garden. The perfectly maintained garden is a lovely space to sit back and enjoy the outdoors, with plenty of seating and greenery to enjoy. Thanks to its country setting there are lots of places to head for a walk before settling down for a cold drink and bite to eat. Read our Sunday roast review at The Crabtree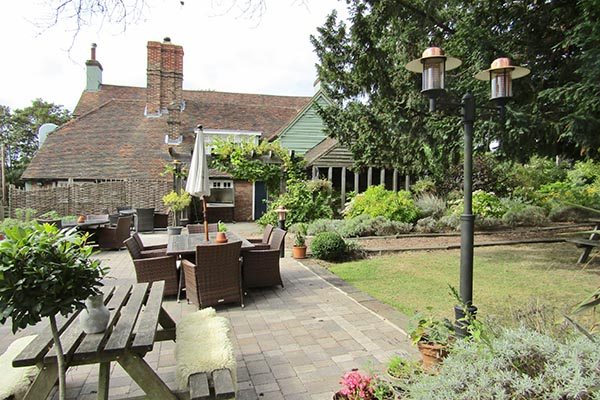 This grade 2 listed pub has been serving the people of Sussex for many years. Serving an unpretentious slice of traditional country pub atmosphere and a warm welcome to all, The Sportsman is a real favourite. The ample garden features a play area for children and plenty of space and seating. The pub is a firm favourite with dog walkers, families and cyclists who enjoy refuelling from the seasonal and rustic menu, whilst sipping on Cask Marque ales and enjoying the views. Read our food review at The Sportsman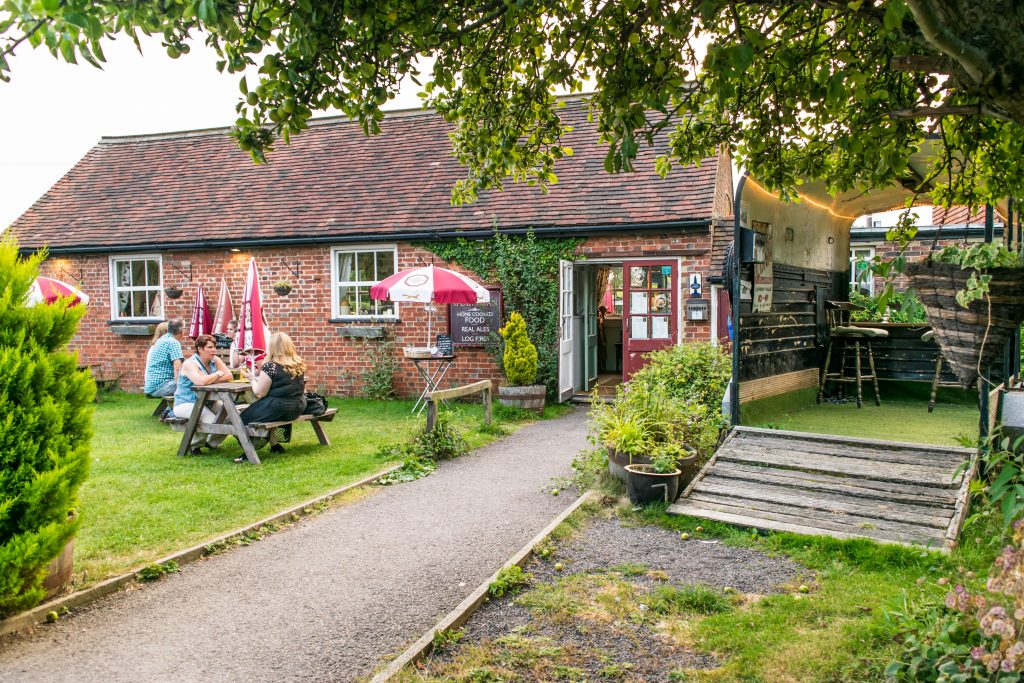 This village pub offers a different style of country garden with their courtyard setting giving diners a chance of some al fresco eating and drinking. A popular village pub with seasonal lunch, dinner and roast menus and an extensive wine and drinks offering. The Talbot's courtyard is ideal for an impromptu meeting with friends or something a little more formal. Being a village pub it has a strong community feel and hosts the Cuckfield Food Market in the garden each Saturday. Read our food review at The Talbot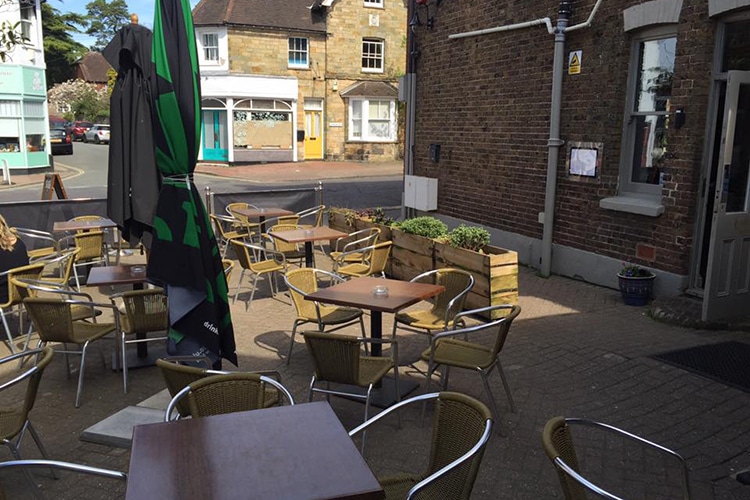 The Bull in Henfield is more than just a country pub, it is also a pizza pub. Specialising in freshly baked pizzas it is a fantastic family venue, and this is continued in the garden. The spacious garden is ideal for a relaxing space to enjoy your food and drink, and the children's play area means parents can relax while the kids keep themselves occupied. If you are after something relaxed and family friendly then The Bull should certainly be on your list. Read our food review at The Bull Inn