Restaurant Brighton's guide to
Best Fish and Chips in Brighton
With such auspicious origins, Brighton and Hove has a lot to live up to when it comes to fish and chips. Luckily for us the city has got every base covered. Below is our listing of the best places to get your fix across the city so look no further than our guide to fish and chips Brighton.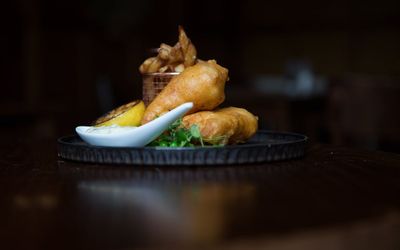 The Hove Place is a popular casual Bistro Pub in the heart of Hove, close to the seafront located just off Church Road in the Palmeira Square area. With a strong emphasis on service, this venue now offers a front terrace as well as a rear garden and it is arguably one of the larger outdoor seating areas in the whole of Hove, perfect for relaxed al fresco dining enjoying fresh and generous portions of fish & chips.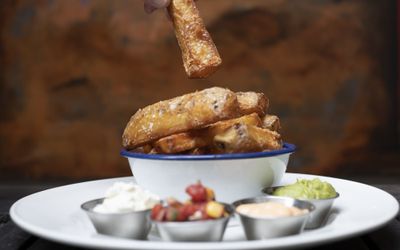 One of Brighton's best known pubs, the Black Lion Brighton, is situated in the heart of The Lanes just near the seafront on Black Lion Street. Not only does the Black Lion have a good reputation for a music filled night out, their varied food menu is also an attraction and their fish and chips is a great shout. Try a pint of one of the fine ales they serve and watch the world go by here, perfect!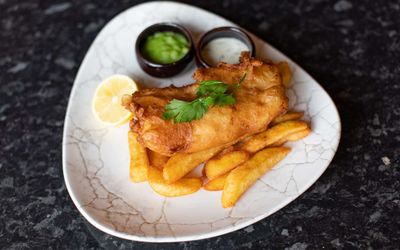 Where better to enjoy fish and chips than at the Brighton Marina overlooking the yachts and fishing boats? Taste Sussex serves fresh line-caught fish battered in Harvey's Ale batter served with minted mushy peas and triple cooked chips. Not all fish and chips are born equal and this is one that certainly benefits from responsible and quality sourcing.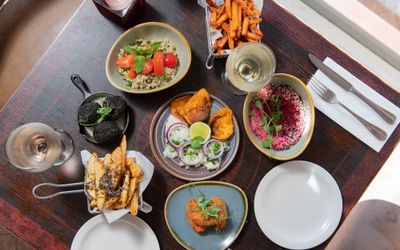 A wise person once said there is no greater taste combination than English fish and chips with French Champaign. There is a definite decadence to the experience, a sort of throw away exuberance, but it works. If you're going to go for the full-on experience then Bohemia's Veuve Clicquot roof terrace and "Famous Fish 'n' Chips" with locally caught fish, hand cut chips and mushy pease is probably the place to do it.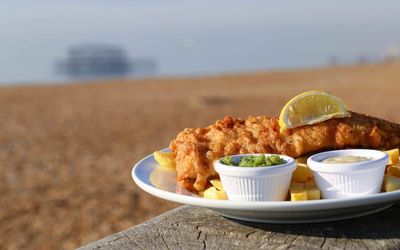 One of the best views along the seafront and located just a stones throw away from Brighton pier. A place to sit and enjoy the perfect views of the sunset to the west and a glorious spot to soak up the suns rays in the summer months. Often lively and popular, you can enjoy their adults or kids portion classic fish and chips whilst pretty much being sat on the beach but with all the comfort of a pub. Possibly the best fish and chips in Brighton when you think about location and you are situated on the beach in between the two piers.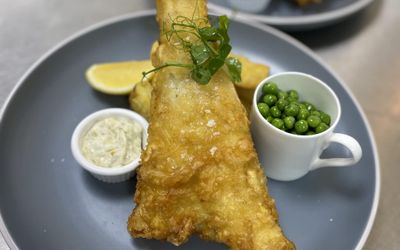 The Watershed is located right on the concourse of the inner harbour at the Brighton marina with water-edge seating and western views. The bar and eatery is modern and fresh, serving hand made locally sourced food. It's a perfect spot for enjoying fish and chips with views over the docked yachts and plenty of local ales and a good wine list to wash it down with.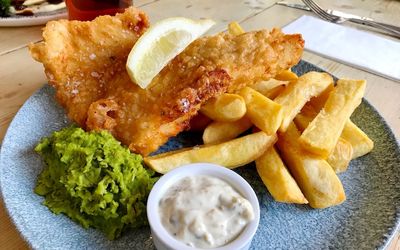 The Independent in Hanover, brought a breath of new life to the pub food scene around Queens Park. All dishes are simply put together, beautifully presented and using the best ingredients from local suppliers where possible. They offer fish and chips with a twist – using smoked haddock with a Harvey's ale batter and served with minted crushed peas.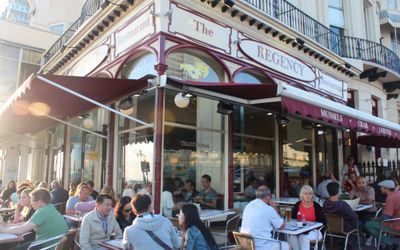 Few restaurants can boast positive reviews from Jay Rayner, Rick Stein and a cult following in China. The Regency has all three, and their fun no frills bistro style dishes are deserving of the accolades. Here you can have pretty much any fish you desire either battered, grilled or fried with chips or salad. It is cheap and cheerful food which is exactly what fish and chips is all about. With fantastic views of the West Pier and BAi360 the views are decent too. 100% the best fish and chips Brighton according to their growing Asian fan base, where a famous Asian food blogger visited years ago and has no firmly put the Regency on the map.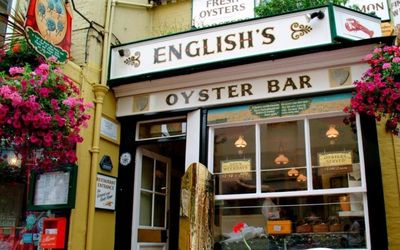 Brighton's oldest seafood restaurant can be found in the famous winding lanes. English's is a stalwart of the city's dining scene and their commitment to serving the freshest most seasonal fish in town has not wavered. It is testament to their heritage that you can still find a class fish and chips on the menu alongside the more luxurious options. They also have a children's option and you can add a voluntary 50p donation to the fishermen's mission with you order.