Fish & Chips – Brighton Origins
Fish and chips are a traditionally British dish of the working classes which became popular due to the increase of trawler fishing in the North Sea. The deep fried fish concept however was originally introduced to Britain in the 16th century by Jewish refugees from both Portugal and Spain.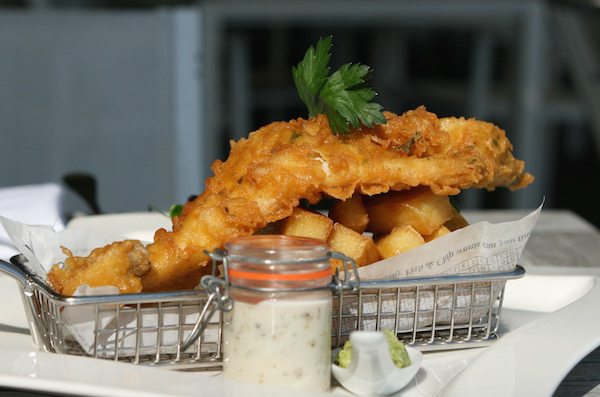 The very first chippy stood on the present site of Oldham's Tommyfield market and the first concept of a fish restaurant was introduced by Samuel Isaacs from Brighton. Samuel opened his first fish restaurant in London in 1896 serving fish and chips, bread and butter, and tea for nine pence.
The Brighton and Hove Guide to Fish and Chips
With such auspicious origins, Brighton and Hove has a lot to live up to when it comes to fish and chips. Luckily for us the city has got every base covered. Below is our listing of the best places to get your fix across the city. Broken down into sections from local seaside chippy to high end sit down offerings, you do not need to look any further than the Restaurants Brighton guide to fish and chips.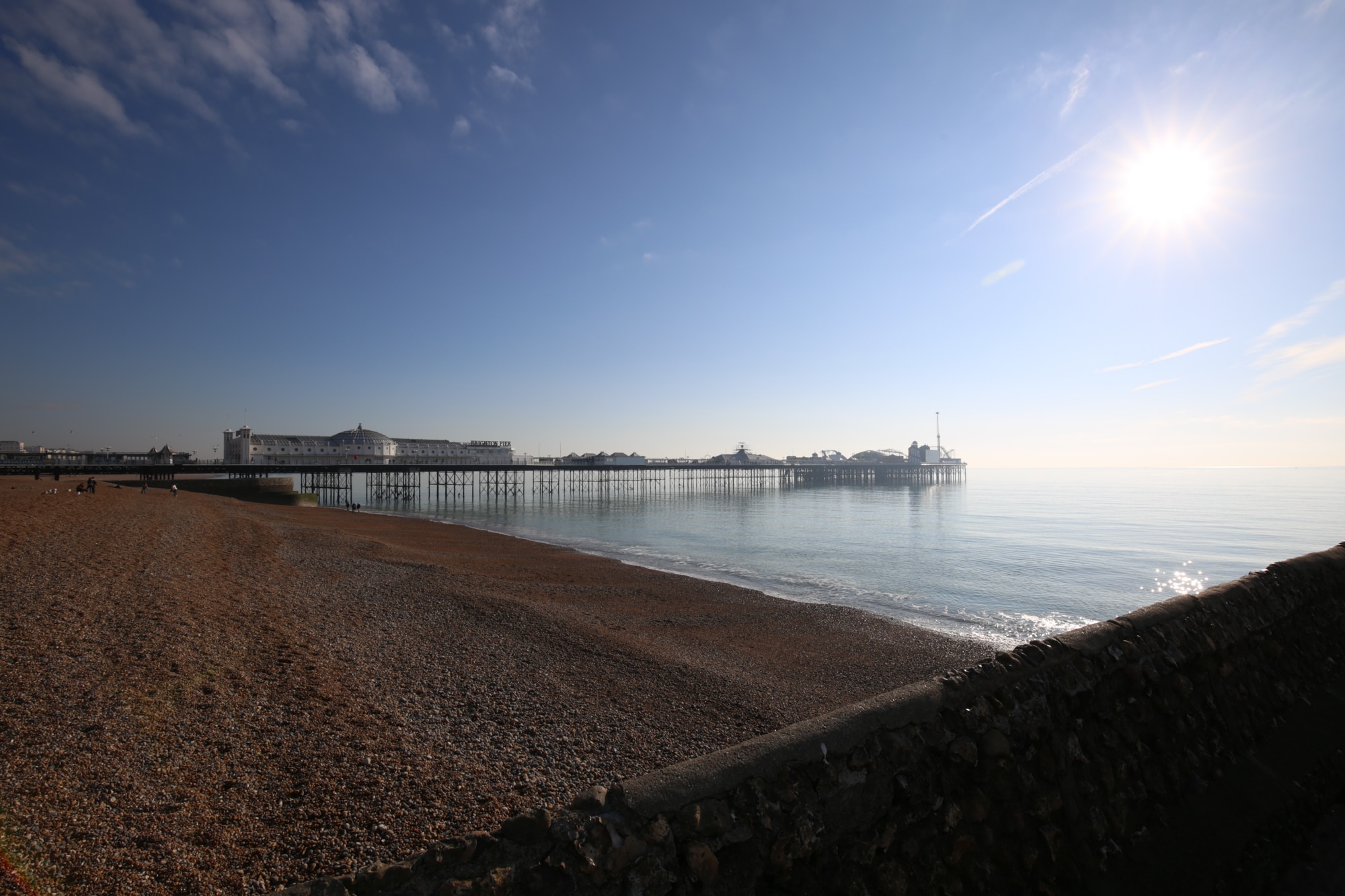 Brighton's best sit down fish and chips
Chambers Bistro Fish and Chips consists of market caught white fish in local Harveys beer batter, served with hand cut chips and tartare sauce. Chambers Bistro in Shoreham-By-Sea is an independent and modern style British bistro, serving all the popular classics in this elegant and centrally positioned venue which is just 15 minutes from Brighton. Pop down for a great lunch and take a look round the picturesque village. Review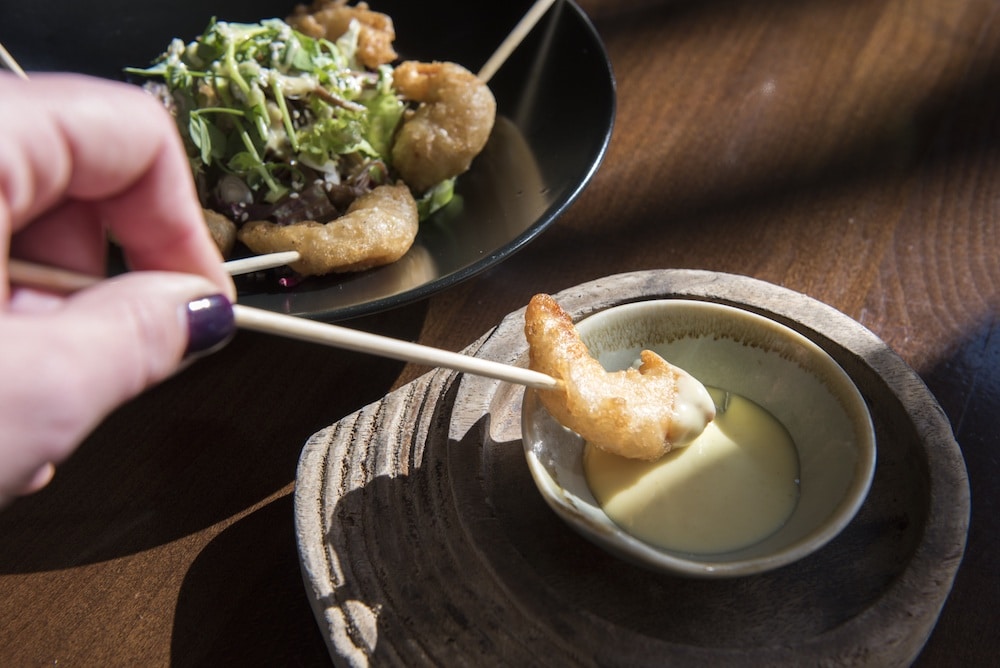 What could be more Brighton than fish and chips on the beach in a fisherman's arch? Lucky Beach is proving a popular choice for those who like fish and chips with a knife and fork. Choose from locally sourced fresh hake or the fish of the day, both of which are served with skin-on chunky chips, homemade tartare sauce and optional mushy peas and curry sauce. Come get lucky on Brighton beach with a visit to Lucky Beach Cafe.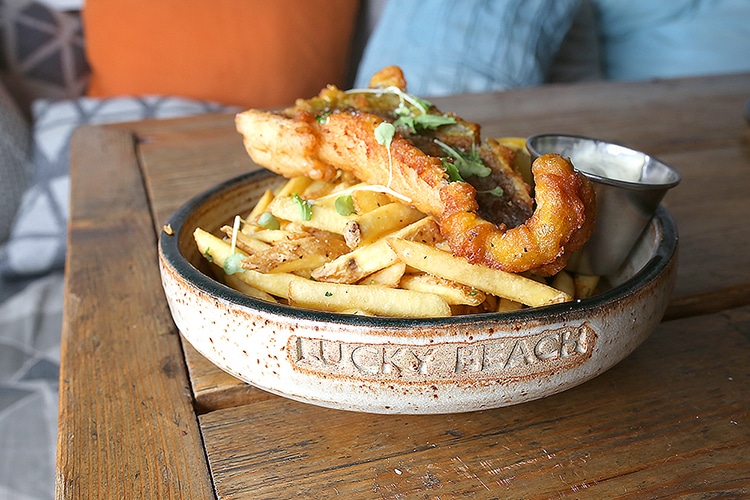 Contemporary British Bistro, The House, is located in Brighton's vibrant Lanes. A Victorian double fronted family run restaurant they offer market caught white fish fillet in beer batter, chips, tartare sauce and minted mushy peas for £12.95. Just 200 yards from the beach you can almost hear the crash of the waves whilst you tuck into their signature fish and chip offering.

OhSo Brighton, Kings Rd, Brighton Seafront
One of the best views along the seafront and located just a stones throw away from Brighton pier. A place to sit and enjoy the perfect views of the sunset to the west and a glorious spot to soak up the suns rays in the summer months. Often lively and popular, you can enjoy their adults or kids portion classic fish and chips whilst pretty much being sat on the beach but with all the comfort of a pub. Review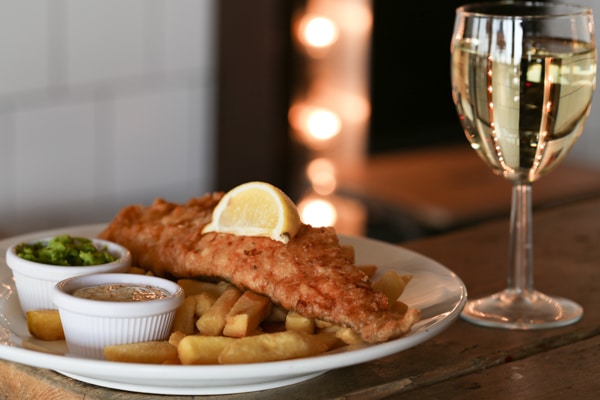 The Independent is new to Hanover, and brings a breath of new life into the pub food scene around Queens Park. All dishes are simply put together, beautifully presented and using the best ingredients from local suppliers where possible. They offer fish and chips with a twist – using smoked haddock with a Harvey's ale batter and served with minted crushed peas. Review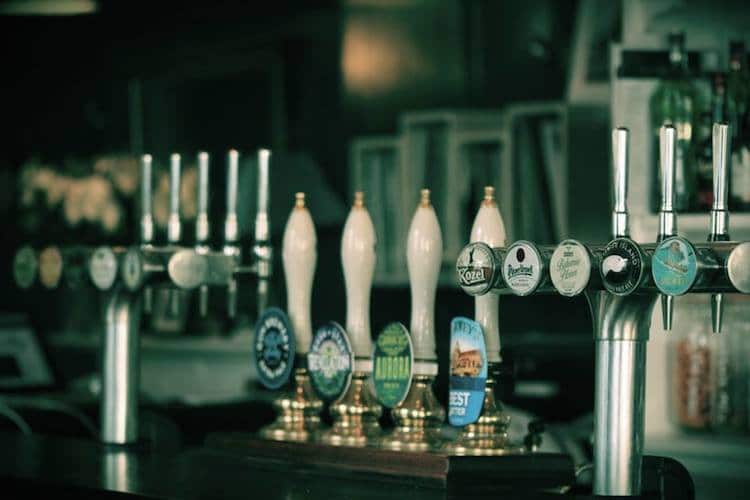 Located just outside of Brighton in Burgess Hill, the Oak Barn is a lovely restored 250 year own barn. Serving classic British dishes such as Sunday Roasts, the Oak Barn also does a cracking Fish and Chips using local Sussex ale for it's batter and serving it up with marrowfat mushy peas. If you are looking to get out of town for lunch or dinner this is the perfect option. Review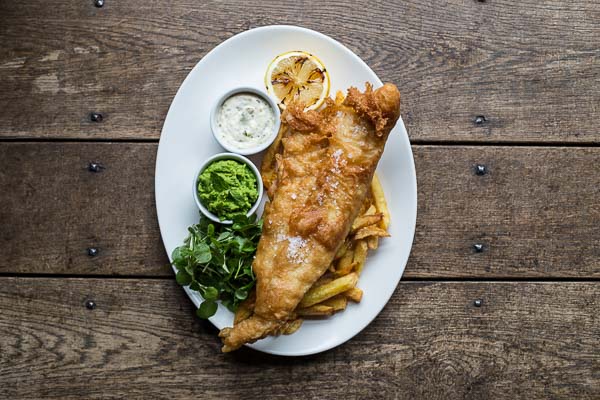 The much loved Hove based pub, has re-opened its doors under new management this year, with a fresh yet nostalgic look. The menu has a real mix on it to suit everyone, from your traditional pub food such as Beef & Ale Pie or Sausage & Mash. There's also a selection of Sharing Plates which include a Fish, Vegan or Meat option. But the Fish & Chips have got to be tried here, crispy batter & chunky chips, delicious!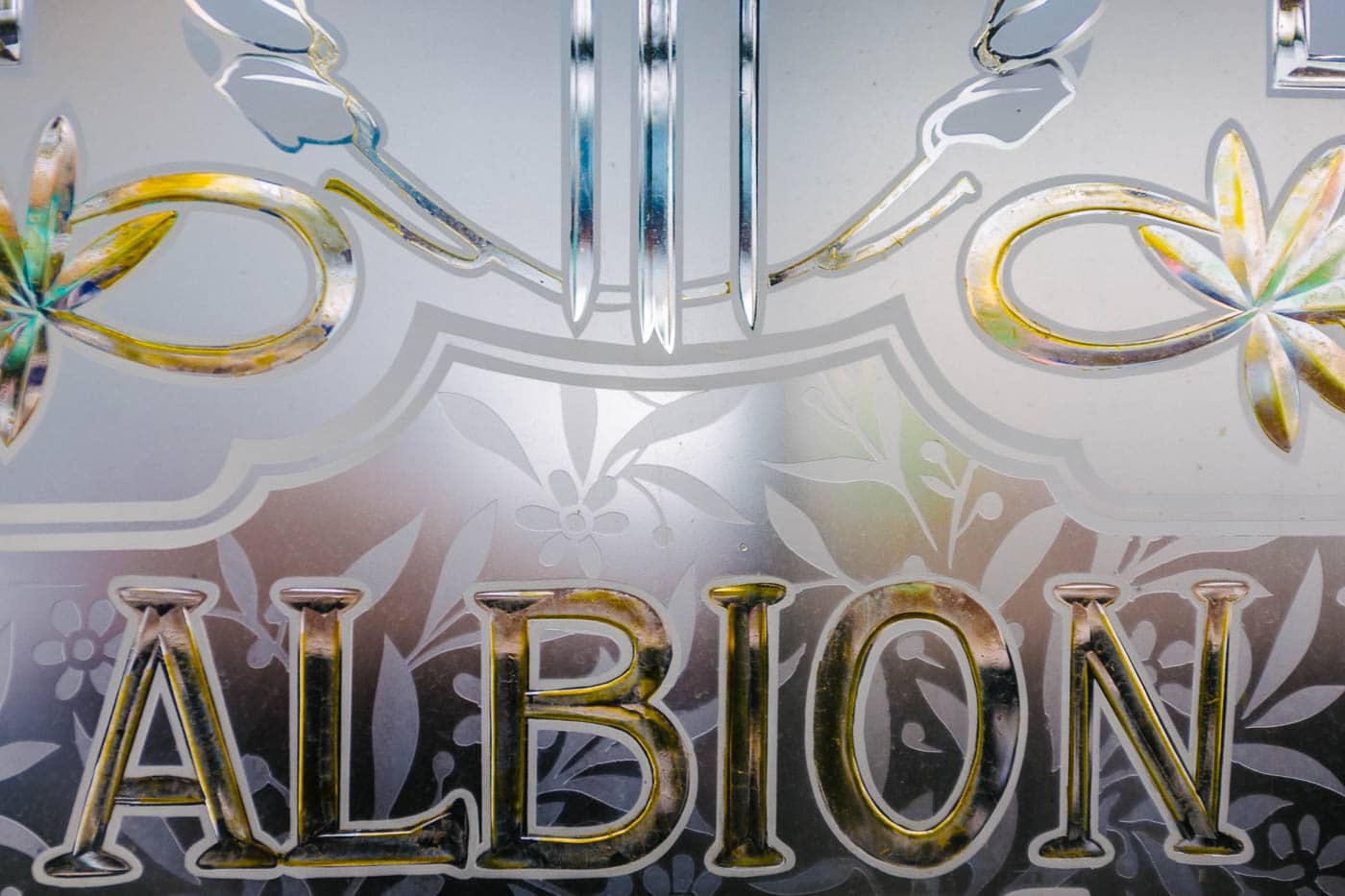 The menu at West Beach Bar & Kitchen has been created using Brighton's vibrant spirit as inspiration. Situated at the base of Brighton's BAi360, you can't miss it. Try their interpretation of the seaside classic fish & chips, with the Crumbed Catch of the Day and Chips.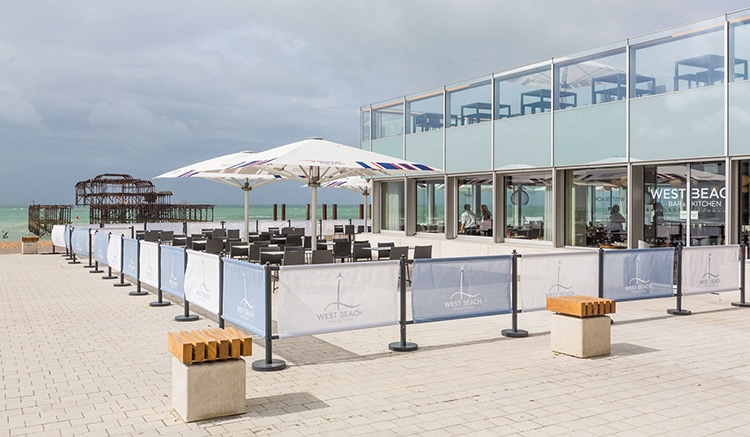 Few restaurants can boast positive reviews from Jay Rayner, Rick Stein and a cult following in China. The Regency has all three, and their fun no frills bistro style dishes are deserving of the accolades. Here you can have pretty much any fish you desire either battered, grilled or fried with chips or salad. It is cheap and cheerful food which is exactly what fish and chips is all about. With fantastic views of the West Pier and BAi360 the views are decent too. Review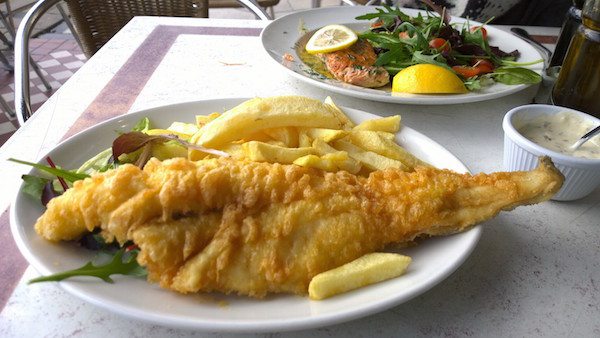 Kooks, Gardner St
Kooks is a boho bistro situated in Brighton's eclectic North Laine area. Serving up Brunch, lunch and dinner they focus on classic dishes with a modern twist. Their beer battered haddock, twice cooked chips, minted pea puree and tartare sauce appears on the lunch time menu coming in at £13. A great option for mid shopping refuel with one of their signature cocktails, they also have a child option for under 12's if you are on a family day out. Review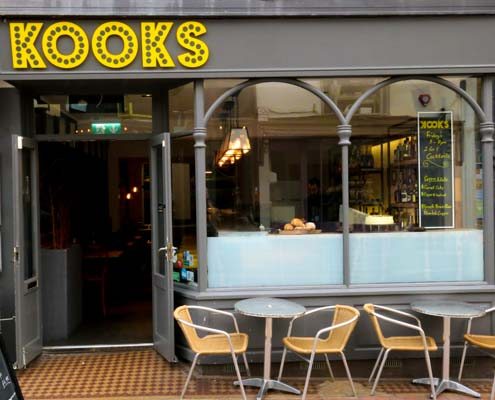 In as much as fish and chips is a seaside favourite it is also a pub classic, and The Shepherd and Dog is a classic country pub. Situated in the beautiful village of Fulking at the foot of Devils Dyke, this pub could get much more idyllic. With an excellent kitchen and superb variety of drinks you can be safe in the knowledge that their fish is fresh with the sea being just a stones throw away. Cod, chips, peas and tartare all of which can be made gluten or dairy free. Review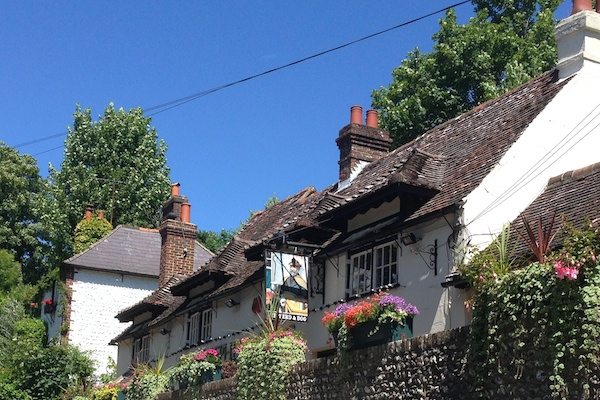 When it comes to country pubs you tend to expect some specific things. Inglenook fireplace, flagstone and oak flooring, beautiful garden, and great ales. The Fountain has all of these things, but it also has something a little different, a gluten free menu. This means that instead of battered fish you get grilled with all of the usual accompaniments. A fantastic spot for a lazy afternoon, this 16th Century pub ticks all the boxes and more. Review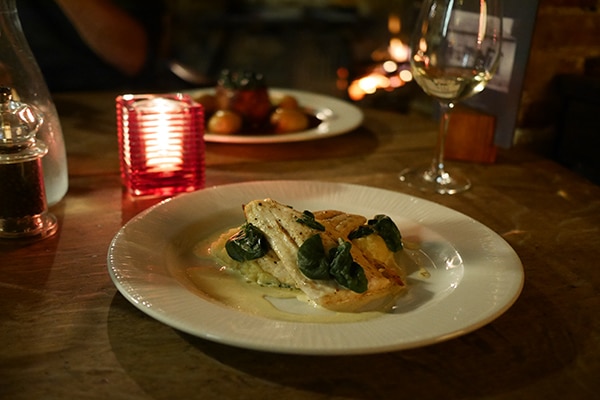 Extra special fish and chips

GB1, The Grand Hotel, Kings Rd

The name says it all really, and you cannot get much grander than the GB1 restaurant in the Grand Hotel. This impressive venue on Brighton seafront has many different dining options including a seafood afternoon tea. We are interested in their beer battered cod, triple cooked chunky chips and tartare sauce which you can enjoy surrounded by the grandeur of Brighton's most recognisable hotel with a glass of fizz in hand. Classic food in a classic British establishment. Review

Brighton's oldest seafood restaurant can be found in the famous winding lanes. English's is a stalwart of the city's dining scene and their commitment to serving the freshest most seasonal fish in town has not wavered. It is testament to their heritage that you can still find a class fish and chips on the menu alongside the more luxurious options. They also have a children's option and you can add a voluntary 50p donation to the fishermen's mission with you order. Review

Terre à Terre, East St

Nope we have not lost our minds, we know that Terre à Terre is a vegetarian restaurant and a very good one whist we're on the subject. They also happen to do the best vegetarian "fish" and chips in town, substituting the fish for buttermilk soaked halloumi. As with all of their dishes, every element of this plate has been meticulously thought out and executed with frightening precision. If you are looking for a very different, but very Brighton, take on this classic dish then look no further. Review

The Jetty, Kings Road, Brighton Seafront
Multi-award winning and new for 2016, the Jetty restaurant and HarBAR are a great addition to Brighton's dining scene. Choose between a sustainably sourced fillet of cod or haddock in gluten free batter with fat fried chips, crushed peas and tartare sauce. Why not combine your visit and enjoy cocktails at the bar. With fantastic views over Brighton seafront, the West Pier and BAi360 you can take in all the sights whilst sitting back in the luxury of the Harbour hotel. Review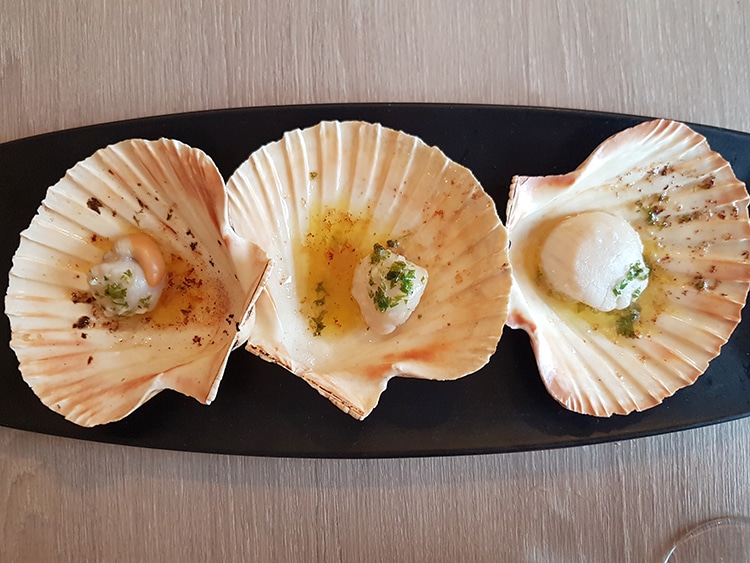 Brighton's Best Chippies
A nostalgic choice for those who believe that there is no better place to enjoy fish and chips than on Brighton Pier whilst taking in the sea views. Referred to as the "Spiritual Home" of fish and chips by Heston Blumenthal, large portions of fabulous fish and chips cooked to perfection are the order of the day. Sit on a bench whilst you watch all the fun of the pier around you, but watch out for swooping seagulls!
A Brighton institution and popular chippy since 2001, Bankers is a traditional style fish restaurant on Western Road. Sit in and dine or get your chips to take away and enjoy down on the beach. The only company in the UK to be awarded the Icelandic Responsible Fisheries Management Award for their commitment to sustainable fishing, Bankers pride themselves on great service and quality food.

Bardsley's, Baker St
Located 15 minutes from central Brighton on Baker Street, this award winning chippie was conceived in 1926 and is still owned and operated by the Bardsley family. With everything cooked to order this is some seriously fresh fish, which you can even take away poached or grilled if you prefer. They offer sit in or takeaway options, and a full menu of chip shop classics Bardsley's is arguably the best loved chippie in Brighton. 
Wolfies have been making big waves in the fish and chip scene for the past 25 years. Their two pronged assault of traditional fish and chips or classic pie, mash and liquor has seen them become firm favourites with the Hove crowd. Utilising fish from sustainable sources, and pies from one of London's oldest pie shops, Wolfies offer an authentic experience that is one of the best around. They even offer a gluten free batter option which is pretty rare.