Restaurant Brighton's guide to
Best Fish and Chips in Brighton
Brighton Fish and Chips | A Local's Guide to the Best in the City
The guide for the best fish and chips in Brighton. Seafront restaurants to trendy alfresco hang-outs, Brighton has it all. 
With such auspicious origins, Brighton and Hove has a lot to live up to when it comes to fish and chips. Luckily for us the city has got every base covered. Below is our listing of the best places to get your fix across the city so look no further than our guide to the best fish and chips in Brighton.
You may also like our fish restaurants round up and our recommendations for where to find a lobster restaurant.
Fish and Chips beside the seaside
Fish and Chips in the city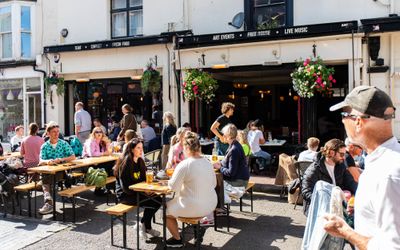 If you find yourself amongst the hustle and bustle of the North Laine and craving a plate of the British classic fish and chips, The Dorset is where you need to be. They take their fish and chip game to the next level, serving a local ale-battered cod with triple cooked chips, crushed minted peas and tartare sauce. But it doesn't end there, with their vegan alternative, the tempura banana blossom, which comes with all the trimmings and is perfect so nobody misses out!
Experience a quintessential British treat at The Cricketers pub in Brighton's Lanes with their mouthwatering battered fish & chips. Delight in the expertly prepared battered cod loin, boasting a satisfying crunch, paired harmoniously with generous portions of chunky chips. The meal is completed with traditional mushy peas and a zesty tartar sauce that perfectly complements the flavours. Immerse yourself in the cosy ambiance of the Brighton pub while savouring this iconic dish, which captures the essence of seaside dining in the heart of Brighton.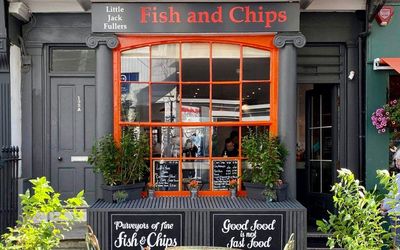 Located on St Jame's Street in Kemptown, Brighton, Little Jack Fullers Fish and Chips is a beloved destination, especially for those seeking a seaside treat. Its popularity owes to its proximity to the seafront, making it a perfect stop for traditional fish and chips cravings. Notably, they also offer a vegan-friendly version of this classic dish, catering to a wide range of tastes and preferences. With its inviting atmosphere and commitment to both tradition and innovation, Little Jack Fullers has earned its place as a local favorite in Brighton's vibrant food scene.
The cult burger joint, MEATliquor, is serving uncompromisingly tasty burgers on York Place every day and night seven days a week. Their burgers range from naughty, saucy to devilishly delicious and are available in beef, chicken or veggie and plant-based varieties. There's no shortage of sides to pair your burger with and you'll be spoiled for choice when it comes to drinks to wash it down with. Liquor by name liquor by nature, the Brighton cocktails served here go from boozy to super boozy! Super popular  concept, is this the best burger in Brighton?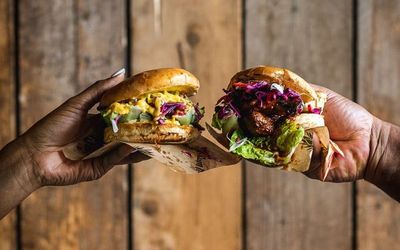 Burgers at Rum Kitchen are all freshly made with quality produce and come in three flavours, each celebrating the feel-good flavours of the Caribbean. Choose from jerk chicken with barbecue sauce and scotch bonnet mayo. Rum-glazed pulled pork with pickled slaw, crispy chillies and scotch bonnet and spring onion aioli. Or for the plant-only burger eaters there's Appleton rum-glazed jackfruit with slaw, ackee and spring onion aioli. All come with skinny chips and are best washed down with one of their fabulous specialist rum cocktails.
The Mes serves burgers with a difference, so if the classics are wearing thin and you want something exotic and playful, then the exciting creations from UmamiNation will float your boat.
Think classic burger, chicken or beef and add some Asian influence. The Korean sauce, soy pickled gherkin and miso mayo will get your taste buds dancing. There are also three varieties of Bao Bun – which we know aren't technically burgers – but they are too tasty not to mention.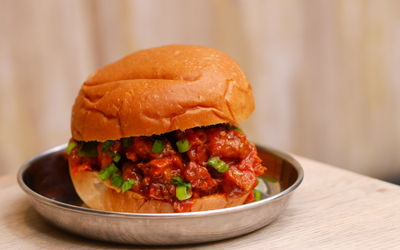 Try a burger with a difference at Curry Leaf Cafe. Their burger buns, or 'Pavs' – the Indian word for stuffed roll – come filled with either Chicken 65 (crisp-fried boneless chicken thigh coated in spiced batter), or Mushroom Manchurian, deep-fried mushrooms glazed in a sticky, sweet & sour IndoChinese sauce. The brioche buns are sourced fresh from The Flour Pot Bakery, and heat seekers have the option of adding Kolkata kimchi to their Pav for an extra kick. Want fries with that? At Curry Leaf Cafe, they come dusted with chaat masala & chilli powder. Be warned: they're seriously moreish!"
Burger-by-sea | The Best Burgers by-the-sea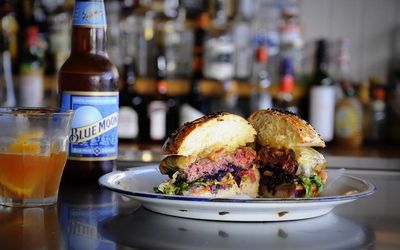 Brighton's little slice of New York, The New Club, is a burger lover's heaven. With stunning views of the promenade and i360, great food and tasty cocktails this place has got it all. They've been recommended in Shortlist Magazine, Waitrose Magazine and both The Times and Sunday Times as one of Brighton's best spots. Quality, locally sourced and freshly prepared food is the order of the day. The New Club is one of Brighton's best loved burger spots, all served with a little bit of New York swagger, with a sidewalk overlooking some magnificent Brighton seafront views.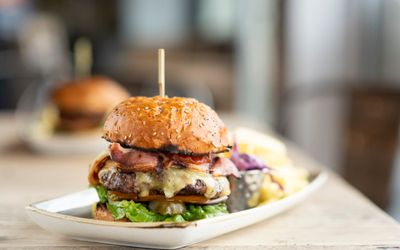 Ohso Social is in a prime location on the beach and next to the pier. They serve up a choice of burgers. From the classic, to a plant burger, or beef and pork patty.. Find a seat at Ohso Social, order your favourite drink and enjoy your burger with the view of the sea, soaking up the beach atmosphere.
Ohso is also super child friendly. It falls onto the shores of Brighton beach and they host a number of Brighton live events in the summer so keep an eye out for these. Check their website too and look out for the Brighton igloos for the colder months.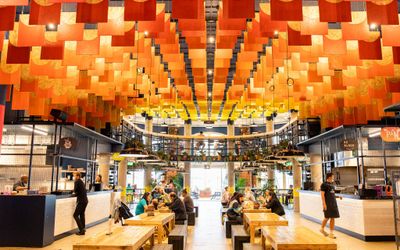 Shelter Hall has two great burger options. Patty Guy from Masterchef 2018 winner, Kenny Tutt serves smashed burgers that are next level indulgent, while at the same time being a quality spin on nostalgic Americana sandwich menu. There's also Chick' n' Bun which serves up delicious American-inspired fried chicken burgers. Enjoy your burger with a sea view from their terrace!  Shelter Hall is an amazing place to visit in Brighton with seven different kitchens, so you must go if you haven't been; please be aware their food offerings rotate so check in advance which food offering is available each month. 
From Hamburg to Hove | Best Burgers in Hove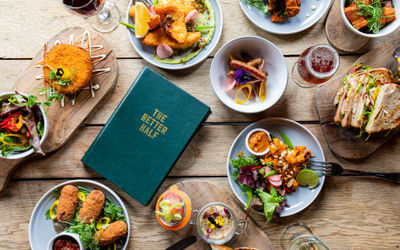 Featuring a locally sourced and seasonal menu, The Better Half is a Hove pub that likes to stick to its traditions but with a contemporary twist. This characterful pub is a hidden gem. The quirky, yet comfortable, interior and warm welcome entice you in. On the menu, you will find The Better Half Burger Menu with a choice of five burgers including a vegan choice and optional extras. Everything is 100% homemade, from the buns through to the relish, and you can tell. They all come with coleslaw and fries. Choose from the classic, pulled pork, chicken or vegan patty. You can add extra toppings such as bacon, blue cheese and onion rings to make a real showstopper of a burger.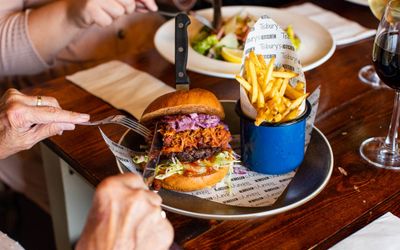 The Ladies Mile pub in Patcham is a place that combines a warm family atmosphere and excellent quality pub grub. The menu contains a dedicated section for burgers with five options available.  Classics are available such as the 6oz steak burger or chicken burger, there's also a vegan Moving Mountains burger – all served in a brioche bun with skinny chips and salad.
The Ladies Mile is a 1930's neighbourhood pub located a couple of minutes off London road in Patcham. It has all the live sports, it's a great place to watch the football in Brighton and has a lovely beer garden.