Japanese Restaurants and Sushi 日本料理と寿司
Japanese cuisine celebrates the coming together of many elements of taste and texture in a whole palate experience. Fresh crisp tasting vegetables are matched with deep marinations to hit every taste bud and crunch mixes with a chew to deliver mouthful after mouthful of satisfaction. If you're looking for Japanese restaurants Brighton has more than a handful of excellent options, each offering something unique.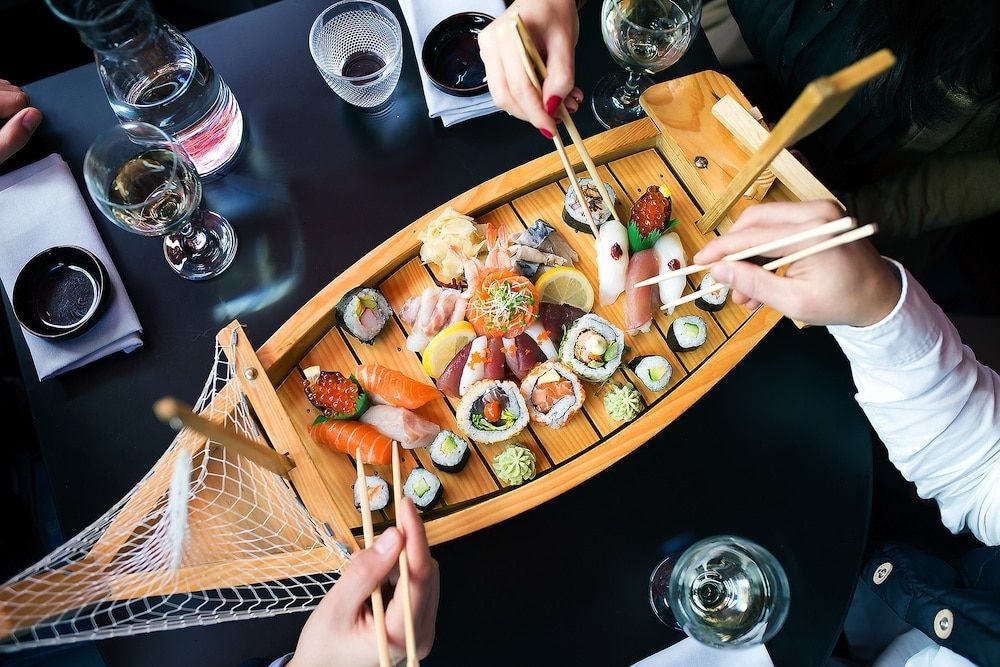 When it comes to sushi restaurants Brighton has a few unique offerings but none so well known, or highly praised as Moshimo. The Iconic building in Bartholomew Square, which resembles a traditional Japanese floating lantern, is also one of Brighton's largest independent restaurants. As well as serving some of the best sushi in the city Moshimo has a strong sustainability policy, they will never serve fish that is registered as endangered and their Fish Love campaign has garnered international support and driven policy change in Europe. Moshimo also offers a great selection for vegan diners, with a 50% discount on all vegan sushi to Moshimo member every Wednesday (25% to non-members) and their Great Moshimo Vegan Challenge is a highlight of the Brighton foodie calendar.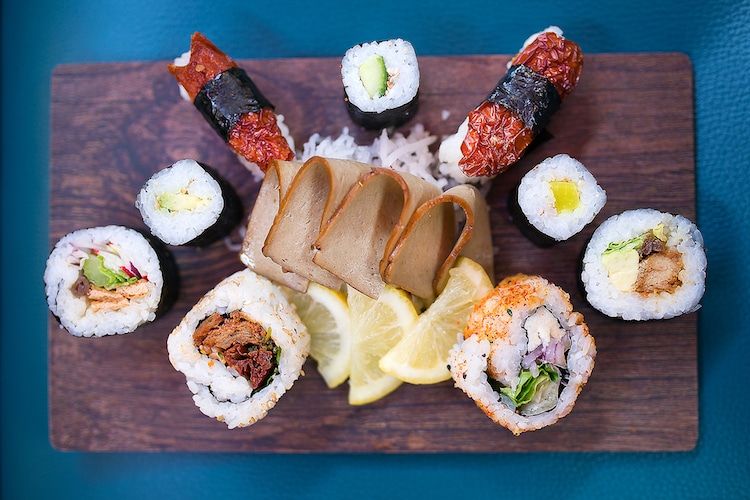 Bincho Yakitori on Brighton's "restaurant street" is an Izakaya bar; a sort of after-work watering hole populated by young Japanese professionals. Here you will find no-fuss dining where even garnishes are omitted so that every bit of effort and resource can go into delivering mouthwatering cuisine. Most dishes come from the wood grill and are for sharing, the menu changes weekly and specials are chalked up daily. The look and feel are like a back street street-vendor, the taste is grade-A modern Japanese cuisine. In 2019 Bincho Yakitori won second place in the BRAVO Best International Restaurant award, making Preston Street a little slice of Japanese delight in the heart of Brighton.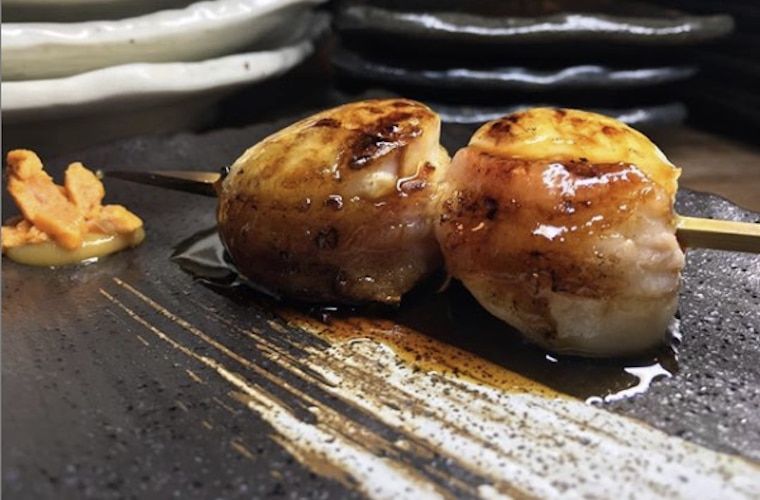 Photo Credit: Bincho Yakitori Instagram
Sushi restaurants Brighton come in all shapes and sizes, one truly stand-out venue is Tropical Sushi who fuse Venezuelan and Colombian passion with the Japanese delicacy. While the fusion may sound odd at first, it actually has a long historical context and the flavours naturally work well together. Freshness is key at Tropical Sushi, with a focus on fresh local ingredients and sushi is made to order. If you're not after sushi, but love the sound of a fresh healthy lunch then give the Poke Bowls a try.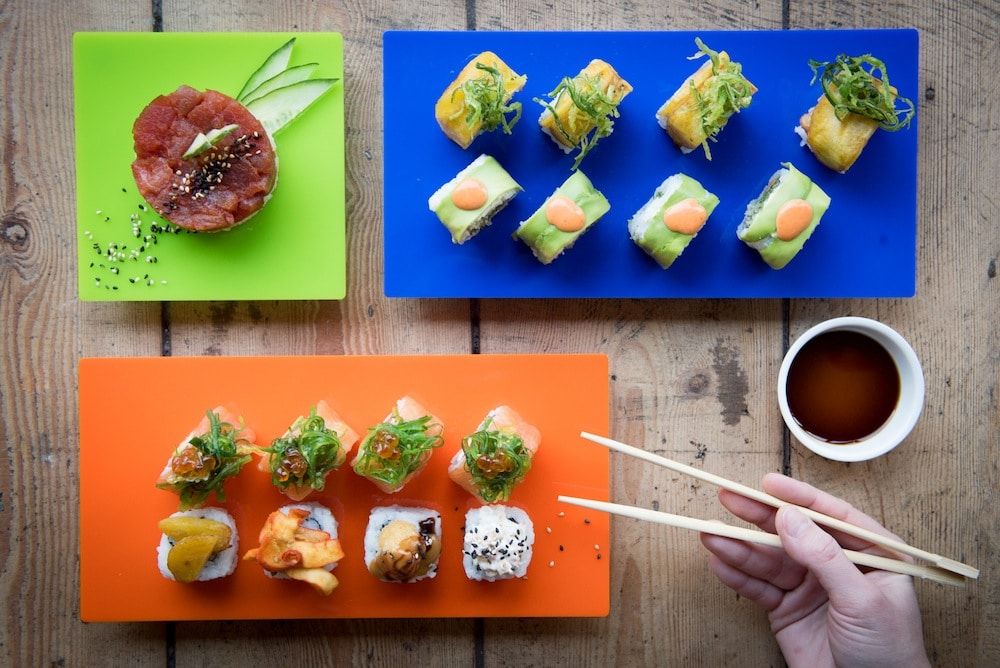 When you're doing the rounds of sushi restaurants Brighton has to offer Happy Maki is a must, it's perhaps more Brighton than authentic Japanese in its offering, but what it offers is pretty special. Happy Maki serves entirely vegan burrito-sized maki rolls with eight great wraps to choose from including cod and duck meat alternatives and pure veg for those who find the concept of fake meat confusing. A percentage of all their sales goes towards two great charities, one planting trees and the other feeding and educating children in some of the poorest parts of the world, giving your trip to Happy Maki an extra feel-good factor.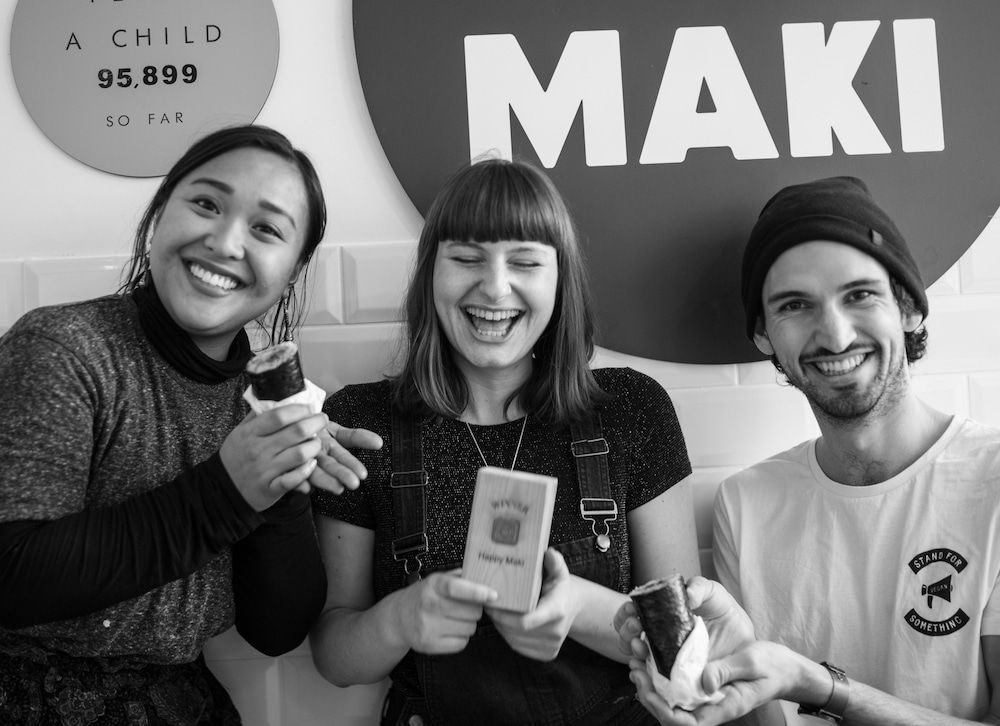 Pompoko is a little Japanese restaurant situated opposite Brighton Dome which provides fast food without the heart attack. Healthy, fast and delicious Japanese food served by extremely efficient and friendly staff. Popoko is delightfully simple, dirt cheap and BYO, a real gem in the heart of the city. There's no booking ahead, it's always busy, and cash only but don't let the initial crowds put you off, there's a bit more seating upstairs.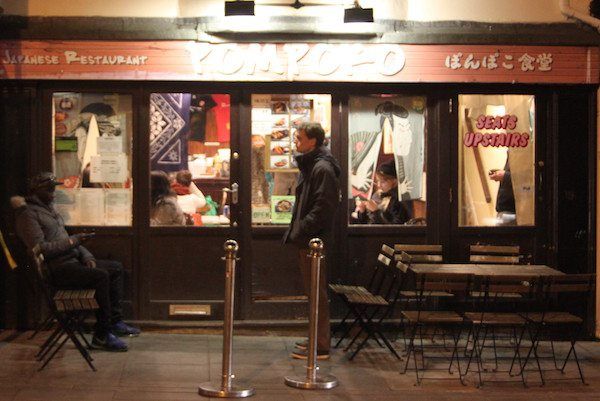 Japanese and Sushi Restaurants Brighton – the best of the rest.
Cafe An-an is a Japanese cafe and confectioner in Hove which uses local and organic ingredients to make its speciality wagashi (a traditional sweet, usually served with tea). The cafe has a wonderful fun character and is very welcoming. The home kitchen start-up is open not only for sweets and tea but a selection of traditional and homemade lunches. Keep an eye on their social media feed for special events.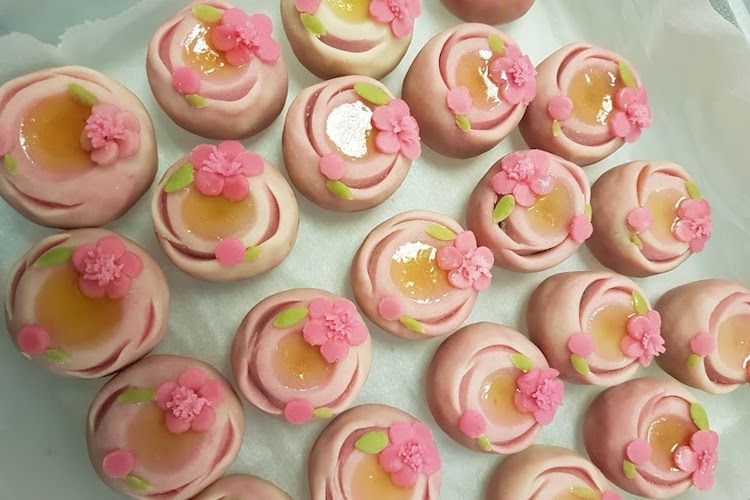 Despite being a chain restaurant, Wagamama really does deliver. Wagamama means 'naughty child' in Japanese which gives you a sense of the determination and stubbornness of the place to provide consistently good food. The seating is usually in an authentically Japanese arrangement with long wooden tables and benches. The menu is extensive with an eclectic range of Japanese inspired dishes including gyozas, ramen, teppanyaki, donburi, omakase and curry.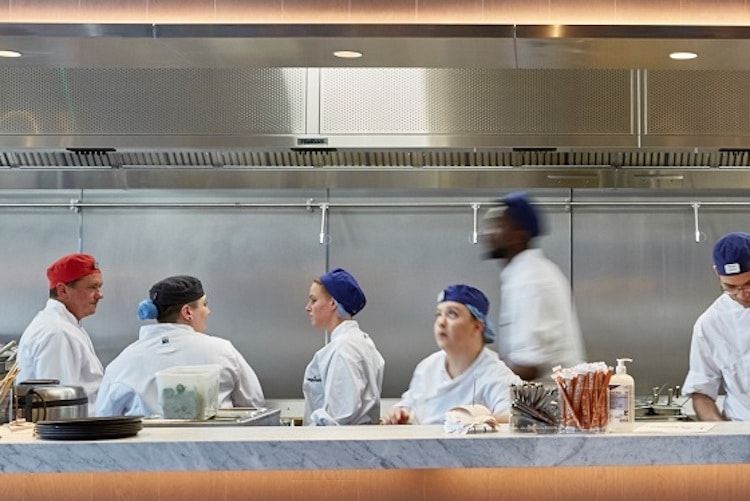 O'shio was opened in 2016 by chef and owner, Min, whose history spans working and training in Korea, Japan, London and Brighton. The very authentic restaurant is faultless in its presentation and atmosphere and the menu offers both traditional Japanese and Korean dishes and something with a little more creative fusion of the two.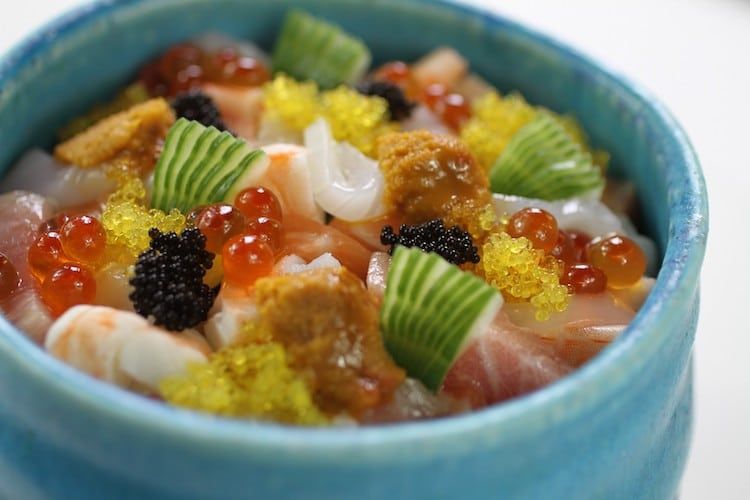 Murasaki Café in Seven Dials offers 'the most authentic, mouth-watering Japanese food outside of Japan'. Their menu is so extensive it might take you a while to choose. Though with a huge selection of Japanese tapas, you could try many dishes. With clean lines, wooden flooring and seating and lots of bamboo, this place is in keeping with its cuisine. Even a Murasaki Bento on Montpelier Place for takeaways.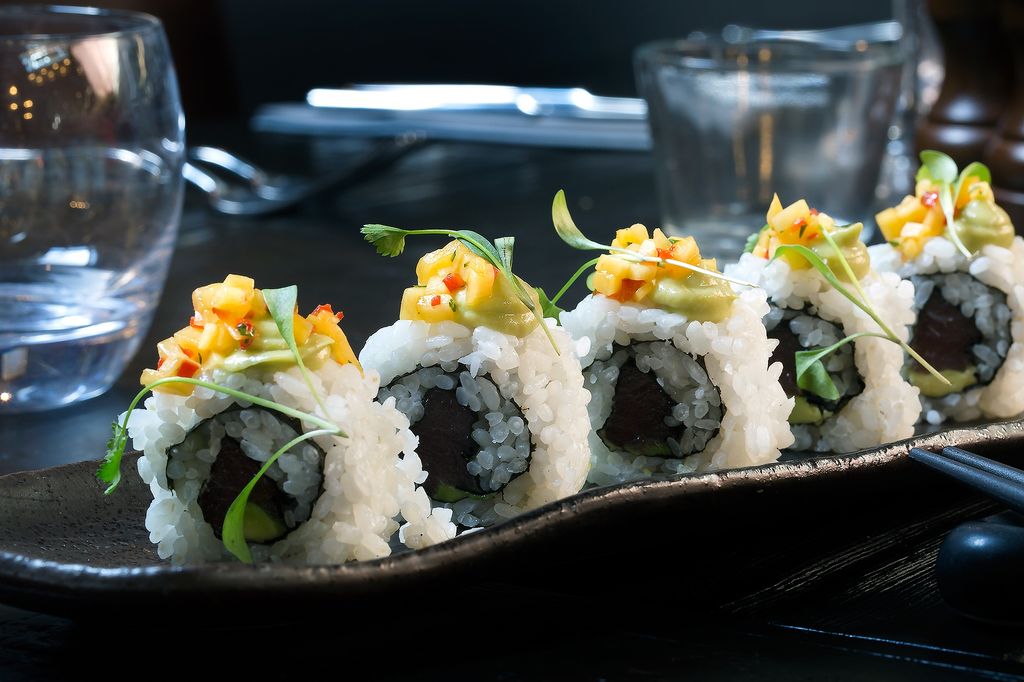 Often flagged as the best sushi in Brighton Sushi Garden has high integrity when it comes to their craft. No frills bistro style restaurant, they focus on the quality and precision of the sushi they serve. The service is super friendly and efficient, making you feel extremely well looked after and at home. Albeit a very Japanese style home.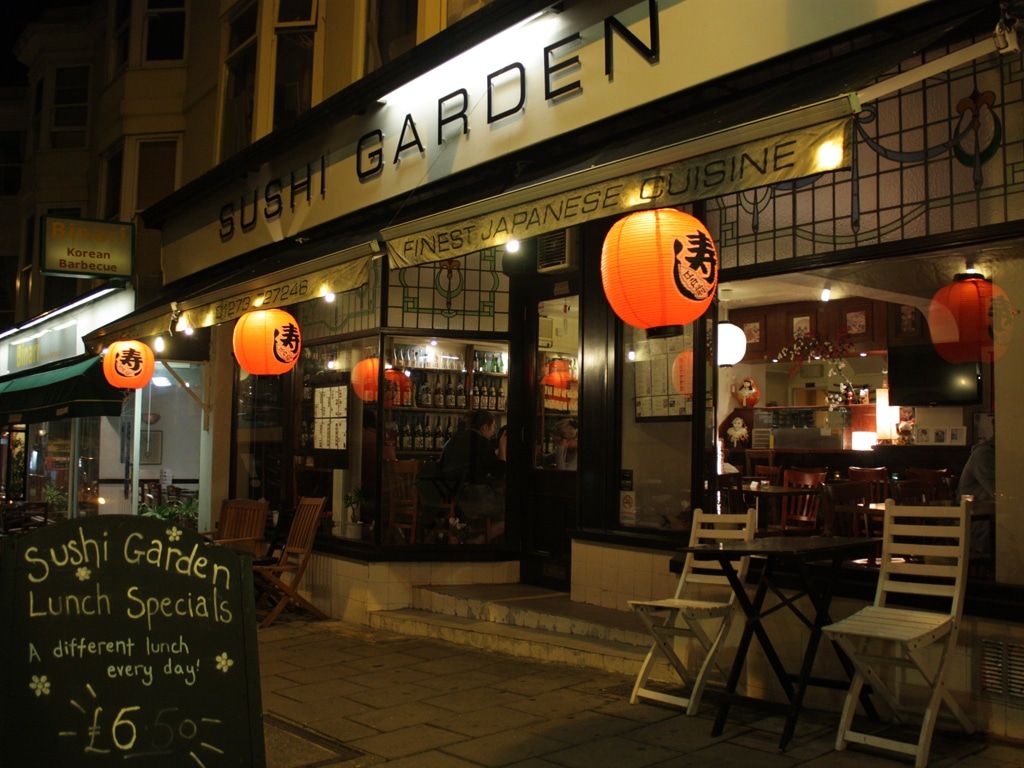 More of a takeaway than a restaurant and more Korean than Japanese, we still felt this little gem was worth a mention here. Serving quality fresh Korean dishes including healthy bowls of bibimbap, sushi rolls, miso soup and bento boxes. Bibimbaps, if you're not familiar with the term, are bowls of rice with an array of fresh ingredients on top and a sauce of your choosing. Simple but healthy and delicious in the heart of the North Laine.