Restaurant Brighton's guide to
North Laine Brighton - our top restaurants picks
Brighton is famed for its mass of incredible independent shops, the bounty of boutiques and the hordes of quirky characters that illuminate the streets. All of these uniquely Brightonion traits and treats are found en force in the vibrate North Laine area of the city. 
Here are our picks of cafes, restaurants and bars that are worth experiencing during your North Laine exploration.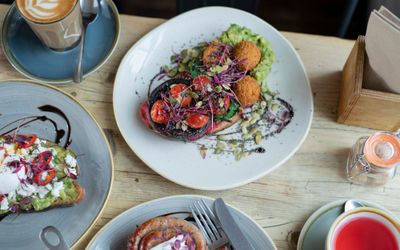 The first of the two North Laine based venues is set at the mouth of Kensington Gardens, by far the most "Brighton" of all the North Laine lanes. Trading Post Kensington is set over three floors, the third being a spacious roof terrace that gives you the birds-eye view of the surrounding area. The second is set on Sydney Street, named The Roastery and offers a prime location for streetside dining. Both venues offer breakfast, brunch and lunch menus. They offer classic favourites such as traditional cooked and vegan brunches and salads and eggs served in various ways with a variety of delicious extras. Also notably some of the best coffee in the city, which is roasted in Brighton and delivered locally.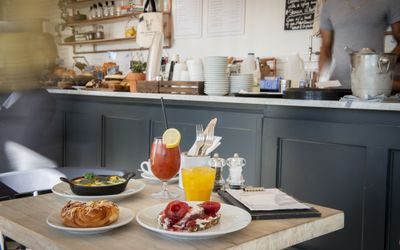 Famed for their daily delivered bakery and patisserie goods and extremely able baristas. Flour pot is a great option if you're after a quick bite, a caffeine-fuelled pick me up or a grab-and-go mid-morning snack or sandwich lunch. The cafe offers limited inside and streetside dining space, but if you do manage to nab a street set you'll be able to make the most of the fantastic people-watching opportunities.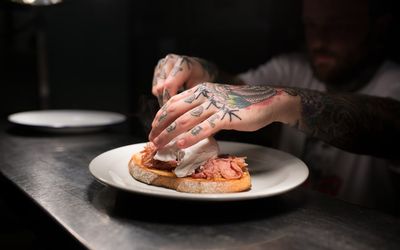 A strong contender on Brighton's hip brunch scene is Kooks. This trendy and modest cafe-bar is set on Gardner Street in the North Laine area of Brighton. Alongside the serving of banging brunches and some seriously tasty burgers, they also benefit from having the bar. The bar staff here are wizards at work and can mix you up a mean cocktail, so should you want an alcoholic tipple with your mid-morning nibble then you'll be in safe hands.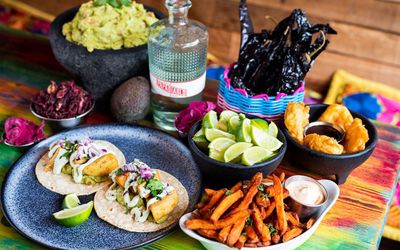 There's nothing like some authentic Mexican street food to get your taste buds going and the fantastic Carlito Burrito restaurant on York Place will do just that. Famed for their seriously tasty fish tacos, the dangerously moreish margaritas and decor that's as popping in colour as the dishes are in flavour. This vibrant little, North Laine based restaurant should be penned on your checklist of must-visit venues in the area.