Restaurant Brighton's guide to
Best Burger restaurants in Brighton
Burgers are bountiful in Brighton you'll find at least one or two good options in any quality eatery. So here we're looking at who's upped the burger gambit with more options, variety and ingenuity. Because the burger craving can hit fast we've organised this page by location, so you can fix that itch, pronto.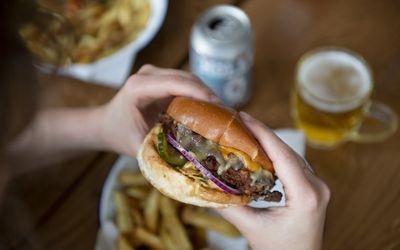 Honest Burgers hit Brighton in early 2019 – they keep the menu simple, preferring to focus on using quality ingredients and getting a good group of burgers just right. Beef is the main component but chicken and plant burgers are also available, and all come served with homemade salt and rosemary chips. Honest has also teamed up with the musos at Resident for a playlist, bringing together a distinctly Brightonian mash-up of burgers, beer and beats.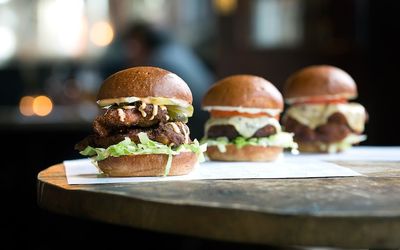 Lost Boys Chicken, together with The Joker, won Best Pub Food in the 2019 BRAVO awards, and for good reason. Their free-range chicken is treated to some seriously delicious sauces, making this some of the best New York style chicken found outside New York. Their burger offering is a seriously stacked beast, go for the Chicken Shop Sandwich which in its classic simplicity really provides a platform for the chicken to shine. Top it off with a hearty offering of sides, some craft ales, beers or maybe a cocktail.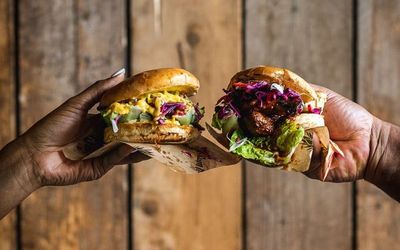 Burgers at Rum Kitchen come in three flavours, each celebrating the feel-good flavours of the Caribbean. Choose from jerk chicken with barbecue sauce and scotch bonnet mayo. Rum-glazed pulled pork with pickled slaw, crispy chillies and scotch bonnet and spring onion aioli. Or for the plant eaters, there's Appleton rum-glazed jackfruit with slaw, ackee and spring onion aioli. All come with skinny fries and are best washed down with one of their fabulous rum cocktails.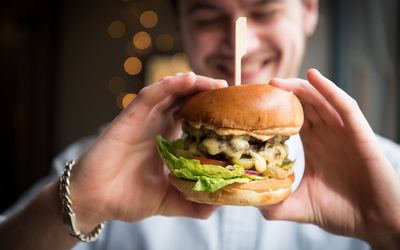 The Mesmerist has a dedicated burger menu that is pulsing with Tex Mex vibes and flavour. There is a chicken, beef, fish and vegan option so something for everybody and plenty of add-ons to customise your burger your way. The Mesmerist is well known for its party atmosphere, making it a great spot to gather the gang for great food, drinks and a night of adventure.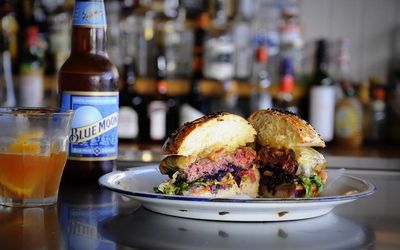 Brighton's little slice of New York, The New Club, is a burger lover's heaven. With stunning views of the promenade and i360, great food and tasty cocktails this place has got it all. They've been recommended in Shortlist Magazine, Waitrose Magazine and both The Times and Sunday Times as one of Brighton's best spots. Quality, locally sourced and freshly prepared food is the order of the day. The New Club is one of Brighton's best loved burger spots, all served with a little bit of New York swagger.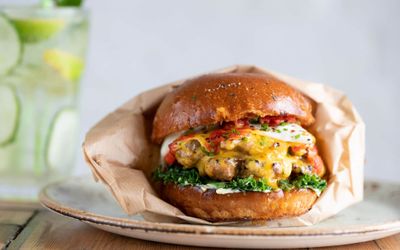 Arguably the most celebrated burger restaurant in Brighton, Lucky Beach is a must visit for any self-respecting burger aficionado. They only use Sussex bred grass-fed cattle for their burgers with all other meats sourced locally and sustainably. With sides such as chilli crab fries and crispy masala squid, you will be hard pressed to find a more quality burger experience in Brighton. For the vegan, they serve the Moving Mountains B12 Burger, a plant-based patty so convincing it practically moos.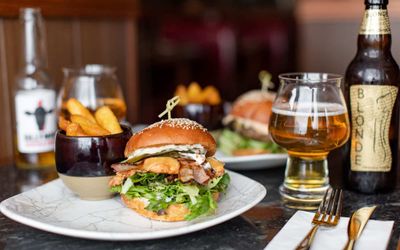 Taste Sussex looks like a big-chain American lounge-diner, but that really is where the similarity ends. Everything here is locally and responsibly sourced using the best quality they can find. And it's all freshly prepared to order. The burger options are fantastic with dry-aged beef and free-range chicken making up the meat options, halloumi for veggies and a vegetable patty for vegans. They all come served in locally made Mammoosh brioche buns with triple cooked chips, pickles and salad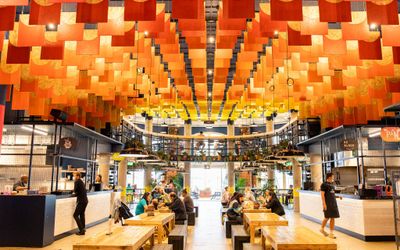 For the summer of 2022 Shelter Hall has two great burger options. Patty Guy from Masterchef 2018 winner, Kenny Tutt serves smashed burgers that are next level indulgent, while at the same time being a quality spin on nostalgic Americana sandwich menu. Chick Chick Crew from Lost Boys Chicken will be serving up a summer of retro treats with all their buns (that's burgers to you and me) available as chicken or ficken (fake chicken, vegan) from classic BBQ to Korean Chick, all smothered with their lip-smacking sauces.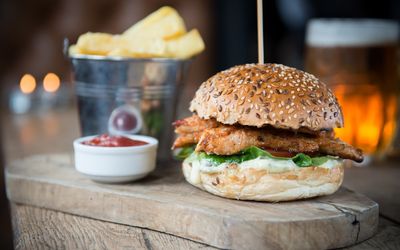 Featuring a locally sourced and seasonal menu, The Better Half is a pub that likes to stick to its traditions but with a contemporary twist. This characterful pub is a hidden gem. The quirky, yet comfortable, interior and warm welcome entice you in. On the menu, you will find The Better Half Burger Menu with a choice of six burgers and optional extras. Everything is 100% homemade, from the buns through to the relish, and you can tell. The classic burger is just that, while options such as Little Italy with salami and pepperoni or buttermilk chicken burger with Japanese pickles and Katsu curry, let you know they're ready to get creative.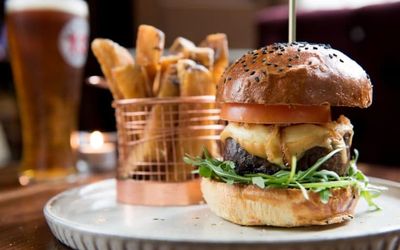 Hove Place is a popular gem of a gastro-pub with a menu that mixes pub classics with finessed bistro dinging, so burger wise you can set your expectations high. These are burgers pushed to the edge of classic where they bump nicely against contemporary. Try local Trenchmore Wagyu beef with chipotle relish and beer braised onions or free range chicken thigh with Xo mayonnaise, coconut and Asian sesame slaw.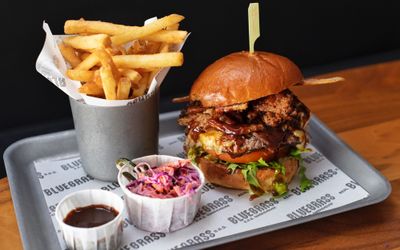 America sure knows a thing or two about making burgers, so Bluegrass Fire & Smoke make their burgers from scratch from a blend of USDA brisket & chuck before smoking them with hickory wood in imported Oklahoma smokers. Their burgers are then packed with sumptuous extras, like smoked 'Boston butt', sliced brisket string onions and house recipe sauces.
While what really sets them above the rest is the expertly smoked meats, there's also a bourbon-infused jackfruit burger offering for the plant-based diners. So if you like the sound of slow-smoked USDA brisket, bourbon glaze, stilton and smoked cherry bbq sauce, and homemade adobo mayo, then wait till you check out the rest of the menu!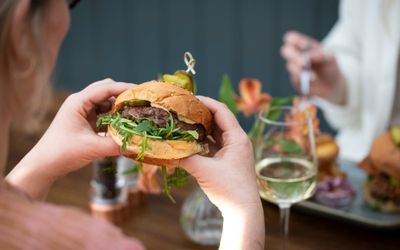 Welcoming folk of the Preston Park area and beyond, The Cleveland Arms is the definition of a community pub. Everything on the menu is homemade with locally sourced ingredients and a real hit with locals. The menu includes a dedicated burger section with five burgers, each offering something different from Trenchmore Wagyu beef to Sussex made Halloumi with spicy salsa. All the burgers are served with seeded bun from The Real Patisserie with triple cooked chips.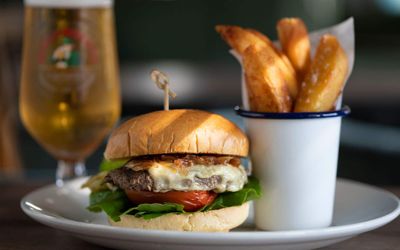 Burgers are a staple food for pubs but it's brilliant burgers that we want. The Dyke Alehouse and Kitchen offer both brilliant homemade prime steak burgers and plant-based patties all through the week. They're served with baby gem, confit tomato, onion chutney, Sussex cheddar in a brioche bun with triple-cooked hand-cut chips. Catch them on Wednesday and you'll get both a banging burger and a pint of Amstel for £12.50.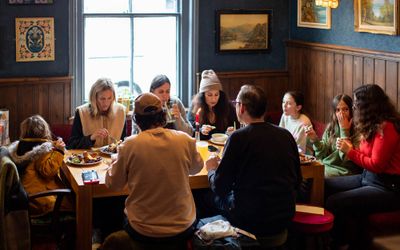 Haus on the Hill is a Brighton Bier pub and a thriving local in the Hanover area. The kitchen is run by Danny O'Shea, formerly of Bus Stop and serves feel good Caribbean food Wednesday to Saturday (with BRAVO winning roasts available on Sundays). Burgers here mix a classic pub style with a taste of the Caribbean like the Hickory smoked pulled pork burger or the vegan chickpea and jackfruit burger. All come in a toasted brioche bun with fries and 'slaw.
Chef Russell Tisbury is recognised for his fantastic kitchens serving quality pub food. The Ladies Mile pub in Patcham is just such a place that combines a warm family atmosphere and excellent quality pub grub. The menu contains a dedicated section for the 'Tisbury's Famous Burgers' with no less than seven options available. Stand outs for burger lovers include the TFC (Tisbury Fried Chicken) Dirty BBQ Schnitzel burger with buttermilk chicken breast in their secret coating with garlic mayo, BBQ sauce, bacon, cheddar and American mustard.