Where is the best Burger in Brighton and Hove?
Finding the best burger in Brighton and Hove is a serious business and it is a topic that rolls on and on. So which burgers are leading from the front, leaving the rest for dust?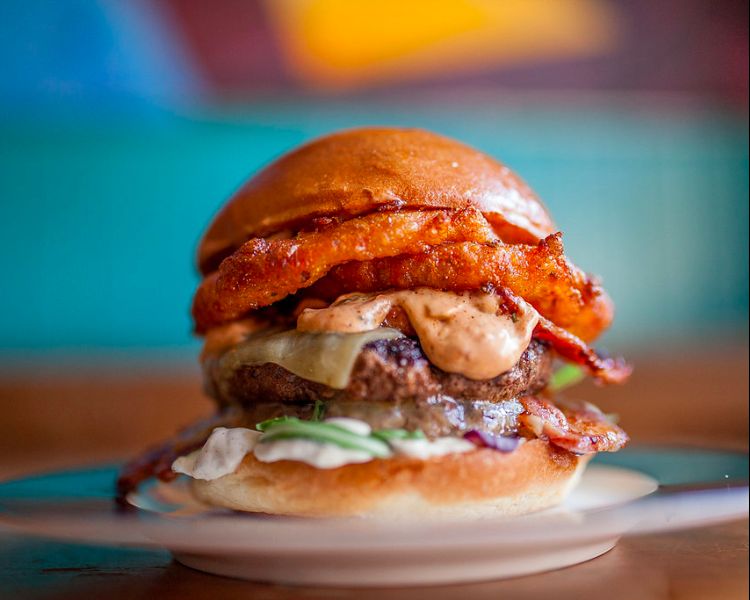 Whether you're in need of a double double, a 35 day aged, a cheeseburger, a buffalo burger, a chilli burger, a juicy Lucy, a roadside slider, a slopper, a warrior, a nosh of the titans, a dead hippie, a death melt, a titty twister, the bounty hunter, the ODB or a simply just a dirty burger – we hope that you can find a few different burger options to choose from, so you can get your juicy fix!
A benchmark entry that is punching its weight with the very best in the city. When a restaurant serves just one type of food, ie burgers, it's essential that every detail is correct. Coggings and Co is all about great burgers, made with local ingredients sourced with care, prepared with skill and served with warmth. Outstanding.
Burger Bio: BURGER REVIEW  Burger Rating: 47.5/50 Deliveroo Delivery: Takeaway Burger Review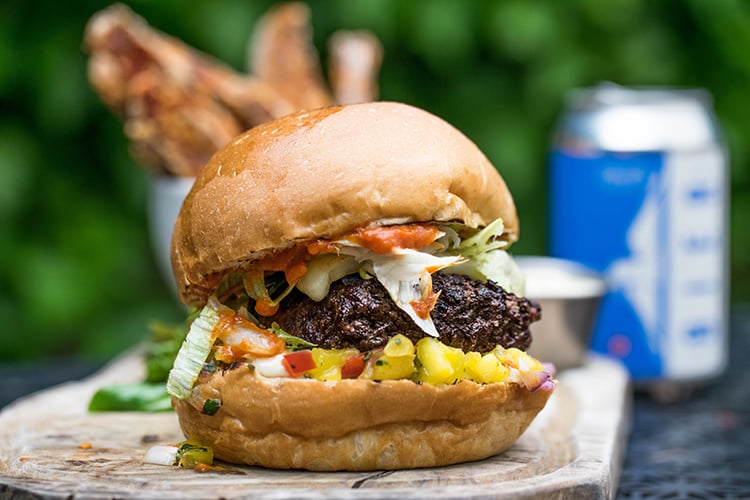 Enjoy a burger at Chez Mal Brasserie in the Malmasion Hotel. If the Mal burger with Ayrshire bacon, Gruyère cheese, burger relish & fries tempts you then you're in for a treat! Situated on Brighton's Marina, you can dine alfresco and smell the sea air on the ship-shaped terrace overlooking the sea. Or for the view without the sea breeze try their conservatory.
Burger Rating: TBC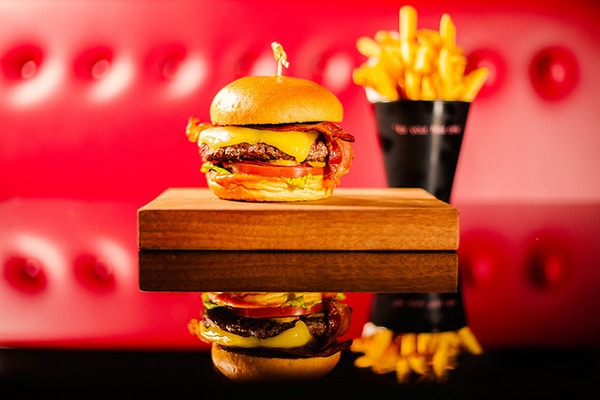 The Coal Shed – Boyce Street, central Brighton
Known for its great grilled meat and seafood, the Coal Shed uses ethically sourced quality cuts of beef which is chargrilled over their josper oven. The 'Steak Burger' is 250g of a prime steak pattie served with lettuce, pickles, tomato, onion, dripping chips & a homemade relish. In the top 5 best burgers in Brighton easily!
Burger Bio: BURGER REVIEW  Burger Rating: 45/50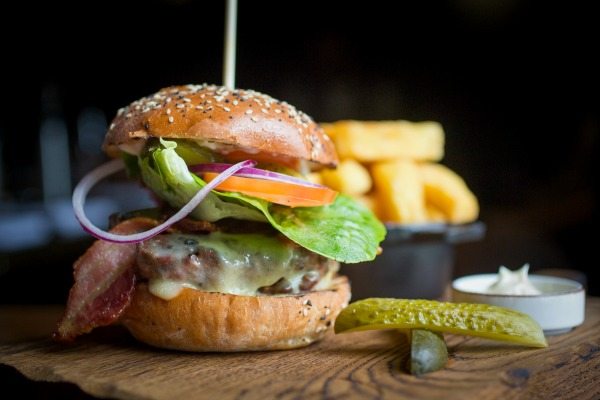 Looking for an indulgent 'dirty' burger made with quality ingredients, great flavours and always served medium rare? Sidekick's the place for you! Peruse the quirky menu with themed names and mouthwatering burgers. If you're lucky and the weather's sunny you can eat outside too!
Burger Bio: BURGER REVIEW Burger Rating: 45/50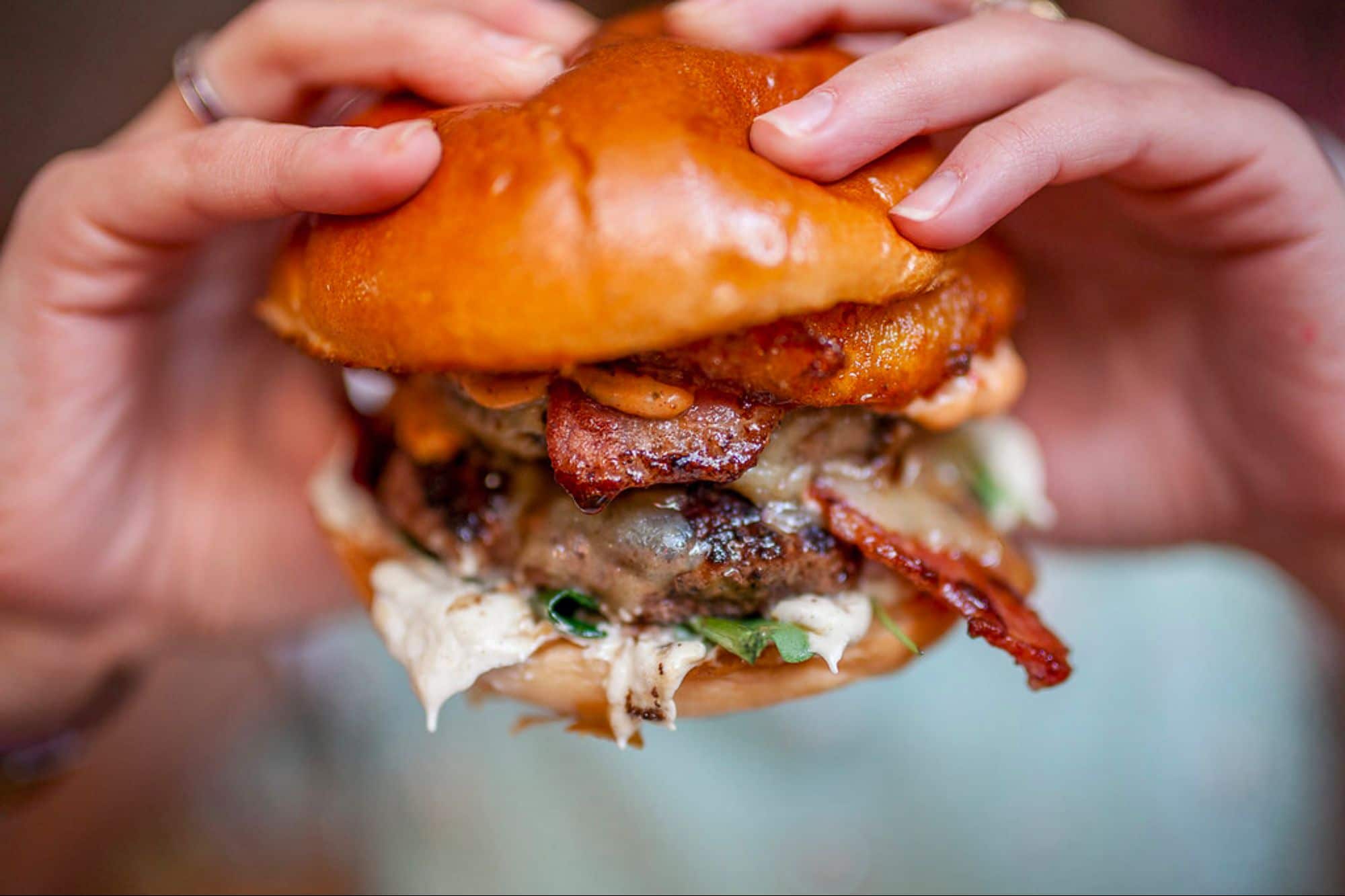 Home to the dirty little burger, a burger created from a 35 day aged beef patty, onions, gherkins, tomato sauce and English mustard in a homemade brioche bun. Their chips are chunky, the pub cosy and in a great location if you fancy getting away from the madness of central Brighton for an evening.
Burger Bio: BURGER REVIEW   Burger Rating: 40/50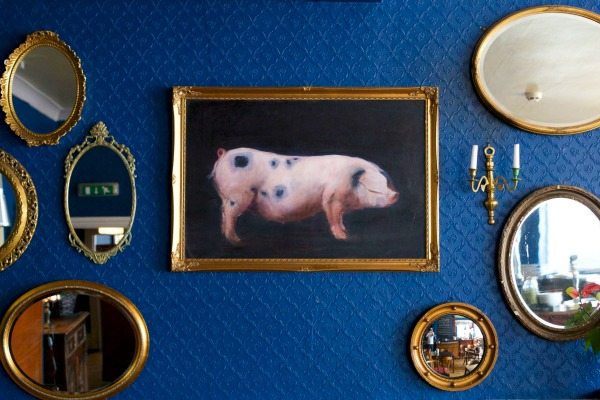 35-day aged burgers from local conservation stock served with a lot of bacon.  Shortlist Mag: 'Brighton Beach is lucky to have this ace burger and beer joint,' and 'the undoubted standout' according to the Guardian. Serious brioche buns and pickled red onions! Look out for Pop-Ups at this venue too as it attracts some great chefs along.
Burger Bio: BURGER REVIEW  Burger Rating: 47/50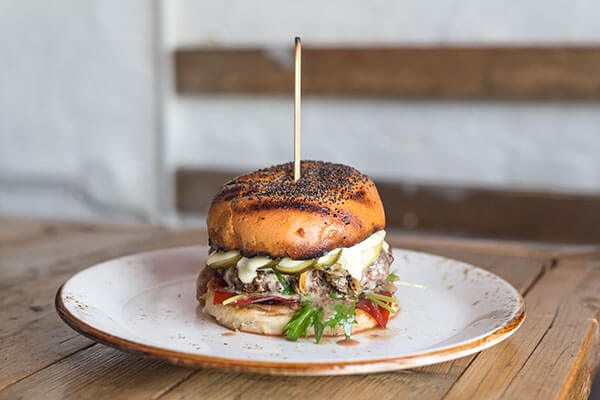 The West Hill Tavern is known for its fantastic views, great music nights and of course the food & drink. The burgers are not one to be missed if you're stopping by for a bite to eat, served with chips & slaw. Take a two minute stroll from Brighton station, away from the busy crowds and grab yourself a burger and beer! Burger Bio:TBC Burger Rating: TBC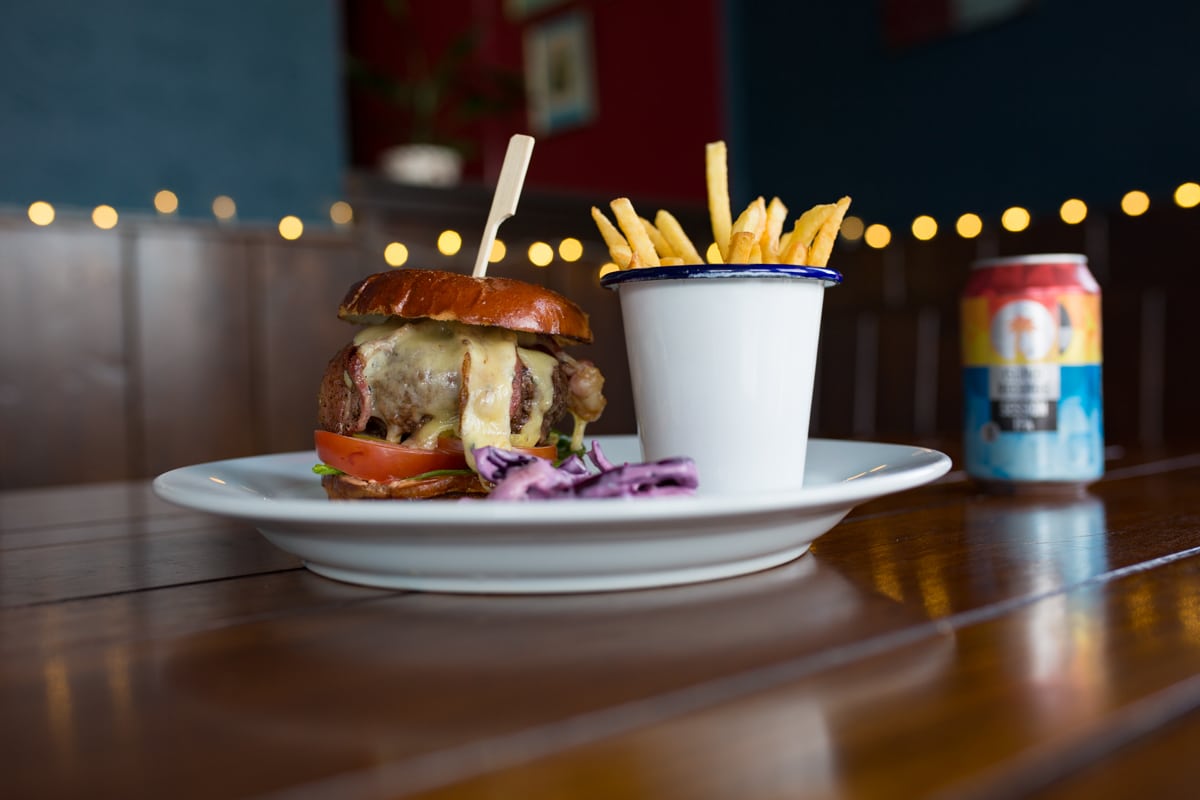 London's successful Breakfast Club dining experience has ventured into Brighton's Lanes after much anticipation. The Breakfast Club have brought a bit of Miami Vice and Art Deco to Brighton. With an extensive menu, their burgers are definitely one to try! Featuring American dishes such as the 'MR BIG CHICKEN' which is a Fried buttermilk chicken burger with all the trimmings, you can read about it in our review.
Burger Bio: BURGER REVIEW  Burger Rating: 43.5/50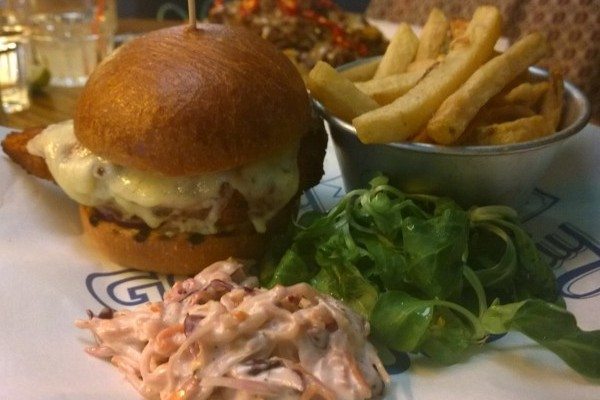 "The quality of the meat was evident from the first taste – it was simply gorgeous.  Juicy and succulent, more of a large cricket ball than a patty, it was my kind of burger with a great flavour to it and well-seasoned."  comes served with delicious apple and raisin coleslaw. One of Hove's favourite food pubs.
Burger Bio: BURGER REVIEW.  Burger Rating: 41/50


Moksha keep it simple with four burgers to choose from, including one vegetarian option. All burgers are made with 150g of free-range 21 day matured beef, minced and made into patties just down the road at The Brighton Sausage Company. Our reviewer, Sarah had a slight eek from the lack of fries, but seeing as this is a lunchtime cafe we can understand the emphasis on the burger itself.
Burger Bio: BURGER REVIEW  Burger Rating: 45/50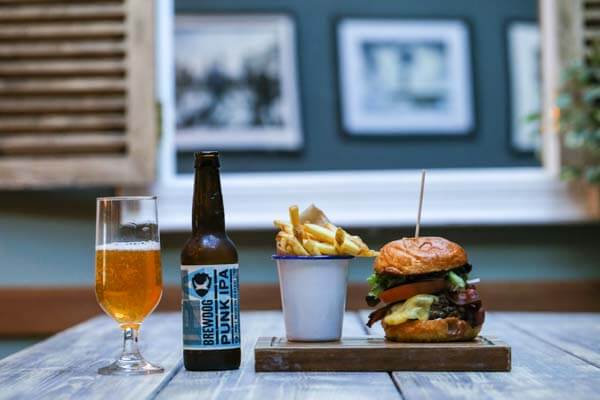 Serving a great variety of burgers at a very good price. The Cricketers in Brighton is great old school boozer to pop into when you're in the centre of town. We're talking a burger with friends rather than a romantic burger for two. Great buns with THICK tasty hand cut chips. A great vibe and full of characters usually.
Burger Bio: BURGER REVIEW  Burger Rating: 40/50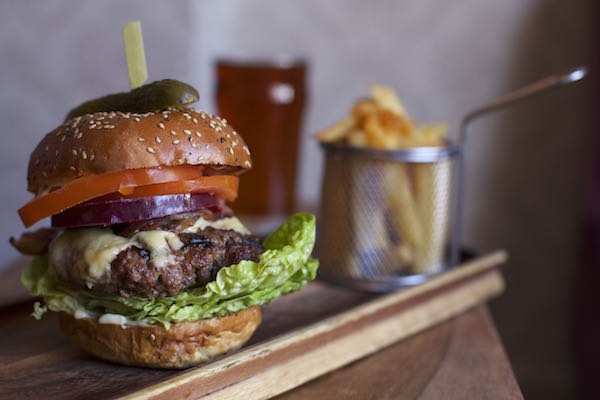 In the heart of Hove The Old Albion served a great food selection of food and delicious drinks with a fantastic range of gin. The menu has a real mix on it to suit everyone, from your traditional pub food such as Fish & Chips to a big juicy burger. Grab yourself a burger and pint at the recently revamped Old Albion!
Burger Rating: TBC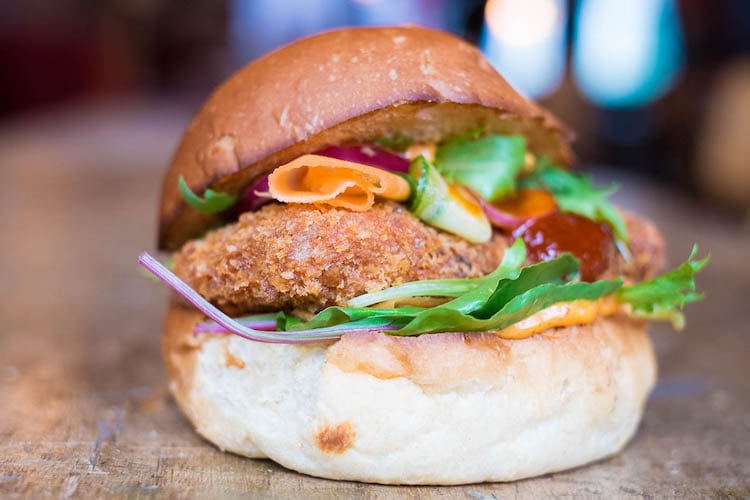 Located on Western Road, the Southwest American style pub has got some real tasty dishes to try. Take a look at their themed burger menu, at £10.50 a burger with an array of choices you can't go wrong. Think fried chicken, juicy steak burgers and plenty of BBQ!
Burger Bio: BURGER REVIEW  Burger Rating: 42/50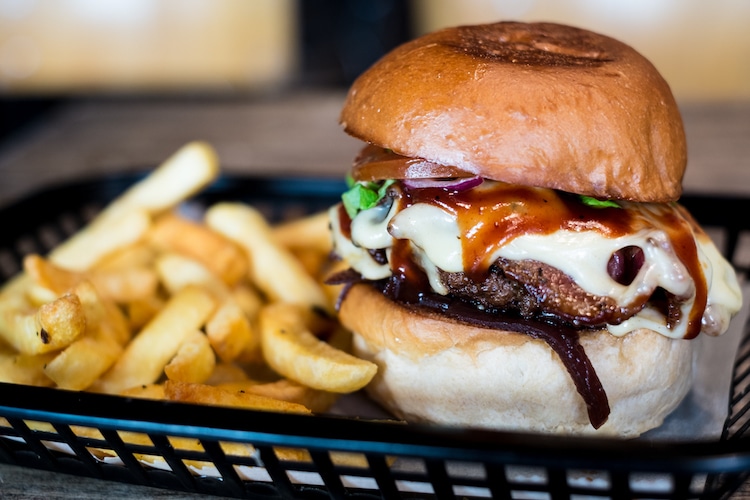 A small takeaway open until late serving some cracking burgers. A contender for 'top 5' status. Served with a sweet doughnut type bun and very affordable. We hear many great things via the Brighton twitteratti! Locally sourced, 100% beef served with lots of cheeky Brighton attitude. No chips, just burgers!
Burger Bio: BURGER REVIEW  Burger Rating: 46.5/50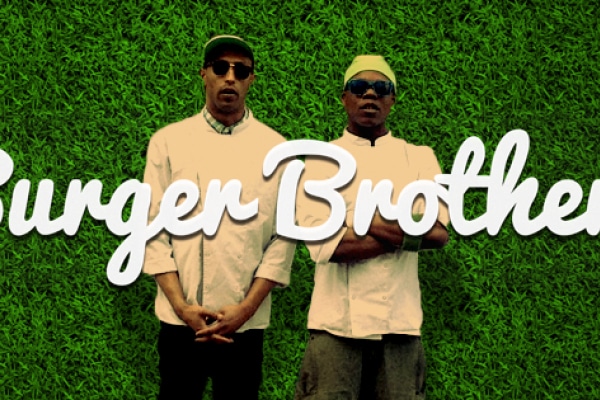 The most environmentally friendly pub in Brighton. A late entry to our burger hall of fame and a venue also known for their excellent roasts. Their burgers are nice and crunchy on the outside and nice and pink in the middle. Quite a price tag but a great quality burger. Features veggie burgers too and some rather nice beer.
Burger Bio: BURGER REVIEW Burger Rating: 40.5/50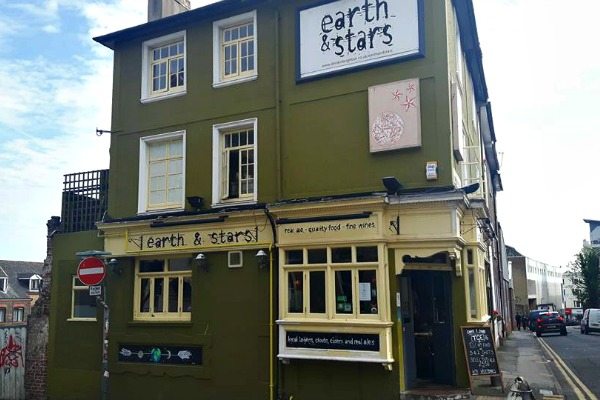 Known for its burgers and cocktails & REAL meaty burgers with a choice of gourmet toppings. Potentially a 'game changer' according to a few burger bloggers out there. The Dead Hippie comes recommended. Be careful in there as you lose track of time. MEATliquor strapline – "Come Hungry. Leave Drunk."
Burger Bio: BURGER REVIEW Burger Rating: 42.5/50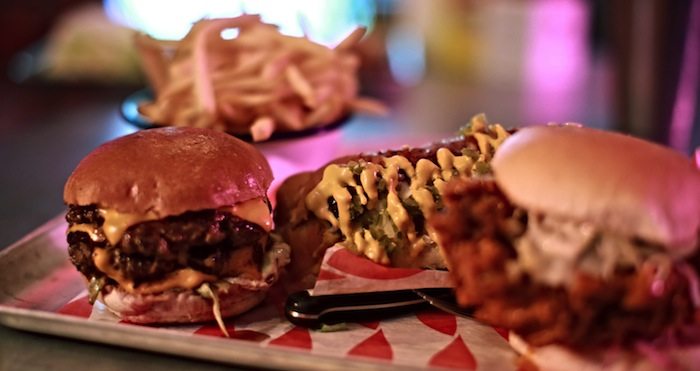 THE JUDGING CRITERIA:
We take our burger reviewing very seriously so each burger is assessed on the below 6 areas when conducting our reviews:
Appearance (Presentation and beauty/ structure or build/ segmentation.)
Toppings (Range of flavours/ ingredient combinations/ overall chemistry.)
The Bun (Fitness for purpose/ freshness/ finish/ flavour.)
Meat (Overall seasoning/ flavour/ juicy-ness factor/ meat quality.)
Accessories (What does it come with/ seasoning condiments/ extras?)
The Venue (Vibe/ decor/ location.)
Then to get the overall score for the best burger in Brighton we then provide an average mark out of ten based on the average score for each section. Simples!
Please be patient while we conduct all of our burger reviews and please get in touch if you think there are any other contenders for our summary of 'Brighton and Hove's Best Burgers.'