Restaurant Brighton's guide to
Best Burger restaurants in Brighton
The burger boom shows no signs of slowing, and that is good news for the burger lovers of Brighton. Our city boasts a high number of quality burger joints, from street food vendors right through to high end restaurant offerings. So who does scoop the accolade for Best Burger in Brighton?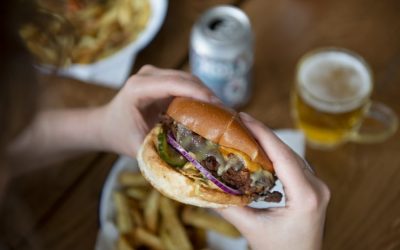 Honest Burgers hit Brighton in early 2019 – they keep the menu simple, preferring to focus on using quality ingredients and getting a good group of burgers just right. Beef is the main component but chicken and plant burgers are also available, and all come served with homemade salt and rosemary chips. Honest has also teamed up with the musos at Resident for a playlist, bringing together a distinctly Brightonian mash-up of burgers, beer and beats.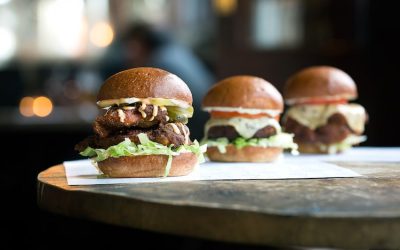 Lost Boys Chicken, together with The Joker, won Best Pub Food in the 2019 BRAVO awards, and for good reason. Their free-range chicken is treated to some seriously delicious sauces, making this some of the best New York style chicken found outside New York. Their burger offering is a seriously stacked beast, go for the Chicken Shop Sandwich which in its classic simplicity really provides a platform for the chicken to shine. Top it off with a hearty offering of sides, some craft ales, beers or maybe a cocktail.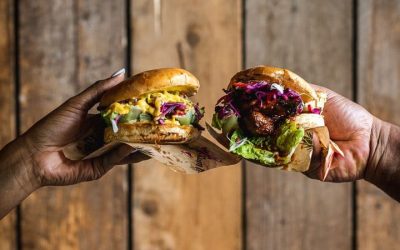 Burgers at Rum Kitchen come in three flavours, each celebrating the feel-good flavours of the Caribbean. Choose from jerk chicken with barbecue sauce and scotch bonnet mayo. Rum-glazed pulled pork with pickled slaw, crispy chillies and scotch bonnet and spring onion aioli. Or for the plant eaters, there's Appleton rum-glazed jackfruit with slaw, ackee and spring onion aioli. All come with skinny fries and are best washed down with one of their fabulous rum cocktails.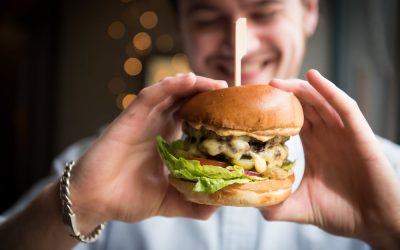 The Mesmerist has a dedicated burger menu that is pulsing with Tex Mex vibes and flavour. There is a chicken, beef and vegan, seitan, option so something for everybody and plenty of add-ons to customise your burger your way. The Mesmerist is well known for its party atmosphere, making it a great spot to gather the gang for great food, drinks and a night of adventure.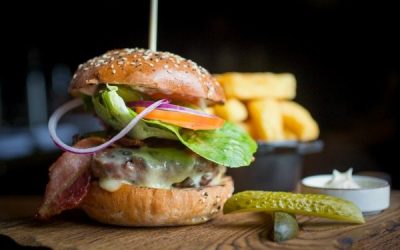 If quality is your top concern when it comes to your burger, you can be sure that Brighton's premier steak restaurant is going to deliver. The Coal Shed may feature a mouth-watering array of sensational steaks, but their burger offering is a serious option for any meal. The Coal Shed is regularly named in the top restaurants in Brighton, and as one of the best in the UK, making this a high-end burger experience.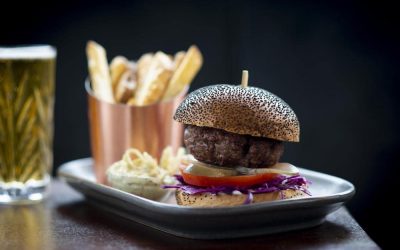 Welcoming folk of the Preston Park area and beyond, The Cleveland Arms is the definition of a community pub. The menu at The Cleveland Arms could perhaps be described as 'elevated pub grub', offering those English pub classics we have come to know and love through to more refined and experimental dishes showcasing worldwide cuisine. Everything on the menu is homemade with locally sourced ingredients and a real hit with locals is their selection of burgers served in a toasted bun with homemade coleslaw. Choose from beef, chicken on vegetarian, pick your sides and toppings are you are ready to go.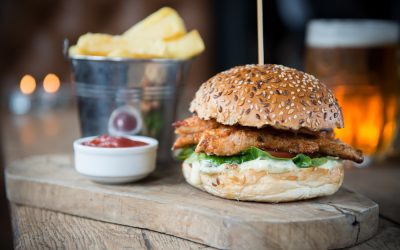 Featuring a locally sourced and seasonal menu, The Better Half is a pub that likes to stick to its traditions but with a contemporary twist. This characterful pub is a hidden gem. The quirky, yet comfortable, interior and warm welcome entice you in; and the quality offerings will keep you coming back. On the menu, you will find "The Burger Half" section with a choice of three burgers and optional extras. Everything is 100% homemade, from the buns through to the relish, and you can tell. The classic burger is just that, and their veggie option is a smoky delight. A great pub that serves delicious homemade food is a real treat, and that is what you get at The Better Half.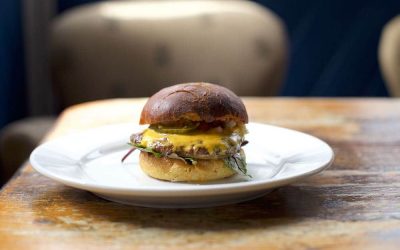 It may have been relegated to the level of bar snack, but don't let that fool you into thinking that the "Dirty Little" burgers at The Chimney House are not a quality offering. With everything made on site where possible, nothing leaves the kitchen that is not up to scratch. Both the Dirty Little Burger and Dirty Little Rodders feature 35 day-aged beef patties and a homemade brioche bun. If you are looking for a grown-up burger in a relaxed setting, then look no further than The Chimney House.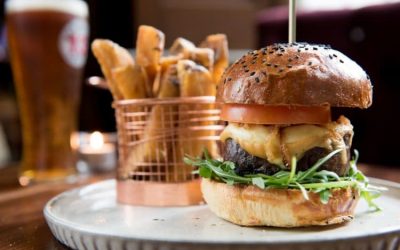 Hove Place is a popular gem of a gastro-pub with a menu that mixes pub classics with finessed bistro dinging, so burger wise you can set your expectations high. Many venues boast about locality of their produce but few go as far as Hove Place who print the food miles of each dish on the menu. Enjoy a very local Hereford beef rump burger with all the ingredients gathered from within a 37 mile radius. Hove Place is a burger option for the gourmet crowd, very much in keeping with its Hove location, actually.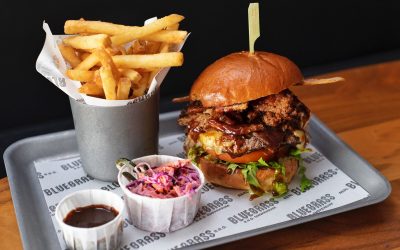 America sure knows a thing or two about making burgers, so Bluegrass Fire & Smoke make their burgers from scratch from a blend of USDA brisket & chuck before smoking them with hickory wood in imported Oklahoma smokers. Their burgers are then packed with sumptuous extras, like smoked 'Boston butt', sliced brisket string onions and house recipe sauces.
While what really sets them above the rest is the expertly smoked meats, there's also a bourbon-infused jackfruit burger offering for the plant-based diners. So if you like the sound of slow-smoked USDA brisket, bourbon glaze, stilton and smoked cherry bbq sauce, and homemade adobo mayo, then wait till you check out the rest of the menu!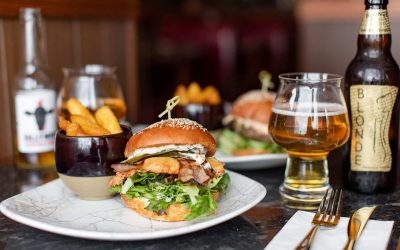 Taste Sussex looks like a big-chain American lounge-diner, but that really is where the similarity ends. Everything here is locally and responsibly sourced using the best quality they can find. And it's all freshly prepared to order. The burger options are fantastic with dry-aged beef and free-range chicken making up the meat options, halloumi for veggies and a vegetable patty for vegans. They all come served in locally made Mammoosh brioche buns with triple cooked chips, pickles and salad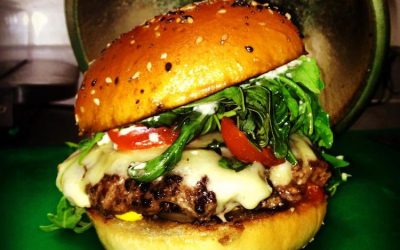 When you have been named best burger in the UK there is not much else that can be said here. If you've not been, what are you waiting for? These funky burger brothers have created something so simple that it is beautiful in its simplicity. This take away burger joint focuses solely on the burger itself, controversially neglecting a chip offering on the side. Instead they spent time researching the perfect bun, one that was soft enough to be enjoyable but robust enough not to break under the pressure of its contents.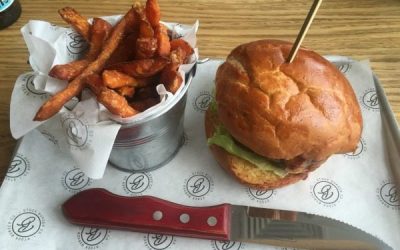 Stock Burger Co are the result of a simple equation, burger + beer = Heaven on Earth. They have created a restaurant that focusses on where it sources its stock (hence the name). Using Glenarm Shorthorn beef, a particularly flavoursome beast, in their burgers is just a part of the puzzle. With carefully sourcing and great beer matches, Stock Burger has got to be tried to be believed. If you prefer a little more control over the burger then why not create your own with their burger builder menu. With craft beers, cocktails and some seriously exciting desserts you can really go for it at Stock Burger.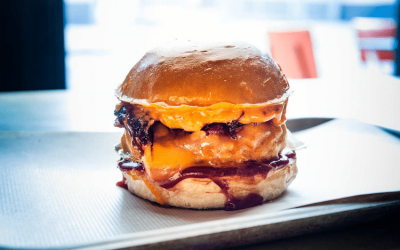 London burger group, Patty and Bun opened in Brighton in the old Piccolo restaurant on the corner of Meeting House Lane and Ship Street in the popular Lanes area of Brighton. Famous for their modern restaurant design and funky tunes, Patty and Bun are sure to be a great addition to this already thriving restaurant area of the city. Offering top quality burgers and mouthwatering sides.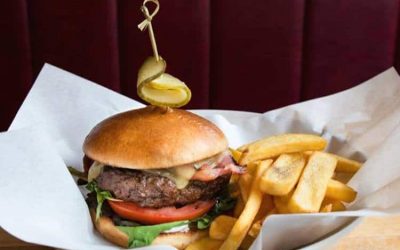 Kemptown's The Old Bank may well be known for its steak and ribs, but when you cook meat this well then burgers must surely be just as delicious. All made using British beef that has been hung for a minimum of 28 days, you can be sure of some quality meat when visiting the Old Bank. For the purist, the Banker burger is sure to satisfy, and the pulled pork burger is a taste sensation for fans of American style BBQ. Choose from triple-cooked chips, baked potato or a house salad on the side to complete the meal. The Old Bank is deserving of its place on this list, so why not go check it out today.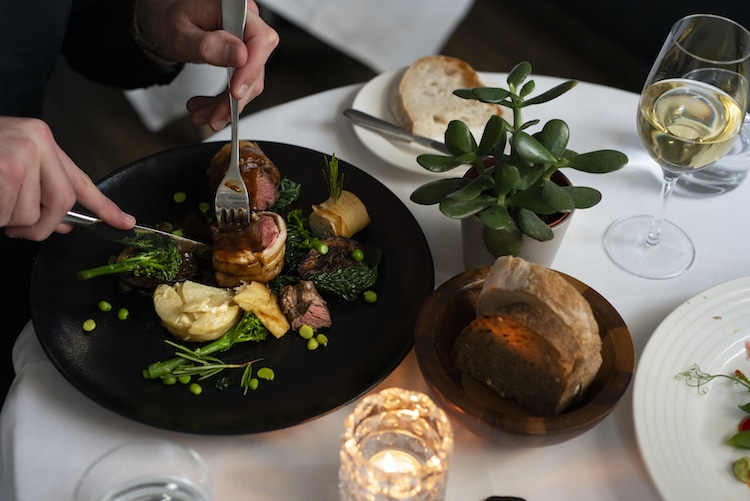 Want to know the latest food & drink news for Brighton & Hove?
Add your email address below and we will send you our newsletter every two weeks.
(Being respectful of your data and privacy is really important to us, always has and always will be.)