Restaurant Brighton's guide to
Where is the best burger in Brighton? Our lowdown of the mightiest and meatiest, the best burgers in Brighton restaurants. Burgers are bountiful in Brighton you'll find at least one or two good options in any quality eatery. So here we're looking at who's upped the burger gambit with more options, variety and ingenuity. Because the burger craving can hit fast we've organised this page by location, so you can fix that itch, pronto. 
If you're after vegan burgers then we've got a guide for that too. 
Burger city | The Best Burgers in Brighton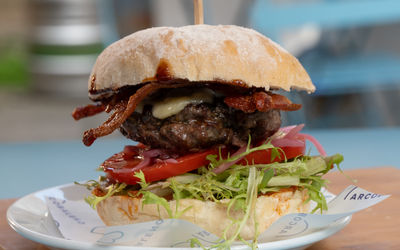 Discover a burst of flavours at Arcobaleno, a cafe-bar and restaurant located in the heart of Kemptown. Indulge in their mouth-watering Arco Burgers, served with a vibrant Rainbow Slaw and refreshing pint of draft beer for £15.
They offer vegan options too – ensuring everyone can enjoy an Arco burger! Don't miss out on this fantastic daily offer available from 5pm-9pm.  Arcobaleno is a GBTQ+ Café, Gay Bar and events space and is the talk of the town in what used to be a bank building. 
Lost Boys Land on London Road is the stand-alone chicken shop from the locally acclaimed, multi-BRAVO winning Lost Boys. Chicken is given the full works, made super succulent with buttermilk and breaded with their secret Southern spice mix.
Top that off with their finger-licking good homemade sauces for a chicken shop burger that's a cut above the rest. This place has to be on your list as possibly the best burger in Brighton.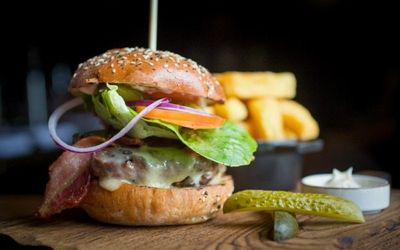 If quality is your top concern when it comes to your burger, you can be sure that Brighton's premier steak restaurant is going to deliver. The Coal Shed may feature a mouth-watering array of sensational steaks, but their burger offering is a serious option for any meal. The Coal Shed is regularly named in the top restaurants in Brighton, and as one of the best in the UK, making this a high-end burger experience. Do they make the best burger in Brighton, you will have to pay them a visit and find out. Burgers are often a special on the Coal Shed express menu for lunch. 
Burger-by-sea | The Best Burgers by-the-sea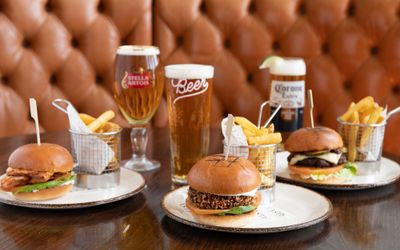 DoubleTree by Hilton Brighton Metropole is a fantastic destination for enjoying a delicious burger by the sea. Their menu features an array of mouthwatering burger options, including the classic Metropole Burger made with prime beef and served with all the traditional burger accessories. For those seeking unique flavours, the menu also offers specialty burgers like the Spicy BBQ Bacon Burger or the Vegan Beyond Burger. With its picturesque seafront restaurant location and delectable burger offerings, the Metropole Bar provides a delightful dining experience for burger enthusiasts looking to savour their meal with a view.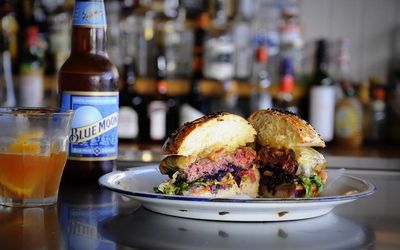 Brighton's little slice of New York, The New Club, is a burger lover's heaven. With stunning views of the promenade and i360, great food and tasty cocktails this place has got it all. They've been recommended in Shortlist Magazine, Waitrose Magazine and both The Times and Sunday Times as one of Brighton's best spots. Quality, locally sourced and freshly prepared food is the order of the day. The New Club is one of Brighton's best loved burger spots, all served with a little bit of New York swagger, with a sidewalk overlooking some magnificent Brighton seafront views.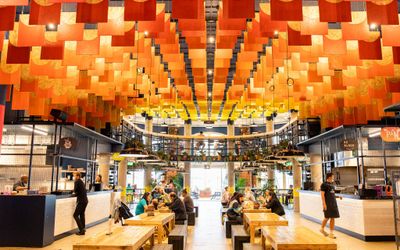 Shelter Hall has two great burger options. Patty Guy from Masterchef 2018 winner, Kenny Tutt serves smashed burgers that are next level indulgent, while at the same time being a quality spin on nostalgic Americana sandwich menu. There's also Chick' n' Bun which serves up delicious American-inspired fried chicken burgers. Enjoy your burger with a sea view from their terrace!  Shelter Hall is an amazing place to visit in Brighton with seven different kitchens, so you must go if you haven't been; please be aware their food offerings rotate so check in advance which food offering is available each month. 
From Hamburg to Hove | Best Burgers in Hove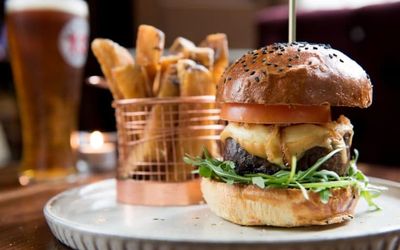 Hove Place is a popular gem of a Hove gastro-pub with a menu that mixes pub classics with finessed bistro dining, so burger wise you can set your expectations high. These are burgers pushed to the edge of classic where they bump nicely against contemporary. Try local Trenchmore Wagyu beef with chipotle relish and beer braised onions or free range chicken thigh with Xo mayonnaise, coconut and Asian sesame slaw. Hove Place also boats one of the best beer gardens in Hove in addition to their incredible burgers. Dog friendly, child friendly and if someone else wants to enjoy a different menu item then it has all the pub classics like fish and chips, charcuterie platters.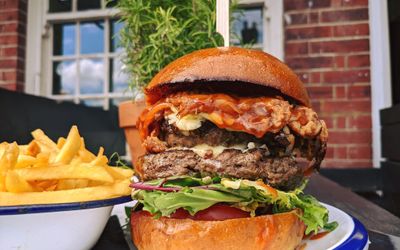 The Poets Ale and Smokehouse (Hove neighbourhood pub) takes meat seriously. Head Chef, Mark, hand selects local meats and game and they butcher and smoke in-house. Burgers are packed with smokey flavour and finger-liking BBQ sauces. These burgers swell in proportion from the Plain Poets Patty, a simple beef steak patty classic, to The Texas Chainsauce Massacre, a beef steak patty, smoked brisket, melted cheese, jalapenos and BBQ sauce and Korean Chicken Cruncher with breaded thigh, Korean sauce and sweet chilli. There's a smoked vegan beetroot burger and a seitan and mushroom burger that's vegetarian. Two for one burger offers are currently available every Monday. Please check their menu for updates before you go.