Restaurant Brighton's guide to
Finding a good Sussex Farm Shop is a wonderful experience. Organic produce, the field to fork experience, but above all it's all about the quality of the produce available and many shops supply to leading Sussex restaurants. 
The farm shop is a very simple concept, a place where you can buy produce directly from where it was made (or at least very near to). They have developed over the years, stocking produce from all over the area and beyond. Something that has never changed is that quality and freshness of the produce that supermarkets cannot come close to. Here in Sussex we have plenty to choose from.
To send some delicious Sussex produce to a loved one, try our list of Sussex food gifts.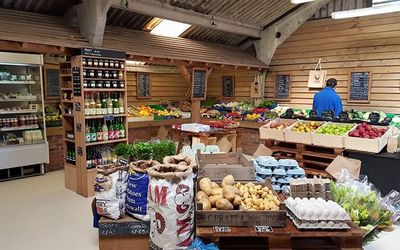 Park Farm Shop is situated on the outskirts of the city, near the entrance to Falmer village opposite the Amex stadium. This family run business has been operating for 35 years, sourcing and supplying fresh fruit and veg, meat, fish and other produce. With their own jute bags instead of plastic bags, and the UK's best sustainable kiln dried logs, this is a wonderful resource for the city. Park Farm Shop are still open during the COVID-19 pandemic, they are limiting customers in the shop to three at any one time and will be opening the shop to key workers only Monday – Friday 8:30 – 9 am. Photo credit: Park Farm Shop Facebook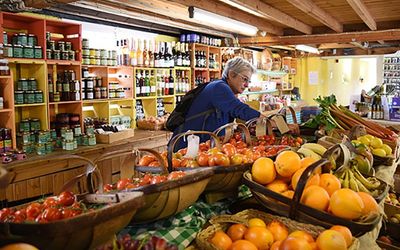 Middle farm is well known in certain Brighton circles. Their cider shop, housing the national cider collection, and festival have given the farm a legendary status amongst revellers, and the farm tours are great for families. Their farm shop and café also deserve some of the limelight. With the largest selection of Sussex produce anywhere, and products from all over the UK, the farm shop has grown and developed over the last 50 years. Middle farm is a superb day out and thanks to the shop, cider barn and café you can leave with lots of delicious goodies. Middle Farm is currently closed during this pandemic.  Photo credit: Middle Farm Shop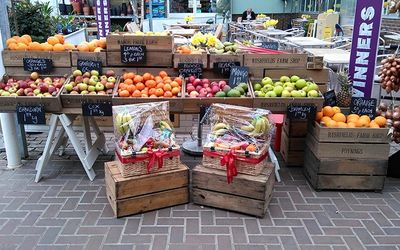 Rushfields is not so much a farm shop as a rural superstore. There are a number of these across the Sussex countryside but Rushfields gets a mention here for being independently owned and being just the other side of Devils Dyke. Mainly a plant centre, their on site farm shop is particularly good making it worth a mention. With their own onsite butcher you know you are getting quality meat and the larder goods are local and sourced carefully for their quality. During the Covid-19 pandemic, Rushfields is offering freshly filled boxes delivered straight to your door. Choose from the veg box, the fruit box, the dairy box or the meat box. The Farm Shop is also open to anyone not in the vulnerable category, taking social distancing measures. Photo credit: Rushfields Facebook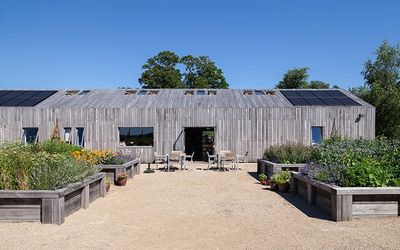 Eggs To Apples is another award-winning farm shop, this time situated slap band in the middle of the High Weald in East Sussex.  A modern take on a traditional barn, the shop boasts solar panels, 6,000 litre rain water harvesters for grey water use, it is insulated using Isowool made from recycled glass bottles, and clad in locally-prevalent sweet chestnut. Eggs To Apples has brought the farm shop into the 21st Century, but kept the traditional ethos of fresh local produce, butchery and even a fish monger. Eggs to Apples are still open during the Covid-19 pandemic, if you are well enough, you can visit the shop as normal with social distancing measures, they are also offering drive thru, contactless collection and delivery options, find out more by clicking the link below. Photo Credit: Eggs To Apples Facebook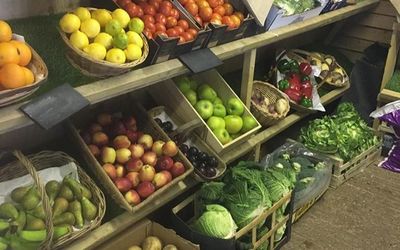 Situated just north of Pevensey and south of Herstmonceux castle, Chilley Farm is well located for day trippers, and with glamping and camping on the farm you can even make a weekend of it. The farm shop, café and butchers form a triumvirate of places to eat and purchase fabulous local produce. They now breed their own herds of native breeds for fresh meat to sell on site. With a strong focus on animal welfare they are farm assured members. They don't use sprays or fertilizers on the farm and the meat is additive free and butchered onsite after only travelling 9 miles to slaughter; now that is local! During Covid-19, Chilley Farm is still open and taking social distancing measures. In addition, they are offering delivery services, all you need to do is call the farm shop on 01323 768836 between 09:00 – 16:00 and place your order. They will ring you for payment prior to delivery. Photo credit: Chilley Farm Facebook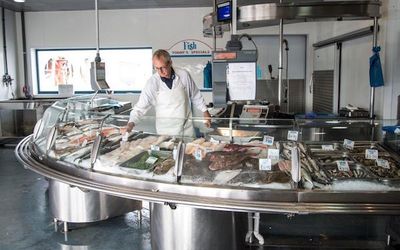 Brighton and Newhaven Fish Sales is well known throughout Brighton and beyond for delivering freshly caught fish to the city's top eateries. They have also have a retail arm via their shop FISH, so that the public can enjoy the freshest catches at home. The shop also boasts everything you may need to whip up your favourite fishy dish from seasonings, to sauces and paella pans. They'll even prep your catch for you, or advise on the best way to do so. During the coronavirus lockdown the shop remains open, and the fleet of BNFS refrigerated delivery vans have turned from wholesale to retail delivery, brining fresh fish to your door.