Restaurant Brighton's guide to
The best vegan breakfast in Brighton
Brighton and Hove has plenty of places to get a great breakfast or brunch, but maybe you're looking for somewhere that has a vegan option? Restaurants Brighton have put together some of the best places to visit for a delicious vegan breakfast to kickstart your day!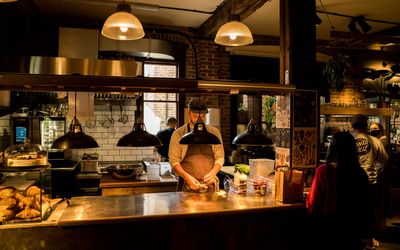 If anyone's going to be serving a banging vegan breakfast it's going to be the creators of The Roundhill. Head up to our neighbouring town Lewes and make a b-line to The Needlemakers Cafe. Max and his family took it over in early 2021 and they've created quite a buzz with the introduction of the first 100% vegan cafe to this historic town. Their plant-based fry-up will get you well set up for the day, or if you have a sweet tooth, then get stuck into their mini dutch pancakes and shakes.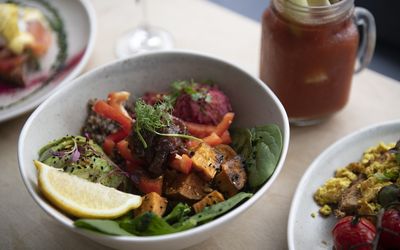 Starfish and Coffee sits perfectly positioned across the road from Queens Park Brighton. This independent cafe has a real family feel and welcomes Brightonians of all ages, diet choices, and coffee preferences. Voted as the 'Best Brunch' category in the 2018 BRAVO awards, it is clear to see the love you lot have for food offerings here. When it comes to vegan choices, there is plenty on offer including 'The Vegan' breakfast, the 'Mushroom Hash' and the 'Avocado Citrus'.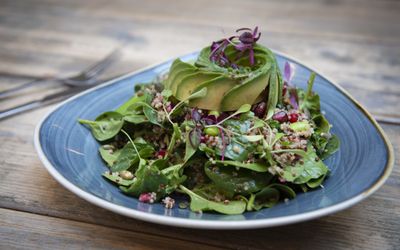 Moksha Caffe is a friendly family run venue with strong ethical and sustainable principles behind their home-cooked food offering. When it comes to vegan breakfasts things can get a little bit samey, even in a city like Brighton, so Moksha earns an extra bonus point for their tofu Benedict: marinaded tofu served on toast with lashings of hollandaise, avocado and superfood salad. If you like something a bit more classic, and a bit more naughty, go for a stack of American pancakes with blueberries and maple syrup.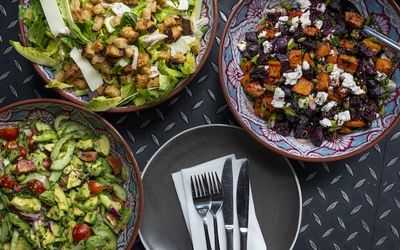 Small Batch Coffee is a go-to throughout Brighton and Hove when you're after that perfect latté with moo-free milk. Their baristas have got the art down to a tee, so you can say goodbye (and good riddance) to curdled coffee. All the cafes also serve a range of pastries, savouries and sandwiches including vegan options. Additionally, Norfolk Square, Seven Dials and Goldstone Villas all have kitchens serving all-day brunch. Vegan options include smashed avocado on sourdough with roasted cherry tomatoes and scrambled tofu and a Vegan Full English, with Brighton Sausage Co. vegan sausage patty, Porky's Revenge bacon, scrambled tofu and homemade baked beans.