New restaurants Brighton & Hove
Our pick of the newest restaurants in the forever changing and fast-moving food scene in Brighton and Hove.
Opened in September on Church Street in the North Laine. The intimate and darkly lit bistro is situated opposite the Corn Exchange making it an ideal romantic venue pre or post-theatre trip. The menu is an equally intimate selection of small plates and tapas coupled with an expertly curated wine list. Behind this latest opening is local Chef Phil Bartley of The Great British Charcuterie, whose artisanal produce, sourced entirely from the British Isles, populates the menu. Follow At TEN on Instagram.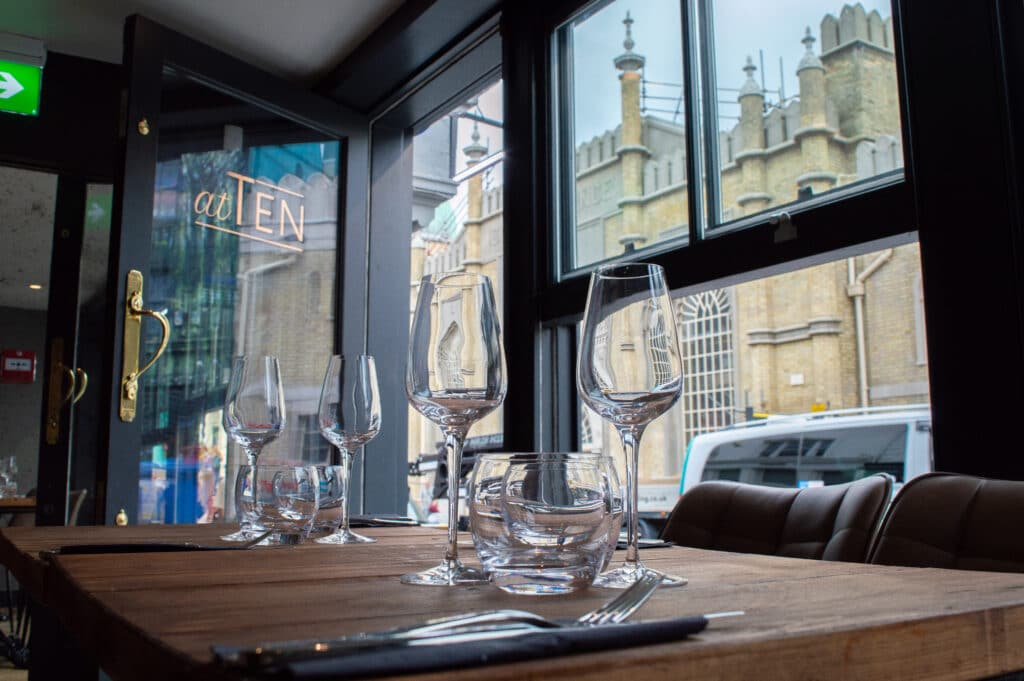 Socialite Brighton opened in the summer in central Brighton's busy Lanes area. Set among many of the areas well-established restaurants, the pedestrianised area is a magnet for sun-loving diners. Make your way to the roof for one of the most glamorous roof terraces to sip cocktails and nibble lite bites. The main restaurant is equally stylish with a menu of quality modern dishes, which source locally where possible. There are also private dining rooms for those who like to socialize exclusively.

Rum Kitchen on Black Lion Street is bringing the flavours of the Caribbean to the shores of Sussex. Think jerk barbeque flavours for feel-good food. Rum cocktails to keep those good vibes going and live DJs to get your tempo up. It's a carnival every day of the year. Caribbean favourites such as mutton curry and jerk chicken will delight lovers of the cuisine and plant-based visitors can enjoy plenty of choices from crispy fried cauliflower to roasted and rum-glazed jackfruit.
Follow Rum Kitchen on Instagram.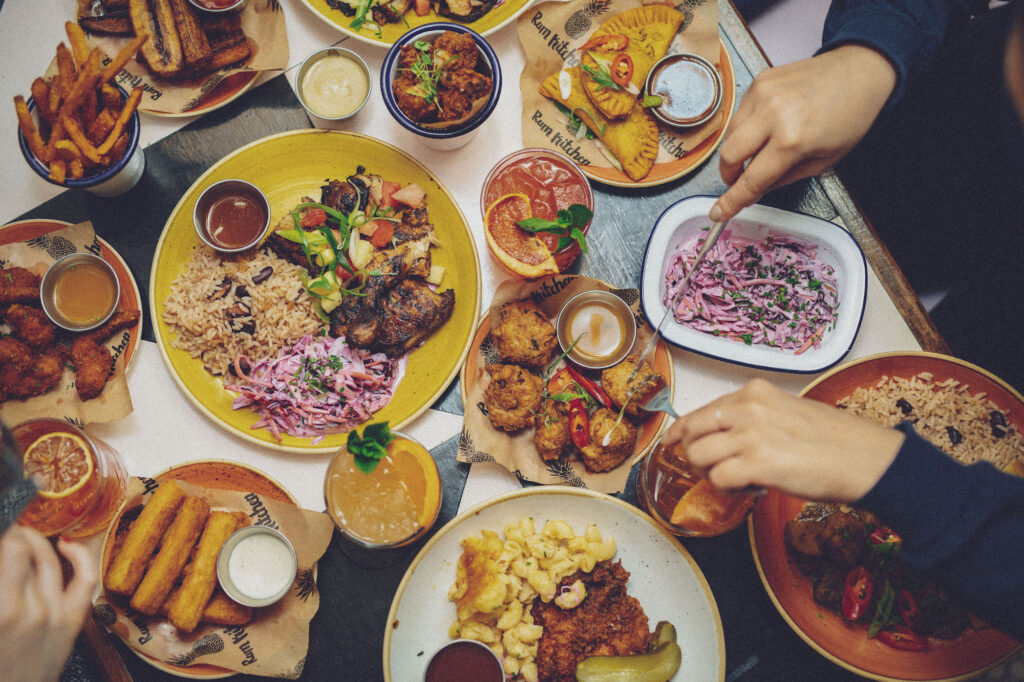 Opening in mid-June 2021 Taste Sussex is the latest independent venue to claim back some big-chain space at the Brighton Marina. Taking over the former Ben & Jerrie's on the Marina Boardwalk, Taste Sussex is the most ambitious project yet of food and drink duo Phil Bartley (The Great British Charcuterie, Hove Place, and Curds and Whey) and Steve Pineau (L'Atelier du Vin and Cases Club). With a nod to large chain lounge diners, Taste Sussex serves all-day family and group orientated menus, but using quality local and seasonal produce, as well as fun cocktails mixed by master mixologists. Alfresco dining with marina views as well as a keen eye on getting the perfect balance between quality and price point will make Taste Sussex a great hangout spot for locals in the know this summer.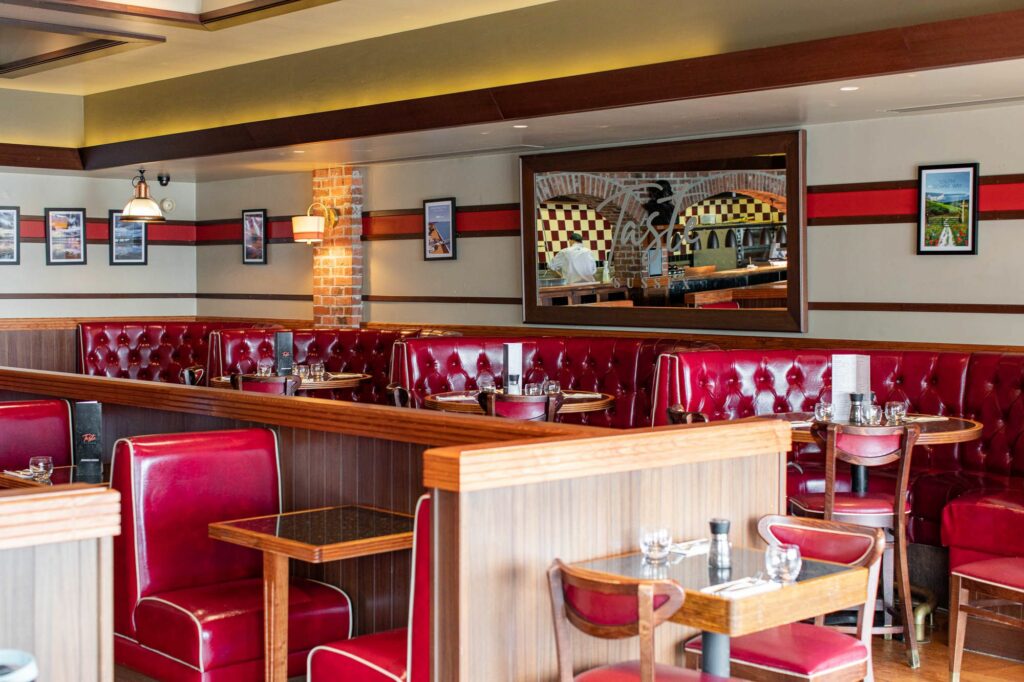 Burnt Orange opened in June 2021 in the former Coach House restaurant on Middle Street. Burnt Orange is brought to us by Razak Helalat, the restauranteur behind The Coal Shed and The Salt Room, two of Brighton's most loved restaurants. Burnt Orange is a little more casual and relaxed, mixing high-end food and drinks with beats from DJ Norman Cook (Fatboy Slim). The 16th century coach house still retains many original features which will be mixed with modern style and comfort in the 54 cover restaurant, with additional seating for drinks and alfresco dining in the beautiful cobbled courtyard.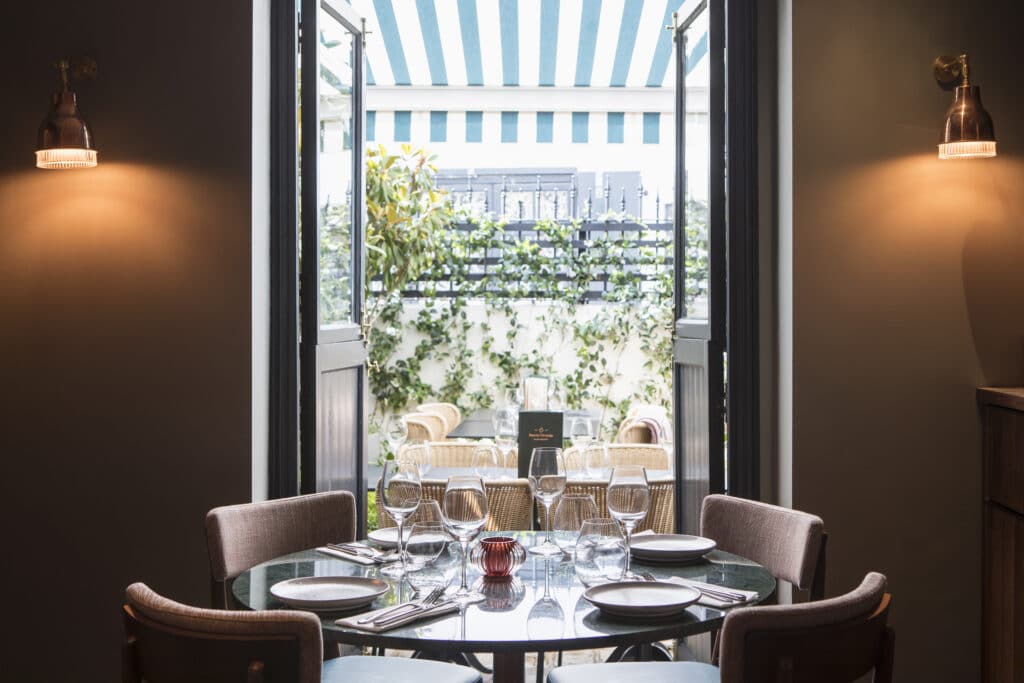 Tapas Revolution brings authentic Spanish cooking to North Road. The restaurant is open seven days a week and has a large dining area, bar and streetside terrace with views into The Pavillion gardens. Tapas sharing plates make for great social meals and traditional paellas are a speciality. There's also a dedicated children's menu special offers including lunchtime deals, bottomless brunches and happy hour making this new venue the place to go for fiestas fit for friends or family.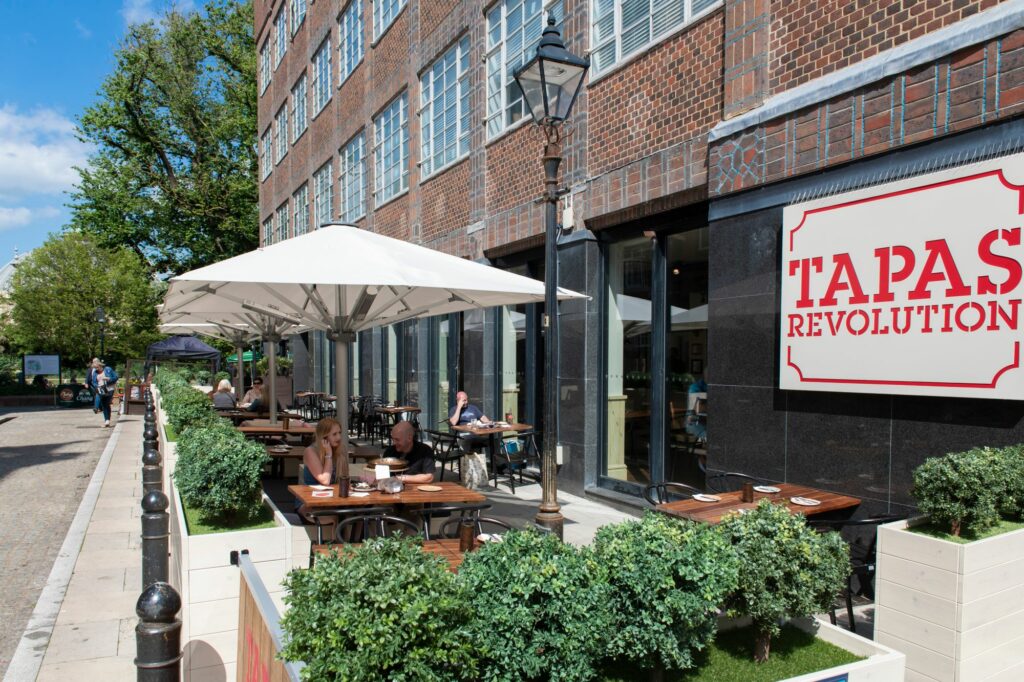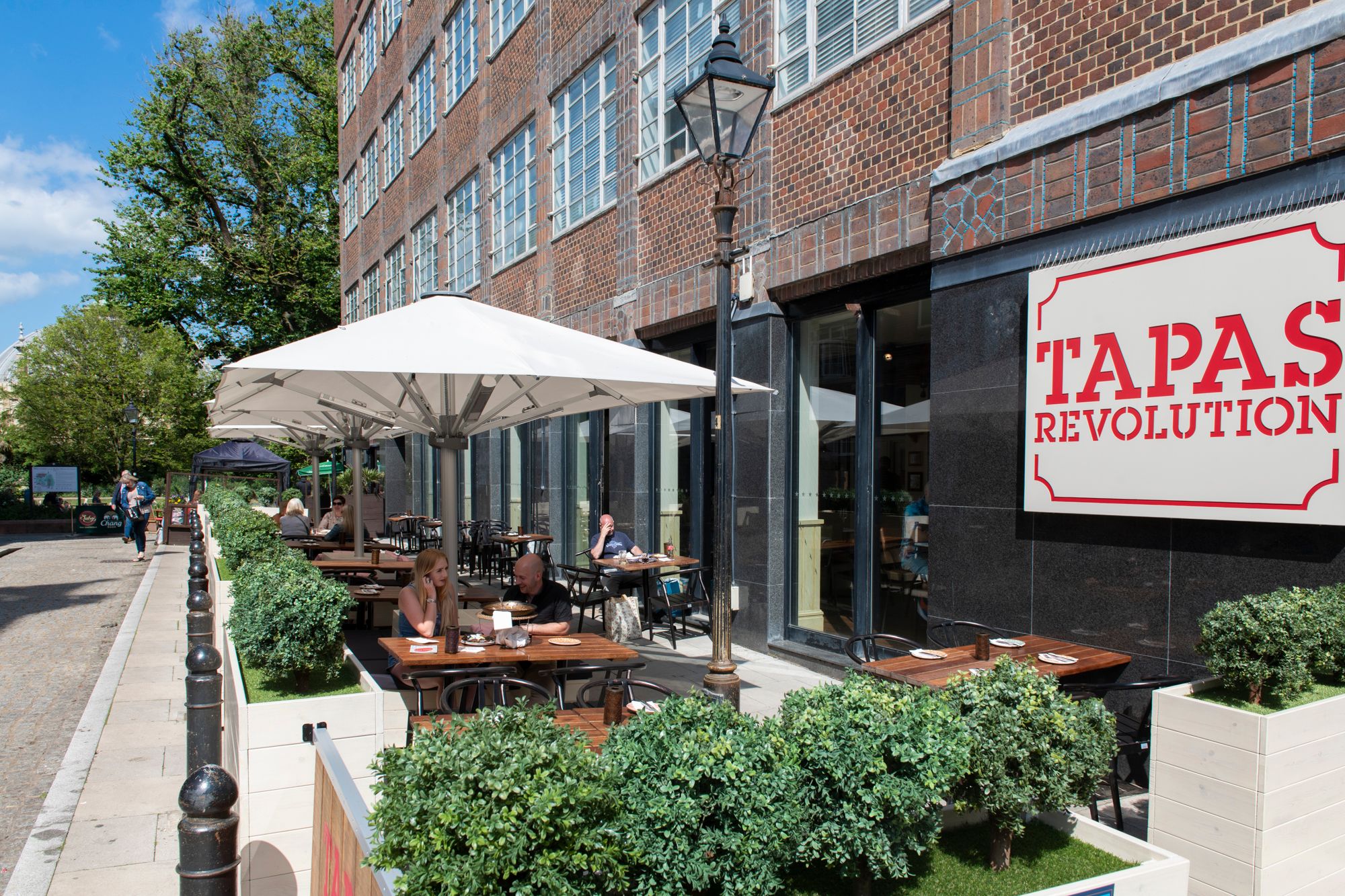 This fully vegan Japanese restaurant is a stylish new addition to the developments around Preston Circus and comes from the team behind Wolfox, Food For Friends and Botanique. Inside, the look feels very New York with a mix of industrial and Japanese styling. The menu offers lots of variety from sharing small plates, sushi, curries and a tasting menu. Drinks wise, there's a menu of Japanese flavour inspired cocktails that you may have trouble pronouncing even before you start drinking, a good mix of world wines, saki and beer.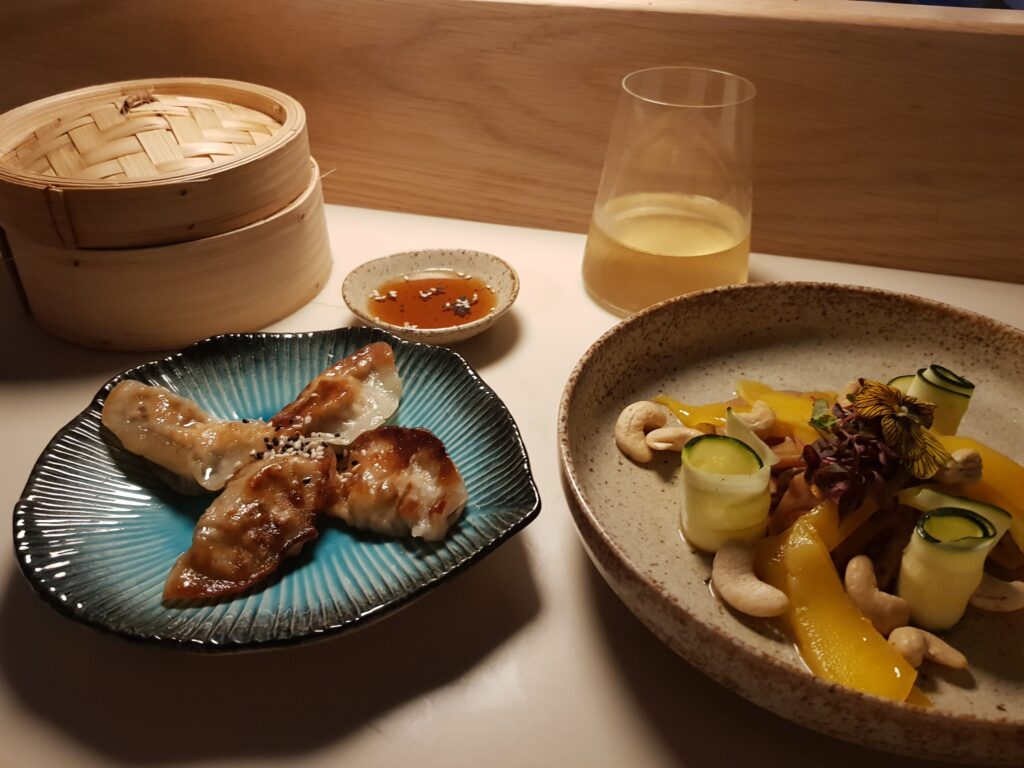 Kokedama, Lewes, was launched Friday, June 25th and is set to send culinary connoisseurs feverish with excitement. Kokedama is brought to you by the family team behind the award-winning plant-based pub The Roundhill and shares their 100% vegan focus. However, while they share ethos Kokedama will be conceptually quite different from her sister venue. Based in Lewes, in The Needlemakers, the restaurant will be the first of its kind in the town, offering a fine dining experience like no other. Open only on Fridays and Saturdays for evening service you'll have to prebook to get in on this little underground gem. Diners can expect sustainably sourced and seasonal small plates, an exquisite selection of plant-based natural wines, and beautifully crafted botanical cocktails.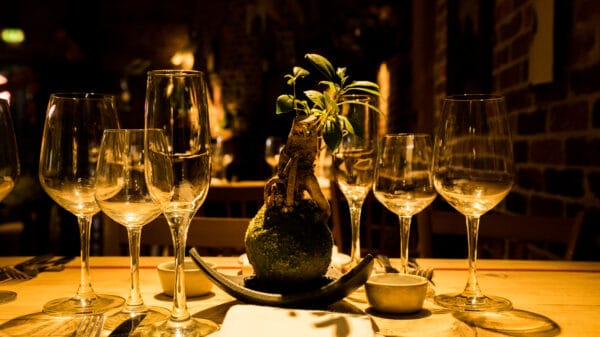 Photo credit; Kokedama
It is with a heavy heart we bid farewell to one of our favourite Kemptown bars, The Cloakroom. However, in its place and run by the same kitchen and FOH team will be a new and equally exceptional venue The Bronze. Opening in June 2021 you can expect all of the best from before and much much more. It's set to dazzle you with its quirky interiors and "year 3000 interpretation of a 1920's prohibition bar". Serving and awe-inspiring selecting of local and European craft beers, an enviable array of specialised whiskeys, botanical cocktails and sharing plates championing the smoked food flavours of Slow + Low kitchen. Community and industry orientated events will highlight their calendar, as well as live music, art, socials and lectures galore. If it's a mix of true Brighton vibrancy, ethics and fun with quality food and drinks that you're after then this place is made for you!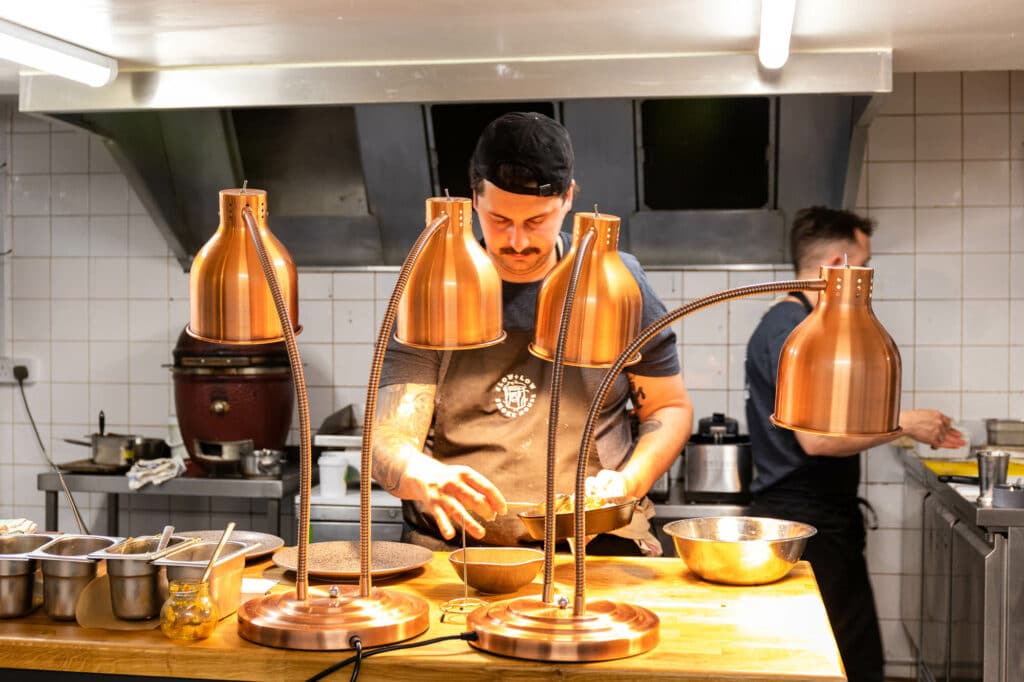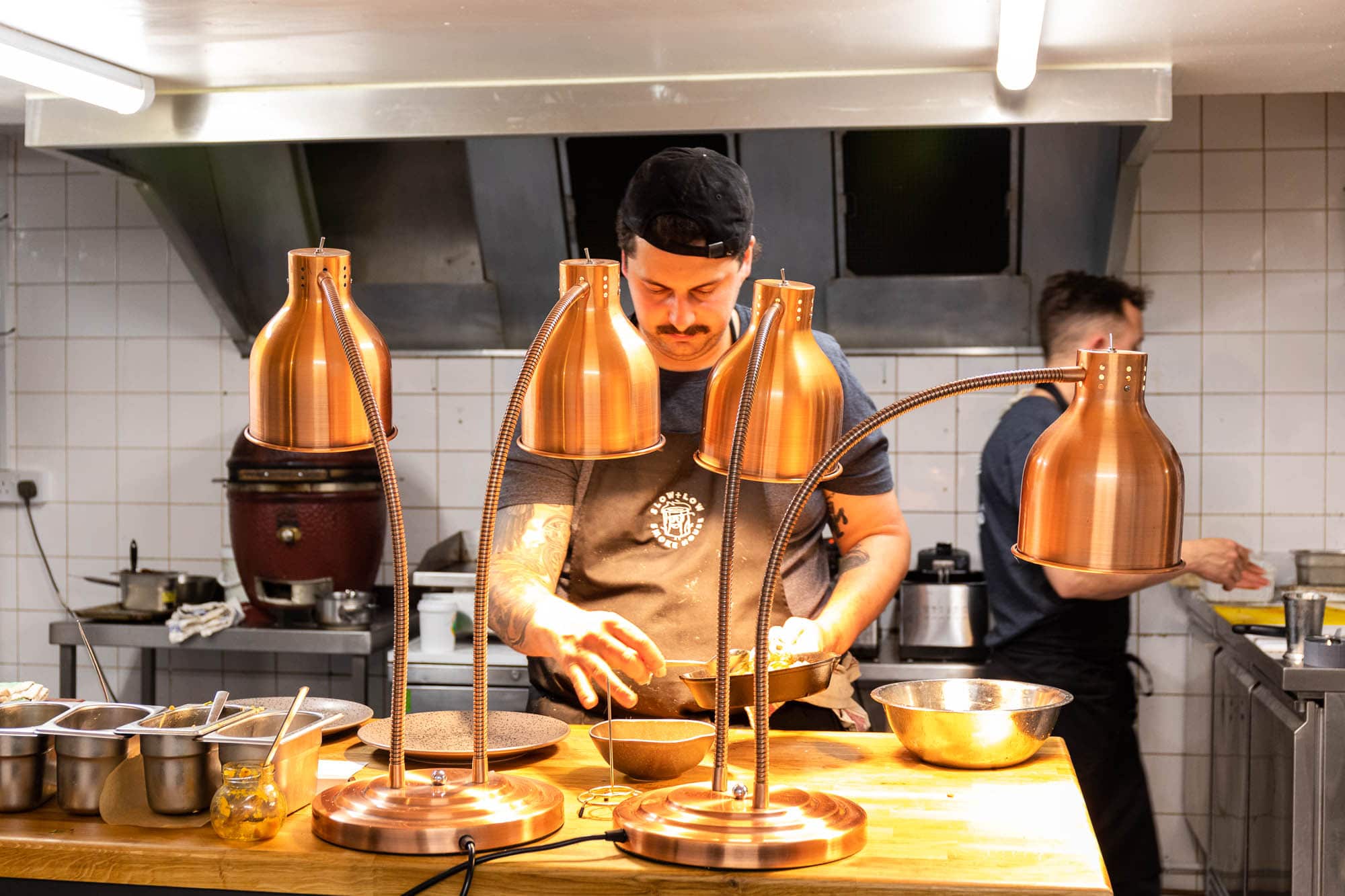 The Needlemakers Cafe in Lewes has recently been taken over by the team behind the award winning, plant-based venue- The Roundhill. Max and his family have moved back to their hometown, taken over the local relic and brought their unbudging passion for plant-based living, simple, sustainable and local flavour with them. The Needlemakers Cafe offers the best of cafe culture; banging brunches, comfort lunches, pastries, shakes, coffees and teas, only this cafe is 100% vegan. Set in the heart of Lewes and just off the bustling high street, it makes for the perfect spot to stop and refuel with family and friends before you embark on the rest of your shopping or the second leg of your hike across the Downs.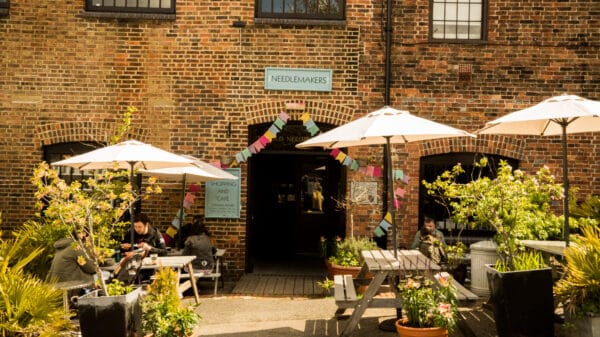 Opening Friday 16 April 2021. Brighton Bier has established itself as a serious purveyor of excellent local beer and having a penchant for positioning their taprooms on steep inclines (Haus on the Hill on ear-popping Southover Street, and Beirhaus on slow-burn Edward Street). Breaking with this tradition the Brighton Bier team has opened their 66 seater beer garden at their new, very level, beer garden, adjoining their brewery near East Brighton Park. Pop-up food vendors will be adding to the festival vibes. Find out more via the Brighton Bier website.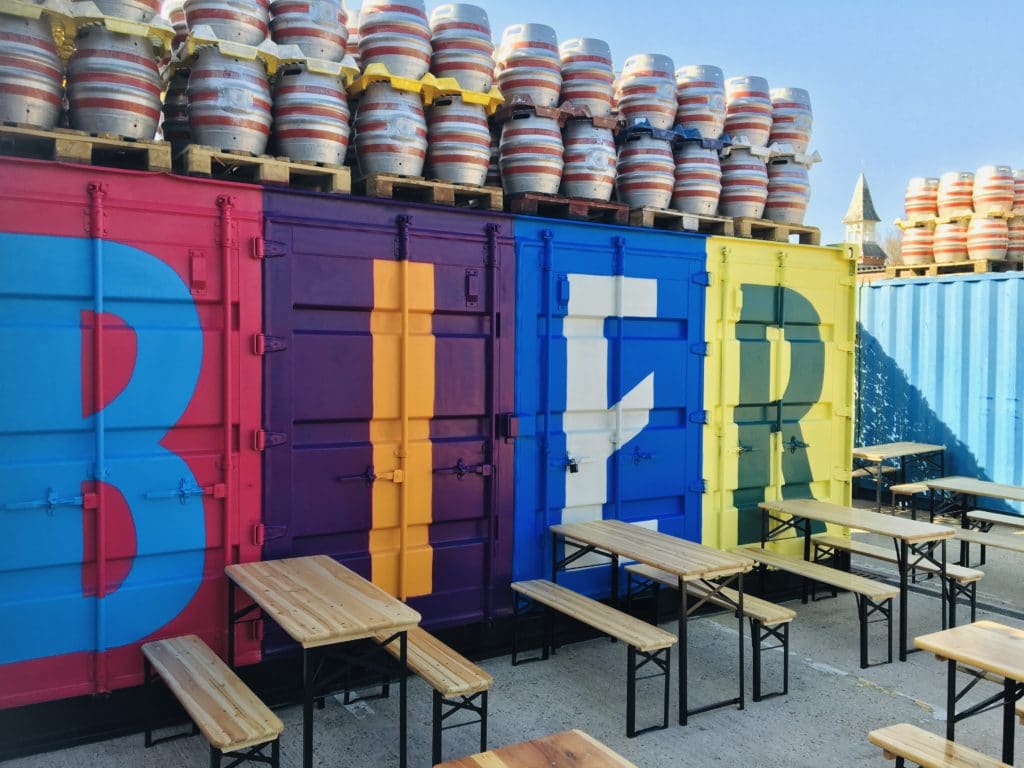 When Ian Swainson first opened his Spanish inspired fine dining pop up in central Brighton we knew the city was in for a treat, would Ian's dazzling track record finally earn our food scene its first Michelin star in years? Post lockdown of spring/ summer 2020 and Amarillo has relocated into the Restaurant at Drakes, filling a deeply felt void in the city's much loved fine dining restaurants. Amarillo at Drakes is something to really get excited about, mixing modern innovative cooking with the classic elegance of Brighton's best boutique hotels.

Opening in the former Polpo site on New Road in the Laines, Tonkotsu Ramen Bar opened its newest venue in June 2021. The menu at Tonkotsu Brighton features the brand's signature Tonkotsu ramen, a rich and creamy pork and lardo broth with thin-cut noodles, and topped with roast pork belly, bamboo shoots, bean sprouts, spring onions, burnt garlic oil and a seasoned egg. Gyoza, Chilli Chicken Ramen and vegan Mushroom Miso Ramen all also feature on the menu. The short drinks menu obviously includes sake, but of note is the pairing with local UnBarred brewery.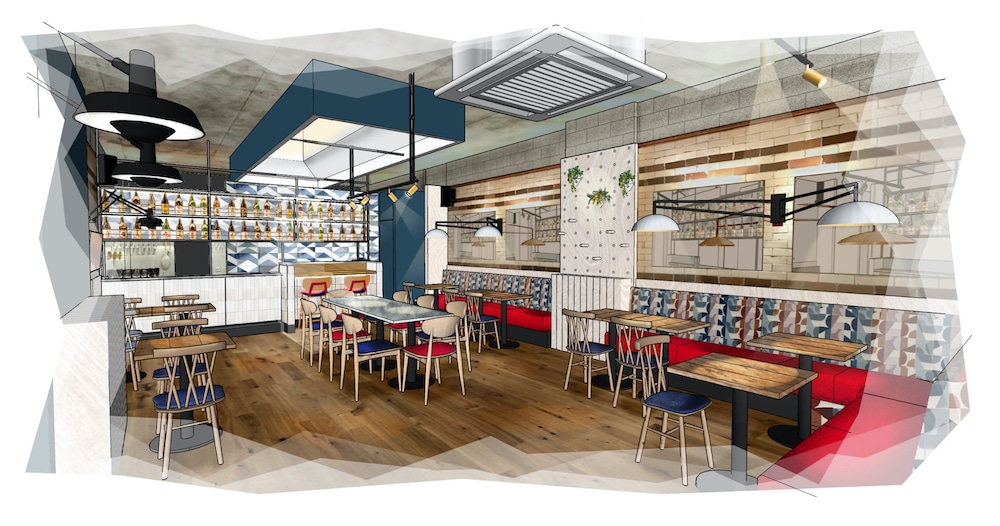 Coming Soon…
Kenny Tutt continues to expand his empire on the success of PITCH in Worthing and Ox Block in the newly redeveloped Shelter Hall. Inspired by modern-day beach clubs, and the Art Deco scene on Miami's South Beach, Bayside Social sits on Worhting seafront with 180 degree sea views. Inside the restaurant will seat 40 covers with additional seating outside. Open for breakfast, lunch, dinner and weekend brunch, or you can just pop by for a cocktail. The MasterChef winner is well known for putting his own Sussex spin on classic and world food and this is something we will see more of at Bayside Social, within a less formal setting.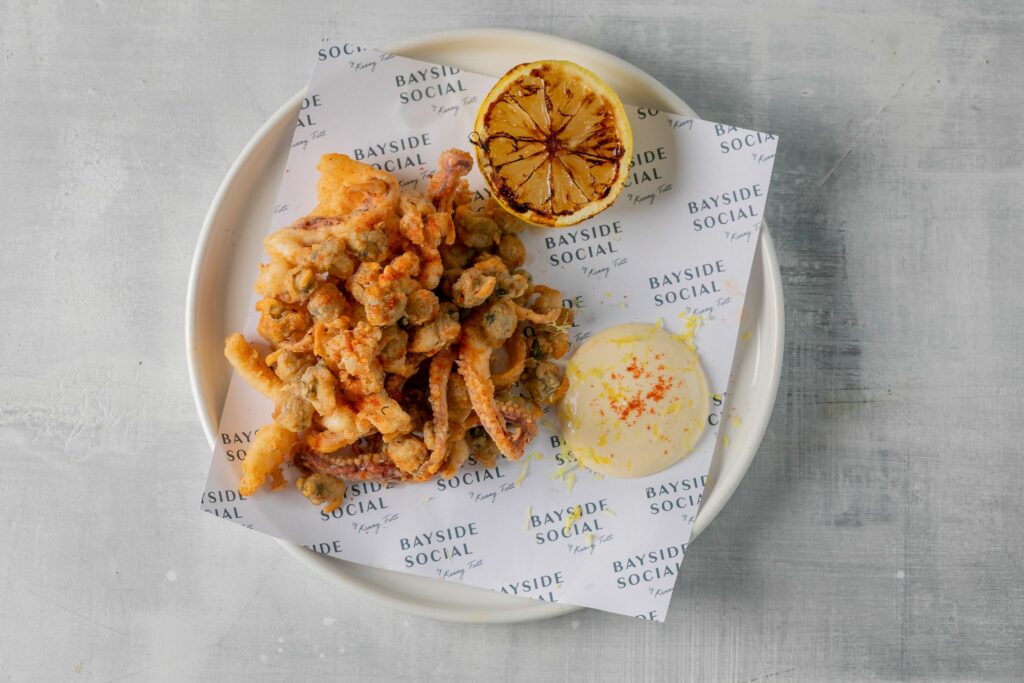 Plans have been revealed for 'the seafront project' on Shoreham Beach. Boxpark claims to have teamed up with The Big Beach Cafe, owned by none other than Norman Cook (Fat Boy Slim), and aim to covert the cafe into Shoreham's Big Beach Box. There are plans for the space to have a central restaurant and cafe hub, with a roof terrace and a dedicated water sports centre!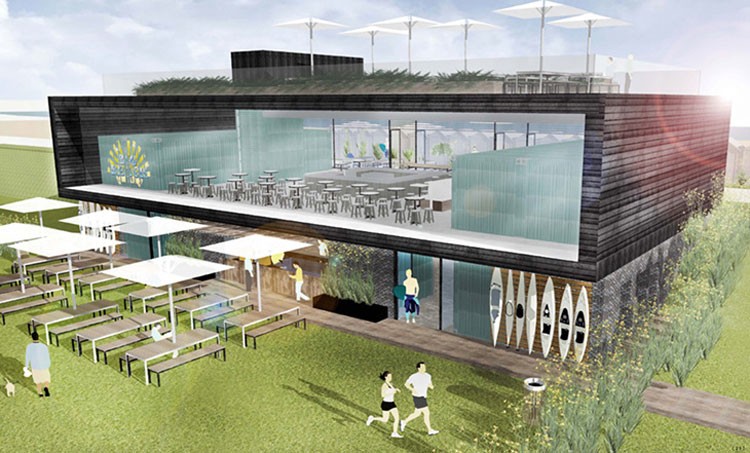 Soho House is coming to Brighton and will be creating a new private members club to the East of Brighton pier. The worldwide brand of luxury private houses is aimed at those in the creative industries. In addition to private clubs, Soho House, bring restaurants, spas, workspaces and bedrooms to the cities they inhabit. The Brighton venue has been years in the planning, but finally got the go-ahead following a long consultation process. The development will be part of a regeneration of the Madeira Terraces area, which overlooks the pier and seafront with the Sea Life centre in the basement of the building. It will include a modern seafood restaurant in addition to a pizza, burger and chicken restaurant on the seafront.