Restaurant Brighton's guide to
Dog Friendly Pubs and Restaurants
The best dog friendly pubs and restaurants in Brighton
Dog friendly pubs and restaurants in Brighton. Looking for a cafe for your park life pooch or a lovely local for your sea dog? We've got the insider info on where you'll find the friendliest welcome for you and your four-legged friend.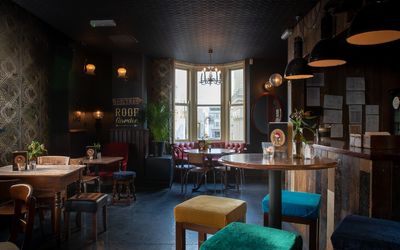 As a favourite go-to spot for many locals and those passing through the city, The Mes has made sure it is inclusive to all and that includes your pooch pals. This is a superb Lanes location and not far from the seafront. Great cocktails and a strong food menu, with doggie biscuits also available.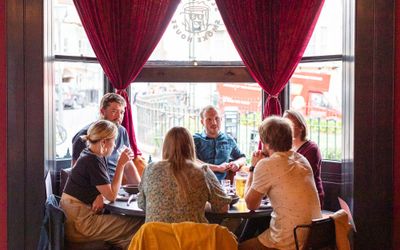 You'd be barking mad not to swing by The Bronze with your pooch on your dog walk through Kemptown. It's all about Sussex sourced smokehouse and barbeque flavours, community and fun-loving Brighton vibes. Big on sustainability, great beer, cocktails and a whisk(e)y list so extensive that The Doors would have known they needed to ask for "the next whisky bar'!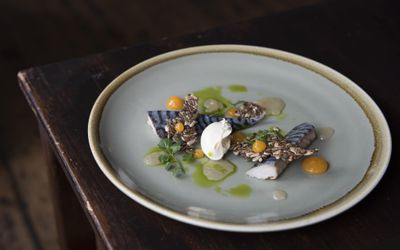 The Chimney House, located between Seven Dials and the back of Brighton Station is just a short walk from Hove Green. It has everything you could want from a 'proper pub' with a Brighton edge – seasonally led elevated pub food, quality beer and that warm local pub vibe that extends to dogs.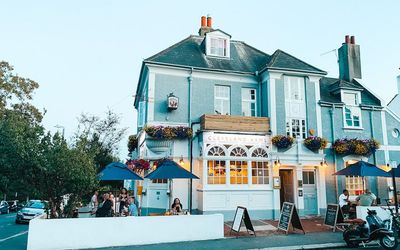 The Cleveland Arms is a community pub that serves great food (and prize-winning roasts). Handily located near Preston Park (for big walks) and Blacker's Park (for little walks or top-ups). It's a light, modern venue that still feels cozy and has rear and front outdoor seating.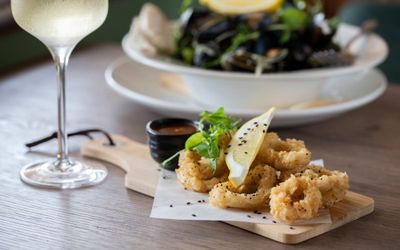 When looking for a pub that's pup-friendly there are a few things you'll need to consider. Do they allow dogs inside? Is there water for my four-legged friends to refresh with? Will there be treats? And in case Fido needs a doodoo is there a park nearby? At The Dyke Alehouse and Kitchen you can be certain of all those things.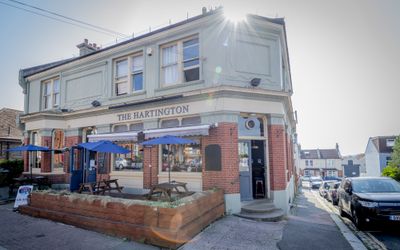 Close to Queen's park, Hanover, The Hartington, situated just off Elm Grove, is perfect for both large and small gatherings, with a cheery, relaxed and welcoming atmosphere and traditional pub games. Dogs are welcome, with fresh water and doggy treats at the bar and a good sized garden for lazy summer days.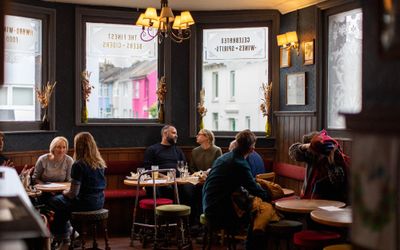 (Parklife) After a few laps around Queens Park and a spot of squirrel chasing, you and the hound would do well to freshen up at Haus on the Hill. Delicious beer from local brewery Brighton Bier awaits you in this independent pub and feel-good food from Danny O'Shea's Caribbean Kitchen. Water bowls and dog biscuits await and a fine playlist of 90s Brit-pop and indie, so you might just catch a bit of Parklife after your park time.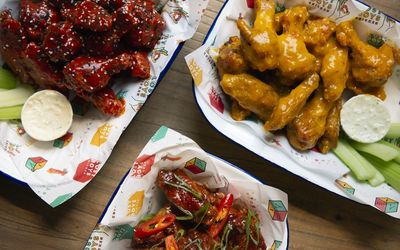 If you've worked up an appetite from all the boundless fun of Preston Park then The Joker is a go-to spot to refresh and recharge. The food element is supplied by Lost Boys Chicken, bringing a sassy New York to feel with a selection of wings and sizeable sandwiches together with Big Apple proportioned sides and lip-smacking sauces. 
If Rover, Fido and Dougal are members of your family then you may want to have lunches and suppers alongside your four-legged friends. The Station Hotel is a safe bet for pre or post park (and probably Preston park in this case) excursions. As one, they love dogs and two, they'll provide the pooch's human with great food and drink, all within walking distance from the park.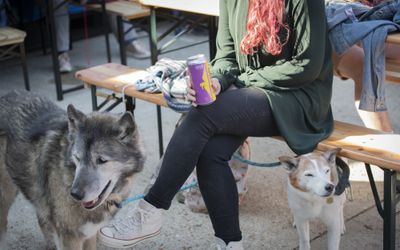 Brighton Bier Brewery, just a little back from the seaside before Marine Gate, has opened up their beer garden for you and your friends (including the four legged kind) to revel in. Enjoy international award winning beers and pop up street food vendors under the sun (or gazebo on wet days). The bar is fully stocked with freshly tapped beers, crafts, wine, soft drinks, water bowls and doggy treats so no one will feel left out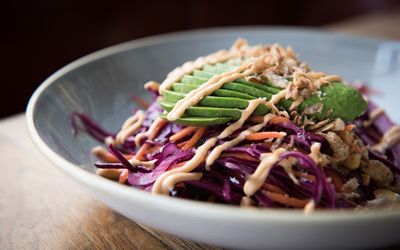 Ideally situated on the King's Road with great views over the West Pier, The New Club Brighton is a seriously cool NY style eatery. Serving across two floors and with outdoor seating, The New Club is open for brunch through to late evening meals, coffee to cocktails. Dawgs with dogs welcome.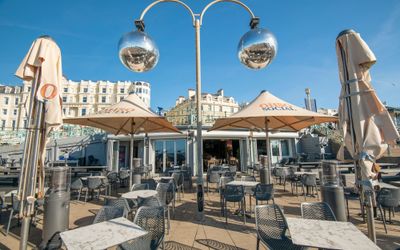 Seafront bar and restaurant Ohso Social is the perfect post dog walk lunch or dinner venue. With plenty of outside seating, their extensive menu caters for all, and the drinks menu is vast and thoughtful and perfectly enjoyed overlooking the sea on a sunny day.
Going for walkies along the marina cliff walk is best rewarded with a stop in the chocolate box village of Rottingdean. The Plough Inn, situated on the edge of the traditional village green and duck pond is the perfect spot where you can enjoy a pint, and some quality food, while dogs can 'make friends' with the ducks.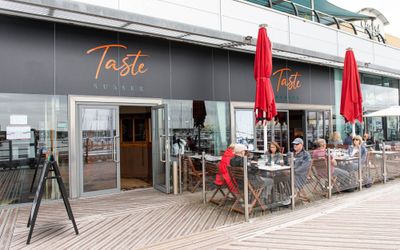 Taste Sussex at the Brighton Marina is a foodie family favourite. The look and feel is that of a lounge diner, but that's where the similarity ends. Here you'll find a freshly made menu featuring some surprising dishes and a real emphasis on award winning, high quality Sussex produce. Dogs are allowed on the boardwalk terrace and in the bar area, where you can eat or just pop in for a cocktail or an excellent quality glass of wine.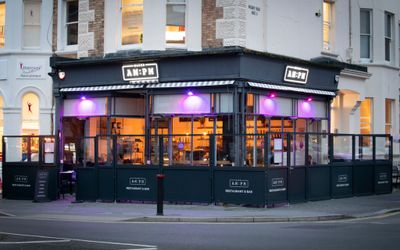 Dog owners take heed, word on the street is that Baked has some of the yummiest biscuits in town. The biscuits are from the highly regarded and barkingly brilliant Snaffles, also unbeknown to the dogs, they're vegan! Don't believe us, try walking past the cafe with your pouch and see where you end up!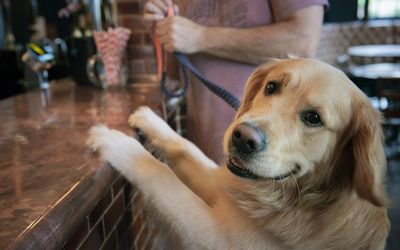 Conveniently located just off Hove seafront, this is an ideal venue if you want to take the dog for a stroll along the seafront. Just one road back from the main Hove seafront. The Better Half is situated slightly west of Hove lawns on Hove Place. Known as your friendly neighbourhood local, this great quality food pub offers a gastro style menu along with a great selection of wines and ales.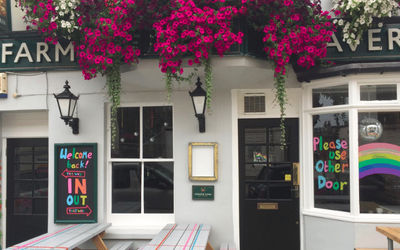 Parents of pooches head to The Farm Tavern for a well earned post park pint. If you're peckish then you'll want to tuck in to their build your own bangers and mash meals. Think pick 'n' mix but hold the sweeties, you'll have the option of over eight artisan sausages to crown a variety of flavoured mashed potatoes and to top it off there's five different gravies to drizzle over the almighty feast. Sorry pooches this is strictly for humans, however there's dog treats at the bar for your pet-pal to munch on.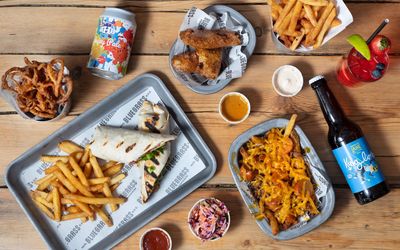 Known for its happy go lucky good vibes and fun times attitude, The Freemasons in Hove is a great place for dog and owner alike to unwind after a beach or Hove highstreet stroll. The bar is stocked, the award-winning bar'b'que is smokin' and water bowls are brimming with the good stuff.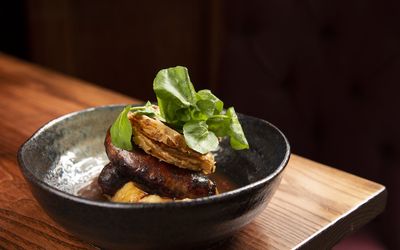 Described as a 'bistro pub and gardens', the Hove Place is a stylish, modern pub with an emphasis on their outdoor space which includes a large Italian garden out the back and a delightful terrace at the front.  Offering a contemporary twist on pub food, there's something for everyone's taste.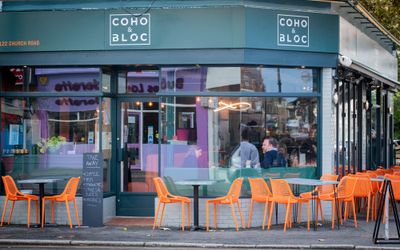 Takeaways are made easy at Cafe Coho, Hove. Customers don't even need to enter the venue to get their hands on this cafe's yummy treats. Workers passing by can grab their Bacon sarnies and morning coffees on the fly, as they're served through the hatch on the Medina Villas side of the venue.
Going for walkies along the marina cliff walk is best rewarded with a stop in the chocolate box village of Rottingdean. The Plough Inn, situated on the edge of the traditional village green and duck pond is the perfect spot where you can enjoy a pint, and some quality food, while dogs can 'make friends' with the ducks.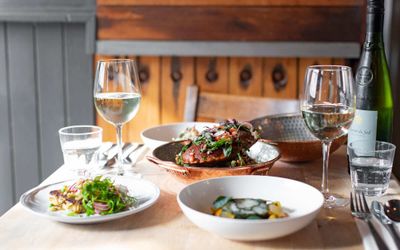 Entirely dedicated to shellfish, matched with a range of over 100 craft beers, The Urchin is a local people will travel the country to visit! Hidden in the residential streets of Hove, The Urchin mixes a serious love of brewing and cooking with a lot of fun.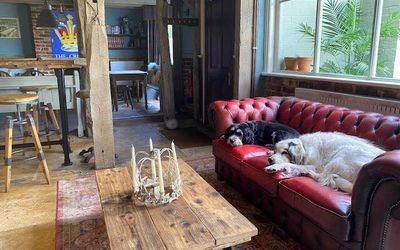 The Crown Inn Dial Post in Horsham is a charming country pub full of character and good, locally sourced home made food. The pub is welcoming both to the locals of the village and visitors and their dogs. Water bowls, biscuits and ear scratches are plentiful and with a large garden at the back and village green at the front, there's plenty of running around room.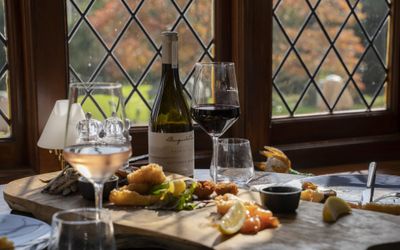 Mannings Heath Vineyard and Golf Club in Horsham is set in 500 acres of beautiful countryside. The Vineyard Kitchen is open to non-members and their four-legged companions and is open from breakfast through to early evening lunch and afternoon teas daily.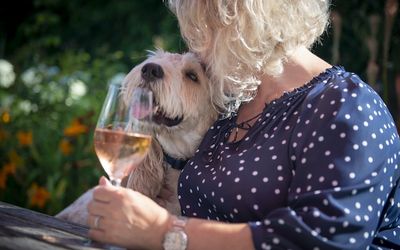 The spacious Grade II listed New Inn in Hurstpierpoint boasts a third-acre garden with a southern aspect giving it full exposure during the summer months, perfect for dog-days. Set in the foothills of the South Downs National Park The New Inn is a welcome break during country walks, with a fantastic gastropub menu and local beers and wines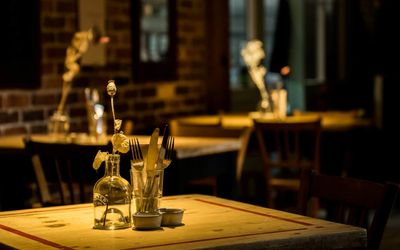 Lewes is a historic, picturesque town that's surrounded by the rolling South Downs, which makes for a great hiking destination. If you've been out roaming the hills with your four-legged Fido and friends then you'll want to stop at a pooch-friendly spot to refuel for the second leg of your journey. You'll be sure to find plant-based power breakfasts, brunches and lunches at The Needlemakers Cafe and they'll welcome your pooch in too.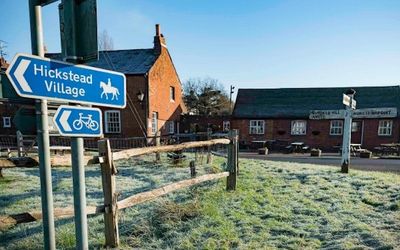 Situated in the little West Sussex village of Goddards Green, the Sportsman is a traditional English country pub. Known for its warm and welcoming atmosphere, The Sportsman is the perfect place for a pub lunch or cosy evening meal. The diverse menu offers pub classics with a creative twist. Locally sourced fresh ingredients.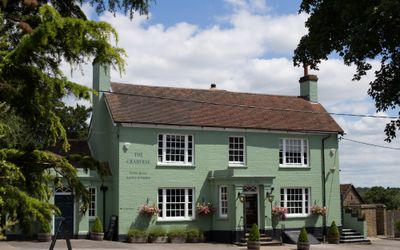 The Crabtree is an idyllic country pub surrounded by fantastic dog-walking trials. Run by the former founders of Food For Friends this is a spot to go to for exceptional food and service as well as a warm welcome to four legged friends.