Restaurant Brighton's guide to
Dog Friendly Pubs and Restaurants
The best dog friendly pubs and restaurants in Brighton
Dog friendly pubs and restaurants in Brighton. Looking for a cafe for your park life pooch or a lovely local for your sea dog? We've got the insider info on where you'll find the friendliest welcome for you and your four-legged friend.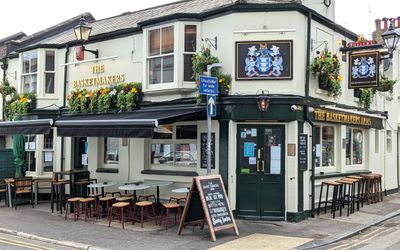 The Basketmakers Arms is an award-winning local in the heart of the North Laine. It's a cosy, classic pub that serves up good atmosphere, classic home made pub grub and quality beers, wines and spirits. On Sundays, they serve a classic roast which is very popular for the gathering of friends and family for a weekend wind-down. Dogs are welcome with biscuits on the bar and water bowls on request.
Lavash on North Street is very handily located for all parts of the city centre. They serve authentic and quality Middle Eastern Street Food. The restaurant is set over two floors with dogs welcome (with well-behaved owners) on the ground floor. Open from 11am daily, you're welcome to join them for a delicious Redroaster coffee and tasty baklava treat to start your day. For lunch go for a satisfying but not sleep-inducing wrap. They're made with freshly tandoor cooked lavash bread which is that perfect sweet spot of chewy, bubbly and charred. Dinner is served from 5-11pm, ideal if you're looking for a late post-walkies quality kebab, shish, shawarma or falafel.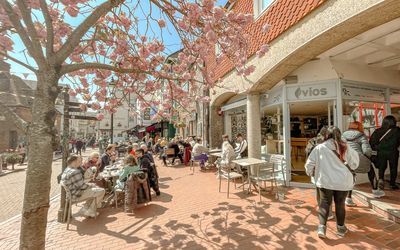 Vios Cafe, the Mediterranean haven in the Lanes, is the perfect spot to unwind with your furry friend. Dogs are welcomed inside the calming cafe, surrounded by beautiful plants and cosy warm tones. Alternatively, enjoy a seat on their terrace, observing the world pass by. Vios is happy to provide a refreshing bowl of water for your pup, and there might even be a delightful dog treat waiting.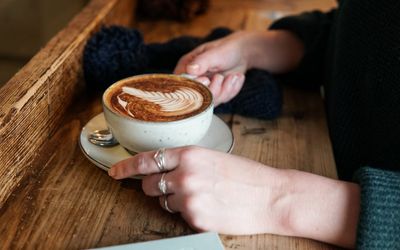 Escape the hustle of the Lanes at Lost in the Lanes café, a welcoming spot for both visitors and their furry friends. Open for breakfast, lunch, and early evening small plates, guests can enjoy a cozy atmosphere with their dogs until 5 pm. Savor a coffee or unwind with a cocktail or glass of wine. Please be aware that the dog-friendly area is limited to the front until 5 pm.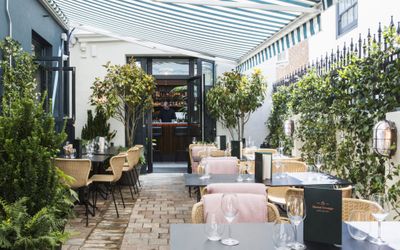 Brighton's #1 Best Restaurant (BRAVOs 2022/3) welcomes furry friends to its beautiful terrace. Dine alfresco on their fabulous Mediterranean dishes and woodfire flavours while your faithful pooch enjoys a feast for the eyes, a smorgasbord of smells and lots of attention from the delightful staff. What better ways to spend a day with your beastie than relaxing under the pretty striped awning while you sample some of the very best the city has to offer? Top Dog!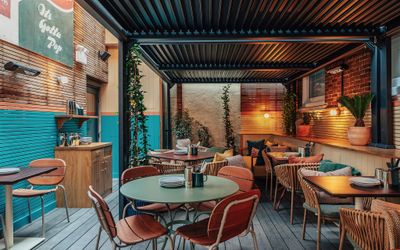 Permit Room Brighton warmly welcomes furry friends. Whether you're visiting for some breakfast, or to do some work, your canine companion is treated to dog treats, and dog bowls are provided for their comfort. Exciting plans for dogs are on the horizon. The outside space offers a perfect spot to relax with your dog on sunny days.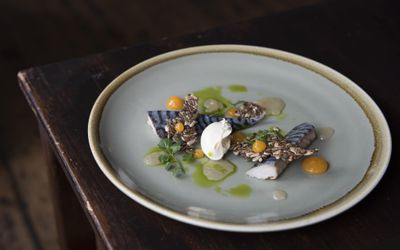 The Chimney House, located between Seven Dials and the back of Brighton Station is just a short walk from Hove Green. It has everything you could want from a 'proper pub' with a Brighton edge – seasonally led elevated pub food, quality beer and that warm local pub vibe that extends to dogs.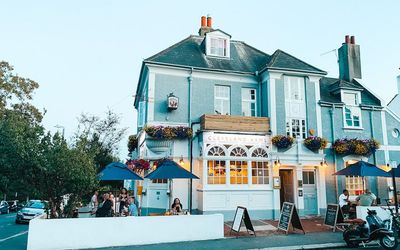 The Cleveland Arms is a community pub that serves great food (and prize-winning roasts). Handily located near Preston Park (for big walks) and Blacker's Park (for little walks or top-ups). It's a light, modern venue that still feels cozy and has rear and front outdoor seating.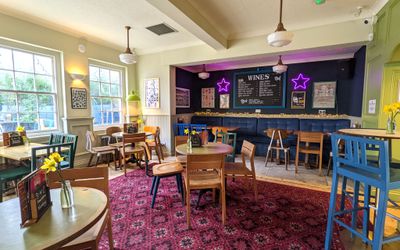 Located close to The Level and downhill from the gorgeous Queen's Park, The Lewes Road Inn is a bright, light and welcoming stop-off. It's popular with local families and students alike for its daily offers and deals and freshly made pizzas. Dogs are welcome and there's a good menu for children, making this a great location to catch up with other family groups.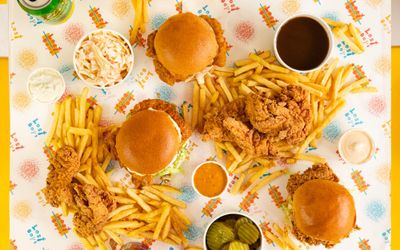 If you've worked up an appetite from all the boundless fun of Preston Park then The Joker is a go-to spot to refresh and recharge. The food element is supplied by Lost Boys Chicken, bringing a sassy New York to feel with a selection of wings and sizeable sandwiches together with Big Apple proportioned sides and lip-smacking sauces.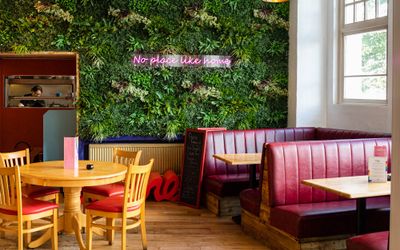 Arcobaleno is a welcoming and inclusive cafe-bar and restaurant in Kemptown, and that level of warm welcome is extended to four legged friends. A nice garden out back makes this a good spot for relaxing in the summer months while there's lots of room indoors, perfect for coming together in groups. The food is perfect for sharing, with a Maltese influence and the well stocked bar is good for freshly mixed cocktails, including a menu of fun signature drinks. Frequent live entertainment makes this a lively spot, not so suited to dogs of a nervous disposition but well worth checking out.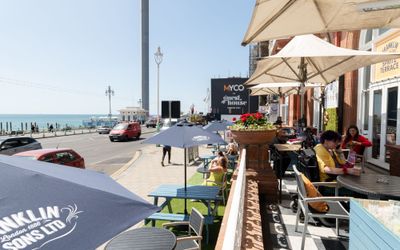 The Brighton Metropole Bar is a welcoming venue for dog owners. While dogs are not allowed inside the bar itself, they are more than welcome to join their owners on the terrace. Water bowls are provided to keep our furry friends hydrated and comfortable. Located on Brighton seafront, the bar offers a vibrant dining experience with stunning views of the sea. Whether you're indulging in their delicious Metropole Burger, savouring the Beer-Battered Fish and Chips, or enjoying the flavours of the Halloumi Salad, you can do so while enjoying the company of your four-legged companion.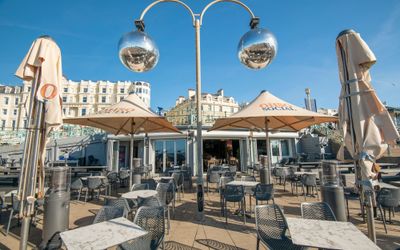 Seafront bar and restaurant Ohso Social is the perfect post dog walk lunch or dinner venue. With plenty of outside seating, their extensive menu caters for all, and the drinks menu is vast and thoughtful and perfectly enjoyed overlooking the sea on a sunny day.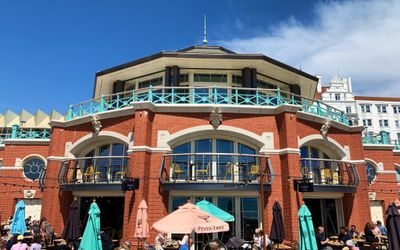 Shelter Hall is a dog-friendly venue located on the Brighton seafront. Whether you're enjoying our delicious food or a relaxing drink, feel free to bring your furry friends along. With ample outdoor seating, they welcome dogs both indoors and in our outdoor areas, making it a perfect spot to enjoy a great time with your four-legged companions.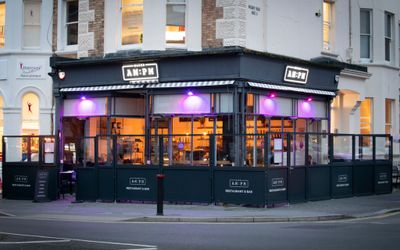 Dog owners take heed, word on the street is that Baked has some of the yummiest biscuits in town. The biscuits are from the highly regarded and barkingly brilliant Snaffles, also unbeknown to the dogs, they're vegan! Don't believe us, try walking past the cafe with your pouch and see where you end up!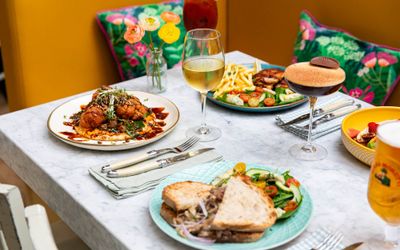 At Jo and Co, your furry friends are more than welcome! This dog-friendly café-restaurant in Hove is truly dedicated to our canine companions, with the owners having two of their own adorable dogs. To ensure your four-legged pals have a paw-sitively delightful experience, Jo and Co provides a special dog survival kit. This kit includes a dog bowl and tasty treats, allowing your furry friend to join in the fun and feel right at home.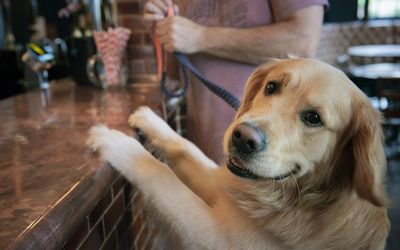 Conveniently located just off Hove seafront, this is an ideal venue if you want to take the dog for a stroll along the seafront. Just one road back from the main Hove seafront. The Better Half is situated slightly west of Hove lawns on Hove Place. Known as your friendly neighbourhood local, this great quality food pub offers a gastro style menu along with a great selection of wines and ales.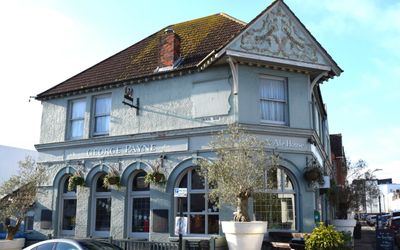 The George Payne in Hove serves a menu of modern and pub classics which are freshly prepared daily. They champion seasonal and local produce, using meats, game and fish which are butchered locally. The pub is light and spacious with a large beer garden and their calendar is populated with events, entertainment and weekday drink and food deals. They're dog friendly and child friendly, so the whole family can enjoy this gem of a Hove local.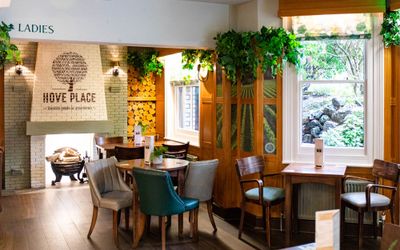 Described as a 'bistro pub and gardens', the Hove Place is a stylish, modern pub with an emphasis on their outdoor space which includes a large Italian garden out the back and a delightful terrace at the front – the perfect spot to bring your dog. Offering a contemporary twist on pub food, there's something for everyone's taste.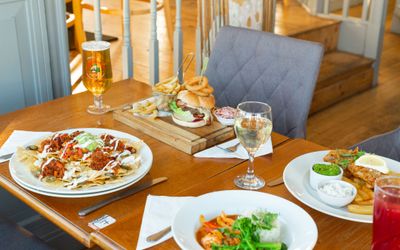 If you find yourself hungry in Hove with a hound then The Gather Inn can accommodate you both. This charming seaside pub and restaurant is located far west in Hove and benefits from views of the Lagoon. There aren't mermaids here, but you will find plenty of water-based sports to keep you entertained. From the menu you can expect a well paired selection of traditional English classics, such as meat and two veg, and other International dishes like Burgers and currys for the more adventurous and of course a well stocked bar to quench your thirst and see that you are amply caffeinated.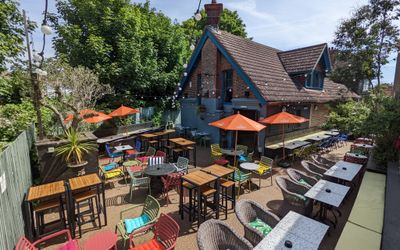 If you find your Hove walkies enthusiastically lead you further west than anticipated then a stop off at The Railway Inn in Portslade for refreshments for you and your hound. It's a spacious and friendly pub with a large beer garden out the back and a good selection of beers, wines, spirits, water bowls and doggy biscuits. During the week there's a generous menu of Asian and Mexican street food and plenty of food and drink deals to take advantage of. 
Parents of pooches head to The Farm Tavern for a well-earned post-park pint. The pub is deceptively spacious and has a charming rustic feel. Its tucked-away positioning lends itself to providing a retreat from the hustle and bustle of the city. If you're peckish then you'll want to tuck into their Eastern European small plates menu available Thursday-Saturday. Or if you're at The Farm on a Sunday, their roasts are not to be missed. Sorry pooches this is strictly for humans, however, there are dog treats at the bar for your pet pal to munch on.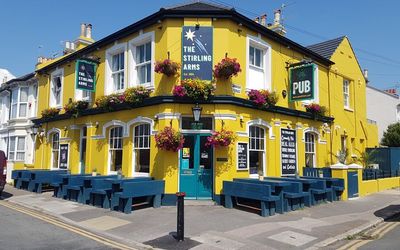 The Stirling Arms is tucked away in urban Hove, just off the busy thoroughfare of Church Road. As such it feels like one of those pubs 'for those in the know', while retaining a warm and welcoming atmosphere. They serve a menu of tasty dishes inspired by the Head Chef's travels throughout the Mediterranean. Here, fresh quality ingredients are celebrated with simplicity. There's something of an emphasis on locally landed seafood and locally butchered meat. They serve a top range of quality wines, premium spirits and Cask Marque ales. Dogs are welcome, there are normally biscuits at the bar and water bowls on request.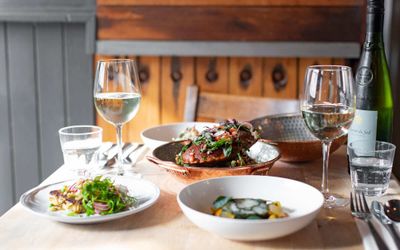 Entirely dedicated to shellfish, matched with an extensive range of craft beers including their own house brews Larrikin, The Urchin is a local that people will travel the country to visit! Hidden in the residential streets of Hove, The Urchin mixes a serious love of brewing and cooking with a lot of fun. Dog friendly covered and heated beer garden but no pooches in the restaurant. please.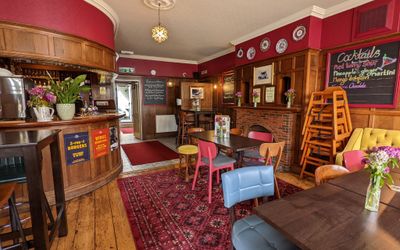 The Poets Ale and Smokehouse in Hove is a surprising local with more to offer than you might first think. Not only will you find a friendly atmosphere and a good drop to drink but a menu of in-house butchered and smoked meats, most sports are aired (without feeling like a sports bar) and there's a gem of a secret back garden. Dogs are very welcome, there are normally some treats on the bar and water bowls on request.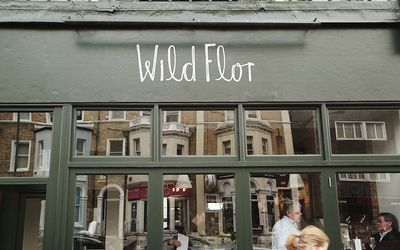 From leisurely lunches to luxurious evenings, Wild Flor has you well catered for. The menu is classic cookery using quality seasonal ingredients. The cellar is stocked with interesting and unusual fine wines and the hospitality is outstanding. Wild Flor is all about creating an experience of refined comfort. Few restaurants like this allow for dogs; in this Wild Flor remains an exceptional exception.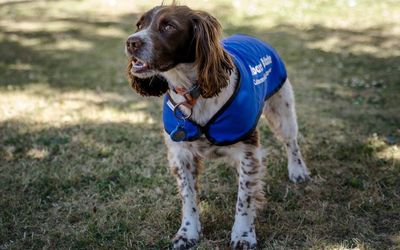 The vineyard at Albourne Estate is a wonderful place to explore, with an option for wine tasting at the Tasting Room before or after. Or pick up a picnic basket and dine among the vines. Dogs are welcome in the vineyard provided they're kept on a lead, and they might also make friends with Bonnie, the four-legged resident Customer Relations Manager!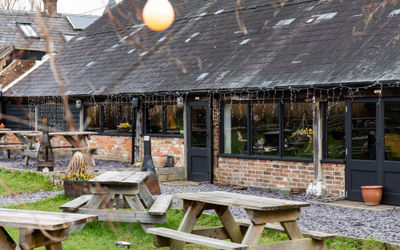 If you've planned a visit to The Cider Tap or fancy a spontaneous adventure and you have a pet pooch, then make sure you take them along for the trip. The idyllic countryside tap house and restaurant are set on the vast grounds of Wobblegate Farm, a place that welcomes all critters to explore and enjoy the offering. The food menu changes but you can be sure that you'll always find yummy street food on weeknights, brunch on Saturdays and award-worthy roasts on Sundays (booking is essential). There's also an unbeatable selection of cider to choose from – unfortunately dogs can't drink cider, but people can get stuck in! (Call ahead to check open hours)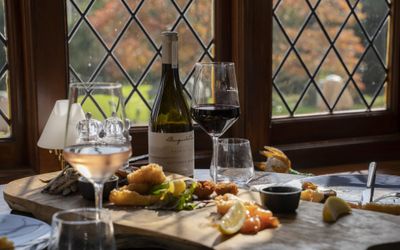 Mannings Heath Vineyard and Golf Club in Horsham is set in 500 acres of beautiful countryside. The Vineyard Kitchen is open to non-members and their four-legged companions and is open from breakfast through to early evening lunch and afternoon teas daily.