Restaurant Brighton's guide to
Vegan and Vegetarian Roasts
The best vegan and vegetarian roasts in Brighton
Brighton's reputation as a vegetarian and vegan friendly city is well documented. With so many great options we thought it was time to feature the best of vegetarian vegan roasts Brighton. Get your crew together and be ready to book your next Sunday funday while tucking into one of these vegan and vegetarian roasts in Brighton.
You can find great plant-based food throughout the week with our guide to vegan and vegan friendly restaurants in Brighton.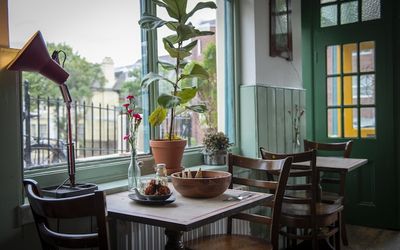 The Roundhill Pub on Ditchling Road is Brighton's premier vegan gastro-pub. The pub itself is light and spacious, with a conservatory feel and the open plan kitchen lets you keep an eager eye on the goings-on. All roasts come as vegan as standard (although some can be made vegetarian). Unlike many establishments, vegans get a choice of several roast types, be it a classic nut roast or a modern gratin, and what's more, there are desserts! (a vegan rarity on most menus).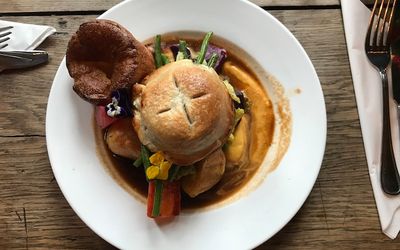 The Better Half Sunday Roasts are have a reputation that extends far beyond the limits of Hove, and for good reason. Always made from scratch with fresh and local produce, the vegetarian and vegan options are imaginative and tasty. Even meat eaters will agree that the veg on their plates is something to shout about. Booking is pretty much mandatory for lunch in this cosy, popular pub.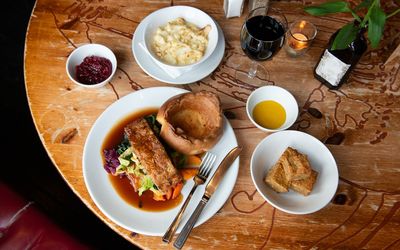 One of Brighton's well-known pubs, The Black Lion, is situated in the heart of The Lanes just near the seafront on Black Lion Street. Serving a wide selection of roasts with crispy roast potatoes, seasonal veg and lashings of gravy with delicious veggie and vegan roasts available too as well as a kids roast choice for the little ones.  Enjoy yours with an expertly mixed Bloody Mary or a glass of fine wine from the bar.  Pre-order option is available for late roast bookings or for larger groups.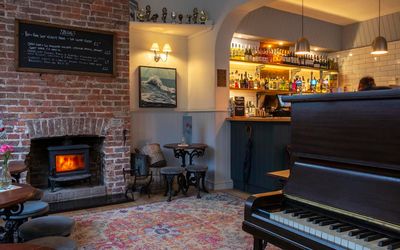 Welcoming folk of the Preston Park area and beyond, The Cleveland Arms is the definition of a community pub. The venue itself has been recently refurbished into a modern and light but cosy and welcoming space, overlooking the beautiful green space of Blakers Park. Their award winning Sunday roast option is a mushroom, beetroot and sweet potato wellington served with all the traditional accompaniments. There are also plenty of other vegetarian and vegan options on the menu if you aren't fancying a roast!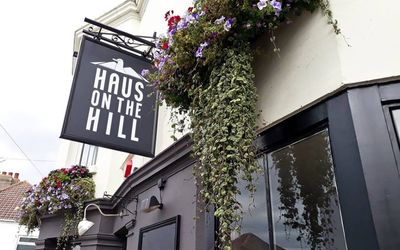 Haus on the Hill serves up generously portioned and well made roasts to the delight of the Hanover residents every Sunday. They're perfectly classic and cooked well with all the trimmings you'd expect. For vegans, there's a nut roast packed with flavoursome herbs for a distinct taste that distinguishes itself amongst the medley of veg and lashings of gravy. Wash it down with some vegan locally brewed Brighton Bier. If you don't fancy a roast the vegan 10 bean Ital Stew is a wholesome and tasty alternative that's also served Sundays from the Caribbean Kitchen of Danny O'Shea.
Sunday lunch at The Mesmerist is something you HAVE to get involved with. The kitchen here is run by Space & Thyme, and the use of seasonal, fresh ingredients is essential. Aside from their 'pub grub with a difference' dishes, the Sunday roast menu has picked up some praise from Brightonians (and we notoriously have very high roast standards!). Non-meat eaters can choose from either a vegetarian wellington or a vegan nut loaf, both of which are served with delicious roast spuds, seasonal veg, a Yorkie to die for and lots of delicious homemade gravy. Be sure to book a table, as this a popular haunt for hungry tummies on Sunday's.