Restaurant Brighton's guide to
Vegan and Vegetarian Roasts
The best vegan and vegetarian roasts in Brighton
Brighton's reputation as a vegetarian and vegan friendly city is well documented. With so many great options we thought it was time to feature the best of vegetarian vegan roasts Brighton. Get your crew together and be ready to book your next Sunday funday whilst tucking into one of these vegan and vegetarian roasts in Brighton.
Visit this page to find venues who are currently offering some great home delivery or collection options for Sunday lunches.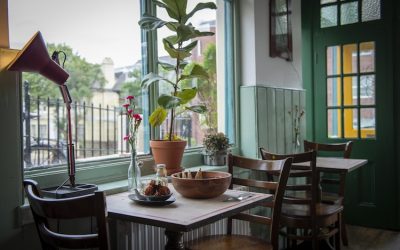 The Roundhill Pub on Ditchling Road is Brighton's premier vegan gastro-pub. The pub itself is light and spacious, with a conservatory feel and the open plan kitchen lets you keep an eager eye on the goings-on. All roasts come as vegan as standard (although some can be made vegetarian). Unlike many establishments, vegans get a choice of several roast types, be it a classic nut roast or a modern gratin, and what's more, there are desserts! (a vegan rarity on most menus).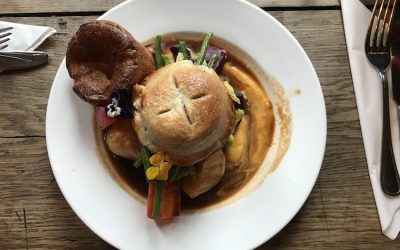 The Better Half Sunday Roasts are have a reputation that extends far beyond the limits of Hove, and for good reason. Always made from scratch with fresh and local produce, the vegetarian and vegan options are imaginative and tasty. Even meat eaters will agree that the veg on their plates is something to shout about. Booking is pretty much mandatory for lunch in this cosy, popular pub.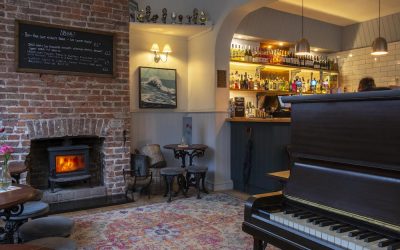 Welcoming folk of the Preston Park area and beyond, The Cleveland Arms is the definition of a community pub. The venue itself has been recently refurbished into a modern and light but cosy and welcoming space, overlooking the beautiful green space of Blakers Park. Their award winning Sunday roast option is a mushroom, beetroot and sweet potato wellington served with all the traditional accompaniments. There are also plenty of other vegetarian and vegan options on the menu if you aren't fancying a roast!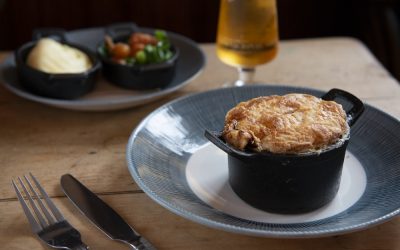 The Dorset pub is a bit of a Brighton institution. Standing grand on the corner of Gardner Street and North Road, it is hard to miss. Serving superb pub grub throughout the week Monday through until Sunday, The Dorset offers some great vegetarian and vegan options, as well as a banging roast dinner for non-meat eaters. Enjoy inside in their traditional pub setting, or outside if the weather allows on seating that spills out onto the road during the weekend.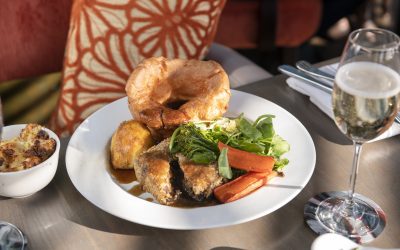 New to Brighton in the winter of 2019 is Cyan, the new concept all-day bar and restaurant in The Grand. The venue has a relaxed, cool vibe with 155 year old marble columns which take centre focus. A Sunday lunch at Cyan is unforgettable, offering a wide choice of classic roasts, Cyan also offers a vegetable nut roast served alongside roasted carrots, parsnips & swede, cauliflower cheese, French beans, and spring cabbage and roasted potatoes. You can enjoy two courses for £18 between 12.30 and 3.30pm every Sunday afternoon!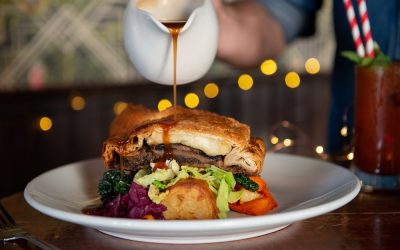 Sunday lunch at The Mesmerist is something you HAVE to get involved with. The kitchen here is run by Space & Thyme, and the use of seasonal, fresh ingredients is essential. Aside from their 'pub grub with a difference' dishes, the Sunday roast menu has picked up some praise from Brightonians (and we notoriously have very high roast standards!). Non-meat eaters can choose from either a vegetarian wellington or a vegan nut loaf, both of which are served with delicious roast spuds, seasonal veg, a Yorkie to die for and lots of delicious homemade gravy. Be sure to book a table, as this a popular haunt for hungry tummies on Sunday's.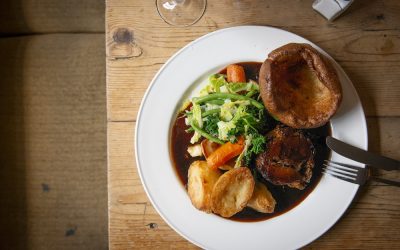 One of Brighton's well-known pubs, The Black Lion, is situated in the heart of The Lanes just near the seafront on Black Lion Street. Serving a wide selection of roasts with crispy roast potatoes, seasonal veg and lashings of gravy with delicious veggie and vegan roasts available too as well as a kids roast choice for the little ones.  Enjoy yours with an expertly mixed Bloody Mary or a glass of fine wine from the bar.  Pre-order option is available for late roast bookings or for larger groups.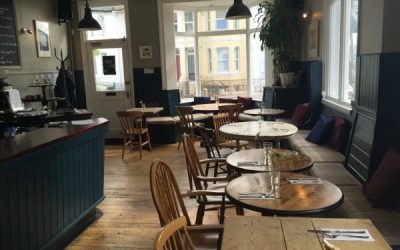 Another pub that has become well known for its fabulous roasts, The Independent in Hanover is one to check out. This free of tie boozer has come fabulous craft beers on tap and the food is truly restaurant standard. Roasts have been so popular that booking is essential. Veggie options are always included, and they also have starters and non-roast options to choose from. We love The Independent. This is a great pub that serves the local community and visitors alike. A cosy space to while away a few hours, the standard of food and drink will keep you coming back. A real Sunday happy place.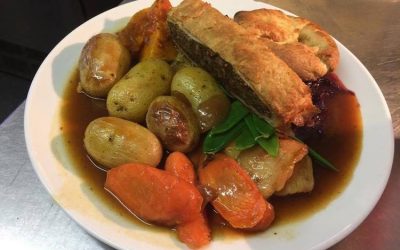 The Prince George is one of the longer running vegetarian and vegan pubs in Brighton, establishing itself as one of the forerunners of current trends but still very popular. Food throughout the week is ample and hearty. The selection of roasts available on Sunday's are all vegetarian and nearly all are vegan on request if they're not already. It takes a vegetarian restaurant to really show what vegetables can do and The Prince George's selection of Sunday trimmings are certainly a flavoursome bunch.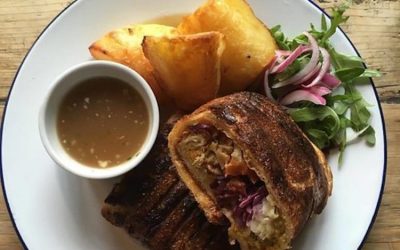 This Kemptown pub has long been a contender for best roasts in the city. The large pub allows for plenty of space, and the double gardens come into their own during the summer months. The pub has a very eclectic feel. Cosy when it needs to be, and raucous and lively when it doesn't. During the week the kitchen is in the hands of "Too Darn Smokin" but tradition takes over on a Sunday. The veggie and vegan option is always a banger. This is another no holds barred style roast where the food is piled high and bursting with flavour. The Sidewinder is a popular Sunday spot so booking is advisable. A really top spot for some Sunday fun times and hearty food before that dreaded Monday alarm.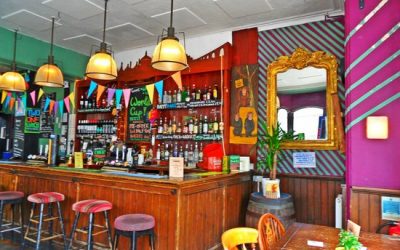 One of Brighton's lesser known pubs, and one that locals would prefer to keep that way. The Edinburgh is situated just north of the station and is a proper classic boozer. The kitchen is in the hands of Two Wolves who spend all week offering a menu of good and evil options. Veggie and vegan options abound on both sides of the scales. Sunday's are no different. Here you will find a vegan chicken or beef option on the menu all served with the usual trimmings and seasonal vegetables. These guys are experts at their vegan dishes, taking things beyond the usual nut roast. Definitely one to check out. The Eddy, as it is affectionately known, is a proper pub that knows how to feed the faithful.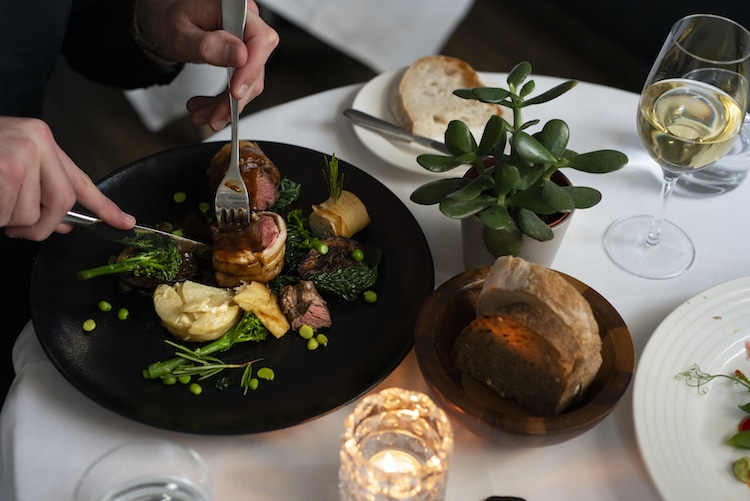 Want to know the latest food & drink news for Brighton & Hove?
Add your email address below and we will send you our newsletter every two weeks.
(Being respectful of your data and privacy is really important to us, always has and always will be.)