Restaurant Brighton's guide to
Best Brighton Pizza Restaurants and Pizzerias
Pick of the best Brighton pizza places. We are well known as a city of excess, so if you're after pizza, Brighton has got you more than covered. But forget the high street super chains with their weird salad bar, Americanised proportions and ingredients. Our Italian restaurant residents, true to their famed hospitality, are bringing the passion of their regions to delight and regale us, and in true Brightonian entrepreneurial fashion a few others have innovated. These are the best Brighton pizza places right now.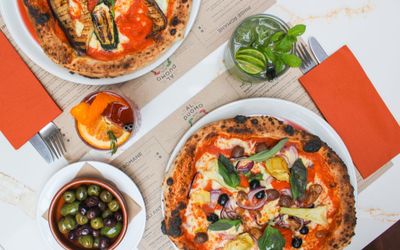 Pizza in Brighton is long and established. In 1979 Dino Azzaroni opened his restaurant Al Duomo, bringing Brighton its first wood-fired pizza oven. More than 40 years on and this is still how Al Duomo does it. This large, North Laine restaurant is a perfect spot for a pizza party or some alfresco dining in the summer, with a suntrap terrace and views of the Pavillion Gardens. Their sourdough based pizzas are all freshly cooked in house and focus on Italian classics made with quality ingredients. All pizzas can be made with vegan 'mozzarella' at no extra charge.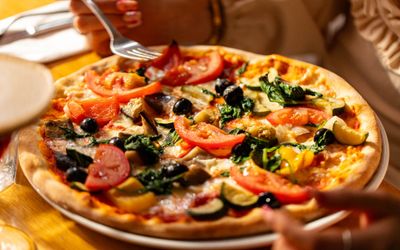 Diners visit Donatello's for many reasons, and consistency of quality is one of them. From the food, to the drinks and service, this venue remains the market leader in town for reliability. Authentic, well priced and expertly cooked Italian dishes are served to guests with friendly and approachable service. This seems to be the winning formula for building a reputation on the foodie scene in town. Visit for their all Italian wine list too, it is truly something special in Brighton.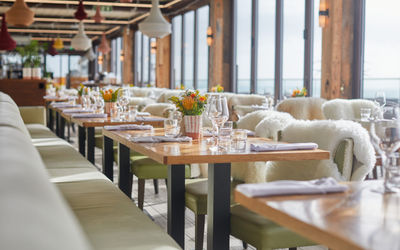 Rockwater restaurant in Hove offers an enticing array of hand thrown sourdough pizza creations that will satisfy every craving. From the classic Margherita, with its simple yet irresistible combination of tomato, mozzarella, and basil, to the savoury Peperoni packed with flavour, each pizza is a masterpiece. Indulge in the smoky and tangy BBQ pizza, featuring succulent toppings and a delectable sauce. Seafood lovers can enjoy the delightful combination of fresh seafood toppings on their seafood pizza, delivering a taste of the sea.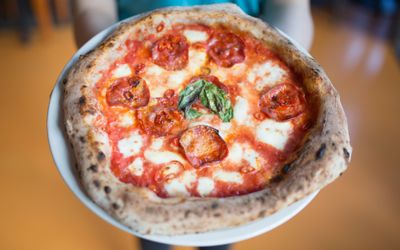 Serving you a slice of Naples on Brighton's West Street, NuPosto Pizza Brighton brings you the real deal, genuine Italian pizza with all the smells of authentic Italy. The Neapolitan base is proved for 24 hours then cooked in 60 seconds to seal in flavour and deliver a perfect chewy base with creamy mozzarella which is delivered twice weekly from Italy.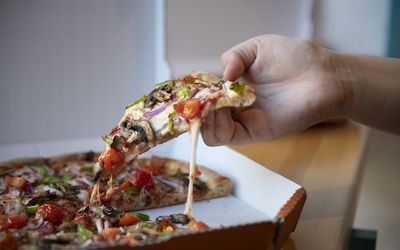 Dodo Pizza delivers super fast and fresh pizzas, made with a superior quality of ingredients to many similar fast food style venues. The small restaurant is great for eating on the go with single slices available from just £1; these are always fresh within the hour, there's even a timer to let you know when it came out the oven. For the cautious or the just plain curious, you can watch the activity in the kitchen via the live webcam. Dodo pizza is the fast food pizzeria, reinvented.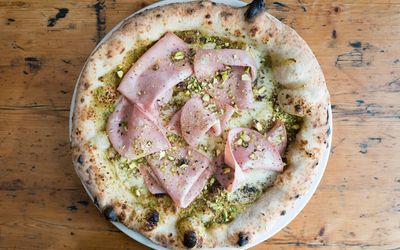 The original Fatto A Mano that created such a buzz they opened up a second in Hove, then a third in the North Laine. It's established itself as one of the go-to destinations for pizza especially on this side of Brighton. Expect a really buzzy atmosphere, delicious pizza and an authentic style.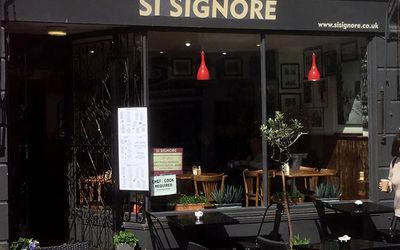 Fully licensed or BYO, Si Signore is located on Sydney Street in Brighton's North Laine. Described as a café and restaurant, this intimate little venue has a great following in this trendy part of bohemian Brighton. Renowned for their great service and family atmosphere. Here nothing is too much trouble and you will be greeted in a typical Italian way, like long lost friends. Photo credit: Si Signore Facebook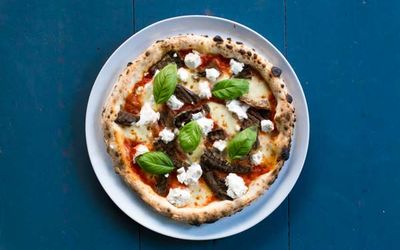 Morelli Zorelli brings you a true taste of Italy, using both artisan and genuine Italian ingredients and is quickly making its mark as a serious contender as one of the best pizzerias in Brighton and Hove. We are talking seriously big Italian flavour, from a smallish but perfectly formed menu using a 150-year-old Sardinian sourdough.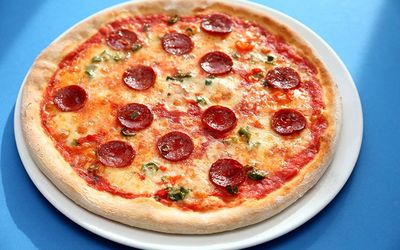 Situated very central opposite the Pavilion Gardens, the Dome, the Corn exchange and the Theatre Royal. Pinocchio is an ideal Italian restaurant to pop into pre or post theatre, and it is one of those restaurants that always seems busy. Part of a small group of Italian restaurants, namely Donatello's and Fat Leo's. Generous portion sizes and great for groups, young & old. Excellent Brighton pizza.