Restaurant Brighton's guide to
French restaurants in Brighton
A Taste of France in Brighton
Not too far in the distant past French food was considered the very finest of cuisines, être de rigueur! Although the style of cooking for that time means we have a strong association with French cuisine as being cooked in butter or wine, and over several hours (often with more wine, Keith Floyd R.I.P.). While this may go against modern trends toward, healthier, simpler styles of cooking we are lucky to have many French restaurants in Brighton that are not only serving authentic, delicious cuisine but also backing the trends in modern dining.
If you are looking for the best French restaurants Brighton has to offer then you've come to the right place. Here is our local's guide to French restaurants in Brighton.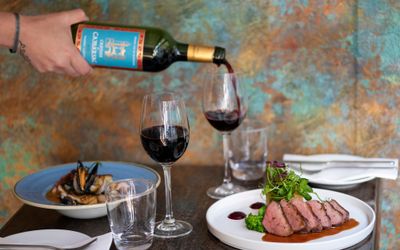 Possibly the highest regarded French restaurant Brighton has to offer. Petit Pois is tucked away in the Lanes, just a short distance from the seafront (where on a clear day you still can't see France).
The bistro serves classic French cuisine with a modern, stylish edge and is a firm favourite among the Brighton foodies. Their wine selection is entirely French, showcasing the various French wine regions. The decor is that perfectly French balance between effortlessly chic and casual. Regarded as one of our top 20 or best restaurants in Brighton.