Restaurant Brighton's guide to
Vegan burgers in Brighton
Best vegan burgers in Brighton
Being in the country's most vegan friendly city has its advantages when it comes to classic fast food reimagined mooless. Here we've got a roundup of the best vegan burgers Brighton has to offer from entirely plant based establishments. I've also picked out a few favourites as sampled by the RB resident vegan (that's me). 
Most places that do a classic burger will do some form of vegan burger too, check out our burger page for more on those.
Rhys
Vegan burgers in Brighton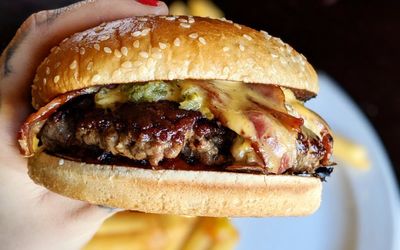 The World's End pub is a popular student hangout. With an arcade and raceway on its second floor it attracts game enthusiasts and other people who don't think drinking beer is fun enough on its own (each to their own). The fun doesn't stop with racing mini cars round a neon lit racecourse, oh no. The 100% vegan menu has gone to town with amusing titles and pop culture references. Thankfully the flavour packing burgers are no joke and the portions will have your sides splitting even if the 'Big Cluckowski' passes you by. 
A few vegan burgers of note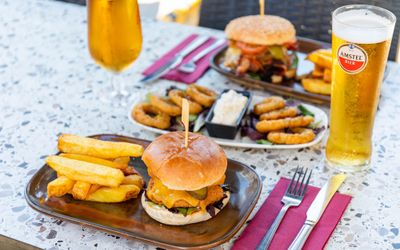 This old-school central Brighton pub has a menu brimming with classic bar food given a modern makeover. The menu is from local chef Phil Bartley who's renowned for his commitment to fresh, local and artisanal produce. So while things look familiar, the taste will be next level. There's a delicious vegan burger on the menu, of the crumbed 'chicken' (chick'n') variety with garlic may, chunky chips and served in a brioche bun.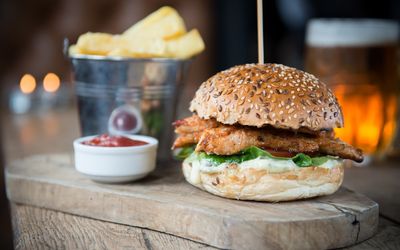 The New Club is a stylish seafront bar and diner with epic views of the West Pier and plenty of outdoor seating. Its vibe is very NY brunch culture where you just want to gather your gang and for one of those fun filled afternoons of food, drink and laughter. The homemade vegan burger is a cashew and butternut patty with beetroot ketchup and dill pickles. It's a lovely mix of rich, earthy and sharp notes that gets the whole palette involved. It's also part of their bottomless brunch menu which is, in a word, perfect.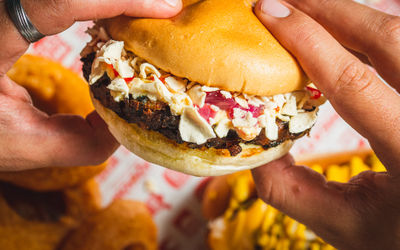 Find a banging plant-based burger at MEATliquor on Brighton's York Place. The cult burger joint is by its nature very meaty, however, the 'Tempeh Tantrum' dubbed vegan burger is worth popping the blinkers on for. The burger comprises double tempeh and mushroom patties and "cheese" burger sauce. There's a further two "Inna Bun" options which include the Burgaloo and Impossible Chicken, which we'll let you discover for yourselves. These guys mean big burger business, so it's best to trust that you're in safe hands!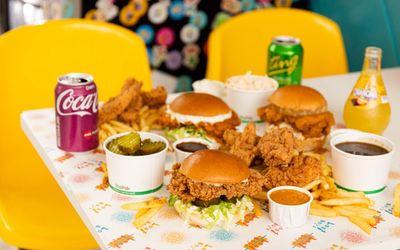 Since opening in 2017, Lost Boys has become a go-to for nostalgic feel good food done well. Their London Road chicken shop is their first real home where they're able to create a fully immersive Lost Boys experience, step through the door and into the mid 80s and 90s. They've developed their own vegan chicken recipe, breaded in their own special mix and served with a choice of sauces that you can 'drink, drizzle or drench'. Wash it down with a Capri Sun or a Cherry Coke and leave with a pocket full of original 80s merch from their vending machine (think Pez dispensers, action figures, Disney toys).