Restaurant Brighton's guide to
Afternoon Tea Brighton and Hove
Best Places for Afternoon Tea in Brighton
Welcome to the Afternoon Tea Brighton Guide and this great British tradition.
Some might think of Afternoon Tea as a little whimsy of a meal but we, in Brighton, take it very seriously. Is there anything nicer than the sight of those precipitous towers of fluffy scones, sharply cut finger sandwiches and pretty cakes as they weave their way between busy tables towards you?
Afternoon Tea Brighton | Award Winners
If you can bear the anticipation, you will be rewarded with nothing much to do other than enjoy yourself (and perhaps a cheeky glass of champagne). We've got an exceptional selection of some of the best Brighton restaurants and cafes for you to choose from. Alternatively, you might take a look at the winners of the BRAVO's Afternoon Tea Category with 20 of the best voted by the public. 
And if it strikes you that afternoon tea in the beautiful Sussex countryside is just what you're looking for then, as you might expect, Restaurants Brighton knows all the best places.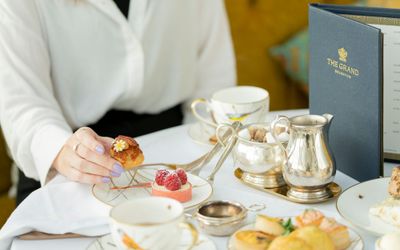 What could possibly be more elegant than a spot of afternoon tea at The Grand Brighton? Book a table on the stylish Victoria Terrace overlooking the glorious Brighton seafront and choose from a selection of afternoon tea options, including the classic Victoria Terrace Grand afternoon tea. The epitome of decadence, the three perfectly crafted tiers are sure to delight. Gin fans will love the Brighton G&Tea, showcasing local artisan gin served with traditional sweet and savoury treats. But our favourite is definitely the Moet Moment Sussex afternoon tea.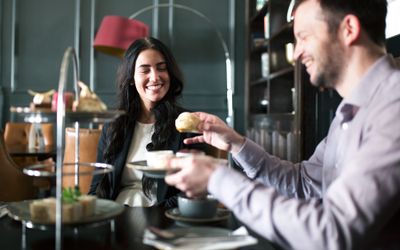 The historic facade and architectural grandeur of The Metropole Bar are the perfect backdrop for a traditional afternoon tea by the seafront. As you sit in refined comfort, with a beautiful view of the Brighton seafront and iconic West Pier, you will be served tiers of perfectly cut finger sandwiches, fluffy scones and pretty cakes. You'll be offered speciality tea or coffee but you might prefer a flute of champagne to accompany this special treat. The Metropole Bar's afternoon tea is seasonally themed so come back to see what's new. Make sure to book in advance.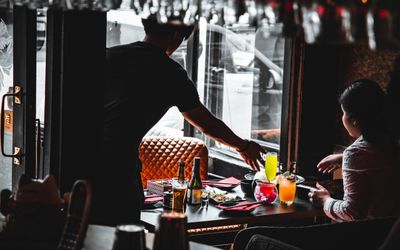 Enjoy a Wabi Sabi afternoon tea for two which includes a selection of sweet and savoury treats, it's the perfect introduction to Japanese cuisine and tasting a bit of everything. You will receive a selection of teas alongside the afternoon tea for two, or if you're in the mood for some fizz, you can swap to a glass of prosecco at an additional charge.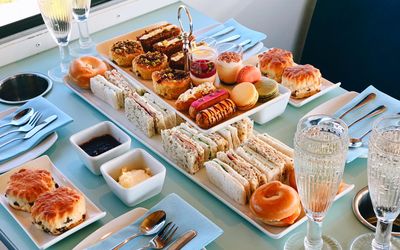 Afternoon tea Brighton on a vintage bus while you take in Brighton's historic attractions and the beautiful Sussex countryside…surely this is a dream! The Brighton Regency Routemaster afternoon tea tour is set on the restored decks of the RML 2333. You'll be overcome with nostalgia as you enjoy an assortment of sweet and savoury patisseries, cakes and sandwiches presented as a tantalising feast. Sip from your china tea cup, Brighton cocktail or glass of prosecco as you sit back and enjoy a soundtrack of classic 1960s anthems.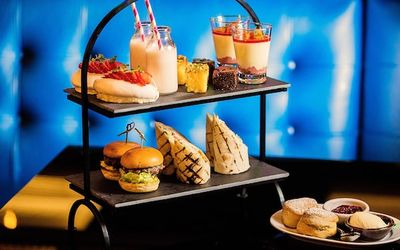 Located at Brighton Marina, this glamorous hotel overlooking sailboats in the pretty harbour, offers a stunning selection of Brighton afternoon teas. First on the menu is a classic cream tea which is as delicious as it is simple. The Mal Afternoon Tea is a re-imagining of the traditional meal with exotic flavours and clever twists alongside an embarrassment of mouth watering cakes and desserts. Upgrade your afternoon with cocktails of fizz.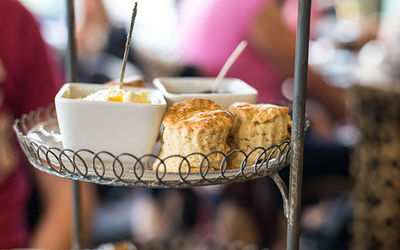 This lovely vintage-style Brighton cafe is known for its generous afternoon tea in Brighton. Handmade with seasonal ingredients, Metrodeco's changing menu offers savoury snacks and sweet delicacies like scones, glazed donuts, mini cakes or macarons. And there is an equally good vegan (vegetarian) menu. This Brighton cafe boasts an awesome selection of speciality tea, and barista made coffee, if that's your preference. As a bonus, you'll be offered unlimited tea refills and a glass of fizz with your meal.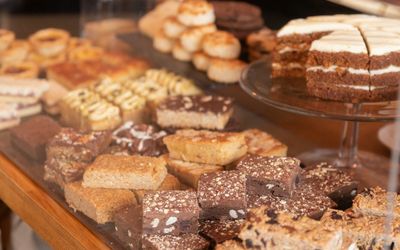 Indulge in a delightful afternoon tea and cake at Nanima Kemptown, where you can enjoy a steaming cup of freshly ground Union coffee or a pot of their specialty tea blends alongside a delicious selection of homemade cakes and pastries. Choose from classic Victoria sponge, rich chocolate cake, or tangy lemon drizzle, among other tempting options. Nanima's cosy and welcoming atmosphere is the perfect place to relax and treat yourself to some delectable sweets. So, whether you're celebrating a special occasion or just fancy a midday treat, come and savour the taste of Nanima's irresistible cakes.