Restaurant Brighton's guide to
Vegetarian Restaurant Brighton
The Vegetarian Guide, by Restaurants Brighton
Looking for the best vegetarian restaurant Brighton has to offer?
We've put together this guide to local restaurants in Brighton that are totally vegetarian and those that have a great vegetarian selection. The vegetarian guide is grouped by the type of dining experience you might want to have. You may also wish to have a look at our selection of vegan restaurants, the best vegan restaurants in 2022 voted by the Brighton public and our vegan takeaway guide. 
Vegetarian restaurants in Brighton
Brighton restaurants with strong vegetarian options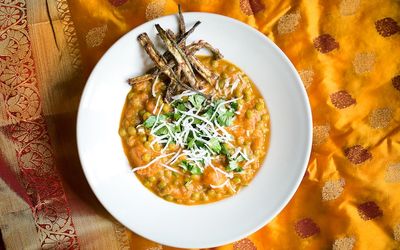 At Planet India they know that Indian food has long been a world leader in terms of vegetarian cuisine, so much so that they don't really consider it as vegetarian food. In India, many dishes do not contain meat and not consuming meat with every meal is normal, and always has been. Planet India is a vegetarian restaurant in that it does not serve any meat dishes, but it is first and foremost a quality Indian restaurant. The menu at Planet India reads like a friendly trip across the Indian sub-continent with a strong Gujarati influence.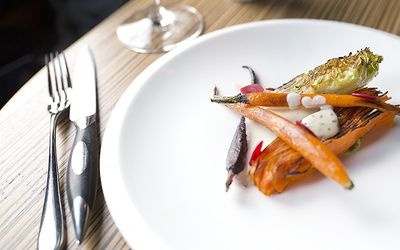 Master Chef winner, Steven Edwards' first restaurant, Etch is a fine dining tasting experience and one of the best in Brighton. Two seasonal menus run alongside each other, one of which is entirely vegetarian. Steven's cooking technique is unique, each dish has only two main ingredients and no spice is added, relying on kitchen alchemy to turn humble plants into edible gold. 
Lavash on Brighton's busy North Street is located perfectly centrally for when you are visiting the city. It serves authentic Middle Eastern cuisine that's freshly prepared using quality ingredients. There are plenty of options for vegetarians, including halloumi wraps, excellent falafel and a spicy bulgar kofta. As well as wraps there are bowls and platters, which make for great sharing options. Lavash is open daily from 11am to 11pm with a lovely second floor restaurant that's something of a hidden gem and oasis in the city centre.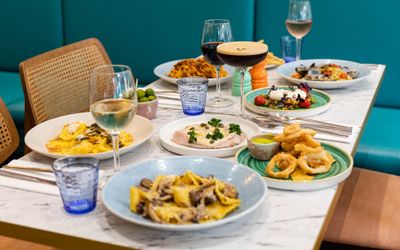 The all-day dining restaurant bar Pesca can be found on the popular Church Road in Hove. Serving sublime, homemade Italian cuisine, and known for its impeccable pasta options, the restaurant can cater well for vegetarian diners. If pasta isn't your thing, then really you should allow them to change that, you could opt for antipasti and cocktails.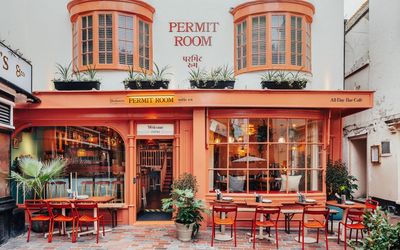 The Permit Room in Brighton, nestled in the historic Lanes, offers a diverse array of vegetarian options among its Indian small plates and breakfast served from 8-11.45am. The menu is rich with choices, including Aunty's Anda Curry, a rich tomato curry which is delicious mopped up with a cheese naan! Whether you seek a quick vegetarian bite, a celebration meal, or simply catching up over a couple of drinks, the team at Permit Room will warmly welcome you!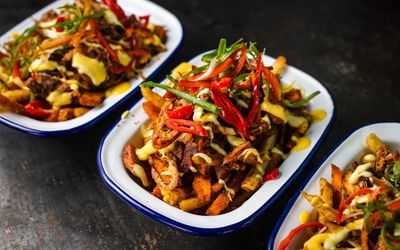 The Rum Kitchen on Black Lion Street in the Lanes serves great tasting, freshly prepared Caribbean food and a host of specialist rum cocktails. The online allergens menu is cleverly set up so you can hide all the things that you can't or won't eat, which is really rather nifty. About a third of the menu is vegetarian so you won't be stuck for choice. And with tasty options like jerk barbecue, Crispy Fried Cauliflower (KFC) and Appleton glazed pulled jackfruit, you won't be missing out on any of the delicious flavours that meat eaters will be enjoying either.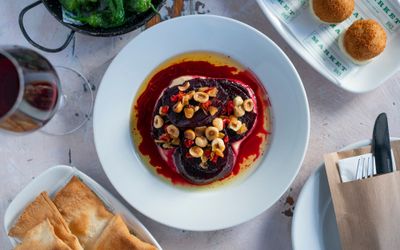 Enjoy tapas and small plates amongst the vibrancy of Market Restaurant in Hove and lose yourself for hours in authentic Spanish style. True to Spanish culture the menu boasts its "mi casa es tu casa" spirit and caterers well for most dietary requirements. Vegetarians will be pleased to hear that the kitchen is on hand and may be able to alter dishes if you herbivores fancy something that's not quite appropriate.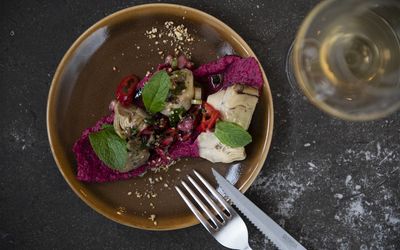 Modern French bistro, Mange Tout were Best Brunch winners in the 2019 Brighton Restaurant Awards. The staples of their menu are supported by a daily changing blackboard menu based on what's in season and available. Bringing you the best of what's available, locally and organically. There's always a few plant-based, French inspired dishes, meaning popping in on the off-chance isn't a risk even if you're veggie.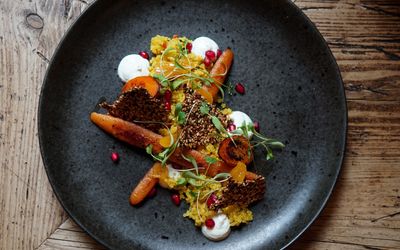 Lost in the Lanes is a cafe-bar on Nile Street in the boutique and arty centre of the Lanes. Their all day menu starts with some seriously good breakfasts, including vegetarian and vegan Full English options. Lunch is where Chef James Flavell really flexes his creative skill with a carefully created menu of six dishes that will deliver something unique and imaginative. There are always at least two strong vegetarian options and additional sides can make for a really fortifying meal. Excellent wines and cocktails make this Lanes cafe somewhere you'll want to linger.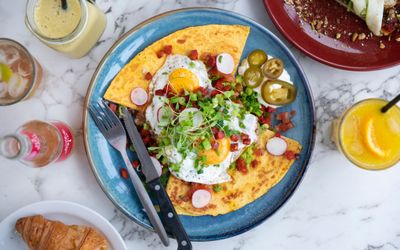 The brunch and lunch game at Baked, Hove, is strong. Their simple and focused menu means that what they do, they do with masterful expertise. Vegetarian diners will not be left unsatisfied by their herbivore offering from this charming neighbourhood cafe, they're hospitality and inclusiveness stretches from the warm welcome you'll receive on entry, right through to the fantastic selection of veggie friendly favourites on the menu.