Restaurant Brighton's guide to
The best vegetarian restaurants
Brighton has always been a 'go to' destination for excellent plant-based dining. The booming trend towards a meat-free diet sees not only an increase in the number of vegetarian restaurants Brighton has to offer but also the number of restaurants now offering a strong vegetarian and vegan option. We have put together this list of venues in Brighton that have a solely vegetarian menu and those who have a great vegetarian selection.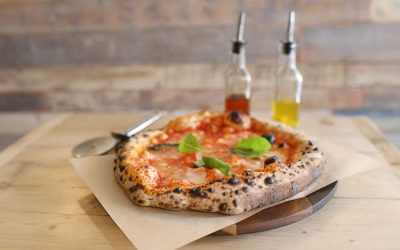 Purezza (purity) was formed by Stefania Evangelisti and Tim Barclay in 2015, setting out be the world's first entirely vegan pizzeria. With their own top secret mozzarella style cheese recipe and the very best of Neapolitan dough, Purezza has become an international success, opening up a second restaurant in Camden, another in Hove and going international in 2021. In 2019 Purezza won first place as Brighton's Plant Champion in the Brighton Restaurants Awards (BRAVOs).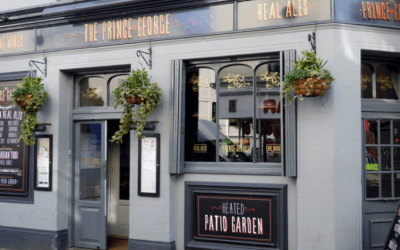 The Prince George is Brighton's original vegetarian pub, a large, traditional venue in all respects except for the fact you won't find a pork pie on the menu. The weekday menu is full of hardy takes on classic pub fare, all vegetarian and more than half vegan or as a vegan option. Roasts on a Sunday are well established as one of the cities best, with many locals making it their go-to destination for their 'Sunday Session'.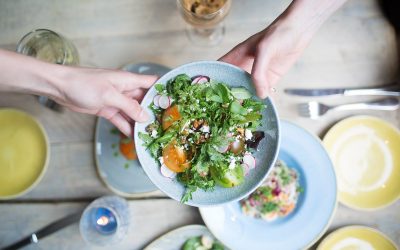 Food For Friends has been serving vegetarian and vegan food in Brighton since 1981, making it one of the original trail blazers. At Food For Friends wholefood and classic vegetarianism meets modern dining, with stylish and ever evolving dishes. For any restaurant to run for four decades and counting is an achievement – but to do it and stay so cutting edge? Well, we put that down to the health giving benefits of a plant-based diet.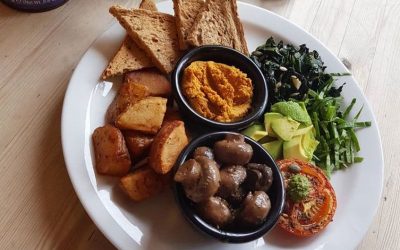 Wai Kika Moo Kau is a vegetarian and vegan café in Brighton's bustling Kensington Gardens in the North Laine. This long-time veggie café still holds true to classic café and vegetarian fare, with simple familiar food – a far cry from the ultra stylised food of Insta worthy #vegan. Open early for classic breakfasts, sandwiches, wraps and lunch, as well as home made veggie and vegan cakes.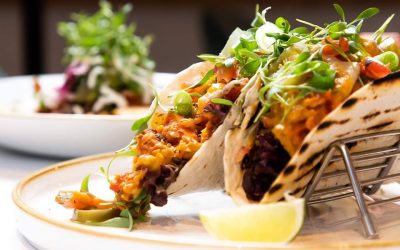 This trendy all day eatery is 100% plant based and the second in the country of the successful Erpingham House brand. From lunch through to evening meals and serving stylish cocktails, Erpingham House strikes a balance between healthy and indulgent, fashionable and ethical.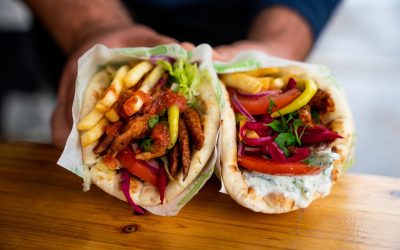 Located on East Street in the Lanes, What the Pitta serves (nearly) guilt-free dona kebabs, gyros, falafels and chick'n wraps. It's the donnas and gyros that really earn them points, harking back to late nights and messy food. Using their own recipe soy "kebab meat" and freshly made to order flat bread, these kebabs are stuffed full of humus, salad, tzatziki, and chilli sauce. Prepare to give your taste buds a flash back – just without the mystery meat. 
Vegetarian friendly venues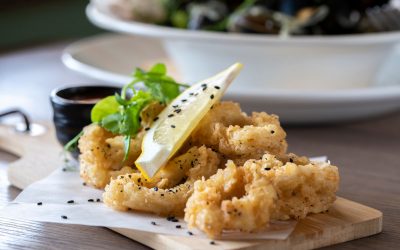 Vegetarians are well catered for at The Dyke Alehouse and Kitchen. They have a decent selection of options across both their weekly and Sunday roast menus. Small plates offer baby falafels with dressed rocket and tzatziki among other tasting options. Or if you after a veritable vegetarian feast you could opt for the whopping veggie platter; Baby falafels, halloumi fries, hummus, marinated queen green olives, tzatziki, chunky salsa, balsamic, olive oil and ciabatta.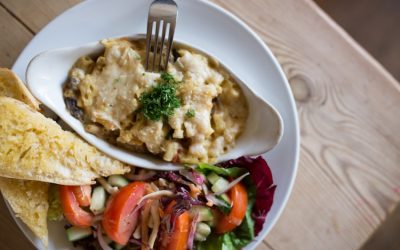 Knowing its community, neighbourhood pub The Hartington in Hanover has made sure it offers plenty of great vegetarian and vegan options on its lunch, main and Sunday Roast menus. Pop by between 12-5 for a tofu stir-fry wrap or cheese and smoked tofu jacket potato. In the evenings there's a substantial dedicated meat-free menu where you can choose from dishes such as beer battered halloumi burgers, vegan macaroni cheese and sausage and mash. Sunday lunches serve late, until 7.30 pm, with thoughtful and tasty vegetarian and vegan servings.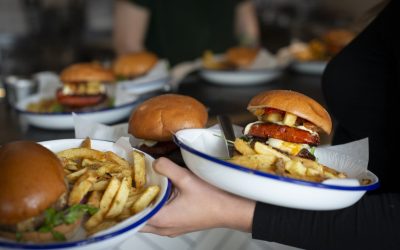 For burgers, it's got to be Honest Burgers, there's two meat-free options, one vegan one veggie, and all are served with their homemade rosemary salted chips. The veggie offering is a gently spiced fritter with chipotle coleslaw and cheddar cheese. For vegans, Honest Burger is the first to bring to the UK the taste of Beyond Meat burgers; the most convincingly meaty plant-based patty around and served with vegan smoked Gouda and chipotle 'mayo'.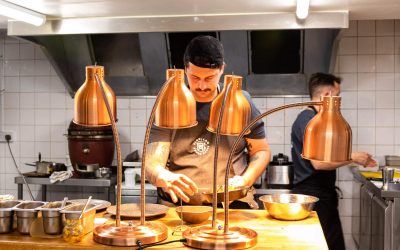 Forget all you know, or think you know, about smokehouses when paying a visit to Slow and Low Smokehouse in The Bronze, St James Street. This simply isn't typical American or Australian style barbeque. Think pure Sussex, the finest in local and sustainably sourced produce, that has been smoked just up the road in Hurstpierpoint and cooked creatively and with panache back here in Brighton. They have dedicated a large percentage of the menu to the herbivore diner and all the beers are plant-based- so get stuck in!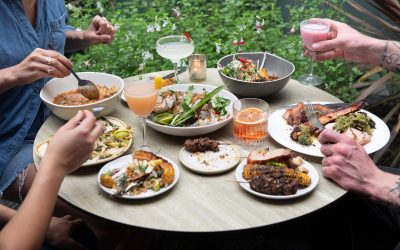 Lucky Khao is the evening identity for Red Roaster café, at the bottom of St James' Street, Kemptown. It's the only Norther Thai restaurant in Brighton, possibly the only one outside of London. Marinations, exotic herbs and spices and charred barberque flavours transform vegetable and plants alike. The menu is about 50-50 meat and plant. The sweetcorn spare ribs are a must!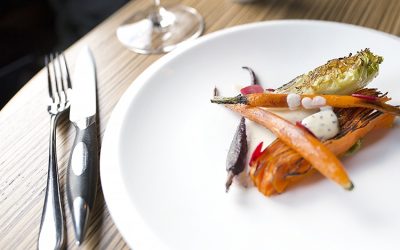 Master Chef winner, Steven Edwards' first restaurant, Etch is a fine dining tasting experience and one of the best in Brighton. Two seasonal menus run alongside each other, one of which is entirely vegetarian. Steven's cooking technique is unique, each dish has only two main ingredients and no spice is added, relying on kitchen alchemy to turn humble plants into edible gold.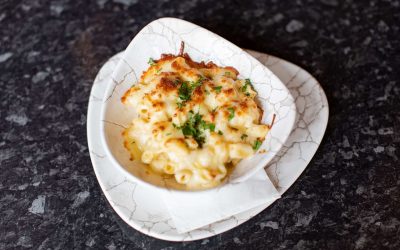 Taste Sussex on the Brighton Marina boardwalk is a sizeable venue that resembles a big chain lounge diner (it in fact fills the boots of what once was a Frankie & Bennies). That, however, is where the similarity ends. The menu celebrates seasonal and responsibly sourced produce, much of which is local. Dishes are prepared fresh and to order and there is at least one vegetarian and vegan option in each section of the all-day menu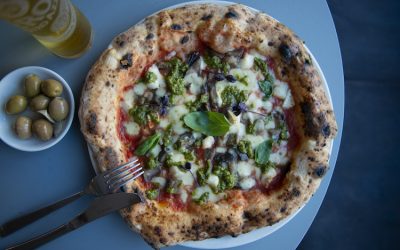 NuPosto is perfectly situated at the bottom of West Street for ending or starting your trip in Brighton. They offer authentic Neapolitan pizzas using Italian high-quality ingredients and a dough that has been fermented for at least 24 hours before being flash baked. There's a great selection of vegetarian pizzas and kinds of pasta available, and their fresh mozzarella, delivered twice weekly from Italy, makes these pizzas really stand out.