Restaurant Brighton's guide to
Romantic Restaurants in Brighton
The Romantic Restaurants Brighton Guide
Looking for the most romantic restaurants in Brighton? Deciding where to take your date on that special first outing can be daunting. Maybe you're not new to each other but you need a new Brighton restaurant, somewhere different for date night? Here we've set out to resolve your "where to go?" woes by listing all the choice venues for your romantic rendezvous.
Our Brighton Valentine's Day page will also give you plenty of ideas for a romantic restaurant in Brighton.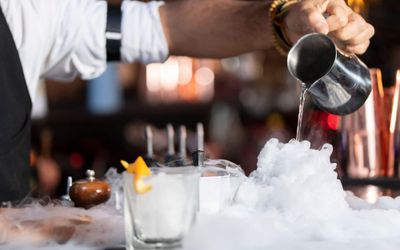 A great contender for your date night and one of our favourites in the Romantic Restaurants Brighton Guide. Bohemia bar is tucked away in the Lanes, almost missable from the front but opening up inside to three floors and a roof terrace. The interior is stylishly decked out with a gothic opulence, so it's a bit like going to a modern-day party in an old European castle. Cocktails are an event at Bohemia, featuring dry ice, pyrotechnics and of course plenty of premium quality booze. A decadent choice if you're looking for romantic restaurants in Brighton, or pre meal cocktails also. This venue offers everything, great food, Brighton afternoon teas and its easier for time to fly away with you in here.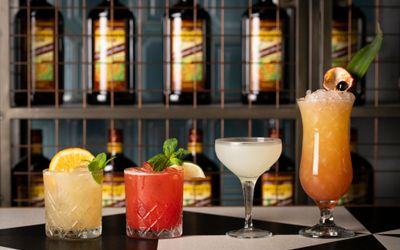 Head to Rum Kitchen for a fun-filled start to your romantic evening. They have brought the exotic flavours of the Caribbean to Brighton and amplify the upbeat and iconic anthems of the culture. This spacious and modern Lanes based restaurant-bar serves quintessential Caribbean cuisine, the atmosphere is vibrant and elevating and the cocktails sensational. Opt for one of the rum-based varieties – you won't be disappointed!
Brighton Romantic Restaurants to Impress
FUMI is a great option for a date night with its stylish environment and casual setting. With its intimate ambiance, FUMI sets the perfect stage for a romantic dining experience. Immerse yourselves in the exquisite flavours of Japanese cuisine, indulging in meticulously crafted sushi and delectable small plates. The warm and inviting atmosphere, complemented by attentive service, creates an intimate setting where couples can savour each other's company. Whether it's a special date night or a celebration of love, FUMI's romantic charm and delectable cuisine make it the ideal destination for an evening of foodie fun.
When you're looking to impress, few things hit the sweet spot more than the surprise factor of a restaurant that's a hidden gem. The busy, always bustling North Street hardly seems the spot for an intimate rendezvous, but step inside Lavash and head upstairs and you'll be instantly transported to a beautiful secluded oasis. Here you'll find authentic freshly prepared Middle Eastern cuisine. Sharing platters are a must for date nights and here you'll find a selection of meat, vegetarian and vegan options. They have a small but quality selection of wine and beers to help lubricate the evening. But mostly it's that sense of being cocooned away from Brighton's hubbub that sets the heart to flutter.
Tutto Brighton offers an authentic slice of Italy here in our city centre. The impressive restaurant is set in a magnificently reclaimed 1930s bank building, boasts chic Deco interiors and creates an open-armed ambience that'll make a magical backdrop for every romantic occasion. The menu is designed for sharing and is split into sections that include raw and crudo dishes, pasta, meat and fish from the wood-fired grill, and there's a divine selection of desserts for you to share (or not share). There is also the choice of a set menu, vegan menu and gluten-free menu. You can enjoy a tipple or two from their thoughtfully curated Italian cocktail and wine list and weather permitting, dine al fresco on the large street terrace and watch our slice of the world go by.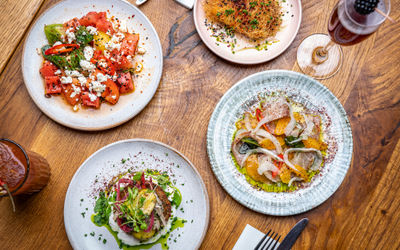 Dubbed as the place for grown-up socials, Burnt Orange is the youngest sister in the triad of acclaimed Brighton restaurants, including The Coal Shed and The Salt Room. Table reservations for here are in high demand. So, if you do manage to bag a reservation you can be pretty certain that your guest will be impressed. Expect sublime seasonal small plates of modern cuisine, a wine list that is second to none and cocktails crafted with exemplary expertise that'll have you back in line in no time! Winner of the Best restaurant category in 2022, so a necessary inclusion in the Romantic Restaurants Brighton Guide.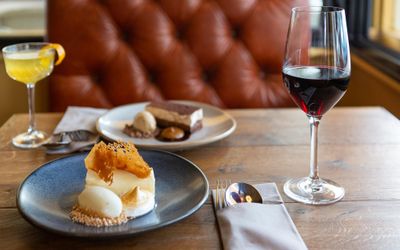 Set in Hove, Third Avenue is an exceptionally romantic setting for a rendezvous with a loved one. The elegant interior stands out in Art Deco grandeur, and showcases a sophisticated blend of 1920s styling with splashes of modern art. Treat you and your loved one to cocktails from the extensive list of innovative and exciting blends, and then tuck in to the exquisite menu of Eastern European small plates. The dishes champion flavour fusion and offer a vast selection of choice for various dietary needs. A multi purpose venue where you can enjoy the whole evening and a polished addition to the Romantic Restaurants Brighton Guide.
Casual and quality | The Romantic Restaurants Brighton Guide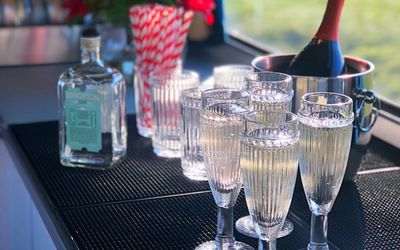 Brighton Regency Routemaster provides a romantic setting that's out of the ordinary, beautifully nostalgic and downright delicious. Take a ride in their stunning restored 1960s Routemaster and experience Brighton's most iconic and historic sites, while being serenaded by 60s classics. Savouring a traditional British or Brighton afternoon tea on an original Routemaster will certainly be a date to remember. The afternoon tea is made up of lashings of homemade sweet pastries, savoury patisseries, cakes and sandwiches. They're available for all dietary requirements and to top off, you'll have the option of adding the extra fizz of Prosecco or a Brighton Gin cocktail, to accompany your journey. A quirky addition to the Romantic Restaurants Brighton Guide.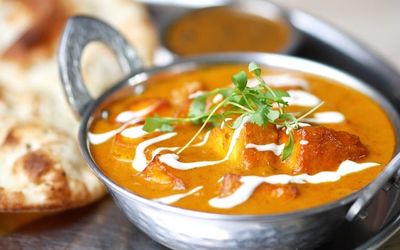 Curry Leaf Cafe has two restaurants, for something more off the beaten track, and to show off your knowledge of Brighton's treasures, head east of the Pavilion for Curry Leaf Cafe Kemptown, it's the smaller of the two venues and offers a tapas style dining experience with a more playful exploration of India's cuisine. Curry Leaf Ship Street is just as much a gem in the city, albeit more centrally located one, with a host of awards this relaxed cafe holds nothing back on delivering great flavour. Both restaurants serve a host of swoon-worthy cocktails that bring a hint of Indian flavour to well-known classics.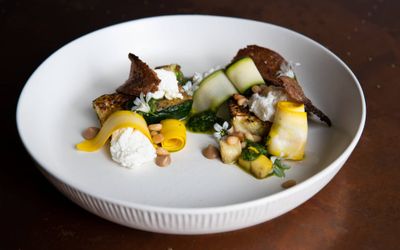 Lovers head to Lost in the Lanes for some exquisite all-day dining. The attention to detail at this intimate Lanes based cafe is stunning and it's a sparkling setting for a special occasion. Simplicity at its finest – Lost serves brunches, alongside tempting countertop treats and a menu of seasonally changing dishes. The ingredients used throughout the menus are well-sourced and of top standard. This is evident in the resulting quality and flavour of the food and drinks.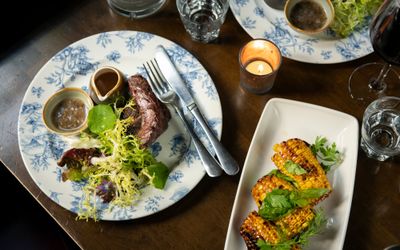 If your Heading out of town for a romantic day in the stunning Sussex countryside then Hurstpierpoint should be a stop point on your map. The quintessential English town is a chocolate box treasure. Boutiques line the streets and the foodie treats on offer at The New Inn will make the trip even more enjoyable. The Sussex-led seasonally changing menu is ripe with unique dishes of exceptional quality. The wine list is matched with equal quality and offers a fantastic selection of locally sourced wines for you and your loved one to enjoy.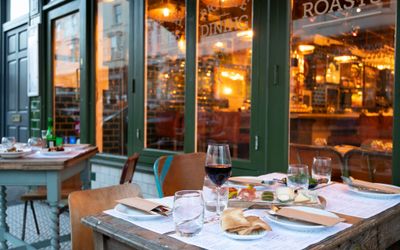 Swing down to Market in Hove with your amor for a truly romantic dining experience. Sit side by side at the bar and watch hospitality theatrics whilst sipping on a cocktail del dia, or opt for a more intimate restaurant table where you and your date can spend hours sat eye to eye, sharing tapas-style small plates and bottles of succulent vino. Wednesday evenings at Market are marked as Date Night – where you and your guest can enjoy a special set menu designed for two for only £25 each!
Romantic Restaurants with accommodation