Restaurant Brighton's guide to
Brighton Seafront Bars Guide
Welcome to our Brighton Seafront Bars Guide. 
There's nothing quite like enjoying a drink under the canopy of the sun and in the company of stunning sea views. Lucky for us in Brighton and Hove our south-facing beach means that when the sun's out we get it all day long and when it dips behind the horizon at sunset we can revel in the changing colours of its light. Our stretch of coastline is not only laced with sunshine, it's also lined with great bars for you to hydrate in. 
So, take a tour from east to west and join us on a Restaurants Brighton beach bar crawl. You may also like our guide to pubs in Brighton, the Brighton beer garden guide, our round up of pubs in Hove and the Restaurants Brighton guide to Brighton nightlife and Brighton Clubs.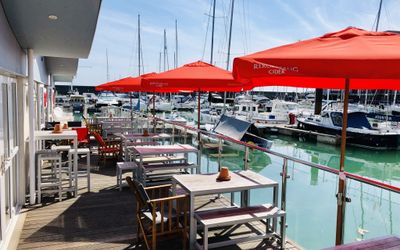 A Brighton seafront bar in Brighton Marina. The marina in east Brighton harbours many a yacht and many a chain eatery, but dig a little bit deeper and you'll unearth The Watershed. This gem of an independent venue is the perfect place to take the family or meet with friends. Count docked boats from the large west-facing deck and enjoy small plates and classic bistro mains. Catch the deck in its prime at sunset and toast farewell with a sundowner from the bar. Tranquil sea and blue sky go well with beer, just mind you don't fall overboard! One of our favourite Brighton seafront bars, located at Brighton Marina.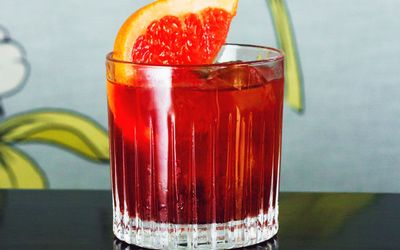 Based at Brighton's Black Rock, Daddy Longlegs is a vibrant and contemporary decorated Brighton pub with a lively local atmosphere. These guys should be marked on the map, as their wine list is superior to most in the city. They champion natural wines, premium spirits and delicious freshly prepared small plates. They're located just across the road from the East Brighton seafront and if you're not familiar with basking that side of the city, then these guys are worth walking an extra mile for. This venue also features in our Kemptown restaurants section as the food is very good.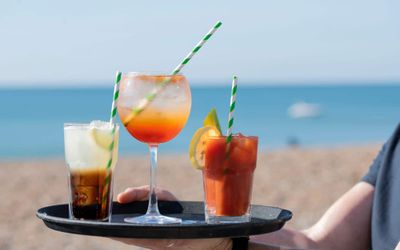 Situated next to the iconic 'doughnut' jetty, Ohso is about as on the beach as you can get without sitting on pebbles. Open for a Brighton breakfast from 10am serving food until dinner. The transition from a family-friendly beach bar to a sunset disco and late-night party is no doubt aided by the extensive cocktail and drinks menu. So chilled sundowner vibes afternoon to early evening, then a great place to hang out in the evening as a Brighton seafront bar.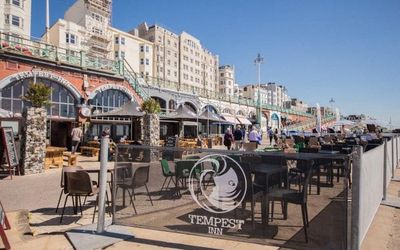 Tempest Inn, Brighton seafront bars guide
The Tempest has prime promenade placement, with a bar handily seated on the seafront. Inside it becomes a sprawling cavernous maze. A fun, young and lively venue and a food offering of Korean fried chicken (and a vegan menu too).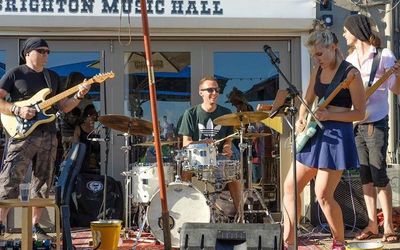 Like other venues on the King's Way Arches strip, Brighton Music Hall has a large terrace coming out into the beach. Unlike other venues, they offer table service and table bookings so you can secure and hold your place in the sun. Making this venue extra special, however, is the live music sets from local talent that perform open-air sets, giving a little festival vibe to your pint.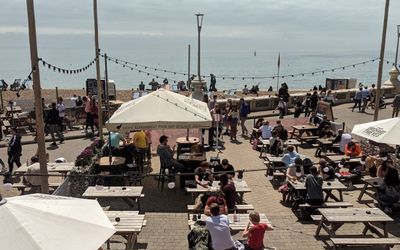 Fortune of War, Brighton seafront bars guide
If you ask a local to name a Brighton seafront bar, The Fortune of War will probably be it 8/10 times. Opening in 1882 it is the oldest of its kind in Brighton and enjoys a healthy swell of customers all summer long. Now working together with Honest Burgers, they deliver some of the finest burgers in Brighton.