Restaurant Brighton's guide to
The best Sunday lunches and roast dinners in Brighton
The perfect guide to a delicious Sunday lunch in Brighton. Here you will find a list of our pick of the best Sunday lunches in Brighton, Hove and Sussex. If you'd prefer something meat free, you can check out our favourite vegan and vegetarian roasts.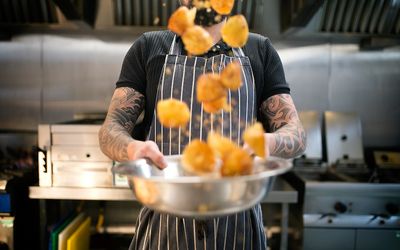 Adjoining The Cricketers saloon bar is a coach house dining space with ample space for getting together for some Sunday lunch. In addition to a classic Sunday lunch menu the kitchen also serves a range of sandwiches and classic pub fare, so you're not stuck for choice. But let's face it, if you're on this page, you probably want the full works, which The Cricketers deliver excellently.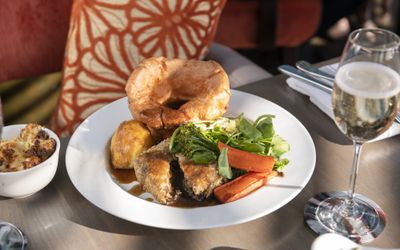 New to Brighton during winter 2019, Cyan brings a different feel to Sunday roasts in our city, saturated with pubs and bistros that we so love for serving us brilliant hearty plates of food. Cyan, however, brings a little elegance to the occasion for those searching for something special on a Sunday. A two course menu is on offer here for just £18, including an expertly cooked roast dinner with all the trimmings and some traditional, delicious pudding options that we think are worth visiting for alone…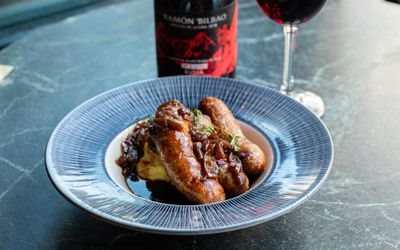 The Dorset brings you everything you long for in a country pub, right in the centre of town – A rustic interior, a classic pub grub menu, alfresco dining and a welcoming, friendly front of house team. Not only is their A La Carte menu top notch, but they also offer a brilliant Sunday Roast menu with plenty of variety. Choose from a selection of meats or vegetarian options, all served with roast potatoes, cauliflower cheese, seasonal vegetables and a good old Yorkshire pudding.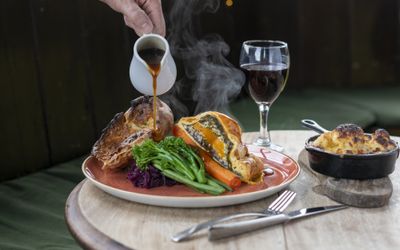 For many Roast aficionados in Brighton the association of Phil Bartley Kitchens with the Sunday service is a mark of trusted quality. During the week The West Hill serves up artisanal sourdough pizzas but on Sunday Phil's team deliver their honed roasts, featuring locally sourced, excellent quality ingredients and seasonal veg given the Phil Bartley finesse. Always a good option for meat and plant eaters alike.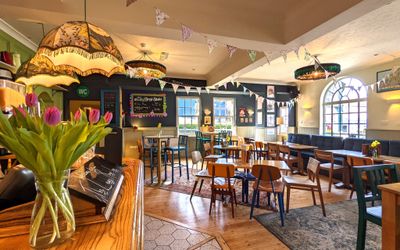 The Lewes Road Inn is a large pub that's friendly and fun. During the week you've got a predominantly Italian menu on offer but on Sundays, it's all about the classic roast. As a pub that's popular with students and the young families of the surrounding area you'll find a bit of something for everyone on the Sunday menu; vegetarian and vegan options as well as the classic four meat options and kids' portions too. As a spacious and bright venue with a large garden, it's good for larger get-togethers of friends and families who are looking to make the most of the weekend.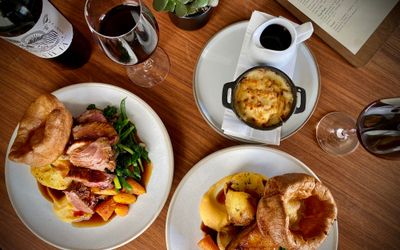 Post House, in the Lanes, is an all day eatery that moves from cafe culture by day to intimate evenings of sharing plates. But on Sunday it's all about Brighton's favourite tradition, the roast. They offer a good selection of classics: beef, pork, chicken, lamb and a plant packed vegan option. All served with seasonal veg, lashings of gravy and garlic and herb roasties. The venue itself is suitable for all sorts of gatherings – feeling more like a pub downstairs and a restaurant upstairs (plus a lovely big garden for the summer). Roasts are served from midday until they're all gobbled up, so booking is advisable.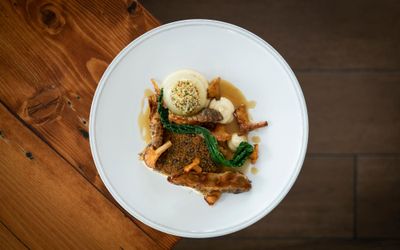 But isn't the Salt Room all about fish? Well, friends yes it is, however, their famous Josper Oven cooks meat too well to pass up the opportunity of providing Brighton a banging roast dinner! Meant for sharing, their roast comes with plenty of options for sides, and with their meat being the highest quality you can be sure that it will be melt-in-the-mouth standard.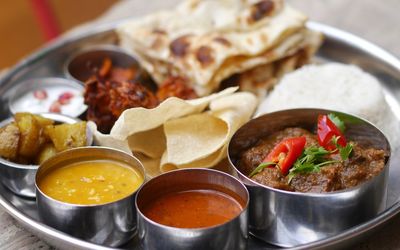 Always a hit with lunchtime diners, Curry Leaf Cafe's great-value thali platters can now be enjoyed anytime on Sundays (12-3pm and 5:30-9pm). These nutritionally balanced meals for one include poppadums, street food, your choice of curry, rice, naan, sides and dips, and are priced from £15.95. Vegan and gluten-free options are available. Here's to new Sunday traditions – best enjoyed with friends and family!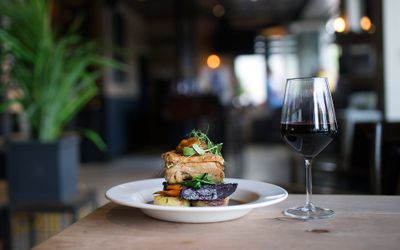 If you're looking for a relaxed, friendly and vibrant place to quaff some wine or treat yourself to some lovely grub then look no further! Libation offers a well thought out wine list, a list of bubbles that won't be beaten in Brighton & Hove, and a splendid Sunday roast. The Sunday menu will lead with a selection of roasts whilst offering some alternatives from the usual menu.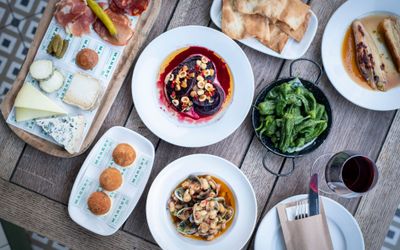 The Market Restaurant offers a slightly different approach to Sunday dining by switching out the traditional roast meat, potatoes and two veg approach with a £20 per head a la carte sharing steak plus tapa accouplements. For the traditionalist amongst you, you can always add the potatoes and greens back in. They'll be running their usual daily menu and other daily specials alongside this Sunday best. Served from midday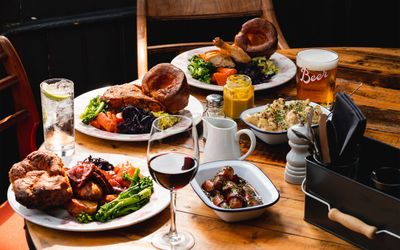 The Farm Tavern in Hove serve the traditional Sunday spread with a delicious vegan roast and children's menu. Tempting sides such as cauliflower cheese and pigs in blankets are the stuff Sunday dreams are made of. For those who enjoy a Bloody Mary, there's The Farm Tavern's signature Mary's to choose from.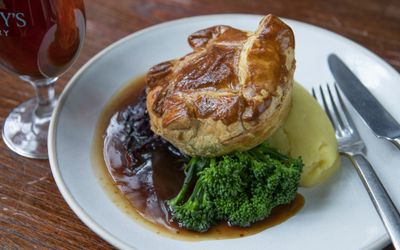 Just ten minutes east of Brighton one will find the exquisite village of Rottingdean nestled on the Sussex coastline, and it is here you will find the vibrant local pub, the Plough Inn. Offering Phil Bartley's classic pub menu with a modern twist along with his famous 'Bartley Roasts', this venue caters for everybody. And a great spot for a Sunday stroll.