Restaurant Brighton's guide to
The best Sunday lunches and roast dinners in Brighton
The perfect guide to a delicious Sunday lunch in Brighton. Here you will find a list of our pick of the best Sunday lunches in Brighton, Hove and Sussex. If you'd prefer something meat free, you can check out our favourite vegan and vegetarian roasts.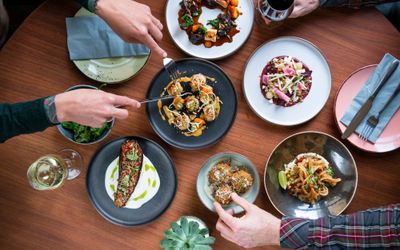 Post House, in the Lanes, is an all day eatery that moves from cafe culture by day to intimate evenings of sharing plates. But on Sunday it's all about Brighton's favourite tradition, the roast. They offer a good selection of classics: beef, pork, chicken, lamb and a plant packed vegan option. All served with seasonal veg, lashings of gravy and garlic and herb roasties. The venue itself is suitable for all sorts of gatherings – feeling more like a pub downstairs and a restaurant upstairs (plus a lovely big garden for the summer). Roasts are served from midday until they're all gobbled up, so booking is advisable.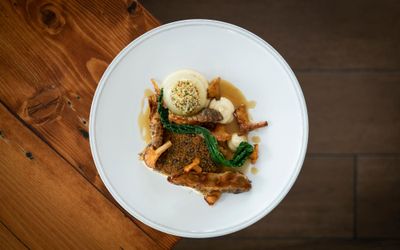 But isn't the Salt Room all about fish? Well, friends yes it is, however, their famous Josper Oven cooks meat too well to pass up the opportunity of providing Brighton a banging roast dinner! Meant for sharing, their roast comes with plenty of options for sides, and with their meat being the highest quality you can be sure that it will be melt-in-the-mouth standard.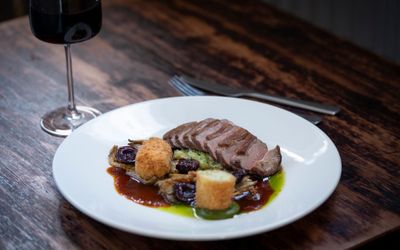 Sunday roasts and great British pubs seem to go hand in hand. And you can expect great things from the roasts served at this 19th-century beauty. The Station Hotel is often referred to as a hidden gem. So, let it be known far and wide that this charming family-run establishment gives Aunt Bessie a run for her money with their roast tatties and serve unwaveringly excellent roast lunches every Sunday.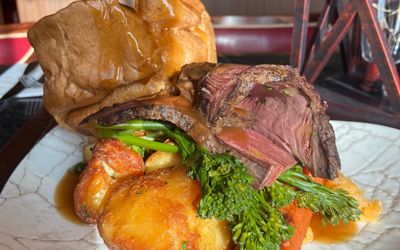 If we were to describe Taste Sussex at the Brighton Marina in three words they'd be "foodie family friendly". The Sunday roast is well worth a visit. With prime quality options such as dry-aged rare breed beef, Dingly Dell pork belly. A vegetarian cheddar and mushroom Wellington and vegan beetroot nut roast all come with accompanying veg from the talented kitchen of Phil Bartley of The Great British Charcuterie. Add to this a wine list by sommelier Steve Pineau (L'Atelier du Vin) and you've got a Sunday lunch well worth a trip to the Marina for. 
For cocktail lovers, Taste Sussex has a special Sunday cocktail offer, it's called English Garden and is made with G&H London Dry Gin, cucumber, mint and Folkingtons elderflower pressé.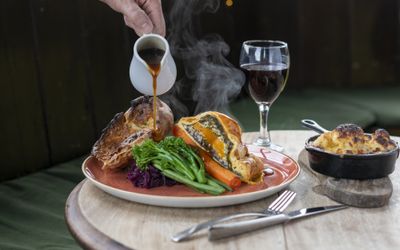 For many Roast aficionados in Brighton the association of Phil Bartley Kitchens with the Sunday service is a mark of trusted quality. During the week The West Hill serves up artisanal sourdough pizzas but on Sunday Phil's team deliver their honed roasts, featuring locally sourced, excellent quality ingredients and seasonal veg given the Phil Bartley finesse. Always a good option for meat and plant eaters alike.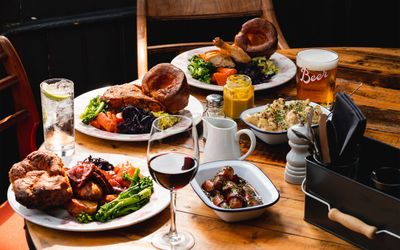 The Farm Tavern in Hove is sibling pub to The Geese, Hanover, which won Best Roast in the BRAVOs 2019. With the same kitchen operating out of both venues from spring 2022. They serve the traditional spread and the menu's meat to plant ratio is balanced and well considered. Tempting sides such as truffle cauliflower cheese and pigs in blankets are the stuff Sunday dreams are made of. For those who enjoy a glass of wine with their Sunday roast, it's worth noting the The Farms wine list is created by local vintners, Butler's Wine Cellar.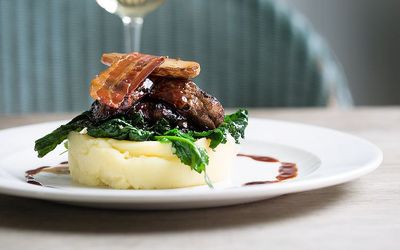 The Crabtree is a family run public house, located in the beautiful Sussex countryside south of Horsham serving great local, seasonal food, organic wines and fabulous real ales in warm and welcoming surroundings. Sunday Roasts are served between 12-5pm and it's advisable to book as they get very busy! Meat is locally sourced and there are plenty of vegetarian and fish options also.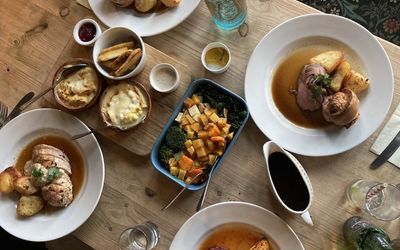 A trip to the hamlet of Dial Post, in Horsham is well worth it on a Sunday, with roasts at the village pub, The Crown Inn being quite the event. The owners, Penny and James, are passionate about local produce with Penny being a local from a nearby farming family. Unlimited veg is an extra offering that makes the trip even more worthwhile.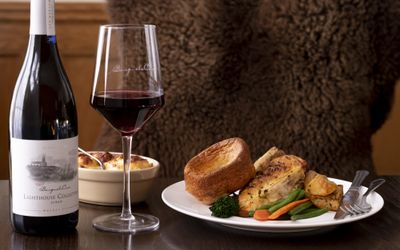 Make the most of Sunday at Mannings Heath Golf and Wine Estate. Even if you're not a fan of golf there's plenty to explore in the grounds including their vineyard and fishing pond. A traditional Sunday lunch is served from 12.00 – 4pm. Made using the freshest, locally sourced ingredients, this is a lavish roast served in opulent surroundings. 
 A 50% deposit is required. Bookings are essential.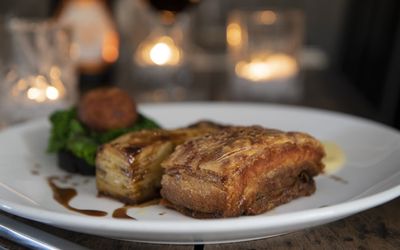 The Brits are well known for their love of roasts, and the Morleys Bistro does not let the team down. They offer a great Sunday menu for both the omnivore and herbivore alike. Their ingredients are sustainable and locally sourced, so expect a fantastic selection of sessional veg to accompany your choice roast.