Mexican Restaurant Brighton – Uno, dos, tres.. tequila!
From street food and tequila to full on Mexican mains, here's where to find the best Mexican food in Brighton and Hove. Our pick of the Mexican restaurants in Brighton.

Wahaca, North St/ New Road
Wahaca was born in 2007, inspired by co-founder Thomasina Miers' travels to Mexico, time spent running bars there and falling in love with the country and cuisine. After winning Masterchef in 2005 and cooking in a Michelin-starred restaurant, she teamed up with fellow Mexico enthusiast Mark Selby to open a UK restaurant that would reflect the vibrant colours, flavours and buzz of the country's markets.
Recently voted as 'best newcomer' in Brighton & Hove Food Festival Awards, La Choza has been causing quite a stir. They invite potential diners to 'drop in and enjoy affordable, healthy, tasty slow cooked Mexican street food.' The menu is simple and uncomplicated as the fresh and vibrant ingredients speak for themselves. They also provide the food at the Hare & Hound pub on London Road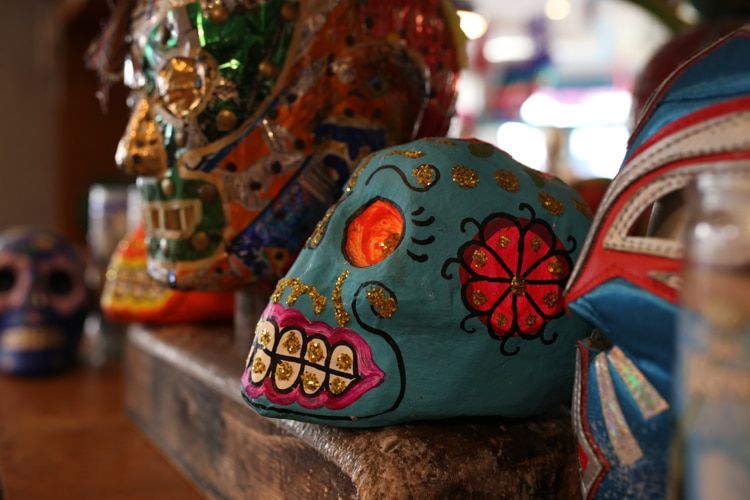 Carlito Burrito is as authentic as you can get. The food, the vibrant décor and the warm and lively atmosphere. Big on quality, authenticity and freshness, their tacos are homemade every day, the chilli's imported from Mexico and quality Sussex produce. If you like the variety and the act of sharing, the tapas are the way to go. With a classic Margherita and Churros to finish, what more could you want.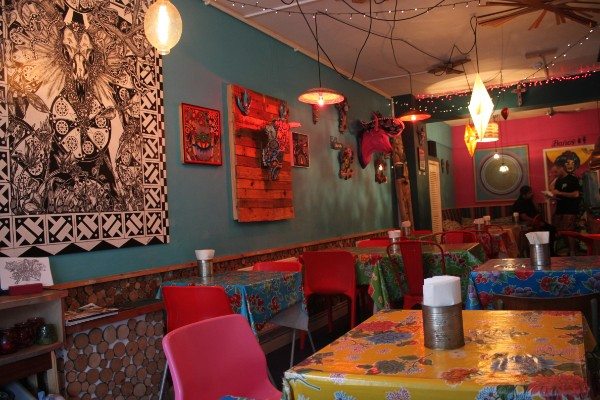 Las Iguanas is part of a chain of modern diner style restaurants which serve a range of Latin American dishes including flame grilled meats, the classic Mexican burritos, tacos and quesadillas and sharing platters. Great for a night out with friends to enjoy tasty food and cocktails. Can sit at the bar with just a drink and some nachos also. Fantastic selection of traditionally Mexican cocktails and signature drinks.
A family run Mexican in the well-known part of Hove for eateries. The first Mexican in the area, Los Amigos has been satisfying locals and alike for over 15 years. Specialists in steaks and fajitas, this is a lovely little restaurant which makes you feel at home. Independent and as authentic as you can get, come here to satisfy any of your Mexican cravings. Extensive menu. (Photo: Los Amigos)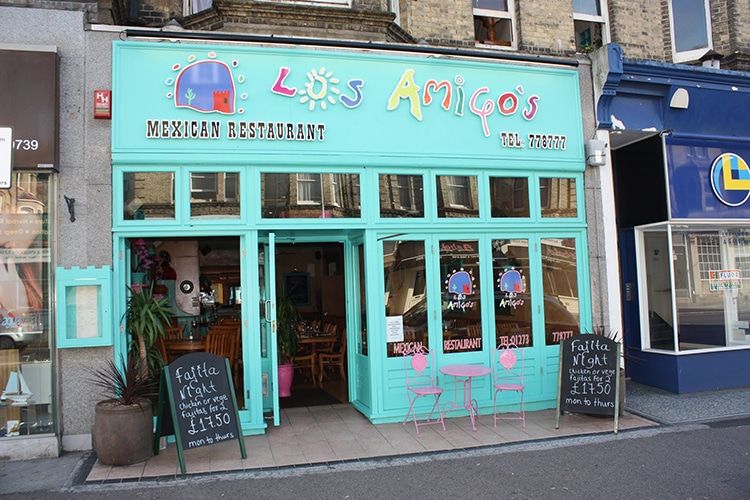 Situated right next door to the Theatre Royal, this authentic Mexican restaurant and tapas bar is a fantastic pre or post theatre choice. Opened for 16 years, El Mexicano has a well established reputation for showing their guests a good time. As well as there regular a la carte menu and daily specials, they do great lunchtime offers and supper set menus. Great quality Mexican and Spanish food for great prices. (Photo Credit: El Mexicano Facebook)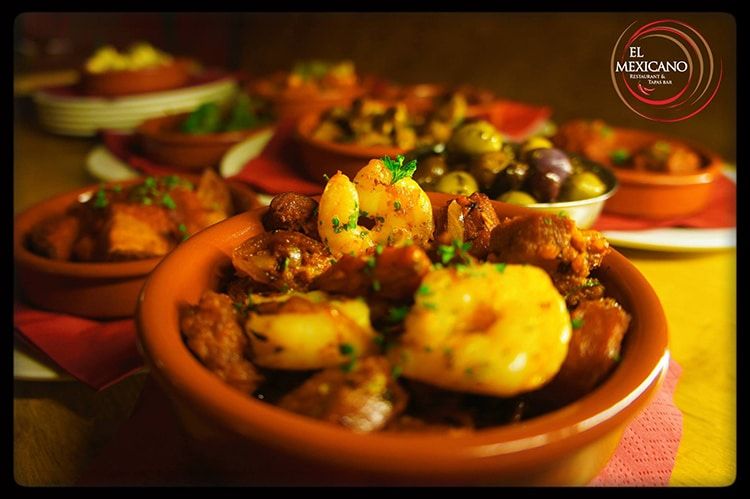 Serving a menu slightly more Tex Mex than Mexican with a few British dishes on there in case you're dragging someone along who prefers their food on the less spicier side. There's a great selection of cocktails also, and even a dedicated Tequila Bar upstairs including a dance floor. Work up an appetite in Latino style! (Image Credit: Dos Sombreros)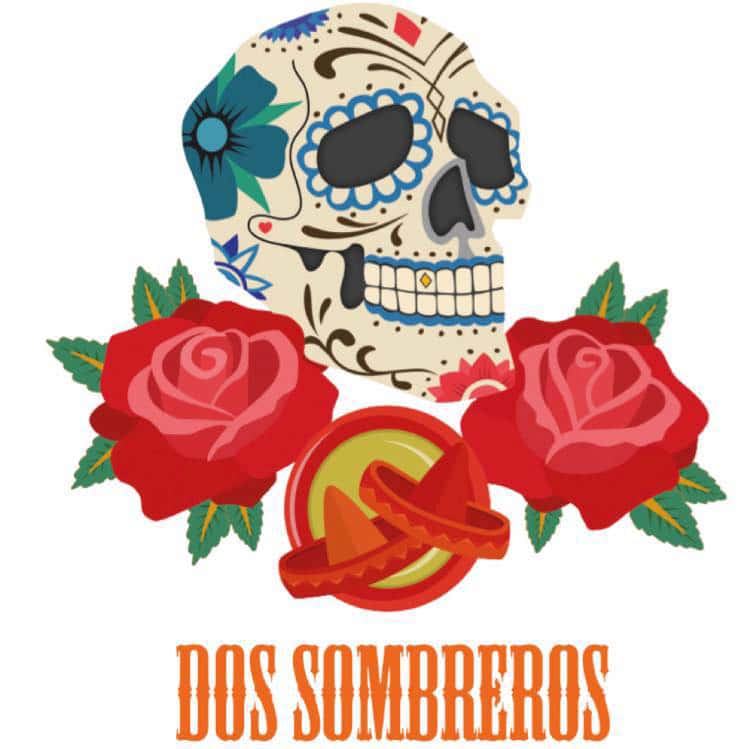 If you need a Fajita Fix but don't have time for a sit down meal, El Taco's the place to go. With an extensive menu of classic Mexican dishes made from the freshest of ingredients, this is a little hidden gem halfway between Brighton and Hove on Western Road. As well as collect and go, they also do home delivery for those luxury nights in. Friendly staff too. (Photo credit: El Taco)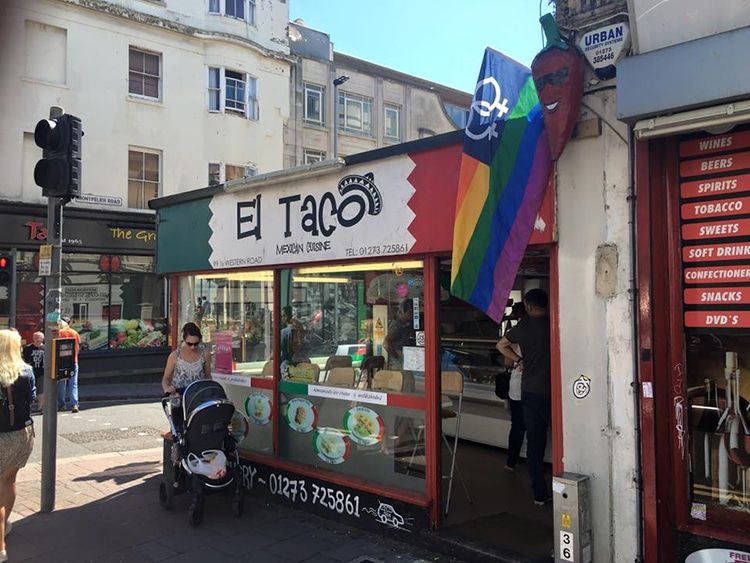 Casual diner style restaurant, Tortilla is part of a chain in London and a few other cities beyond. Fairly new in Brighton, Tortilla is a popular pick for the busy shoppers of Churchill Square and Western Road. The focus is on Californian Burrito's and Taco's so not entirely 'authentic' but tasty either way and inspired by West Coast Burrito Bars loved and missed by Californian owner Brandon. (Photo credit: Tortilla)

Mexican Restaurant Brighton – Halisco, Preston Street
Watch out for the new kids on the block! Halisco is the creation of friends Ismaeel & Alex. Having worked in the kitchen at The Grand Hotel and lived in Jaliso for 5 years, Ismaeel has now opened his own Mexican restaurant with his buddy. A dream come true for them!