Restaurant Brighton's guide to
Eastbourne Restaurants Guide | 2023
The Eastbourne restaurants guide and a trip east for a quick break from Brighton. With property prices rising in Brighton and hordes of Londoners quitting the Big Smoke for a slice of life by the seaside, Eastbourne is booming. The Regency townhouses, sea views are familiar but different enough for Brighton visitors while the slower pace and less crowded beach are a blessing.
When it comes to Eastbourne restaurants there is a vibrant mix of established Eastbourne favourites and new hot young things. You may also like our introduction to Sussex restaurants and the pubs in Sussex guide.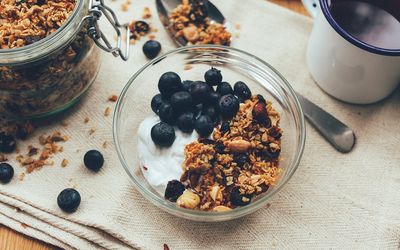 Skylark, Eastbourne restaurant
Located in Eastbourne's Little Chelsea area Skylark opened in December 2017. Supporting local Sussex producers and using seasonal produce, Erina and her head chef husband keep a fresh menu and seasonally changing menu. Skylark is open from breakfast, serves light lunches. At the weekend (Thursday to Saturday) Skylark transforms into a casual evening eatery serving an a la carte menu with a carefully select list of international and local wines to accompany your meal.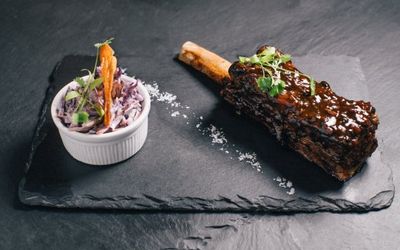 Cru, Eastbourne restaurant
Tucked inconspicuously in a basement slightly off the beaten track, you'd be forgiven for missing this Eastbourne restaurant, was it not for the fact that Cru's reputation goes before it, which also means it's always buzzing. You don't have to be a wine lover to enjoy this bar come bistro, but it certainly helps. With an extensive, but surprisingly affordable, wine list there's something for everyone. Then there's the food! The cosy restaurant has a mixture of low and taller tables to dine at making for a more relaxed, informal vibe. The menu is divided into small plates and large plates with delights such as Native Lobster Tacos or the Slow Cooked Short Ribs, you could quite easily forget you were dining out in the UK let alone Eastbourne.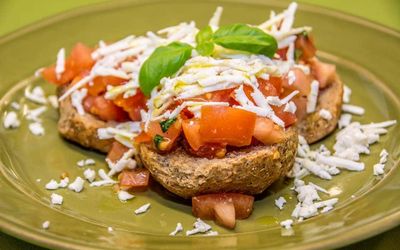 Gr/Eat Greek Deli and Cuisine
Close your eyes and picture yourself on a beach in the sun with an array of super fresh ingredients plated simply but beautifully in front of you. The beaches may be a little pebbly in Eastbourne, but Gr/Eat has brought the tastes of Greece to the South East coast of England. There are all the dishes you'd expect; the Greek salad, Moussaka and Souvlaki but you can also get great recommendations from your waiter to try something more unusual like the Septsofai (Traditional Greek Sausages Braised in Tomato Sauce with Peppers) or Psito Htapodi (Grilled Octopus). What really makes this place is the service, a smile goes a long way, and certainly makes for an enjoyable lunch or dinner.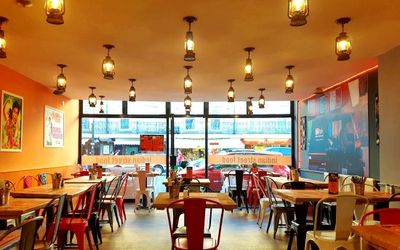 Tuk Tuk, Eastbourne restaurant
The ethos behind traditional Indian Street Food is that diners from all walks of life are brought together with the common love of great food, a concept which is not lost at Tuk Tuk. The easiest way to describe their offering is like tapas Indian style, with an endless menu of mouth-watering dishes. The ever helpful staff recommend a few dishes per person to share (or not!) but trying to limit yourself is always a task in itself. The Thali's are a perfect option if you want to try a number of dishes with meat, fish and vegetarian options, making sure you leave space for the truly authentic Gulab Jamun, a sticky, sweet donut like dessert flavoured with rose-scented syrup and served with ice cream. You're guaranteed to return time and time and again with a hope of one day sampling every dish on the menu.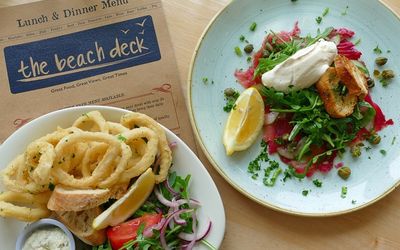 We do like to be beside the Eastbourne seaside and The Beach Deck can certainly boast the best "Beach Deck" in Eastbourne to wile away the time soaking up that fresh sea air. It's certainly got that clean, bleached wood, New England style about it that makes for a relaxed breakfast or lunch venue but also works with dimmed lighting for an ocean view, evening dining experience. The menu boasts a wide selection to cater for all tastes and appetites, but the highlight would have to be their fish with the catch of the day taking centre stage. You can't get any fresher than the daily catch brought straight in from Southern Head Fisheries just next door. Those on the eternal quest for the ultimate fish and chips won't be disappointed with this Eastbourne restaurant.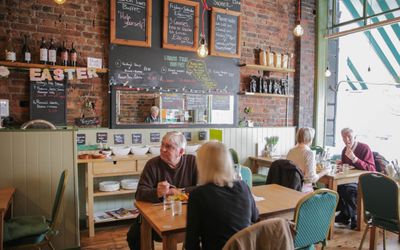 Voted #1 Restaurant in Eastbourne Trip Advisor, this vegetarian restaurant is really worth the visit. Open for a buffet lunch Tuesdays – Saturdays there is the option of a £7.50 plate or a £8.50 plate to make one visit to the buffet table with a selection of hot and cold dishes, salads, and bread and butter. They open for dinner on Fridays and Saturdays only, with a set 3 course menu at a very reasonable £20pp. The menu changes monthly and you have the choice of two starters, two mains and two desserts. So simple but so unbelievably delicious! With very limited seating (comfortably seating only 16) it's advisable to book, but even within a small space you're not sat on top of one another and the attentive service certainly makes for an overwhelmingly enjoyable experience. So simple yet perfect!